Poetry and protestors under attack in Kuwait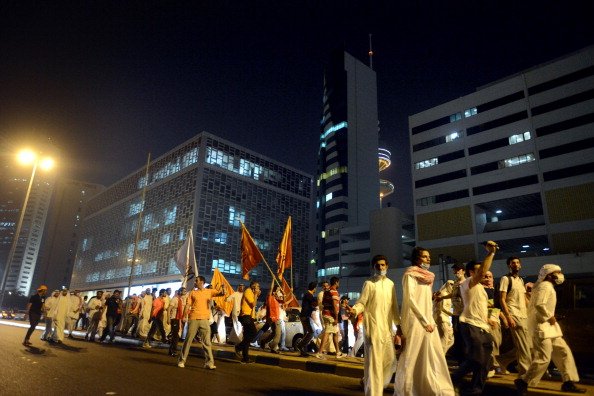 Peaceful Assembly
Expatriate deported for peaceful protest
Despite the fact that Article 36 of the Kuwaiti Constitution guarantees freedom of expression for every person in the country, regardless of their nationality, a 25-year-old Jordanian expatriate, Abdullah Mohammed Jbara, received a deportation order in retaliation for his participation in a peaceful sit-in protest in Al-Erada Square on 20th June 2021. On 4th July 2021, Jbara was deported to his home country, Jordan, following an order of the Minister of Interior.
Fight between citizens during the protest at Al-Erada Square, few individuals were detained by police force to maintain the peace.#kuwait #news #staysafe #headlinekwt pic.twitter.com/rFXu6l5eYy

— headline.kwt® (@HeadlineKwt) June 3, 2021
Expression
Poet arrested for publishing poem on corruption
Update: #Kuwait: On 13 July 2021, the Criminal Court ordered the release of poet Jamal Al-Sayer without bail.https://t.co/ogoW3fLSF6 pic.twitter.com/Pfw7P0661f

— GC4HR (@GulfCentre4HR) July 13, 2021
On 13th July 2021, the Gulf Centre for Human Rights (GCHR) reported that the Criminal Court had ordered the release of the Kuwaiti poet, Jamal Al-Sayer, without bail. On the orders of the Public Prosecution, Al-Sayer was arrested by members of the State Security Apparatus in a late-night raid on his house on 5th July 2021. According to reliable local sources, the only reason for his arbitrary arrest was his poetry and writings on the internet denouncing corruption. For example, on 4th July 2021, he published a poem about corruption on his Twitter account that included the following sentence: "Gifted to the corruption mafia, whom we will continue to observe!!" Al-Sayer has more than 28,000 Twitter followers and his tweets typically receive hundreds of endorsements. Following his arrest, he was charged with insulting the Emir (Head of State), publishing tweets containing so-called "fake news" and violating the Cybercrimes Law. He was also charged under Article 25 of the State Security Law, which carries a five-year prison sentence with hard labour. Al-Sayer's lawyer, Mashari Al-Nuif, confirmed that his client has denied all the charges against him. In a press release, he stated, "Jamal Al-Sayer is a good citizen who does not deserve the way he is being treated."
Kuwait Society for Human Rights' announcement of full solidarity with the Kuwaiti Poet Jamal Al-Sayer, and denouncement of his arbitrary arrest#جمال_الساير https://t.co/HEHt8T8UjW

— منال أبوحيمد Manal Bouhaimed (@manalbouhaimed) July 8, 2021
On 18th May 2021, the Public Prosecution dismissed the charges of defamation, harming people's dignity through online publications and misuse of the phone against human rights defender Hadeel Buqrais. Buqrais was summoned over the phone by the Electronic and Cyber Crime Combatting Department (ECCCD) in Kuwait, where she was interrogated about her peaceful activities on the Internet. Buqrais uses her Twitter account to defend civil and human rights, especially those of the Bedoon community in Kuwait. She is a well-known human rights defender who has been the subject of smear campaigns and online attacks in reprisal for her work.