Peru's institutions in turmoil after Congress dissolution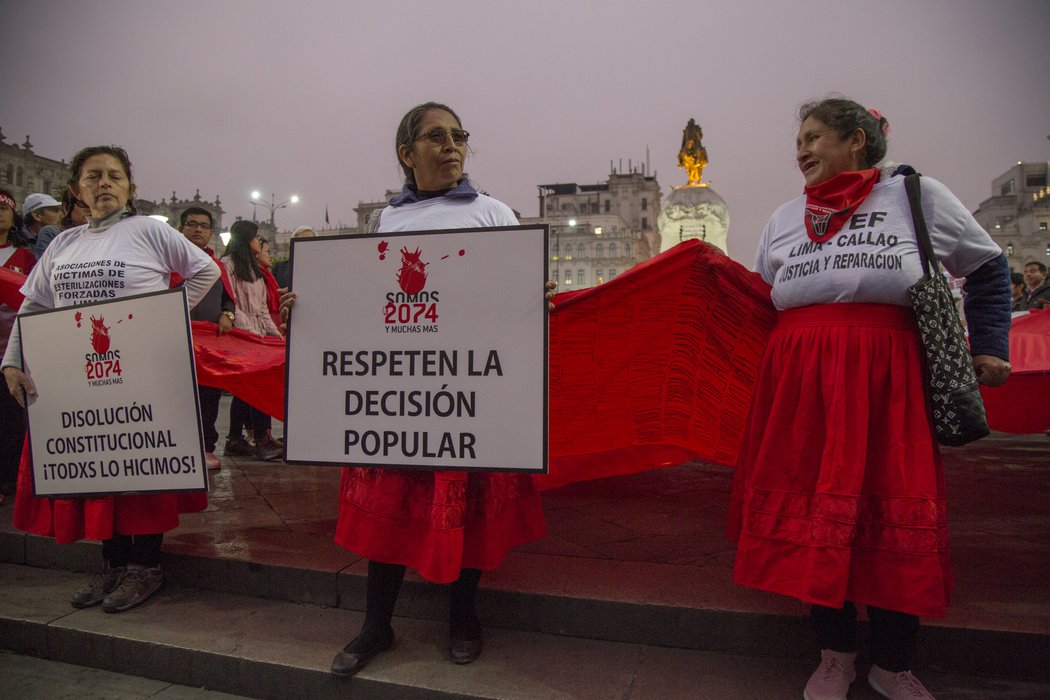 On 30th September 2019, President Martín Vizcarra dissolved Congress, Peru's parliament, plunging Peru into a constitutional crisis. Vizcarra's move came after the opposition-controlled Congress began voting on new magistrates for the country's Constitutional Court, bypassing a government proposal to reform rules for the Court's election procedure. In a televised address, Vizcarra argued that the drastic measure was a last resort to force parliamentary elections, which have been repeatedly blocked by the legislature.
Congress swiftly responded by suspending Vizcarra from office for 12 months, declaring him temporarily incapable of fulfilling his duties. According to opposition lawmakers, Vizcarra's decision was unconstitutional and amounted to a coup d'état. On 1st October 2019, Vice-President Mercedes Aráoz was sworn in as his replacement.
For a few hours it was unclear whether Vizcarra had accepted the decision by the legislators. However, Aráoz resigned the next day, explaining that she lacked the minimum conditions to exercise presidential duties after the Organisation of American States (OAS) called on the Constitutional Court to decide whether Vizcarra's dissolution of Congress had been constitutional. According to the BBC, after Aráoz's resignation, President Vizcarra "seemed firmly back in charge".
On 2nd October 2019, the military blocked entrance to the Congress building to enforce parliament's dissolution, supporting Vizcarra. Popular rallies brought thousands to the streets, with part of the population celebrating the decision to call for new parliamentary elections. Yet many others rejected the decision, reflecting on the last time Peru's Congress was shut down, in 1992, in a "self-coup" by former President Alberto Fujimori that led to over eight years of authoritarian rule. Confrontations between protesters and security forces were reported, as hundreds also demonstrated against the Congress' dissolution.
While a decision by the Constitutional Court is pending, the country's Council of Ministers has moved forward with preparations for parliamentary elections, approving on 10th October 2019 an urgent decree to authorise them to be carried out in January 2020.
Association
Fact finding mission in Peru highlights vulnerability of defenders
During an international fact-finding mission to Peru from 4th to 9th June 2019, the Observatory for the Protection of Human Rights Defenders of the International Federation for Human Rights (OMCT-FIDH) identified five leading causes of defenders' vulnerability in the country: stigmatisation, a punitive legal framework for human rights work, criminalisation, repression and shortcomings from security forces, and a lack of action from government in guaranteeing defenders' rights.
The OMCT-FIDH denounced the "complete lack of protection from authorities", as Peru has failed to establish a protection mechanism or public policy on HRDs. According to the National Human Rights Coordination Group, 119 defenders have been killed since 2011, and in 2017 more than 800 defenders faced criminal proceedings.
Both the media and public officials engage in the stigmatisation of defenders, the Observatory highlighted, by constantly referencing human rights defenders as "agitators" and human rights organisations as "defenders of terrorists". There is a tendency to use defamation charges to criminalise HRDs and journalists in the country. Meanwhile, constitutional and legal modifications have reduced guarantees for citizens, enacting provisions that allow suppression of protest through intimidation. According to the OMCT's analysis, security forces also tend to use excessive force to suppress protest, and there is a bias in favour of business groups as a result of agreements between companies and the police.
Two leaders of Nueva Austria del Sira community violently attacked
#LoÚltimo Polico Díaz Sambache (46) de la comunidad indígena Nueva Austria desapareció el último lunes, luego de un enfrentamiento con colonos. La @Defensoria_Peru confirmó su aparición 18 horas después, aunque con múltiples heridas. #Huánuco https://t.co/1LjOgzcn4n pic.twitter.com/iI3z9STLl8

— Ojo-Publico. com (@Ojo_Publico) September 11, 2019
On 29th July 2019, Germán López, President of the Nueva Austria del Sira indigenous community in Puerto Inca, Huánuco department, escaped an assassination attempt. Three unidentified hitmen stormed into his home and fired five shots at López's brother-in-law, who they mistook for the defender.
On 9th September 2019, the Vice President of the same community, Polico Díaz Sambache, was reportedly kidnapped while going to meet a delegation from the Ministry of Agriculture. The delegation was going to inspect the community as part of their official recognition process. Sambache escaped hours later and reported being violently attacked by a group of people involved in land grabbing and illegal logging in the region. At least three other community members, Damián Sambache Vasquez, Daniel Sambache Pérez and Edilberto Pizango Sánchez, were attacked. Sambache sustained injuries from being brutally beaten up, and was taken to a doctor for treatment.
The OMCT-FIDH and the Coordinadora Nacional de Derechos Humanos (National Human Rights Coordination Group - CNDDHH) highlighted the elevated risk faced by members of Nueva Austria del Sira, stating that their requests for protection have so far been ignored. They demanded collective measures of protection for the community, as well as action from Peru's government in addressing the region's territorial conflict.
Assembly
Violent repression of protests against Tía María mine
#Peru: Police attack protests against #GrupoMexico's Tía María copper mine: 5 persons arrested, 1 injured. The federal government suspended the project's permit, but didn't cancel it. 7 civilians have been killed during protests since 2011.
📰La Minuta:https://t.co/G7JdTVJKpJ pic.twitter.com/UQqcpwYRF3

— Human Rights Oaxaca (@OaxacanewsENG) August 28, 2019
From July to September 2019, a series of protests and repressive incidents were reported in Tambo Valley, in the Arequipa department, where local workers and communities have resisted mining projects Tía María and La Tapada for many years. Farmers and agricultural workers in the valley are concerned about the environmental consequences of these projects, including the potential pollution of the Tambo River.
On 8th July 2019, the Ministry of Energy and Mines granted Tía María's construction licence, which triggered a new series of protests in the region. On 22nd July 2019, the Peruvian Observatory of Mining Conflicts reported that over 400 police officers were sent to the region to remove freeway blockades by protesters. Officers used tear gas and pellets, while protesters responded with sticks and stones. Four people were detained, and some were injured in the clash.
On 29th July 2019, the Comando de Lucha Popular por la Defensa del Valle de Tambo (Command for People's Struggle for the Defence of the Tambo Valley) called for the intensification of protests following an announcement from President Vizcarra that he would reconsider the government's authorisation of the Tía Maríaproject. On 5th August 2019, a region-wide general strike began in the Arequipa region. Thousands of people from 30 regional organisations (among them teachers' unions, construction, transporters' and civil workers' unions) joined the strike.
On 8th August 2019, the Mining Council announced a temporary suspension of the project's construction license. During this period, the Council will review the appeals against the project presented by Arequipa's local authorities and decide whether to grant the licence.
During the strike, there have been frequent clashes between protesters and police. Protesters denounced the excessive use of force and criminalisation of defenders. In the first weeks of September the violence escalated. According to local reports, a number of protesters were gravely wounded and at least one person had to be taken to a hospital for surgery.
While a decision on the mine's licence is pending, protests in the region continue.
Detention of union leaders in protest
On 12th September 2019, Peru's National Police (PNP) repressed a protest by the National Federation of Mining and Metalworkers. The demonstration was taking place in front of the Labour Ministry, where the workers had mobilised to demand a meeting with Minister Sylvia Cáceres. They demanded improvements to labour conditions and had been striking since 10th September 2019.
According to news outlet La República, the clash began because a group of workers tried to forcefully enter the Ministry's building. The police used tear gas to disperse the protesters. Seven people were allegedly injured, including five police officers. Seventeen union leaders were detained.
The National Human Rights Coordination Group (CNDDHH) issued a statement condemning the use of violence by the police, demanding the release of detained union leaders and calling for the establishment of dialogue mechanisms to address the workers' demands.
March against water privatisation
On 26th September 2019, workers and other civil society groups marched in Lima to protest the privatisation of water and sanitation services in Peru. The mobilisation was a response to Supreme Decree no. 214-2019-EF, approved in July 2019, which regulates private sector participation in state-owned enterprises. In terms of the decree, shares in a number of public companies, including the Water and Sanitation Service in Lima and Callao (SEDAPAL), can be sold.
The call for the demonstration was made by the Union of SEDAPAL's Workers (SUTESAL), and the protesters marched peacefully, chanting, "Water is a right, not a privilege".
While the law allows privatisation, President Vizcarra and Housing Minister Miguel Estrada have both stated that there are no such plans for Sedapal.
Expression
Bill proposes increased punishment for defamation
On 3rd May 2019, a bill entitled "Ley que regula la utilización indebida de redes sociales" ("Law regulating the misuse of social networks") was presented in Congress, proposing harsher punishment for defamation in social networks, books and in the press. In Peru, the maximum sentence for such offences is three years; the proposal would extend it to a range of four to seven years. The bill is still to be debated by legislators.
Defamation lawsuit and harassment against journalist
On 15th June 2019, journalist Paola Ugaz was notified of a lawsuit accusing her of defamation for reporting on abuses perpetrated by members of the religious community Sodalicio de Vida Cristiana (Sodalitium Christianae Vitae - SVC). The lawsuit was filed by the former manager of a real estate company that Ugaz reported as having links to Sodalitium, an organisation allegedly engaged in sexual abuse and land trafficking. Speaking to the Knight Center, the complainant stated that this lawsuit was made on a personal basis, in defence of his own honour.
According to Ugaz, she has received over 20 notarised letters from people and companies linked to SVC. The journalist stated that these actions seek to harass her judicially and emotionally, as well as make her waste her time. In 2018, the Archbishop of Piura and SVC member José Antonio Eguren, sued Ugaz for her reports but the case was dropped in April 2019.
Ugaz's lawyer, Carlos Rivera, said that this current case contains a series of irregularities:
"Without strong evidence, [the public prosecutor] has opened an investigation of a criminal nature for an offence against the administration of justice in the form of false testimony in court. Again, the penal system is the instrument, the club with which the journalist is hit."
Peruvian Press Council report on Freedom of Expression
On 10th September 2019, the Consejo de la Prensa Peruana (Peruvian Press Council - CPP) presented their Annual Report on Freedom of Expression 2019 to the Inter-American Press Society (SIP). According to the report, attacks against freedom of expression in Peru have taken place on three main fronts: an "anti-press" legislative agenda, through defamation complaints and judicial impunity.
CPP highlights that a number of bills introduced to legislative debate have attempted to restrict freedom of expression, particularly through criminal defamation laws and by restraining state publicity in privately owned media channels. According to their analysis, these measures have been a response to the press' role in investigating and making corruption scandals public. Reaction from civil society, CPP states, was fundamental in confronting these legislative reprisals.
As in the cases detailed above, defamation complaints and laws have often been used to silence citizens, media and journalists, especially by people involved in cases of corruption or abuse of power. CPP's report identifies several ongoing cases of defamation complaints made without a strong legal basis.
Finally, impunity persists in cases of murdered journalists, contributing to an environment where members of the press face strong risks when reporting on powerful interests.