Pardon for war criminal creates chilling effect in Sri Lanka as threats to activists increase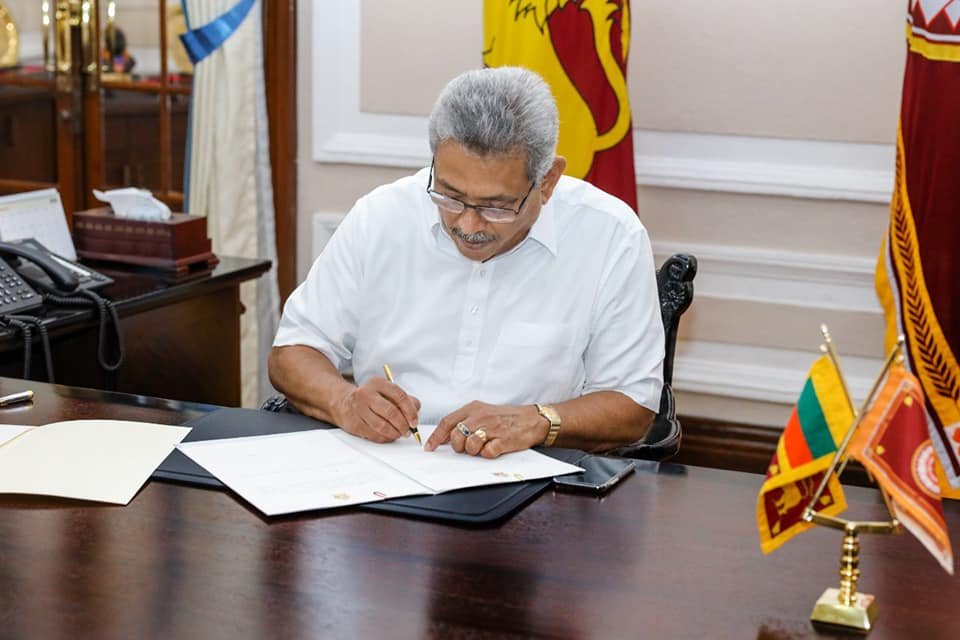 Human rights groups have continued to raise concerns around respect for fundamental human rights in Sri Lanka following Gotabaya Rajapaksa's election as president in November 2019. In February 2020, Sri Lanka decided to withdraw its support for United Nations Human Rights Council Resolution 30/1 related to transitional justice, including accountability and reparations to address serious crimes that occurred during the armed conflict.
In the last few months, the President pardoned an army officer convicted of crimes during the conflict. There have also been reports that security agencies are stepping up surveillance, harassment and threats against human rights activists and journalists and that the government has reneged on replacing a repressive counterterrorism law. Police have been instructed to arrest individuals criticising authorities on social media for its handling of the pandemic. Further, the UN Special Rapporteur on freedom of religion or belief stated that the ICCPR Act has been used to restrict freedom of expression.
Association
Civil society groups slam presidential pardon
🇱🇰 @ICJ_org today condemned the Presidential pardon granted to murder convict Sunil Ratnayake, Former Staff Sergeant of Sri Lankan Army, convicted in 2015 for murder of eight Tamil civilians, including 3 children, in #Mirusuvil in December 2000. https://t.co/w8W8GHx3Xp #SriLanka pic.twitter.com/9u6ykLpE54

— ICJ - Asia and the Pacific (@ICJ_Asia) March 27, 2020
Twenty two civil society organisations issued a statement on 30th March 2020 slamming a presidential pardon extended to a convicted army officer
in June 2015, the Colombo High Court sentenced army officer Sergeant Sunil Rathnayaka to death for the murder of eight Tamil civilians in Mirusuvil, in northern Sri Lanka, in December 2000 after a 13-year trial. The bodies of the victims showed signs of torture. The victims included three children.
Although Sergeant Rathnayaka was found guilty on 17 counts, the others were cleared of all charges on insufficient evidence to prove guilt beyond reasonable doubt. Sergeant Rathnayaka appealed the conviction, and a five-judge bench of the Supreme Court of Sri Lanka unanimously affirmed the conviction in May 2019.
The groups said that "in a country where military perpetrators have rarely been held to account, leading ethnic distrust to fester into war, the President has granted a pardon to one of few men actually held accountable by our nation's highest court. His pardon is a direct challenge to judicial independence and will result in the further erosion and loss of confidence in the Sri Lankan justice system among war-affected communities". They added:
"The act of granting Presidential pardon to a convicted criminal conveys the chilling message to the public that, irrespective of the gravity of the offence, offenders from the security forces will not be punished even if convicted by a court of law and that any crime or violence committed against the ethnic communities will go unpunished."
The Human Rights Commission of Sri Lanka (HRCSL) also wrote to President Gotabaya Rajapaksa expressing its deep concern over the presidential pardon. It said that "the granting of a presidential pardon to a person convicted of such a heinous offence and whose conviction was upheld unanimously by the Supreme Court sends a negative message that reinforces allegations of impunity and lack of justice for victims of violations in Sri Lanka".
Security agencies creating climate of fear for activists and journalists 
Security forces and intelligence agencies in #SriLanka intensified surveillance and threats against families of victims of enforced disappearance and activists supporting them since Gotabaya Rajapaksa became president @hrw https://t.co/2BROlMsvxu

— meenakshi ganguly (@mg2411) February 17, 2020
Human Rights Watch reported on 3rd March 2020 that Sri Lankan security agencies are stepping up surveillance, harassment and threats against human rights activists and journalists.
In interviews with 15 Sri Lankan human rights defenders working in different locations around the country, Human Rights Watch heard consistent accounts of increased surveillance and pressure from security agencies. Several said that intelligence officials had asked activists and victims about their advocacy plans ahead of the current United Nations Human Rights Council session, which began on 24th February 2020 in Geneva. "We fear that international lobbying and travel to Geneva may not happen in future because of this situation," one activist said.
Several human rights activists described receiving repeated phone calls from intelligence officers. Some of these callers have apparently told activists that they are being watched at that moment. On other occasions the caller asks questions or issues threats or warnings.
According to HRW, Rajapaksa has placed a number of important civilian agencies under the Defence Ministry, including the civilian police and the NGO Secretariat, which regulates non-governmental groups, among dozens of others. Further, over the past three months, unidentified people have physically attacked journalists several times, and issued death threats against reporters perceived as critical of the government.
The intelligence agencies have also begun to target the financial and administrative records of non-governmental organisations over the last five years, and especially details of funding from donors abroad. Activists fear the authorities will allege accounting errors as a pretext to shut them down or to bring criminal charges.
Government reneges on commitment to repeal repressive counterterrorism law
In January 2020, the cabinet of President Gotabaya Rajapaksa announced that it would not replace the abusive Prevention of Terrorism Act (PTA) with legislation that respects its international human rights obligations.
As previously documented, The PTA has been used to arbitrarily detain suspects for months and often years without charge or trial, facilitating torture and other abuses. According to human rights groups, under the PTA, hundreds of Tamils have remained in jail without trial since 2009. In 2017, the UN special rapporteur on human rights and counterterrorism found that the law "has fostered the endemic and systematic use of torture. Entire communities have been stigmatised and targeted for harassment and arbitrary arrest and detention".
In October 2015, the Sri Lankan government agreed to a resolution at the UN Human Rights Council outlining a series of commitments on accountability and justice, including repealing the PTA. Commitments to repeal and replace the PTA was also made to the European Union (EU) as part of the GSP+ scheme which allows preferential access to the EU market.
In 2018, an alternative counterterrorism law The Counterterrorism Act, was submitted to parliament. It significantly improved upon the PTA but still fell short of international human rights standards. However, it was never passed into law.
Expression
Police instructed to take action against criticism of officials on social media
On 1st April 2020, the Acting Inspector General of Police instructed the police to take legal action against those who publish posts on social media criticising government officials and obstructing their duties.
Following this, according to reports, police raided the home of a university student in Maharagama, near Colombo, following allegations that he criticised on his Facebook account the appointment of Basil Rajapakse—the Sri Lankan president's youngest brother—to head the Presidential Task Force on COVID-19. In another case, a youth has been arrested by Uppuweli police in Trincomalee on claims that he criticised on his Facebook page the area's divisional secretariat for "injustices that occurred during the coronavirus eradication and quarantine programme"..
ICCPR Act misused and inconsistent with international law says UN expert
As previously documented, a number of individuals have been arrested and charged under the International Covenant on Civil and Political Rights (ICCPR) Act of 2007 - a law meant to protect human rights - for the peaceful expression of their views.
In February 2020, the UN Special Rapporteur on freedom of religion or belief submitted his report to the UN Human Rights Council. In the report he stated that "civil society has observed that certain actors have attempted to misuse the ICCPR Act to restrict freedom of expression and crush dissent. Although inciting discrimination, hostility and violence is criminalised under the ICCPR Act, many argued that the Act was not applied in a manner that would protect minorities against incitement; rather, it is invoked to protect religions or beliefs against criticism or perceived insult".
He added that the present ICCPR Act is not fully compatible with Article 19 of the ICCPR as it does not guarantee freedom of expression and its current provisions do not include the three-part test of legality, proportionality and necessity as well as the threshold of "incitement" under Article 20 of the ICCPR.