West Papuan protests met with internet shutdown, arrests of activists and excessive force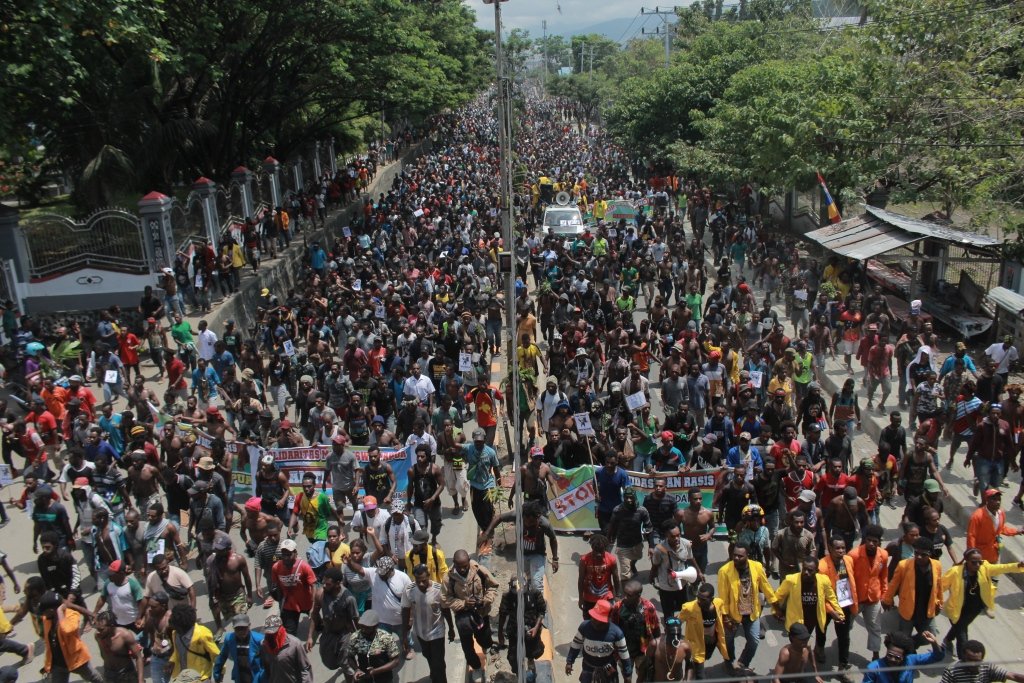 On 17th August 2019, a group of people from local organisations attacked a dormitory of ethnic Papuan students in Surabaya accusing them of destroying the national flag of Indonesia. They verbally attacked Papuan students and hurled racist insults at them. Some members of the military allegedly took part in the attack.
Instead of dispersing the crowd who had besieged the dormitory, the police also surrounded the building and asked the Papuan students to turn themselves in. The stand-off continued the following day, with police firing tear gas before arresting 43 Papuan students. The police took them in for questioning but released them the next day after finding no evidence that they had destroyed an Indonesian flag.
After video footage of the incident circulated, Papuans demonstrated in at least 30 cities across Indonesia, including Jakarta. Some of the protesters burned down the local parliament building in Manokwari and prisons in Sorong and in Jayapura,
Internet shutdown and threats against journalists
Jurnalis Jubi Victor Mambor Alami Kekerasan Doxing https://t.co/Z1gpRryb0y pic.twitter.com/ySVUrZXLjk

— Suara Papua (@SuaraPapua) August 25, 2019
In response to the protest, additional military and police personnel were deployed to the Papuan region to quell the protests and on 22nd August the Indonesian government shut down the internet in Papua. On 23rd August, a group of local and regional civil society organisations said:
"The decision to block the internet access in Papua is violating the rights of the public to obtain information, collect and disseminate information as guaranteed under Article 28F of the Constitution of 1945. We urge the Government of Indonesia to lift the ban...and commit itself to protecting and restoring the human rights and fundamental freedoms of Papuans."
On 4th September 2019 internet services were partially restored. Several places including Deiyai are still partially blocked, meaning it is not possible to share videos or photographs.
Papuan journalist Victor Mambor, the editor of Jubi newspaper and a correspondent for The Jakarta Post, and Arnold Belau, editor of Suara Papua have been intimidated and harassed online for reporting on the internet blackout and protests.
Since the protests began, the government has granted limited access to several foreign journalists to visit specific Papuan cities, but they have been monitored and unable to travel beyond the cities where they were given entry permits.
Arrest and charges against activists and human rights lawyer
According to Amnesty International, on 30th and 31st August 2019 the police arrested activists for allegedly organising a peaceful protest in front of the Presidential Palace on 28th August. During the protest, some of the protesters waved the Morning Star Flag, a banned symbol of Papuan independence. Six have since been charged with 'rebellion' under Articles 106 and 110 of the Criminal Code. All six (Dano Tabuni, Charles Kosai, Ambrosius Mulait, Isay Wenda, Arina Lokbere and Surya Anta Ginting) are being held by the police at the Mobile Brigade Headquarters in Depok, West Java.
Human Rights Watch (HRW) reported that on 3rd September police arrested an activist, Sayang Mandabayan, at the Manokwari airport for traveling with 1,500 small Morning Star flags. She has been detained at the Manokwari police station.
Naming of Veronica Koman Threatens Human Rights Activists: LBH https://t.co/3SBfXcWnNn pic.twitter.com/kDdYVI5XSm

— Tempo English (@tempo_english) September 10, 2019
On 5th September 2019, police brought charges of "incitement" against human rights lawyer Veronica Koman under the Electronic Information and Transaction (ITE Law), Article 160 of Indonesia's Criminal Code and the Elimination of Racial and Ethnic Discrimination Law, for tweets which they said was "hoax" news. According to Amnesty International, who analysed the tweets, the charges represent a travesty and gross misuse of the law.
Veronica Koman is a human rights defender who has provided legal aid to many Papuan political activists and documented human rights violations in Papua. In the past two years, Veronica Koman has faced harassment, intimidation and threats, including death and rape threats, for her work exposing allegations of human rights violations in Papua.
Amnesty International said:
"This is an appalling attack on the right to freedom of expression in Indonesia, and a brazen attempt to silence a brave activist. These charges are clearly intended to deter others from speaking out against human rights violations related to Papua."
On 10th September 2019, a leading Papuan pro-independence activist, Buchtar Tabuni was arrested in Jayapura. Buchtar is a member of the executive committee of the United Liberation Movement for West Papua. According to news reports, police have accused him of 'being an instigator of recent riots related to large anti-racism and pro-independence protests in recent weeks'.
Use of excessive force by security forces
Confronting new video has emerged from Deiyai, West Papua showing Indonesian forces opening fire on Papuan protesters who appear to have their hands over their head. https://t.co/2UdzslOGQq

— SBS News (@SBSNews) September 1, 2019
HRW has also called for impartial investigations into the deaths of at least 10 Papuans during the unrest. In one incident in Deiyai on 28th August 2019, video footage shows uniformed police shooting live ammunition into a crowd of Papuan protesters inside the Deiyai Regency office. The Secretariat of Peace and Justice, a Catholic human rights organisation located in Paniai, Papua, reported that eight Papuans and an Indonesian soldier were killed and 39 Papuans were injured.
Elaine Pearson from HRW said:
"Indonesian police have a duty to avoid the use of force in response to Papuans who take their grievances to the streets. Any wrongful use of force needs to be investigated and those responsible held to account."