Pakistan: Authorities bring terrorism charges against protesters, arrest the opposition and target the media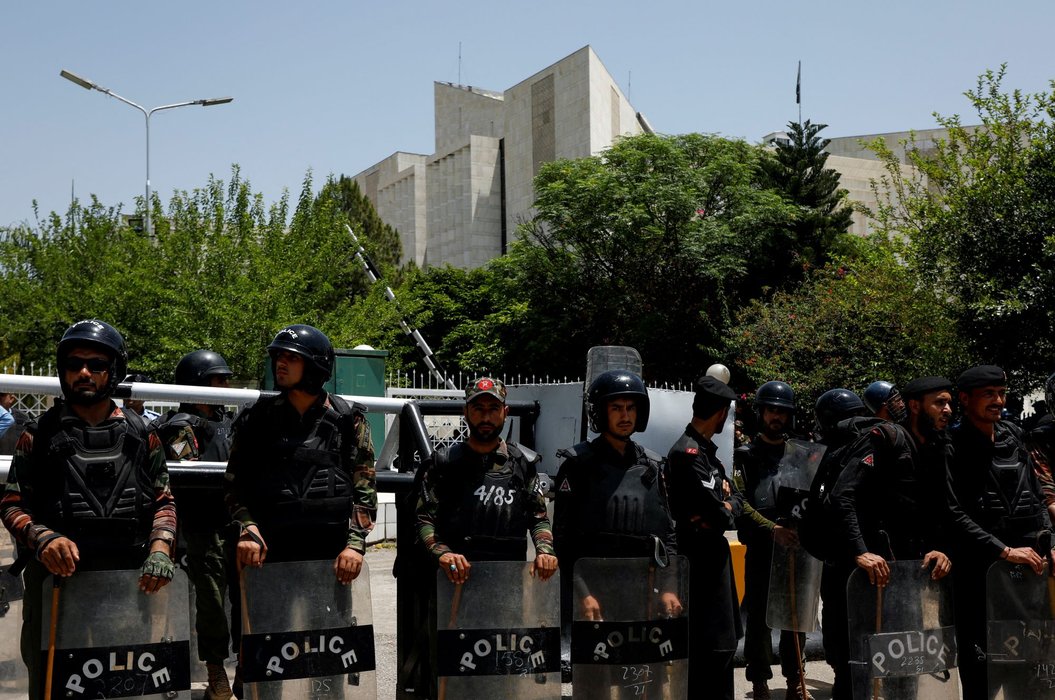 The state of civic space in Pakistan remains rated as 'repressed' by the CIVICUS Monitor. Ongoing concerns include the criminalisation, threats and harassment of human rights defenders and the failure to hold perpetrators to account. There have also been efforts to intimidate and censor journalists and media outlets, silence online expression as well as restrictions and attacks on peaceful protests, especially by ethnic Pashtun minorities and women's rights activists.
Human rights groups have also documented the continued use of enforced disappearances to target human rights defenders, journalists and people voicing criticism of the authorities, and the routine use of torture and other ill-treatment. Women, religious minorities and transgender people continued to face violence, discrimination, and persecution,
In January 2023, Pakistan's human rights record was reviewed at the UN Human Rights Council. Among recommendation made by states were to: end the extra-legal use of force as well as use of enforced disappearances (USA); investigate all reports of intimidation and violence against journalists and human rights defenders (Norway, Peru, Philippines, South Korea, Thailand, UK, Colombia, Costa Rica and Ecuador); review the law for Electronic Crimes (Uruguay); and stop targeting political dissidents and legitimate political activities in Sindh, Baluchistan and Khyber Pakhtunkhwa (India).
On 7th March 2023, the High Court in Islamabad issued an arrest warrant against former prime minister Imran Khan. Prosecutors allege Khan sold gifts he received from foreign countries when he served as prime minister between August 2018 and April 2022 and concealed his wealth in financial declarations submitted before the election commission. The warrants were cancelled after Khan appeared in court on 18th March.
On 9th May 2023, Pakistan's anti-corruption agency arrested former prime minister Imran Khan for alleged property fraud. The graft case is one of more than 100 registered against Khan since his ouster after four years in power. They include charges of corruption, terrorism, contempt of courts, rioting and even blasphemy. On 12th May, Khan was released on bail.
Since January 2023, there have been reports of excessive force against protesters, the blocking of social media as well as the use of overbroad terrorism charges against them. Protesters could also be tried under military laws. The police have carried out mass arrests of the political opposition. Journalists have also been criminalised, tortured or ill-treated and disappeared and TV channels suspended. The anti-terrorism court acquitted activist Muhammad Ismail but other charges remain.
Peaceful Assembly
There have been mass protests - at times violent - by supporters of former prime minister Imran Khan since he was ousted in April 2022, that have been met with arrests and excessive force, as previously documented.
Use of overbroad terrorism charges against protesters
In March 2023, there were violent clashes between the police and Imran Khan's supporters which continued for two weeks in Lahore and Islamabad, with police using teargas and rubber bullets against protesters and charging them with batons. Protesters used sticks and stones to attack the police and set fire to police vehicles. Dozens of police officers and supporters of Khan's party were injured.
According to Human Rights Watch (HRW), police detained protesters under sweeping counter-terrorism laws. Dozens of individuals of Khan's political party, Tehrik-I-Insaaf (PTI), including Khan, were charged with terrorism offences, criminal intimidation, rioting, and assault on government authorities following violent clashes which erupted when Khan arrived at court to face charges of corruption.
Patricia Gossman, associate Asia director at Human Rights Watch, said: "The use of Pakistan's vague and overbroad anti-terrorism provisions against opposition protesters is very worrying..if the authorities believe that Khan's or his supporters' actions have resulted in violence or constituted a real threat to public safety, they should be charged under the appropriate laws."
Excessive force against protests by Khan supporters
Pakistan's police have fired on and used excessive force against protesters following the arrest of former Prime Minister Imran Khan.

The Pakistani government should uphold the right to peaceful protest while responding to violence with minimum force.https://t.co/qVB213kbBd pic.twitter.com/YNDPOmNxlb

— Human Rights Watch (@hrw) May 11, 2023
Police fired on and used excessive force against protesters following the arrest of former Prime Minister Imran Khan on corruption charges on 9th May 2023.
Human Rights Watch said Khan's supporters around the country used rocks, Molotov cocktails and, in a few cases, assault rifles, to attack police and set fire to ambulances, police vehicles and schools, and destroyed property. Police responded using tear gas and rubber bullets and charged at protesters with batons. Following the violent clashes, police arrested hundreds of members of Khan's political party, Tehrik-I-Insaaf, on charges of criminal intimidation, rioting, and assault on government officials. At least one man died in Quetta after police opened fire on protesters.
Authorities blocks social media and restrict internet after Khan's arrest
On 9th May, authorities also restricted access to Twitter, Facebook and other social media platforms in Islamabad and other cities amid mounting protests and violence in the country generated by the arrest of Imran Khan.
HRW said that the government's cutting of mobile internet services and restricting access to Twitter, Facebook and other social media platforms were overbroad and indiscriminate, in violation of basic rights.
Amnesty International added that the "indefinite" mobile internet shutdown was a clear violation of people's right to access information and free expression. The group said that "the ban on social media platforms like Facebook, Twitter and YouTube also creates a permissive environment for other human rights violations under the darkness of the internet shutdown. The restrictions must be lifted immediately."
Protesters could be tried under military laws
🇵🇰Pakistan: Any indication that the trial of civilians could be held in military courts is incompatible with Pakistan's obligations under international human rights law: https://t.co/SMXWQlVBce

— Amnesty International South Asia, Regional Office (@amnestysasia) May 16, 2023
Human rights defenders have criticised the authorities for announcing plans to use military laws to prosecute those responsible for arson during recent protests sparked by the arrest of former prime minister Imran Khan.
On 15th May 2023, Inter Services Public Relations (ISPR) indicated the military's intention to bring 'arsonists' involved in violent protests to trial under the Pakistan Army Act and Official Secret Act.
Dinushika Dissanayake, Amnesty International's deputy regional director for South Asia, said: "Trying civilians in military courts is contrary to international law…this is purely an intimidation tactic designed to crack down on dissent by exercising fear of an institution that has never been held to account for its overreach."
The rights group Human Rights Commission of Pakistan (HRCP) said it strongly opposes using the law to try civilians. It added that "while those responsible for arson and damaging public and private property during the recent protests should be held to account, they remain entitled to due process."
Mass arrests targeting political opposition
On 20th May 2023, Human Rights Watch reported that police had carried out mass arrests and detained more than 4,000 people in the wake of protests over the arrest of the former prime minister, including members of the political opposition.
The group said that police had arbitrarily detained many opposition political party members as well as people appropriately arrested for engaging in violence. Many have been charged under vague and overbroad laws prohibiting rioting and creating threats to public order.
On 17th May, police arrested two former parliament members, Shireen Mazari and Maleeka Bukhari. After the Islamabad High Court granted them bail, the police immediately rearrested them on new charges. Mazari's family members said that she has medical needs that require urgent attention.
Expression
Journalist Shahid Aslam arrested for publishing leaked data
I condemn the FIA raid at the residence of journalist Shahid Aslam (@ShahidAslam87). As far as I know, he is an honest journalist, who does his work professionally. This harassment of journos must stop immediately! pic.twitter.com/X8x3xdnWY3

— Bilal Farooqi (@bilalfqi) January 14, 2023
The Federal Investigation Agency (FIA) detained journalist Shahid Aslam on 13th January 2023. Shahid Aslam was accused of publishing leaked data involving the then Chief of Army Staff Qamar Javed Bajwa. The former Army Chief's family allegedly acquired a disproportionate number of assets over six years, according to the leaked data which was published on independent news website FactFocus. A local court of Islamabad ordered that Shahid Aslam be under remand for two days under the custody of the FIA.
Pakistan Press Foundation (PPF) - an association of journalists - condemned the arrest and detention of Shahid Aslam in a statement after the arrest. The PPF criticised the government for disregarding the 'right to protection of privacy of journalists' guaranteed under the Protection of Journalists and Media Professionals Bill-2021. International Federation of Journalists (IFJ) echoed these calls with the Pakistan Federal Union of Journalists (PFUJ), which threatened to hold protests if Shahid Aslam was not released. On 18th January 2023, the court granted bail to Shahid Aslam.
Journalist Imran Riaz Khan arrested twice and disappeared
Pakistani journalist Imran Riaz Khan arrested for alleged hate speechhttps://t.co/HufEtNaPm4

— Committee to Protect Journalists (@pressfreedom) February 5, 2023
On 2nd February 2023, the FIA arrested journalist Imran Riaz Khan, a prominent anchor-person of private television BOL News and on YouTube, at the Allama Iqbal International Airport in Lahore while he was departing for the United Arab Emirates. According to a news report, Khan was offloaded from a Dubai-bound aircraft. The FIA charged him with committing 'hate speech' by criticising the military in a video posted to social media.
The FIA registered a case against Imran Riaz Khan under two laws - the Prevention of Electronic Crimes Act of 2016 (PECA) and the Pakistan Penal Code of 1860. The allegations are brought under Sections 11 (electronic forgery), 20 (malicious code) and 24 (legal recognition of offences committed in relation to information system) of the PECA and Sections 131/109 (incitement to mutiny), 500 (punishment for defamation) and 505 (public mischief) of the Pakistan Penal Code.
After being produced before a Court in Lahore on 3rd February 2023, the judge ordered the release of Imran Riaz Khan immediately and dismissed the charges the FIA had brought against him.
The International Federation of Journalists (IFJ) welcomed the dismissal of the case and the order to release Imran Riaz Khan.
The authorities re-arrested Imran Riaz Khan in the early hours of 11th May 2023 at Punjab's Sialkot Airport from where he was scheduled to travel to Oman. In this instance, the authorities arrested Khan together with another journalist Aftab Iqbal for inciting violence during the clashes between the security forces and the supporters of the opposition Pakistan Tehreek-e-Insaf (PTI) following the arrest of former prime minister Imran Khan.
On 12th May 2023, The Lahore High Court of Pakistan ordered the police to release journalist Aftab Iqbal. Imran Riaz Khan was reportedly released from the Sialkot Jail after the government withdrew the detention order but has disappeared since his release from the prison. His father filed a habeas corpus case but his whereabouts remain unknown at the time of writing.
Unidentified men abduct journalist Gohar Wazir
#Pakistan: Authorities must conduct an immediate and impartial investigation into the abduction and alleged electrocution of journalist Gohar Wazir (@GoharWazir3) and hold the perpetrators to account.https://t.co/d3Asbg40rm

— CPJ Asia (@CPJAsia) May 2, 2023
A group of five unidentified armed men allegedly abducted Pashto journalist Gohar Wazir from Bannu city in Khyber Pakhtunkhwa (KPK) province on the afternoon of 19th April 2023. The men shoved Wazir into a vehicle with tinted glass. After 30 hours of illegal confinement at an undisclosed facility his abductors dropped him blindfolded in the Bannu area on the evening of 20th April 2023. According to reports, Wazir was electrocuted and forced to record a video statement praising the development of the area. Wazir claimed that he suspected that the abductors were pro-government militant groups in the KPK province acting in retaliation for his extensive reporting on human rights issues affecting Pashtun people and militancy in the province.
The Human Rights Commission of Pakistan (HRCP) condemned the abduction and torture of journalist Gohar Wazir. Local journalists protested against the incident and the failure of law-enforcement agencies to identify and arrest the perpetrators of the crime. The Committee to Protect Journalists (CPJ) also voiced concerns over the incident of abduction and torture of Gohar Wazir.
Exiled journalist found detained for months after being deported from Malaysia
🇵🇰PAKISTAN: 'They put a black hood over my face and took me to the airport' - @SyedFawadAli303 shares the situation of journalists in his country and his experience of persecution, exile and deportation

Read the full interview at: https://t.co/BbbejhSBZX #CIVICUSLens pic.twitter.com/ZMaWDCaY6c

— CIVICUS (@CIVICUSalliance) April 20, 2023
Exiled dissident journalist Syed Fawad Ali Shah, who had lived in Malaysia since 2011 as a registered refugee, went missing from Malaysia on 23rd August 2022.
On 8th February 2023, his wife learned that her husband was being held at the Adiala Jail in the Pakistani city of Rawalpindi. On 9th February, she visited him at the prison and learned that Pakistani authorities had held Shah for five months in an underground cell in Islamabad, where they tortured or ill-treated him.
On 3rd January 2023 at a press conference Malaysian Home Minister admitted that Syed Fawad Ali Shah was deported to Pakistan in late August 2022 at the request of Pakistani authorities, who alleged that Shah was a police officer subject to disciplinary proceedings. According to the Committee to Protect Journalists (CPJ), Shah's wife "Syeda told CPJ that Shah never worked as a police officer, and she believed the Pakistan Inter-Services Intelligence (ISI) worked with Malaysian authorities to repatriate him in retaliation for his journalism". While in exile, Shah wrote about politics and alleged corruption in Pakistan, particularly within law enforcement agencies. He also wrote about refugee issues in Malaysia.
According to Shah, on 23rd August 2022 he was abducted by Malaysian immigration officials in a joint operation with the Pakistani ISI. On 25th August they put a black hood over his face and took him to the airport and on a Pakistan International Airlines flight to Islamabad.
On 15th March 2023, Shah was released from Peshawar Jail following a Court order. According to Shah, the Federal Investigation Agency's (FIA) cybercrime wing brought two fake charges against him under the Prevention of Electronic Crimes Act, 2016. In an interview with Voice of America after having been released from jail Shah feared about his life in Pakistan, while he is barred from leaving the country due to the ongoing charges against him.
Authorities suspend TV channel and ban the broadcast of former PM's speeches
On the evening of 5th March 2023, the Pakistan Electronic Media Regulatory Authority (PEMRA) - Pakistan's media regulator - banned television channels from broadcasting speeches and news conferences by Imran Khan, accusing the former prime minister of attacking the state's institutions and promoting hatred. On the same day, PEMRA banned the broadcasting of ARY News television channel and suspended its licence.
The Committee to Protect Journalists (CPJ) in a statement termed the incident as an attack on "press freedom and the right to information". Amnesty International criticised the "blanket ban on critical speeches as disturbing demonstration of threat to freedom of expression" in Pakistan. It added that "overbroad use of bans on news and media publications constitutes a violation of the right to freedom of expression".
This is the third ban on broadcasting and rebroadcasting of the former prime minister's speeches and press talks on all satellite TV channels since he was ousted from power.
Amnesty International had previously documented how successive governments use PEMRA to issue "politically motivated bans" against media houses whose political leanings do not align with that of the government.
Private broadcaster's social media account hacked
The Facebook account of Voice News, a Lahore based online broadcasting media outlet with an estimated audience of five million on broadcast and social media platforms, was attacked by unidentified hackers in February 2023. The attacker made other unknown actors administrators of the Facebook page, and they deleted hundreds of news and political commentary videos. They also posted pornographic images and videos of attacks on a religious minority group.
According to the Committee to Protect Journalists (CPJ), in November 2022 another Facebook page operated by the outlet was also seized. News videos on that page were deleted and pornographic content was posted there for several weeks until Voice News staff regained control of the page after appealing to Facebook.
Ahmer Shaheen, the CEO and chief editor of Voice News, has commented critically on the security forces in Pakistan.
Association
Anti-terrorism court acquits activist Muhammad Ismail but other charges remain
GOOD NEWS: After more than 3 years, human rights defender Muhammad Ismail & his wife have been acquitted today from trumped-up charges of sedition, conspiracy, terrorism & terror financing. The 🇵🇰#Pakistan government must now drop all other charges against him. #StandAsMyWitness https://t.co/RerG8cJxsz pic.twitter.com/YnCbFxSzrP

— CIVICUS (@CIVICUSalliance) February 15, 2023
On 15th February 2023, the anti-terrorism court in Peshawar acquitted Muhammad Ismail and his wife in a case registered by the counter-terrorism department on charges of sedition, conspiracy, terrorism and terror financing. Pronouncing the reserved verdict, ATC Judge Fazal Sattar declared that charges against them could not be proven.
Muhammad Ismail, the father of women's human rights defender Gulalai Ismail, has been subject to judicial harassment since 2019 and has also been detained. Muhammad Ismail has been targeted due to his own work and the human rights work of his daughter, who was forced to flee Pakistan in 2019, fearing serious risks to her life.
In September 2021, the UN Working Group on Arbitrary Detention (WGAD) issued an opinion on his case. Among the key findings of the UN WGAD were that the arrest and detention of Muhammad Ismail was arbitrary, falling within categories I (without sufficient legal basis), II (for exercising his rights guaranteed under the ICCPR), III (being denied of his right to fair trial), and V (for his work as human rights defender and his relation to his daughter, Gulalai Ismail).
Ismail is still facing charges under section 9 (glorification of an offence), section 10 (cyber terrorism) and section 11 (hate speech) of the Prevention of Electronic Crimes Act, 2016.