Opposition party holds protests following court decision confirming first Samoan woman PM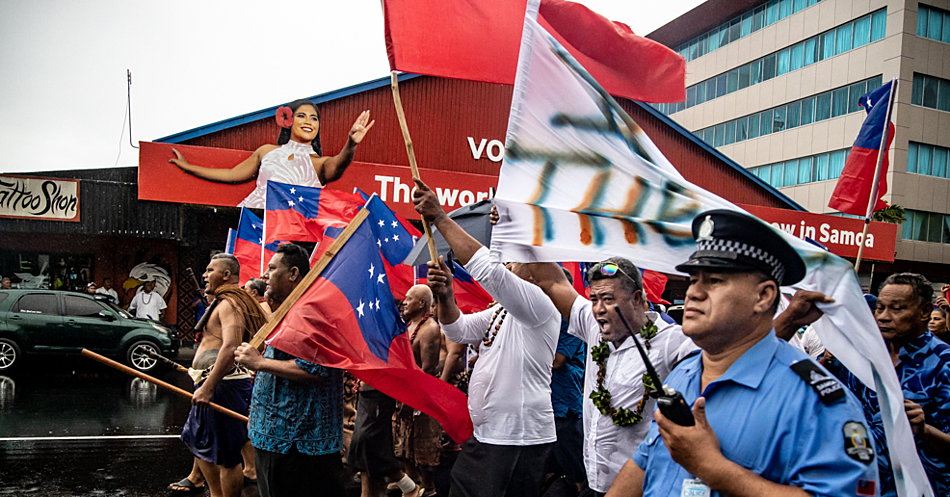 On 23rd July 2021, the Appeal Court in Samoa ended a 15-week constitutional crisis, confirming Fiame Naomi Mata'afa as the nation's first woman prime minister.
The country has been in a political deadlock since April 2021, when long-ruling Tuilaepa Sa'ilele Malielegaoi narrowly lost in elections and refused to cede power. Mata'afa's FAST party holds 26 seats - one more than the Human Rights Protection Party (HRPP) in the 51-seat parliament.
In May 2021, Mata'afa was sworn in at an extraordinary ceremony inside a makeshift tent after her FAST party was locked out of the parliament building.
Samoa's Appeal Court said it did not recognise Malielegaoi's caretaker government, ruling that his HRPP was occupying government offices unlawfully. It also overturned a previous Supreme Court decision that the tent swearing-in was unconstitutional. On 26th July, Malielegaoi, who had been the prime minister for the past 23 years, conceded defeat.
The milestone is particularly significant in the Pacific, which has the lowest rate of female representation in politics anywhere in the world, with just six percent of all MPs regionally being women. Three countries in the world have no women in parliament. All of them – Vanuatu, Papua New Guinea and the Federated States of Micronesia – are in the Pacific.
Peaceful Assembly
In response to the court decision, members of Samoa's former ruling party, the HRPP, held two protests against what they believe is the judiciary's "disintegration" of the constitution.
On 30th July 2021, HRPP supporters participated in a vehicle convoy protest against the judiciary. Samoa's courthouses closed in anticipation of the convoy protest. HRPP leader Tuila'epa Sa'ilele Malielegaoi urged people to join him in demanding the resignation of the Chief Justice and other judges.
On 2nd August 2021, around a thousand supporters of the HRPP marched through the capital Apia. Party leader, and now former prime minister, Tuilaepa Sailele Malielegaoi told the crowd the judiciary had violated the constitution when the Court of Appeal recognised FAST Party MPs as the legitimate government.
Despite the sporadic heavy showers, people marched in unison singing traditional songs to rally against the judiciary's ruling to install the new Fiame Naomi Mata'afa government. People held up posters with messages proclaiming: "Uphold the Constitution" and "Constitutional Government not Judicial Government" as they waved Samoan flags.
Among the protesters was Tuiasau Uelese Petaia, who said one of their main complaints is that they believe the judiciary usurped the Head of State's authority to convene parliament after an election.