Ongoing use of repressive laws, Thai activist abducted, increased surveillance in the South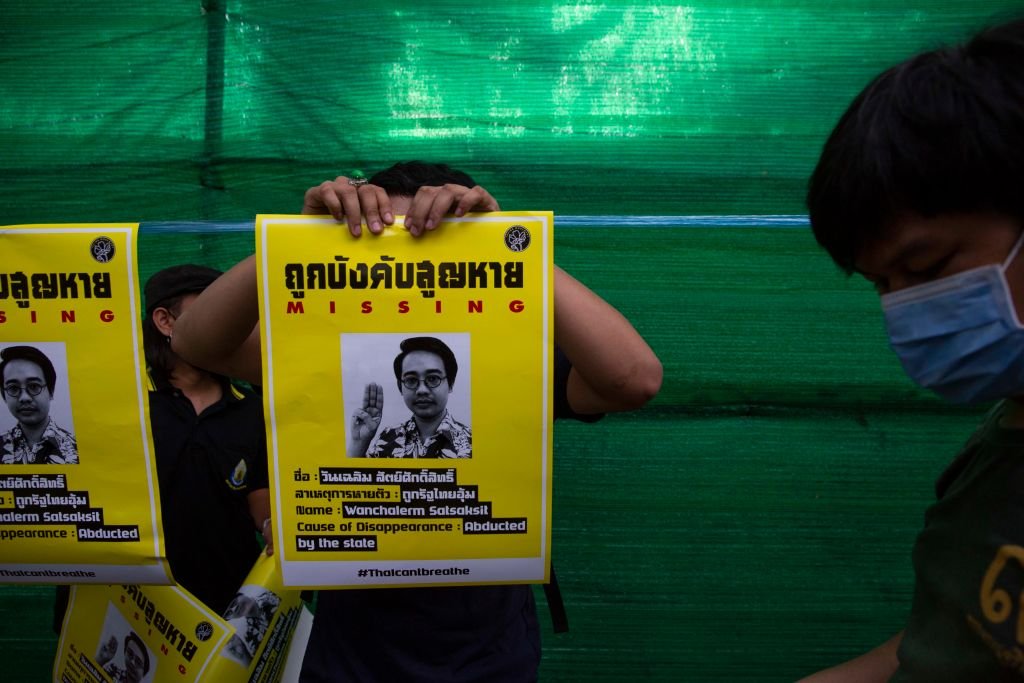 On 26th May 2020, the government of Prime Minister Gen. Prayut Chan-o-cha extended the draconian 'Emergency Decree on Public Administration in Emergency Situation' until 30th June. This was extended a third time to 31st July 2020.
According to human rights groups, since the state of emergency was declared in March 2020 in response to the COVID-19 pandemic, the government has stifled dissenting voices and critical opinions. Thai authorities have shut down criticism from the media, healthcare workers and the general public about their response to the pandemic, using both the Emergency Decree and the Computer-Related Crime Act's "anti-fake news" provisions. The decree grants officials immunity from prosecution for any human rights violations they commit.
In the last few months, there have been ongoing use of repressive laws, a prominent Thai pro-democracy activist was abducted in Cambodia, while there have been reports of increased surveillance using biometric data in the southern Malay Muslim provinces including a facial recognition system. A Thai poultry company continues to target human rights defenders.
Expression
Human rights report finds authorities using repressive laws to intensify crackdown on online critics
A new report released by Amnesty International in April 2020, states that the Thai authorities are prosecuting social media users who criticise the government and monarchy in a systematic campaign to crush dissent, which is being exacerbated by new COVID-19 restrictions.
Amnesty International interviewed human rights defenders, activists, politicians, lawyers and academics for the report entitled 'They are always watching', which describes how the Thai government is criminalising the right to freedom of expression using a series of repressive laws.
These include the Computer Crimes Act, which was amended in 2016 to give authorities licence to monitor and suppress online content and prosecute individuals for various broadly defined violations of the law. Moreover, the overly broad Article 116 of the Thai Criminal Code provides for a penalty of up to seven years' imprisonment for acts of sedition. In addition, Articles 326 to 333 of the Thai Criminal Code criminalise defamation, in effect empowering authorities to jail people deemed to have "impaired the reputation" of public officials.
Many of those targeted for their online posts are currently awaiting trial and could face up to five years in prison and heavy fines. Restrictions have increased amid the COVID-19 outbreak, with General Prayut declaring a state of emergency that further stifles freedom of expression and peaceful assembly.
Twitter user charged for posting content critical of the monarchy
A 20-year-old, alleged owner of the Twitter account 'Niranam' (meaning anonymous in Thai) was charged under Article 14 of the Computer Crimes Act (CCA) for his Twitter post critical of the monarchy in February 2020. The Attorney General's Office (AGO) postponed his indictment on 4th June 2020. 
On 9th June 2020, according to Thai Lawyer for Human Rights (TLHR), Niranam was summoned again to the Pattaya Provincial Police Station for further questioning and to acknowledge the seven additional charges against him under the CCA for his seven additional posts from 29th October 2019 to 28th January 2020 on Twitter. In all, he is being charged under the CCA for eight posts considered to be in violation of the CCA.
Artist indicted for Facebook post criticising COVID-19 screening at airport
On 12th May 2020, the Attorney General's Office (AGO) indicted an artist from Phuket province under Article 14(2) of the Computer Crime Act (CCA). As previously documented, on 23rd March 2020, police arrested Danai Ussama at his art gallery in Phuket and brought him to the Crime Suppression Division in Bangkok. 
The arrest was based on a complaint that the national airport operator filed against Danai for a 16th March post on Facebook. Using the alias "Zen Wide," Danai wrote that upon his return from Barcelona, he and other passengers on his flight did not encounter any COVID-19 screening at Bangkok's Suvarnabhumi Airport.
Historical statues of democracy leaders removed
On 24th June 2020, news agency Reuters reported the disappearance of several statues depicting the leaders of the 1932 revolution that ended the absolute monarchy in Thailand. Reuters independently verified "at least six sites memorialising the People's Party that led the revolution which have been removed or renamed in the past year."
In most cases it is not known who took the statues down, although a military official said one was removed for new landscaping. Officials in the military, government and the palace declined to answer questions regarding the removal of the statues and the renaming of military camps.
In the context of Thai politics, critics of the government have highlighted these disappearances as a process of "ideological cleansing through the disappearance of historical sites," carried out by military-royalist conservatives to erase memories of the 1932 revolution that pro-democracy activists have consistently alluded to in their protests against the present regime.
Association
Thai pro-democracy activist abducted in Cambodia
There has been no developments around the whereabouts of Wanchalearm Satsaksit (pictured above), a prominent Thai pro-democracy activist living in exile in Phnom Penh, Cambodia, who was abducted on 4th June 2020. The alleged abduction took place just a day after he had posted a video on Facebook criticising Thai Prime Minister Prayut Chan-o-cha.
According to Human Rights Watch, a group of armed men abducted Wanchalearm as he walked to buy food in front of his apartment, and took him away in a black car, according to several witnesses and apartment security cameras. Wanchalearm's colleague, who was talking on the telephone with him when the abduction occurred, heard him scream, "Argh, I can't breathe," before the call was cut off.
Wanchalearm is a prominent pro-democracy activist affiliated with the United Front for Democracy Against Dictatorship (UDD), known as the "Red Shirts." He fled to Cambodia after the May 2014 military coup in Thailand. He continues to be politically active in exile, frequently making comments critical of the Thai government on social media.
In June 2018, Thai authorities issued an arrest warrant for Wanchalearm based on allegations that he violated the Computer-Related Crime Act by operating a Facebook page Ku Tong Dai 100 Lan Jak Thaksin Nae Nae (I will surely get 100 million baht from Thaksin) critical of the Thai government from Phnom Penh. At that time, senior Thai police officers vowed to bring Wanchalearm back to Thailand one way or another.
Wanchalearm's disappearance sparked protests in Bangkok, with demonstrators accusing the Thai government of involvement, while demanding the Cambodian government investigate the case fully. #SaveWanchalearm was trending on Thai Twitter in the days following his abduction.
Since the May 2014 coup, Thai authorities have aggressively pursued the apprehension of pro-democracy activists who took refuge in neighbouring countries. The Thai government has repeatedly demanded that Laos, Vietnam and Cambodia hand over those exiled Thai activists. At least eight other pro-democracy activists have disappeared since the 2014 coup.
Facial recognition systems in Deep South highlight escalating surveillance of Malay Muslims
A glimpse at Thailand's digital ID through the biometric profiling of Malay Muslims https://t.co/CfY3j6rCSj pic.twitter.com/c7jY592tih

— Global Voices (@globalvoices) May 23, 2020
According to Civil Rights Defenders (CRD), in early May 2020, despite the ongoing COVID-19 pandemic, residents in Thailand's largely Malay Muslim deep south began reporting targeted mobile network shutdowns. This follows an earlier announcement requiring residents to re-register their SIM cards through a new facial recognition system.
This "two-shot identification" system scans and collects the facial data of each registered user. In June 2019, the Internal Security Operations Command (ISOC) made registration mandatory for all persons using a mobile phone in the region as part of its counterinsurgency strategies.
Thailand's use of biometrics in counterinsurgency strategies is not entirely new. In 2012, security forces in the southern border provinces began to use DNA profiling technologies to analyse DNA samples at crime scenes and find suspected insurgents with a genetic match. Authorities have been actively collecting DNA samples from Malay Muslims during searches at military checkpoints and raids on houses or private religious schools, especially in the "red zones" where insurgents are supposedly influential.
The Cross Cultural Foundation (CrCF), a human rights advocacy group, has been monitoring the human rights situation in the region. They have documented more than 100 cases of forced or involuntary DNA collection of Malay Muslims by security forces. In an interview with Global Voices, a human rights researcher from the CrCF, Chanatip Tatiyakaroonwong, said:
"This massive collection of personal biometric data raises serious concerns about violating people's basic rights. The discriminatory nature of these measures could amount to racial profiling, which subjects Malay Muslims to disproportionate and unnecessary surveillance based on ethnic prejudice rather than objective signs of suspicion."
According to CRD, over the past 15 years, thousands have died amid insurgency in the deep south. The region has been under an emergency decree since 2005, which has allowed authorities to impose curfews, ban public assembly and movement, censor media and detain individuals without charge and, at times, try civilians in military courts. Much of this has disproportionately targeted ethnic and religious minorities.
Thai company continues to target human rights defenders
Controversial Thai chicken company Thammakaset files new complaint against another woman human rights defender. Thanaporn Saleephol is the 7th woman #HRD to face charges for exercising rights since 2018. #EndSLAPP https://t.co/GTwX5ySOKS

— Fortify Rights (@FortifyRights) April 21, 2020
As previously documented, a poultry company, Thammakaset, has filed criminal and civil complaints against a number of human rights defenders, including former employees, for reporting labour rights abuses.
In April 2020, Thammakaset filed another criminal defamation complaint against a human rights defender, Thanaporn Saleephol, for two tweets and three retweets which expressed support for two other human rights defenders facing criminal complaints by the company. If found guilty she could face up to ten years in prison.
According to Fortify Rights, Thammakaset has now brought more than 35 complaints against human rights defenders since 2016, when the company first filed charges against 14 of its former employees—all migrants from Myanmar—after the employees reported labour rights violations to the Thai authorities.
Despite these attempts of judicial harassment by the company, activists have found protection from the courts. On 8th June 2020, the Criminal Court in Bangkok found Nan Win and Sutharee Wannasiri not guilty of defamation and dismissed the cases brought against them by Thammakaset. Both human rights defenders had conducted advocacy highlighting alleged labour rights violations by Thammakaset. The court considered the information provided by Nan Win and Sutharee Wannasiri to be legitimate criticism and fair comment that did not constitute defamation.
Court dismisses defamation case against human rights researcher
Thailand's Supreme Court has upheld the Appeals Court's acquittal of human rights defender Andy Hall on criminal defamation and computer crimes charges from a canned fruit company. https://t.co/UR6FKehpbh

— Prachatai English (@prachatai_en) June 30, 2020
On 30th June 2020, the Supreme Court upheld the Appeals Court's acquittal of human rights defender Andy Hall on criminal defamation and computer crimes charges brought against him by the pineapple company Natural Fruit Co Ltd in 2013.
The case involves interviews Hall conducted with migrant workers at Natural Fruit for the Finnwatch report "Cheap Has a High Price", published in 2013. Worker interviewees' testimonies detailed allegations of violations of labour and human rights at the Natural Fruit plant in the South.
In September 2016, the Bangkok South Criminal Court sentenced Hall to four years' imprisonment, reduced by one year and suspended for two years, and ordered him to pay a fine of 150,000 baht (USD 4,727).
The Appeals Court in May 2018 overturned the verdict, ruling that Hall had not acted unlawfully, and that based on all the evidence before the court, there was a real possibility of labour rights violations at the Natural Fruit factory. The Appeals Court also ruled that Hall's research had been in the public interest. Natural Fruit appealed the Appeals Court's ruling to the Supreme Court.
However, on 14th June, a Nakhon Pathom Civil Court accepted a 300-million-baht (USD 9,455,710) civil defamation prosecution brought by a pineapple company against the human rights defender
Peaceful Assembly
Activists arrested under emergency decree for holding gathering
PRETENCE. Using #COVIDー19,Thai govt. are silencing critics & activists in the country in the guise of protecting public health,said @hrw.#Bangkok police arrested activist Anurak Jeantawanich for violating the ban on public assembly.#humanrights #Thailand https://t.co/9CluXibJbr pic.twitter.com/hpPAOTV1Kz

— Rights Corridor (@RightsCorridor) May 17, 2020
On 22nd May 2020, police arrested prominent pro-democracy activists Anurak Jeantawanich and Tosaporn Serirak for violating the ban on public assembly - one of the emergency measures imposed to slow the spread of COVID-19. Activists have accused the government of misusing the decree as a tool to suppress protests.
The arrest was triggered by a remembrance service they held earlier that day with supporters of the United Front for Democracy against Dictatorship – known as the "Red Shirts" – to mark the 6th anniversary of the 2014 military coup.
Thai authorities previously arrested Anurak on the same charges on 13th May, when he held a remembrance service to demand justice for those killed and wounded by the military during the crackdown on the 2010 Red Shirts protests.
Even though thermal scanners to detect fevers were provided at the events and participants wore face masks, the activists were accused of ignoring social distancing, acting in a manner likely to spread the virus, and disobeying lawful orders in both cases. If found guilty, they face two years in prison and a 40,000 baht (USD 1,250) fine.
Thousands protest in Bangkok
Happening now! Biggest rally since #Thailand's #COVID19 #lockdown. Thousands of protesters gather at #Democracy Monument in #Bangkok demanding Gen. Prayut government to resign, and calling fresh election and new constitution to end legacy of military dictatorship. pic.twitter.com/kTklQvnqvv

— Sunai (@sunaibkk) July 18, 2020
Several thousand anti-government protesters rallied in Thailand's capital on 18th July 2020 to demand amendments to the military-written constitution, new parliamentary elections and the end of repressive laws in the country. Chanting and waving placards, the demonstrators, comprising mainly young Thais, converged on Bangkok's iconic Democracy Monument
The demonstration, organised by the Liberation Youth group, was the biggest of its kind since the government announced a state of emergency in March to tackle the coronavirus. Leaders at the protest made speeches calling for sweeping change, and a radical rap group belted out a popular, acerbic political song.
Police ringed the monument and set up barriers to try to prevent the protesters from occupying it. Police loudspeakers played a recording of the text of the emergency law in an apparent warning they considered the gathering illegal.