Ongoing political crisis and intensified media crackdown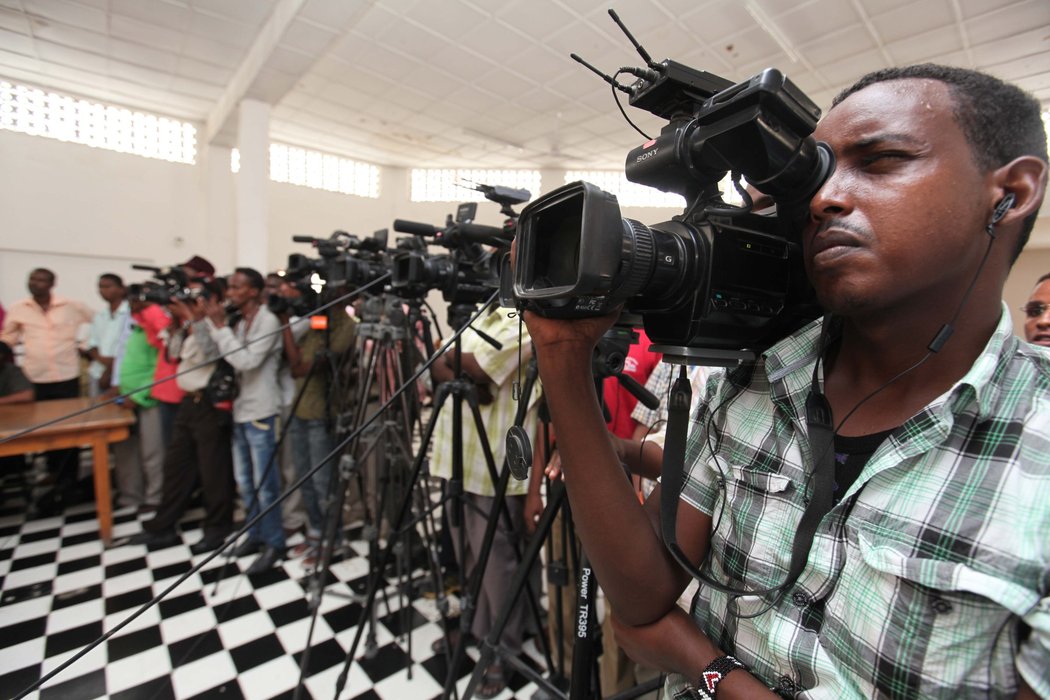 Expression
Journalists face clampdown in Somalia

On 21 April 2021, police officers detained Ali Said Mohamed, an independent journalist who reports for a Facebook news page, Mudug Journalist. His arrest was related to a story claiming that the Galkayo police arbitrarily arrest citizens and solicit bribes from detainees at the police station. The police officers released him without charges and managed to use his phone to delete the post. National Intelligence and Security Agency (NISA) officers allegedly threatened to shoot two journalists, Mohamed Ibrahim Bulbul and Khalid Maki, as they left the scene of a violent protest in Karan District, Mogadishu on 25 April 2021. The officers confiscated the journalists' equipment, ordered them to delete the recorded footage, and cocked their pistol after the journalist asked for an explanation.
#Galmudug: On 21 April, #Galkayo police detained journalist, Ali Said Mohamed who reports for Mudug Journalist, a facebook news page which covers Galmudug region, after a news report alleging the Galkayo police of soliciting bribes from detainees at the police station. pic.twitter.com/eNnbSIFPYi

— Somali Journalists Syndicate - SJS (@sjs_Somalia) April 26, 2021
In another incident, on 25 April 2021, two police officers assaulted, detained, and damaged Bashir Ali's equipment. Bashir Ali, a journalist, requested authorization from the two policemen to record a story concerning conflict between the opposition and the government; however, Ali claims that once he started recording, the policemen struck him with their firearms, forced him to lay down, and fired the gun near his ear, causing damage to his hearing. He alleged that he was then detained for two hours and that police broke his phone and camera. On 27 April 2021, armed Haramcad officers invaded the Mustaqbal Media offices, confiscated equipment, and struck Bashir Mohammed with a gun and threatened to shoot him. According to Bashir and the media director Ahmed Isse, five staff members were held inside the building by the officers for five hours.
Newly trained Dufan force detained, beat and shot at Radio Hubal journalist Bashir Ali Shire who was live-reporting a violent protest and a gunfight in Karan district in Mogadishu. #Somalia (2/4) pic.twitter.com/fYJqTcnk61

— Somali Journalists Syndicate - SJS (@sjs_Somalia) April 25, 2021
On 28 April 2021, Aden Abdi Eidle was released by the Hargeisa Court after spending 14 days in police custody, as previously reported by the Monitor. Eidle's arrest was linked to an alleged publication of photos and an article accusing the Governor of the Central Bank of corruption. On 16 May 2021, NISA officers assaulted and threatened Fardowso Mohamud Sahal, a reporter from radio Kulmiye, while covering a protest. Parents protested "missing" young men who were allegedly recruited and sent to Eritrea, and possibly later to Ethiopia's Tigray region, by the Somali government. The authorities reportedly ordered all journalists to stop covering the protest and leave immediately before assaulting Sahal.
Association
Gunfire between army and armed allies of opposition leaders
On 27 April 2021, gunfire erupted in Somalia between the army and armed allies of opposition leaders, resulting in three casualties. The election stalemate has increased instability and heightened clan division, as soldiers supporting opposition figures and groups "vowed to remove the president by force".
"We need both sides to stop the fighting, have sympathy with the children and elderly" said Farah Hassan
Political conflict may destabilise Somalia
On 2 May 2021, President Mohamed Abdullahi Mohamed "Farmaajo" abandoned the two-year term extension passed by the Lower House in April and returned to the 17 September 2020 Electoral Agreement, which will allow for indirect presidential and parliamentary elections. On 27 May 2021, the Prime Minister, Mohammed Hussein Roble and the five leaders of the regional states signed an agreement to hold a parliamentary election within 60 days. In February 2021, President Farmaajo faced a leadership crisis as his term ended with no clear path toward national elections. Opposition parties announced that they no longer recognised his authority. The Lower House then adopted a resolution extending all federal mandates for two years, a move that was rejected as unconstitutional and triggered strong reactions both within Somalia (in particular by the Senate and opposition forces) and abroad, with donors and partners threatening sanctions.