Ongoing harassment and attacks on Cambodian opposition, while peaceful marches restricted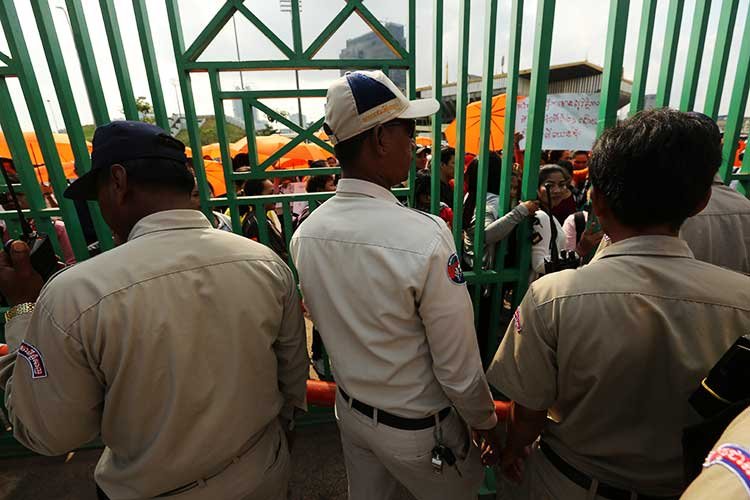 In February 2019, the EU launched the procedure to temporarily suspend the country's Everything but Arms (EBA) trade privileges which give Cambodia duty-free access to EU markets. EBA is conditional on compliance with the principles of 15 United Nations and International Labour Organization conventions on core human and labour rights, and can be withdrawn if there is 'serious and systematic violation' of those principles.
The European Commission identified three main problem areas in this country. They include the systematic harassment of independent trade unions; land-grabbing and political repression. A six-month monitoring and evaluation period will end in August 2019; the Commission then has until November 2019 to issue a report on the situation. Depending on developments in the country, the Commission has to decide by February 2020 whether or not to suspend Cambodia's EBA privileges fully or in part.
In March 2019, 71 Cambodian civil society organisations, trade unions, activists and citizens raised concerns about the EBA suspension process and called on to the government "to take concrete measures to restore civic space in Cambodia, and guarantee the protection and fulfillment of human rights and labour rights to ensure Cambodian people's welfare and livelihood".
In May 2019, the Special Rapporteur on the situation of human rights in Cambodia, Rhona Smith, visited the country. While she welcomed the "readiness to consider a review of the Law on Associations and Non-Governmental Organizations" a restrictive law, and the lifting of a requirement on CSOs to provide three-days' notice to the authorities prior to undertaking activities, she said that "in the area of political rights there were few tangible improvements".
In recent months, civil society groups have reported ongoing judicial harassment and attacks on opposition leaders and activists and restrictions on peaceful marches around International Women's day and International Labour Day. Cambodia's press freedom ranking by Reporters Without Borders (RSF) continues to fall.
Association
Court denies request to drop charges against opposition leader
#Cambodian PM #HunSen Says No Release For Opposition Leader #KemSokha https://t.co/1vUDlqJaPv, via @RadioFreeAsia #Democracy

Kem Sokha continues to be detained despite hitting the 18-month maximum allowed by law in #pretrial detention.

— APHR (@ASEANMP) March 5, 2019
In March 2019, an investigating judge rejected a request by opposition leader Kem Sokha to drop the charges against him. The judge provided no update or additional information about the completion of his investigation and whether the case will be sent to trial.
Brad Adams, Asia director of Human Rights Watch said:
"For a year and a half, Cambodian authorities have imprisoned Kem Sokha, first in a remote jail and now in his own home; denied him visits from colleagues, diplomats, and journalists; and conducted a baseless investigation with no end in sight. The government should immediately end Sokha's arbitrary detention and release him."
In May 2019, the UN Special Rapporteur on the situation of human rights in Cambodia urged the government to release Sokha and for a "swift conclusion of the investigation or for the charges to be dropped." Smith was denied permission by the government to meet and speak with Sokha when she visited the country from 29th April to 9th May 2019.
As previously documented, Sokha is the head of the since-dissolved main opposition party, the Cambodia National Rescue Party (CNRP). He was arrested in 2017 on treason charges, in a case widely seen as politically motivated. He has been accused of colluding with the US to conspire against the Cambodian government. If found guilty, he could face up to 30 years in jail. In September 2018, Sokha was unexpectedly released from prison but faces restrictions on his movement and communications.
In June 2018, the United Nations Working Group on Arbitrary Detention, declared Sokha's pretrial detention "arbitrary" and "politically motivated," and said Cambodian authorities should immediately and unconditionally release him.
Judicial harassment and attacks on opposition activists
First Cambodia under PM Hun Sen dissolves the leading opposition party. Now the government is persecuting its officials for continuing to engage in politics. #ShamDemocracy https://t.co/4Xunhmd7w6 pic.twitter.com/92covwTMVO

— Kenneth Roth (@KenRoth) May 8, 2019
According to Human Rights Watch, in March 2019, the Phnom Penh Municipal Court issued arrest warrants for eight leading members of the CNRP in exile – Sam Rainsy, Mu Sochua, Ou Chanrith, Eng Chhai Eang, Men Sothavarin, Long Ry, Tob Van Chan, and Ho Vann. The charges against them are conspiring to commit treason and incitement to commit a felony. All eight leaders left Cambodia ahead of the July 2018 election after a widespread crackdown on the political opposition and CSOs.
In April 2019, Tith Rorn, a CNRP activist, was detained by police officers without an arrest warrant and was found dead a few days later in Kampong Cham prison. While police claim that he died in an epileptic seizure, Tith Rorn's father says his son had no history of epilepsy, while highlighting that his dead body showed signs of physical abuse, including a broken neck. ASEAN Parliamentarians for Human Rights (APHR) calls for the Cambodian authorities to immediately launch an independent and impartial investigation into Tith Rorn's death.
In May 2019, the Battambang prosecutor Ky Bunnara summoned 25 former officials of the dissolved Cambodia National Rescue Party (CNRP) to appear for questioning before the Battambang provincial court. They have been accused of engaging in politics even though their party was dissolved by the Supreme Court.
As previously documented, the Supreme Court in November 2017, ordered the opposition CNRP party dissolved on the unsupported pretext that it conspired with the United States to overthrow Prime Minister Hun Sen's government, a move seen as a government effort to ensure it won the July 2018 general election. Hun Sen's ruling Cambodian People's Party ended up sweeping all 125 National Assembly seats.
In a separate case, on 2nd May 2019, a Phnom Penh court convicted in absentia Sam Rainsy, the former party leader and acting head of the exiled CNRP, of lese majeste (insulting the monarchy) and of "inciting military personnel to disobedience" and "the demoralization of the army" (under articles 471 and 472). The court sentenced him to a total of eight years in prison and a fine of 20 million riels (USD 4,900). Sam Rainsy fled Cambodia in November 2015 when facing arrest in relation to other politically motivated charges.
Peaceful Assembly
Security forces prevent International Women's Day march
Happening now, the peaceful women marchers were blocked and how security are here to interrupt, not to protect, our rights. pic.twitter.com/8zdlkwklGH

— Sopheap Chak (@sopheapfocus) March 8, 2019
On 11th March 2019, some 400 women from various associations, unions and civil society organisations - who were celebrating International Women's Day - were blocked by Phnom Penh municipal security forces from marching from the Olympic Stadium where they had gathered to the Council of Ministers to deliver a joint petition. Ou Tep Phallin, the head of the Cambodian Food and Service Workers Federation, said around 200 members of the security forces blocked the march. Security guards reportedly shut the gates in the stadium, locking them in.
Phnom Penh Municipal Hall spokesperson Met Meas Pheakdey said the march was denied due to public order issues such as "traffic congestion and security". Rights group ADHOC spokesman Soeung Sen Karuna said traffic congestion was merely an excuse used by the authorities to ban the women from exercising their rights. Chak Sopheap, director of Cambodian Center for Human Rights, said "the banning by authorities showed that the government guarantees rights for women in policy but not in practice".
Activist Ou Tep Phallin added:
"We are sad that the authorities blocked us. Our country is a democracy where freedom of association and expression are protected, but we were banned from exercising our rights."
The group listed seven demands in the petition. They requested the government to create a centre for baby care at workplaces and a safe shelter for women and domestic workers experiencing domestic violence. The group also demanded actions to stop harassment and sexual violence against women at workplaces, violence against women working as human right defenders, reform of the transportation system for garment workers to avoid traffic accidents, and an effective mechanism to protect Cambodian migrant workers from exploitation, trafficking and slavery.
May Day labour rights march restricted
Happening now: rally of workers, communities, CSOs to commemorate Labor Day. Together we protect fundamental freedoms. We have petition detailing our demands and you could take part by signing this too https://t.co/REn0IvKqi7) #MayDay2019 #StandUp4HumanRights pic.twitter.com/RRHwfXr6oU

— Sopheap Chak (@sopheapfocus) May 1, 2019
On 26th April 2019, it was reported that Phnom Penh Municipal Hall had rejected the requests of eight major labour unions to march to the National Assembly in celebration of International Labour Day. According to the Coalition of Cambodian Apparel Workers' Democratic Union president Ath Thorn, they had submitted a request to the municipal hall on 7th March 2019 but on 23rd April 2019 they were told that the authorities would not allow any march. They were only given permission to organise an event at Freedom Park, in front of the Council for the Development of Cambodia (CDC).
After further negotiations, on 1st May 2019, workers were allowed to march about 1km around a city block in the capital. The Phnom Penh authorities have for years prevented unions and civil society groups that are critical of the long-ruling government of Prime Minister Hun Sen from holding public marches, stating that they will cause traffic congestion and disrupt public order.
Expression
Cambodia's press freedom ranking continues to fall
On World Press Freedom Day, on 3rd May 2019, Sopheap Chak, Cambodian Center for Human Rights (CCHR)'s Executive Director and Southeast Asian Press Alliance (SEAPA) published a commentary where they highlighted the dire situation of press freedom in Cambodia. They raised the case of former Radio Free Asia (RFA) journalists Uon Chhin and Yeang Sothearin who were held in pre-trial detention for over nine months on spurious charges of espionage, as previously documented by the CIVICUS Monitor. The two were released on bail in August 2018 but the charges continue to hang over them. Both reported on a number of human rights issues including land disputes, workers' rights, and the use of state violence.
The commentary also stated that "over the last two years, measures taken by the government have seriously weakened free press in Cambodia, and today there is a shortage of independent, impartial and rigorous news reporting. The closure of the Cambodia Daily and RFA offices in Phnom Penh, as well as the sale of the Phnom Penh Post, have made truly independent media outlets scarce".
Due to this onslaught against its independent media, Cambodia fell one place in the 2019 World Press Freedom Index (WPFI), to 143 of 180 countries. In 2017, Cambodia was ranked at 132.