One person killed by police during student protest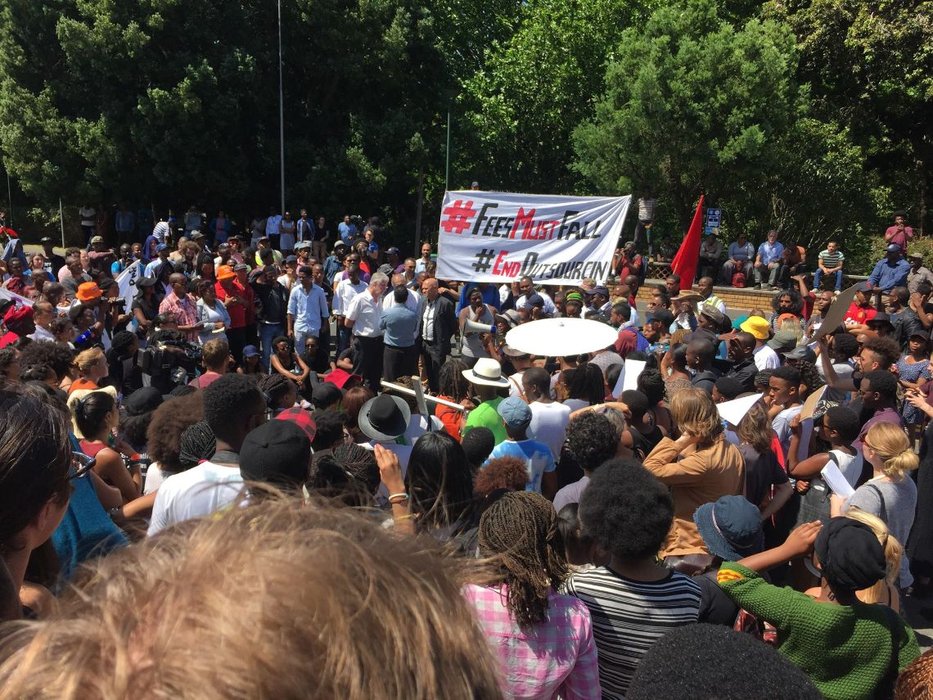 Peaceful Assembly
On 7th September 2020, it was reported that the Clicks pharmacy at Saveways Centre in Emalahleni was attacked in a suspected petrol bombing incident. According to the police, a group of men threw a petrol bomb at the shop that night, but nothing inside was damaged. The incident occurred at a time when the beauty store stirred public outrage after they made a controversial advertisement which seemed to demean black people's hair, suggesting that white hair was more "normal". In another store in the town, Economic Freedom Front Party (EFF) members asked all staff to leave the premises, while a further store was trashed in Komani, Eastern Cape. In Atteridgeville near Pretoria, EFF protesters placed a lock on a Clicks store to prevent it from opening.
In a separate incident, in early October 2020, trade union COSATU urged members to boycott work in protest against corruption in government, job losses and wage cuts. They also criticised the government's handling of COVID-19. President Cyril Ramaphosa said that the government was developing an economic recovery plan which would boost employment, while also promising action against those who had been implicated in corruption.
Police officers due in court for #MthokozisiNtumba killing. life can't go in vain! The struggle continues. #JusticeforMthokozisiNtumba #NationalShutdown #Witsasinamali #FeesMustFall2021 pic.twitter.com/ay4NOND5DN

— Joshua Mbaye (@JoshuaMbaye) March 17, 2021
In a another incident, on 10th March 2021, it was reported that one person, who was later identified as Mthokozisi Ntumba, a bystander, was shot dead by police as they dispersed a protest by students from Wits University who were demonstrating in Braamfontein, Johannesburg. At least one hundred students had gathered that day to protest the refusal of the institution to register students who had fees arrears. Five days later on 15th March, it was reported that the student protests were spreading nationally, as student leaders called for the shutting down of 26 public universities across the country, for failure by the government to meet their demands. They also condemned the excessive use of force by police officers which had led to the death of one protester in the Wits University protest a few days before. The South African Union of Students (SAUS) demanded clearance of debts for all students to enable them to register for the next academic year, justice for the person killed during the previous protest, and funding for post-graduate students. Four police officers were arrested and charged for Ntumba's murder.
A few weeks after the university protests began, a report compiled by the Marikana Commission was officially launched by the Minister of Police on 29th March 2021. The Commission, which was established following the Marikana massacre in August 2012, comprised a panel of experts tasked with looking into policing and crowd control in the South African Police Service (SAPS). The report highlights inadequacies within the SAPS framework on use of force and emphasises the protection of civilian life as the hallmark of professional policing. 
An @News24 investigative journalist Jeff Wicks @wicks_jeff - the target of illegal #surveillance for reporting on internal rifts at South Africa police's Crime Intelligence division: https://t.co/Q7KN6oe6qm

— IFEX (@IFEX) March 14, 2021
Expression
On 17th March 2021, the acting head of Crime Intelligence (CI), Leutenant General Yolisa Mokgabudi, announced that she had called for investigations into allegations that officials had bugged Jeff Wicks, journalist from News24. This announcement followed calls by the news outlet for CI to stop its surveillance. Reports indicated that Wicks was being targeted to establish his sources through a phone tracking device, after his involvement in covering discontent within the police force and CI.