Nurses, climate activists and other solidarity groups hold protests amid the pandemic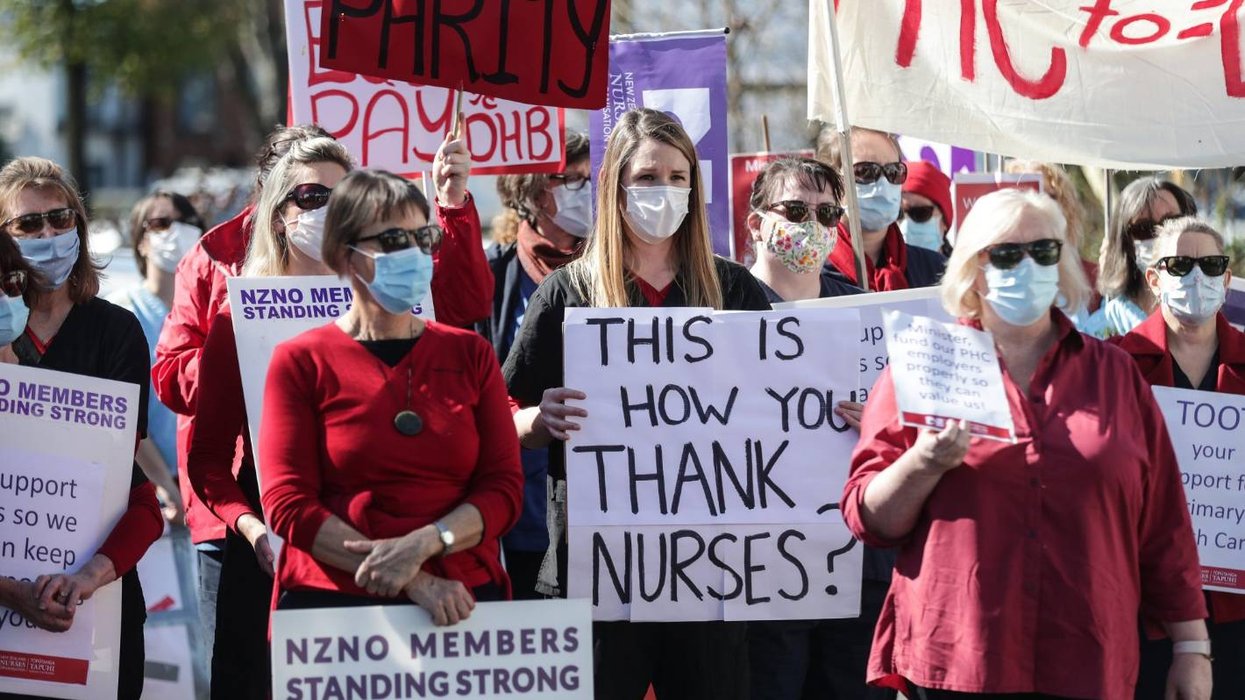 In October 2020, New Zealand Prime Minister Jacinda Ardern won a landslide victory in the country's general election. Ardern's centre-left Labour Party won 49.1%, bringing a projected 64 seats and a rare outright parliamentary majority.
The opposition centre-right National Party won 26.8% in the poll - just 35 seats in the 120-seat assembly. The poll was originally to be held in September 2020 but was postponed by a month after a renewed COVID-19 outbreak.
Prime Minister Jacinda Ardern has brought with her a diverse cast of politicians that make up what is -- by some measures -- the most inclusive parliament in the world. Almost half of New Zealand's newly sworn-in MPs are women and 11% are LGBTQ. Eight of Ardern's 20-strong cabinet are also women, and a quarter are Māori.
The Human Rights Commission called on the government to stand by its promises to make New Zealand fairer for all people. It released a report featuring 39 issues highlighted by all four Human Rights Commissioners. Among the demands was getting the balance right between freedom of speech and the right to be safe.
Presently, hate speech is defined as speech that can be proven to cause a third party to act with violence or hostility towards an ethnic or national group. It does not safeguard other protected characteristics such as religion, sexual orientation or disability.
Over the last few months there have been protests against the coronavirus lockdown, in solidarity with Nigerian protesters, by nurses over equal pay and against plans for a proposed airport in Central Otago.
Peaceful assembly
Protest against coronavirus lockdown
In September 2020, large crowds rallied in Auckland against the government's social distancing restrictions imposed on the country's largest city. Local television footage showed tightly packed crowds, with many people not wearing masks, with estimates of the attendance varying in reports between a thousand and a few thousand people.
New Zealand, a nation of five million, had appeared to have succeeded in halting community transmission of COVID-19, but a fresh outbreak in Auckland in August 2020 prompted the government to place the city back in lockdown.
Solidarity with Nigerian protesters
New Zealanders stand with Nigerian protesters https://t.co/SV8TJKtGkA

— RNZ News (@rnz_news) October 24, 2020
Dozens of New Zealanders gathered in Aotea Square in Auckland on 24th October 2020 to stand in solidarity with peaceful protesters in Nigeria battling against police brutality and corruption. The protests in Nigeria saw mostly young people demanding the scrapping of a notorious police unit, the Special Anti-Robbery Squad (SARS). The unit was dissolved days later, but the protests continued, demanding broader reforms in the way Nigeria is governed.
A range of speakers from the local Nigerian community talked about how the Nigerian government was failing their people, but that New Zealand also needed to examine the way police targeted Māori and Pasifika people.
Nurses strike over equal pay
In November 2020, up to 32,000 nurses and administration staff across 500 practices held a 24-hour strike over equal pay with District Health Board nurses. Dozens of nurses marched from Midland Park to the Ministry of Health in central Wellington.
Primary care nurses are paid 10.6 per cent less than those working for district health boards, leaving them $7650 (USD 5,410) worse off a year – despite having the same skills and training. The New Zealand Nurses Organisation (NZNO) set the funding gap at $15 million (USD 10.6 million).
The pay discrepancy meant fewer nurses wanted to work in primary care, lowering staffing levels. That, combined with an ageing population where people were sicker, was making the job more difficult.
Activists protest against airport
#LISTEN Climate activists protest against Tarras airport planhttps://t.co/Z4bgMkJTZk pic.twitter.com/vcKFfUo2kU

— Newstalk ZB (@NewstalkZB) December 3, 2020
Plans for a proposed airport have faced strong push back during a Christchurch City Council meeting on 3rd December 2020.
Just a day after the New Zealand government declared a climate emergency, protesters from Extinction Rebellion played dead in front of councillors - with a message to stop plans for an International Airport at Tarras, in Central Otago. Four groups opposed to the build spoke at the city council's Finance and Performance Committee meeting.
Climate activists pretended to die in front of Christchurch City councillors as they joined Tarras residents to oppose the planned Central Otago airport. School Strike 4 Climate NZ's Ciara Foley said she was "ashamed of the council" for considering the project, "developing an unsustainable airport that we do not need".