NGO report highlights different challenges faced by urban and rural HRDs and CSOs
On 8th May 2018, the UN Security Council unanimously renewed sanctions on South Sudan for another year, which includes travel bans and asset freezes against individuals responsible for threatening peace and stability in the country. In early May 2018, the South Sudan Equatoria Community in Diaspora group began publicly lobbying the International Criminal Court in the Hague to indict President Salva Kiir and rebel leader Riek Machar for alleged war crimes, crimes against humanity and genocide.
Association
Report on ongoing crackdown against human rights defenders
In late April 2018, regional NGO DefendDefenders released a report detailing the situation for human rights defenders (HRDs) in South Sudan since the July 2016 Juba crisis. The report shows that HRDs face a multitude of challenges, including targeted intimidation and attacks, most notably by the by National Security Service (NSS).
According to the report, years of civil war, with the resulting lack of infrastructure and access to many areas of the country, have created a divide between urban and rural HRDs, with the latter finding themselves insufficiently supported and lacking access to protection mechanisms. Attacks against activists and civil society organisations (CSOs) are largely committed with impunity and a significant number of such incidents go unreported.
CSOs have begun the process of documenting and preserving evidence for a future Hybrid Court for South Sudan (HCSS) to prosecute crimes committed from December 2013 through the end of the transitional period. The HCSS was mandated under Chapter 5 of the 2015 Peace Agreement, but has yet to be established. The above-mentioned report states that there are concerns within civil society over organisations' ability to effectively preserve and present evidence at a level necessary for prosecution as well as their capacity to safeguard the evidence and protect their sources.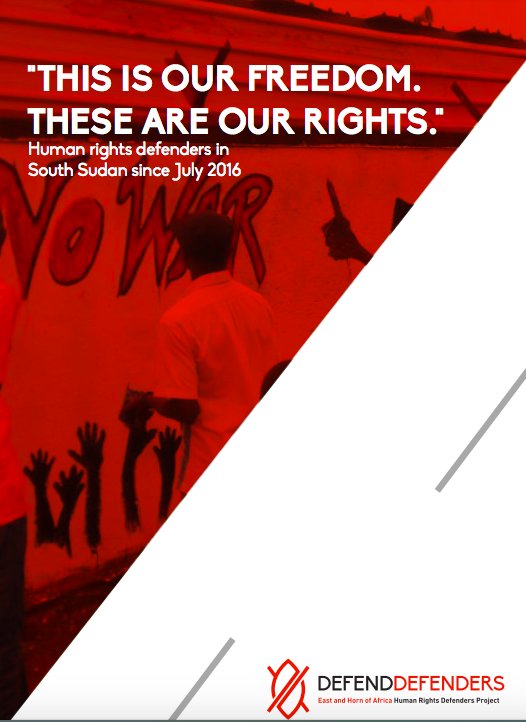 Hassan Shire, Executive Director of DefendDefenders, stated that:
"So much has changed in South Sudan since the civil war resumed in July 2016, and we see civic space shrinking by the day…in this conflict context, it is imperative for human rights defenders to be able to operate in the country, and we reiterate our commitment to making sure they can continue their vital work without fear".
Aid workers released by rebels
Ten aid workers kidnapped in South Sudan have been released https://t.co/SuepPTW24l pic.twitter.com/rCT2psLqIc

— Al Jazeera English (@AJEnglish) April 30, 2018
On 30th April 2018, ten aid workers, all South Sudanese citizens, were released by the rebel Sudan People's Liberation Movement-in-Opposition (SPLA-IO), after being held for almost a week. The United Nations in South Sudan said that the aid workers had gone missing in the southwest of the war-torn country, close to the town of Yei. In another incident, seven aid workers were released on 15th April after being held for nearly three weeks. Rebel forces had accused them of being government spies.
Accessing rural or rebel-held areas presents a major challenge for aid workers and HRDs in South Sudan.
In late April, a humanitarian aid worker was shot and killed while returning to check on a health clinic that had been looted in Leer County; 100 aid workers have been killed since the conflict began in December 2013.
In a statement, UN Humanitarian Coordinator for South Sudan Alain Noudehou stated:
"I am deeply concerned by the insecurity faced by aid workers in South Sudan, who are risking their lives to save others…I strongly urge the parties to the conflict to abide by international humanitarian law and ensure that humanitarians are safe while delivering assistance and services to people in need".
Expression
BBC relay stations shut down
On 19th April 2018, authorities from the South Sudan Broadcasting Corporation (SSBC) shut down the BBC's FM relay stations in the cities of Juba and Wau, alleging that the broadcaster had failed to pay certain bills.
In a statement, the BBC "regretted SSBC's decision to shut down its news service that reach an audience of more than 400,000 in South Sudan". The BBC is in talks with SSBC to restore the service.
April 18th 2018 (Nyamilepedia) - South Sudan shut down, on Tuesday, all the BBC relay stations in the nation's capital and in the defunct Western Bahr Al-Ghazal State's capital Wau saying the... https://t.co/Xn0qRt3roo

— Nyamilepedia (@Nyamilee) April 18, 2018