Multiple anti-lockdown protests organised in NZ; government consults on hate speech laws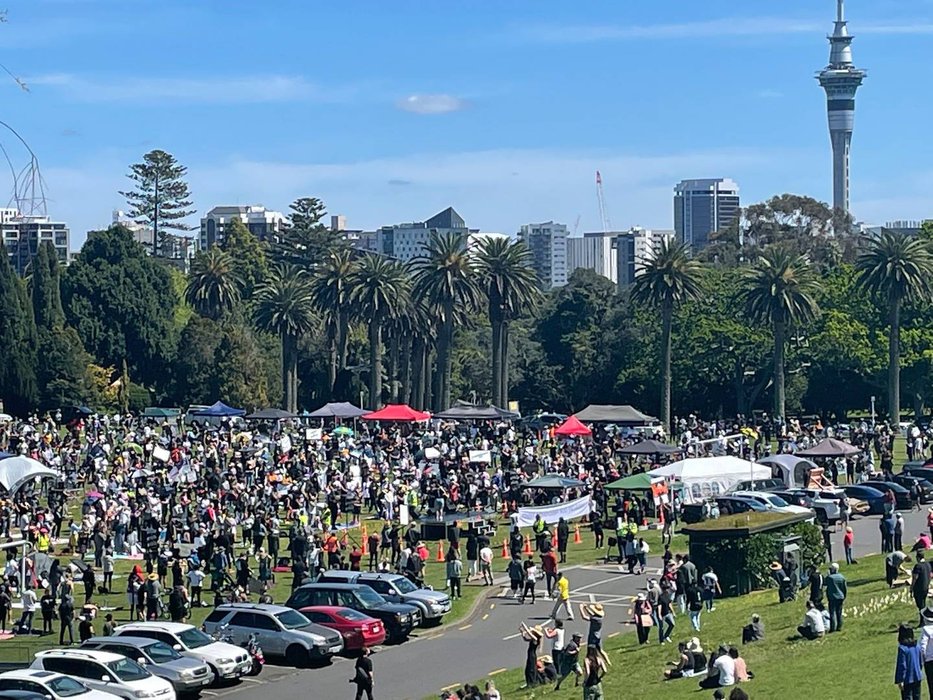 Peaceful Assembly
Hard lockdowns have been imposed country-wide since mid-August 2021 due to an outbreak of the COVID-19 Delta variant. In response, there have been numerous anti-lockdown protests with arrests of protesters reported.
On 16th August 2021, anti-lockdown activists and COVID-19 deniers gathered in Auckland's central business district to protest the snap lockdown. Controversial musician and political hopeful Billy Te Kahika was leading the gathering, which attracted about 50 people outside TVNZ's headquarters on the corner of Victoria and Hobson streets. Its organisers were arrested 43 minutes into the event. Police Commissioner Andrew Coster confirmed four people had been arrested at the gathering. Other protests were hosted outside police stations in Nelson in Tauranga. Four people were arrested in Tauranga after being part of an earlier 20-strong protest group.
A one-person anti-lockdown protest in central Auckland was shut down on 27th August after police were alerted to discussions on social media about a potential gathering. New Zealand police said officers were on Queen Street on Friday after hearing a protest was being planned, but only one person arrived with the intention of protesting.
On 31st August, police said 19 people were arrested following anti-lockdown protests around the country. Two people were arrested in Northland, four arrested in Auckland, three in Waikato, six in Bay of Plenty, two people in Whanganui, one in Christchurch and one in Taupō. Each of the protests wa held outside government and local council buildings in a number of regions. Police said arrests were made for failing to comply with Alert Level 4 restrictions.
On 2nd October, more than 1,000 people turned up to an anti-lockdown protest in Auckland's domain arranged by Brian Tamaki, the leader of Destiny Church, a Pentecostal fundamentalist Christian movement. The crowd who gathered included gang members and one vehicle had a banner reading 'Let Freedom Reign'. No arrests were reported.
An estimated 2,000-plus people congregated for an anti-lockdown protest on Auckland Domain field on 16th October - many without masks. Police officers observed the rally - some on the edge of the protest and others from a distance. At least one officer was armed with a long-lens camera. Police announced they plan to prosecute numerous people who organised the anti-lockdown protest in Auckland Domain.
Expression
Rights body says hate speech laws must not include political opinion
On 31st August, the Human Rights Commission issued a statement stating that it had largely endorsed the Government's proposals to broaden protection against hate speech but does not want political opinion included.
In June 2021 the Ministry of Justice published a document with six proposed reforms to increase protection against speech that incites discrimination and hatred – often referred to as hate speech – and to provide clarity over what the law permits.
In its formal submission the Commission advised against including political opinion because of the direct connection to freedom of expression.
"Laws governing hate speech need to achieve a balance between protecting people from speech that incites discrimination and hatred and the right to freedom of expression," said Chief Commissioner Paul Hunt.
"Hate speech laws are not intended to protect people from offence or to suppress ideas. Rather they are used to help protect vulnerable groups of people from speech – or other forms of communication – that is intended to encourage hatred and discrimination by others."
The Commission's submission states that the inclusion of political opinion within the incitement provisions may have a "chilling" effect on political debate, activism and public discourse.
Both the civil and criminal incitement provisions of the proposed law are designed to apply to hate speech which has the effect of inciting hatred or hostility towards vulnerable groups, rather than individuals.
The Commission's submission also favoured the retention of a high threshold for liability. This ensures that any limitations are proportionate, reasonable and justifiable in a free and democratic society.
In December 2020, the report by the Royal Commission of Inquiry into the terrorist attack on Christchurch mosques on 15th March 2019 made a number of recommendations to improve existing laws relating to hate speech.