Migrant rights groups and workers in Taiwan rally at ministry to be allowed to change employers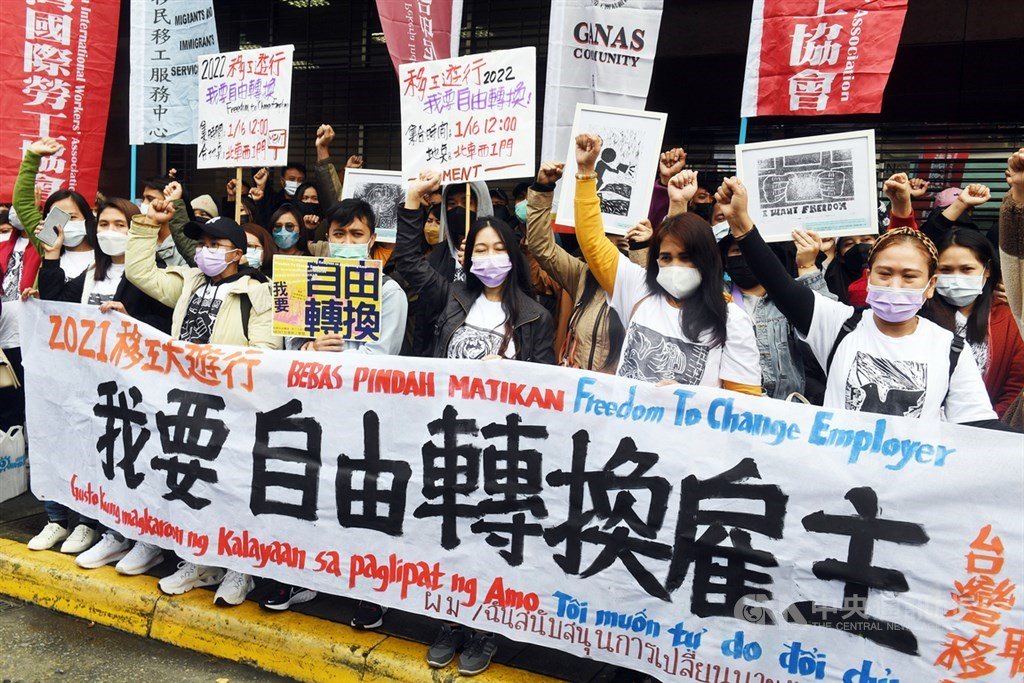 A coalition of migrant rights groups and migrant worker organisations rallied outside the Ministry of Labour (MOL) in Taipei on 26th December 2021 to call on the public to join them for a march in January 2022 to push the government to allow blue-collared migrant workers to change employers.
Migrant workers can currently change jobs only if their employer dies, a factory closes down, a fishing boat sinks, or some other reason that is not the fault of the worker, such as if the employer breaks the law, said Taiwanese Ella Weng, a representative from the Migrants Empowerment Network in Taiwan (MENT), a coalition of seven migrant rights groups. MENT is also the organiser of the labour rights march which will take place on 16th January 2022.
At the rally, a 36-year-old Indonesian caretaker from northern Taiwan, identified as Ani, said in November 2021 that she left the long-term care facility she was employed at to go and live in a shelter because her employer had refused to pay for all of her overtime work and to let her see her clock-in sheet. The employer made her work long hours and refused to agree to let her change jobs, Ani said, adding that her employer told her it was illegal for her to reach out for help.
Another migrant caretaker, a 41-year-old Filipina who gave her first name as Janice, told media outlet CNA she is also currently staying at a shelter because her employer had mistreated her. She left her employer in New Taipei about three months ago and has not received any salary during that time.
In response, the Ministry of Labour (MOL) said that currently jobs transfers must follow the Employment Service Act, but migrant workers have the right to change employers and jobs at the end of their three-year contracts. However, regarding the ability to change employers freely, the MOL said that public opinion will need to be gathered and a consensus established before any discussions can take place.
There was a total of 675,672 migrant workers in Taiwan at the end of November 2021, according to MOL statistics. Taiwan has relied heavily on migrant workers who make huge contributions in the manufacturing and electronic sectors. In general, migrant workers have faced enduring physical and emotional stress while the infrastructure for addressing their concerns remains limited and often difficult to access.
There have been complaints about migrant workers being forced to stay in overcrowded dormitories with insufficient facilities and almost no private space, exposing them to physical health problems due to the confined and sometimes squalid environments.
A 2020 report by the U.S. State Department on human rights practices in Taiwan voiced concerns on the alarming issue of "forced labor" occurring in sectors reliant on migrant workers, including domestic services, fishing, farming, manufacturing, meat processing and construction.