Media outlets and journalists face a wave of SLAPP suits and hateful attacks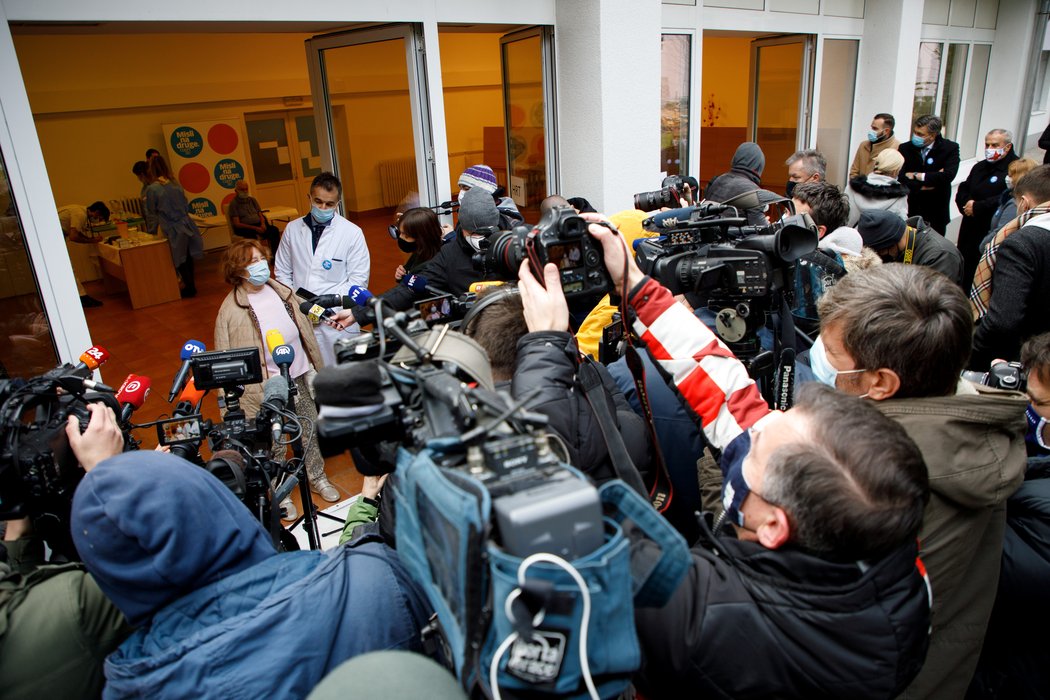 Association
Croatian NGOs criticised a potential amendment of the 2021 budget to allocate funds for persecuted Christians. The NGOs challenged an independent MP, arguing that humanitarian aid should not be supplied on a discriminatory basis. The Croatian Platform for International Citizen Solidarity, CROSOL told the Balkan Insight:
"We believe that selectively granting aid on religious, ethnic or racial grounds is contrary to the principles of [the government's] international development cooperation and means discrimination against all vulnerable groups not covered by this measure."
Peaceful Assembly
During this reporting period, several protests were held:
Around 1,000 demonstrators gathered in Zagreb on 9th November 2020 to protest against national COVID-19 measures and to call for the dissolution of the national coronavirus response team. Speakers at the event exclaimed that face masks were not protective and threatened to attack the head of Zagreb's Hospital for Infectious Diseases. Police charged the organiser for failing to ensure law and order and violating epidemiological rules.

Hospital staff rallied on 3rd November 2020 in response to a decision to convert the KB Dubrava Hospital in Zagreb into one for COVID-19 patients only. Protesters challenged the Health Minister, arguing that the eastern suburbs would not have access to emergency services.

On 30th November 2020, restaurants and café owners staged a protest against the decision to close businesses as part of COVID-19 restrictions. They gathered outside the Ministry of Finance in an attempt to bargain for compensation and a reduced VAT rate.

Demonstrators lit lanterns and laid wreaths outside the Ministry of Economy and Sustainable Development on 7th December 2020 to commemorate small and medium-sized businesses who were impacted by the lockdown imposed by government to tackle COVID-19. Local police took down the registration numbers of the protesting vehicles, however protesters claim that they adhered to epidemiological measures.
Expression
Various Croatian media outlets, together with the Croatian Journalists' Association (HND) and the Croatian Journalists' Union (SNH), staged a campaign against hate speech. The campaign, named #zajednobezmrznje (togetherwithouthate), involved disabling reader's comments below news articles for two hours. Also, in an interview, Vanja Juric, a leading Croatian lawyer, spoke about hate speech in Croatia and how these cases are difficult to prove in court. She said that hate speech is on the rise due to frustration, poverty and insufficient education. While the freedom of expression is covered by the Croatian Constitution, this does not include hate speech, she added.
The Croatian Journalists' Association (HND) once again highlighted their previous statement warning of the impacts of unpunished crimes against reporters resulting in an atmosphere of fear and self-censorship.
"The HND is warning about the years-long silence of the leading people in the country, starting from the prime minister. We are therefore asking for clear and unequivocal condemnation of attacks and threats against reporters."
SLAPP suits against media outlets
The Croatian Journalists' Association (HND) warned of an upcoming wave of lawsuits against journalists and media workers filed by high-ranking politicians and public personalities. A lawyer for the defendants in similar proceedings argued that these lawsuits are often used as a tactic to put pressure on the media and a cautionary tale for those tempted to write about them in the future.
"They solve any criticism of their work by filing lawsuits, as a form of intimidation of journalists and imposition of censorship," HND President Hrvoje Zovko.
Croatian politicians are using SLAPP lawsuits to silence journalists https://t.co/LSBnYhygdB

— Sindikat novinara Hrvatske (@Sindikatnovinar) October 29, 2020
Similarly, the European Federation of Journalists (EFJ) has condemned the continuous targeting of journalists and media in Croatia through several SLAPP suits. These include the Telegram news portal, Virovitica.net, Index and journalist Dora Kršul. The suits have been filed by former Agriculture Minister Tomislav Tolušić, former Member of Parliament Branimir Glavaš and University of Zagreb Rector Damir Boras. They include:
The Telegram Portal faces nine defamation lawsuits filed by former Agriculture Minister Tomislav Tolušić to the value of over € 30,000 in total.

Virovitica.net is facing two separate defamation lawsuits (€5,280) filed by Tolušić.

Index.hr is facing a €2,600 defamation lawsuit, filed by Tolušić, for publishing details of an investigation by Telegram portals on his property.
"There is no doubt that SLAPPs are used in Croatia as a tool to intimidate and silence those who report in the public interest. We call on the European Commission to urgently address this EU-wide problem. Journalists and media outlets simply don't have the resources to deal with these vexatious lawsuits," - EFJ General Secretary Ricardo Gutiérrez.
Attacks against journalists
As reported by Mapping Media Freedom, on 1st December 2020, journalists from the Croatian news portal Zadarski.hr were threatened by an unknown man who said he would kill and "slaughter" the journalists over a report about a wedding which took place in violation of COVID-19 restrictions. Journalists who wrote the story also received death threats online. The matter was reported to the police who identified the suspect who has since been banned from approaching the journalists or the newsroom.
The EFJ, International Press Institute (IPI) and Media Freedom Rapid Response (MFRR) called for the protection of Croatian journalist Anja Kožul, who works for Novosti, a Croatian and Serbian-language weekly magazine covering issues related to the Serb community in Croatia. The journalist has faced a hate campaign after she published an article entitled "From Islamophobe to state official" about Arnaud Gouillon, a French and Serbian national, who is known in Serbia for advocating for Kosovo Serbs and was recently appointed as head of the Directorate for Cooperation with the Diaspora and Serbs in the region. Kožul received threats from a Serbian paramilitary group known as the White Eagles who wrote: "Remember her face forever and don't let her play a Serbian woman after this!"; "She is our enemy, a freak and a traitor, the poorest one – who does everything she is told for a handful of kunas (…)". The matter has been reported to the police. The Trade Union of Croatian Journalists (TUCJ) and the Croatian Journalists' Association (CJA) have demanded the authorities act immediately.
"Anja Kožul's security is endangered. State institutions should protect her." They further call on the Serbian authorities to actively denounce and combat hate speech and harassment against journalists and media outlets.
#Croatia: Anja Kožul of the weekly of Serbs in Croatia @Novossti, is a victim of smear campaign, currently under investigation, on social media & in tabloids because of her article about the far-right French activist @ArnoGujon who became the head of a diaspora office in #Serbia. pic.twitter.com/gUcDpCu10Y

— RSF in English (@RSF_en) December 10, 2020