Media independence, access to information and self-censorship of NGOs still an issue in Bhutan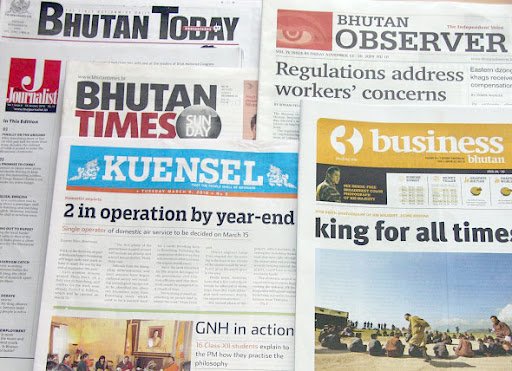 Civic space in Bhutan is rated as 'obstructed' by the CIVICUS Monitor. There continue to be concerns about media independence, access to information and the chilling effect of defamation laws on journalists. Further, according to reports, NGOs continue to self-censor and avoid issues perceived as sensitive by the government.
Expression
Concern about media independence and access to information
There continues to be concerns about press freedom in Bhutan despite an improvement in its ranking in the Press Freedom Index by Reporters Without Borders (RSF) issued in April 2021. Bhutan moved up two places to 65 out of 180 countries.
According to RSF, the main daily newspaper, Kuensel, which is published in both English and Dzongkha, still belongs to the state, while the state-owned Bhutan Broadcasting Service lacks any legal status guaranteeing its editorial independence. Further, the 2018 Information, Communications and Media Act confirmed the creation of a Bhutan Infocomm and Media Authority whose five members are directly appointed by the government, which poses a major threat to media independence.
While the Internet is booming, with more and more news circulating on blogs and social media, journalists who dare to post investigative reporting or criticism are subject to online campaigns by political activists that combine disinformation and defamation with personal and sometime racist attacks.
Rinzin Wangchuk, the president of Journalists' Association of Bhutan (JAB), said in May 2021 that despite the improvement in the ranking there were many challenges for journalists in terms of access to information. "Our situation is problematic because there is high rate of self-censorship and it is very difficult to get information, especially from the civil servants," he said, adding that some of the clauses in the Bhutan Civil Service Rules and Regulations (BCSR) restricted civil servants from speaking to journalists, denying media and people the fundamental right to information.This impedes the process of information dissemination and hampers people's right to information.
According to the International Federation of Journalists (IFJ) in Bhutan, access to information is still wrapped up in red-tape and complicated bureaucratic procedure in a hierarchical set up, necessitating permissions to record videos or take a photo. Besides media personnel, researchers and scholars in Bhutan are also coming up against the same obstacles. Free speech and expression as well as pursuit of research are thus impeded by official barriers.
The CIVICUS Monitor has previously noted that defamation and libel were criminal offences under articles 317 and 320 of the Penal Code and documented the use of defamation laws in Bhutan against journalists. Further, the National Security Act (1992) also forbade criticism of the king and the political system.
Association
Self-censorship among human rights groups
According to a report by the US Bureau of Democracy, Human Rights and Labour, while a number of domestic and international human rights groups generally operated without government restrictions, organisations practised self-censorship to avoid issues perceived as sensitive by the government.
Sensitive issues included women's rights and environmental issues, as well as issues related to the Nepali-speaking community. The government did not permit human rights groups established by the Nepali-speaking community to operate by categorising them as political organisations that did not promote national unity.