Media freedom under attack: raid of media outlet, several journalists arrested, four broadcasters fined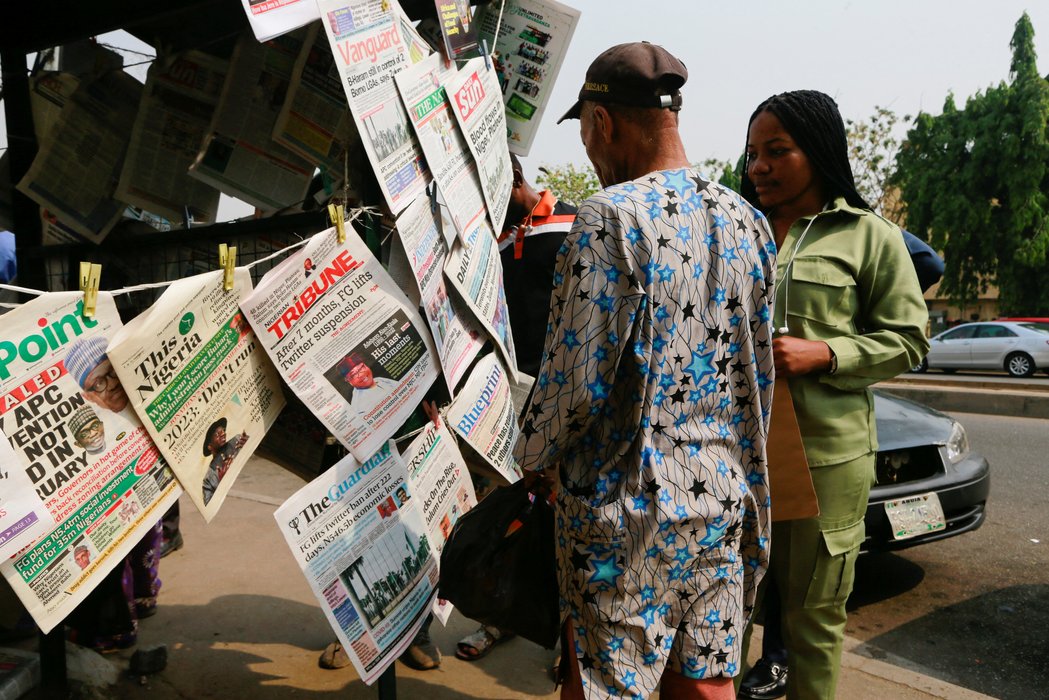 Expression
Journalist Agba Jalingo arrested again
On 19th August 2022, over a dozen police officers arrested journalist Agba Jalingo at his residence in Ogudu, Lagos State, following a defamation and cyberattack complaint filed by Eizabeth Alami Frank Ayade, the sister-in-law of the Governor of Lagos State, Benedict Ayade. According to the Committee to Protect Journalists (CPJ), who reviewed the complaint, the accusations against Jalingo relate to an unspecified Facebook post by Jalingo and a report published by CrossRiverWatch alleging that Elizabeth Ayade had hired a lecturer to take her exam at the Nigerian Law School. The articles reportedly included Ayade's denial of these allegations. Angela Quintal of CPJ commented:
"Nigerian authorities should immediately drop their defamation and cyberattack investigations into publisher Agba Jalingo and stop harassing the journalist, who has been repeatedly targeted because of his work and is already owed considerable court-sanctioned damages for his protracted arrest in 2019. Instead of wasting resources yet again on attempts to criminalise Jalingo's journalism, authorities should ensure that any such complaints are handled through alternative dispute resolution mechanisms."
Jalingo, publisher of news site CrossRiverWatch, was first transferred to Ikeja, the capital of Lagos State, and flown to a police station on 20th August 2022, where he was released on bail. As reported previously on the Monitor, Jalingo was previously arrested in August 2019 and charged with terrorism, treasonable felony and cybercrimes in relation to an article he wrote on the alleged involvement of the Governor of Rivers State in the diversion of funds allocated to the creation of a micro finance bank and his involvement in the #RevolutionNow movement. Jalingo was released on bail on 13th February 2021 and only recently, in March 2022, a High Court in Calabar dismissed all charged against him. In July 2021, the regional ECOWAS Court of Justice ordered the Federal Government of Nigeria to pay compensation to Jalingo for the inhumane treatment and torture the journalist was subjected to while in arbitrary detention in Cross River State.
Police raid Peoples Gazette office, arrest five staffers https://t.co/bIrF1TLrl5

— Premium Times (@PremiumTimesng) July 22, 2022
Police raid newspaper, arrest five staff members
On 22nd July 2022, police officers stormed the offices of online media outlet Peoples Gazette in Abuja, and arrested five staff members in relation to a criminal defamation complaint filed by former army chief Tukur Buratai in relation for a report published by the outlet on a law enforcement operation at a property owned by Buratai. The officers were initially looking for the managing editor of the outlet, Samuel Ogundipe, and the author of the report, journalist Adefemola Akintade, and in the absence of the two, they arrested assistant editor John Adenekan. Half an hour later, the officers returned and arrested four other staff members – journalists Ameedat Adeyemi and Samuel Ogbu and administrative staff members Grace Oke and Justina Tayani. All five were released later the same day.
The incident was condemned widely by media rights and other civil society organisations. In a statement, Ayode Longe of Media Rights Agenda (MRA) commented:
"We have observed in recent months a pattern of policemen raiding media organisations, arresting and detaining their staff or intimidating media professionals in various other ways under the guise of investigating complaints made against such media organisations by powerful individuals or entities. We condemn this trend and state emphatically that it is not the duty of the Police to protect the reputations of individuals or organizations or shield them from scrutiny, especially when the Police are failing woefully in the performance of their primary function of ensuring the safety and security of all citizens."
As reported previously on the Monitor, Peoples Gazette was raided by officers of the National Intelligence Agency (NIA) earlier this year, on 10th January 2022, in an attempt to find managing director Samuel Ogundipe and reporter Hillary Essien, both sought for the identification of the source of a leaked confidential memo which formed the basis for several articles published by the news site in December 2021.
IPI Nigeria Committee condemns the arrest&assault of journalists Haruna Mohammed & Idris Kamal of @wikkitimes by @PoliceNG over story published on House of Rep member Yakubu Abdullahi. We welcome that journalists are now released. @UnionNuj @IPCng https://t.co/hL84LxF77V

— IPI - The Global Network for Independent Media (@globalfreemedia) July 1, 2022
Two journalists prosecuted
On 27th June 2022, publisher for the online newspaper WikkiTimes, Haruna Mohammed Salisu and one of the newspaper's journalists, Idris Kamal, were detained by police after they honoured a summons and made a statement in relation to a complaint by member of Parliament Yakubu Shehu Abdullahi about an article published by the media outlet regarding threats against the chairman of the opposition All Progressive People's Congress (APC) for Bauchi State, Husseini Musa Gwaba, prior to his sudden death in May 2022. The two journalists were released 10 hours later but were ordered to return the following day for further questioning. On 28th June 2022, Salisu and Kamal were taken to a magistrate's court where they were charged with criminal conspiracy, defamation and cyberstalking, held overnight and released on bail the following day.
The prosecution dropped the charges of cyberstalking, as the court lacks jurisdiction. According to CPJ, convictions for defamation and criminal conspiracy can each carry up to two years in prison.
Journalist granted bail under excessive conditions, keeping the journalist in prison
On 21st June 2022, a Federal High Court in Abeokuta, the capital of Ogun State, granted bail to Olamilekan Hammed Adewale Bashiru, publisher and founder of media outlet EaglesForeSight. The bail was set with a series of onerous requirements, including a bond of three million naira (7,230 USD) and two sureties – one to be a civil servant and the other a business owner willing to provide their phone numbers, addresses, banking details and a property deed. Additionally the civil servant needs to hand over his/her passport and the business owner his/her business registration documents, together with property documents, until the trial is over. Due to these excessive conditions, difficult to meet, the publisher remained incarcerated. Sadibou Marong of Reporters without Borders (RSF) commented:
"By setting an especially high bond, the federal high court is using a deliberate strategy to silence and censor journalists and keep them in prison. We condemn the justice system's use of such arbitrary methods to keep journalists in detention without formally charging them. These repressive methods have no place in a society that respects fundamental rights."
As reported previously on the Monitor, the publisher was arrested on 13th May 2022 in relation to a republished article alleging that the Governor of Ogun State, Dape Abiodun, had a criminal record in the United States.
Journalists assaulted, intimidated
According to press freedom organisations MFWA and NUJ, seven journalists were harassed, assaulted and intimidated by police officers at a High Court in Port Harcourt, Rivers State, on 13th May 2022. The journalists were at the High Court to cover the trial of Farah Dagogo, National Assembly member and Rivers State governorship candidate for the People's Democratic Party (PDP), who is facing charges of conspiracy and cultism.
Investigative journalism outlet subjected to threats
In May and June 2022, the Foundation for Investigative Journalism (FIJ) received several threatening messages from unknown numbers via their official WhatsApp number. In one message on 15th May 2022, the sender threatened to decapitate the receiver of the message, followed by "next time you will know how to mind your business" and "It is a promise". On 3rd June, the sender called, what is believed to be a female journalist, a "useless woman". According to CPJ, the threats came after reports by FIJ accusing a Belarus-based Nigerian travel agent of fraud. In another separate development, a female journalist was called a "foolish woman" by a traditional herbal doctor who was accused of fraud in a FIJ report authored by the woman journalist.
PRESS RELEASE....

NBC SANCTION PAYTV PLATFORMS. pic.twitter.com/95CmdqEQt1

— nbcgovng (@nbcgovng) August 3, 2022
Four broadcasters fined for airing documentaries on banditry
On 3rd August 2022, Nigeria's broadcast regulator, the National Broadcasting Commission (NBC), issued fines of five million naira (12,000 USD) to three broadcasters - Multichoice Nigeria Limited, TelCom Satellite Limited (TSTV) and NTA-Startimes Limited - for having aired the BBC Africa Eye documentary "Bandits Warlords of Zamfara". NBC said in its statement that the documentary "glorified the activities of bandits and undermines national security in Nigeria". Broadcaster Trust Television Network (Trust TV) was additionally fined five million naira for having aired another documentary on banditry on 5th March 2022, "Nigeria's Banditry: the Inside Story". The NBC further said that it "seize(s) this opportunity to advise broadcasters to be circumspect and deliberate in the choice and carriage of contents deleterious to Nigeria's national security". The four have untill 30th August 2022 to pay the exorbitant fines.
52 broadcasters shut down for failure to pay licence renewal fees
On 19th August 2022, the NBC revoked the operation licences of 52 broadcast stations for failure to pay the licence fees. The 52 were given 24 hours to halt their operations. NBC Director General Balarabe Shehu Ilelah further stated that they had already asked, in May 2022, the affected broadcast stations, via publication in dailies, to renew their licences and pay their debt in within two weeks to avoid having their licences revoked and frequencies withdrawn. Media freedom organisations criticised the NBC decision, with the Nigeria Union of Journalists (NUJ) calling it "ill-timed" and "reckless". The Nigerian Guild of Editors (NGE) and the Socio-Economic Rights and Accountability Project (SERAP) initiated a lawsuit against President Buhari and the NBC for "the arbitrary use of the NBC Act and broadcasting code to threaten, revoke and shut down" over 50 broadcast stations. On 29th August 2022, a Federal High Court granted the complainants an order of interim injunction, temporarily halting the NBC's move to shut down the broadcast stations. A further hearing is to take place on 9th September 2022.
Toba Adedeji, reporter with The Nation newspaper was shot by police while covering a protest in Osogbo, the capital city of Osun state in southwestern #Nigeria reports @TheMFWA: https://t.co/AcSnOeVnNs @globalfreemedia @forfreemedia

— IFEX (@IFEX) June 4, 2022
Peaceful Assembly
Protest against police brutality dispersed with force
On 31st May 2022, police used excessive force to disperse a protest in Osogbo, Osun State. Protesters, mainly youth, gathered under the Olaiya bridge to denounce the killing of a young man, allegedly by a police officer. The protesters reportedly blocked roads while chanting protest songs and demanding justice for the young man who was killed. According to news reports, police arrived 30 minutes after the protest started and used tear gas and live ammunition to disperse the crowd. One journalist – Toba Adedeji of the newspaper The Nation – was shot in the thigh, and one protesters was injured. In protest against the police brutality during the protest, the Osun State chapter of the Nigeria Union of Journalists (NUJ) directed media to boycott police activities.