Massive protests after suspension of municipal elections in Dominican Republic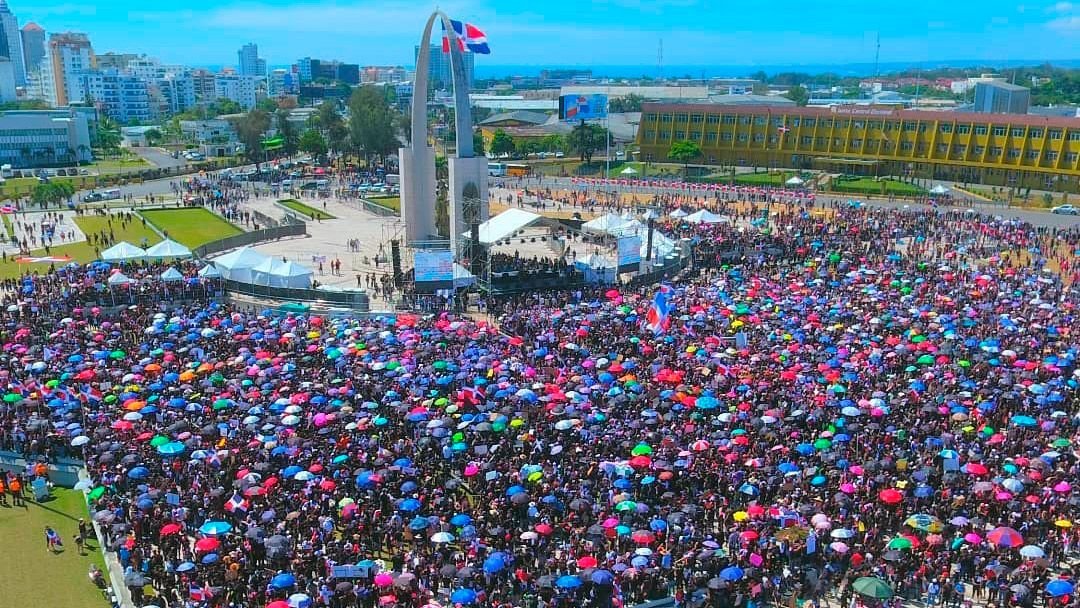 Peaceful Assembly
People take to the streets after suspended election
On 16th February 2020, the Dominican Republic abruptly suspended nationwide municipal elections which were already in progress. People had been casting ballots for hours when election officials reportedly realised that there was an issue with about 60% of the electronic voting machines. In response, the Dominican Central Electoral Board made the decision to suspend the elections.
This sparked a political confidence crisis in the country, with thousands of people taking to the streets in almost daily protests. On 17th February 2020, dozens gathered in front of the Central Electoral Board's headquarters to demand respect for democracy and the resignation of the entire Board. On 27th February 2020, when the country celebrates its independence, a massive rally took place with protesters demanding an investigation into the incident and transparency in the electoral process. Members of the Dominican diaspora across the world also organised solidarity rallies from New York City to Prague, in support of the country's democracy. According to news reports, many protesters have expressed distrust of the governing party, saying it tried to take advantage of the malfunctioning machines.
The municipal elections were rescheduled for 16th March 2020 and took place despite the coronavirus pandemic which reportedly affected campaigns and voter turnout. As determined by the electoral board, voting was conducted entirely with paper ballots. Several external observers were present during the process and the board also requested assistance from the Organisation of American States (OAS) to audit the automated voting system which presented flaws.
Expression
Journalist faces defamation charges for reporting corruption
Authorities in the Dominican Republic should drop criminal charges against Marino Zapete and stop pursuing criminal defamation cases against journalists.
Tomorrow, a court is scheduled to try Zapete on charges based on his reporting on alleged corruption.https://t.co/dGVZIcHl8T

— CPJ Américas (@CPJAmericas) January 23, 2020
Journalist Marino Zapete faces criminal defamation charges based on his reporting on alleged corruption. Zapete is a former broadcast reporter with local television station Teleradio America, where he used to present the news programme "El Jarabe". On 25th September 2019, the journalist claimed in the news programme to have evidence that Maybeth Rodríguez, the sister of Prosecutor General Jean Rodríguez Sánchez, had illicitly profited from public infrastructure projects. As reported by the Committee to Protect Journalists (CPJ), Maybeth Rodríguez sent a letter to Zapete denying all allegations against her and filed a criminal defamation complaint against him on 7th November 2019.
Under Dominican law, if found guilty, Zapete could face up to six months in prison and a fine of up to 20,000 Dominican pesos (US$370). As previously reported on the Monitor, in 2016 the country's Constitutional Court struck down seven articles of the Law on Expression and Dissemination of Thought (Law 6132) which imposed criminal penalties on so-called "speech crimes". However, the country still maintains criminal penalties on defamation in some instances. A court in Santo Domingo has scheduled Zapete's trial for 16th April 2020.
Journalists' association Colegio Dominicano de Periodistas (CDP) expressed their support for Zapete and condemned the legal harassment against him. The CPJ's Central and South America Programme Coordinator, Natalie Southwick also stated:
"Journalists must be able to report on issues of public interest without facing criminal penalties and potential jail time. Authorities in the Dominican Republic should drop all criminal charges against Marino Zapete, and should reform the country's laws to abolish criminal defamation once and for all."