Mass arrests of activists; HRDs and journalists hacked with Pegasus Spyware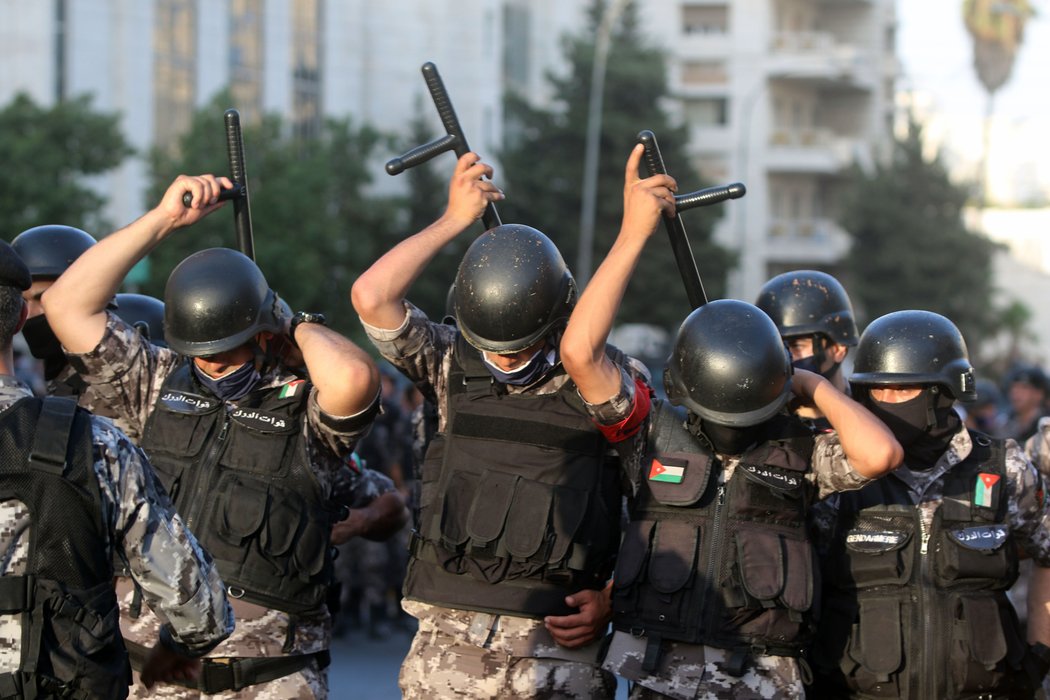 Peaceful Assembly
The Law on Cybercrime Prevention has been used as a tool to detain activists and thus continues to restrict civic space. According to Democracy for the Arab World Now (DAWN) at least 150 activists were arrested during March 2022. Below is a summary of the arrests that took place:
Several pre-emptive arrests took place prior to the commemoration of the 24th March 2011 protests. Amongst those arrested were Teachers Syndicate leader Kefah abu Farhan; journalist Ahmad Hassan Al-Zoubi; Professor of Environmental Studies, Sufian Al-Tall, who is also the general coordinator of the "Change" Movement.

Additionally, Anas al-Jamal, a Jordanian street vendor of Palestinian origin, who is well-known for leading chants at protests, was also arrested to prevent him from going to the planned protest. He is facing charges for "harming Jordan's relations with other countries" (under the Penal Code) and charges of disturbing relations with a friendly country in accordance with the Cybercrime Law.

On 27th March 2022, several supporters from "the Unemployed Movement" in Tafilah were arrested after they had staged a 43-day sit-in in front of the government building against the lack of employment opportunities.

On 29th March 2022 arrests began of teachers who were planning to attend the weekly Teachers' Syndicate protests in Amman. Police also established a checkpoint to prevent teachers from reaching Amman for the sit-in.

A number of activists have been arrested and charged by the prosecutor for "spreading false news" under article 15 of the Cybercrime Prevention Law and for "inciting strife" under article 150 of the Penal Code. The detained activists are: Abdullah Awad Al-Khawaldeh, Ibrahim Al-Zarqawi Al-Khalayleh, Adel Al-Brashat Al-Zayoud, Imad Bakheet Al-Khalayleh, Ahmed Al-Hayari, Salem Abu Sanubar Al-Abadi, Abd al-Tawahya al-Abadi, Uday Abu Rumman, Ahmed Raqmi al-Hiyari, Abdullah Abu Sayel al-Khalayleh and Ahmad al-Nuaimat.
The OHCHR notes that some of those detained were arrested merely for planning protests, others for protesting over local election results and at least one was arrested after posting bail for someone detained earlier. Police reportedly stormed the homes of some of the activists during the night, in some cases accompanied by counter-terrorism security forces.
A reliable official source stated that the detentions were carried out "purely based on legal procedures that are not related to any political orientations" and that they were carried out against the background of "stirring up sectarian and racial strife" and "spreading false news." Additionally, Euro Med Monitor notes that conditions of detention were poor, with many detainees subjected to violations.
In a statement, the OHCHR urged the authorities to release all those who have been detained for exercising their rights to freedom of expression and peaceful assembly, to ensure that individuals can exercise these rights, to address their grievances and to amend the Law on Crime Prevention to bring it in line with the International Covenant on Civil and Political Rights, to which Jordan is a party.
In addition, DAWN said in a statement:
"Arresting activists for a short time, releasing them and then re-arresting them again is a new tactic adopted by the Kingdom to create fear across the country, without instigating criticism of the government's policies. Jordan's security services are playing whack-a-mole with citizens who day in and day out are seeking to protest, while the government seeks to evade criticism from its international benefactors." 
Expression
HRDS, journalists hacked with NSO spyware
In April 2022, Citizen Lab and FrontLine Defenders revealed that Human Rights Defenders (HRDs) and journalists in Jordan had been hacked with Pegasus spyware. The key finding of the investigation revealed that between August 2019 and December 2021, Pegasus spyware was used to hack the phones of four HRDs, journalists and lawyers. This comes after Front Line Defenders found in January 2022 that the phone of Hala Ahed Deeb, a Jordanian lawyer and WHRD, was infected with the spyware. Subsequent to this, further investigations revealed that the phones of several other activists had been hacked. This includes:
Ahmed Al-Neimat , who is a human rights defender, an anti-corruption activist and a member of the Hirak movement.

Malik Abu Orabi , who is a human rights lawyer and a member of the National Forum for the Defence of Liberties. Orabi is also the lawyer defending the Jordanian Teachers' Syndicate (JTS) and was Al-Neimat's lawyer.

Suhair Jaradat, who is a human rights defender and journalist and has frequently advocated for women's rights. 
#Jordan: Authorities must swiftly probe #Pegasus attacks identified by @FrontLineHRD & @citizenlab & surveillance of 2 women journalists incl. #SuhairJaradat. #CFWIJ stresses inaction on threats to journalists endangers their lives further. Perpetrators must be held to account! pic.twitter.com/VzW71Qvz3f

— #WomenInJournalism (@CFWIJ) April 7, 2022
Six journalists prosecuted
Reporters without Borders (RSF) issued a statement raising concerns about the prosecutions against journalists. In March 2022, six journalists were arrested or charged. This includes:
On 24th March 2022, authorities arrested Ahmed Hassan Al-Zoubi, a Jordanian journalist and columnist with the website Sawaleif while he was en route to the Amman airport. His phone and ID document were confiscated and he was taken to security headquarters and later released without charge.

Similarly, two other journalists arriving at Amman airport were arrested on "cybercrime charges": Taghreed Risheq, who is the Arabic media manager at the NGO Democracy for the Arab World Now (DAWN) and Daoud Kuttab, editor of Amman.net.

Three other journalists (unnamed) were arrested for "spreading fake news" after they wrote articles related to the Pandora Papers.
"This wave of arrests and charges against journalists in the space of a month is very worrying. The Jordanian authorities must not tolerate misuse of defamation or cyber-crime laws that could result in police abuses," said Sabrina Bennoui, the head of RSF's Middle East desk.
#Jordan authorities detained Washington-based journalist and media manager at Democracy in the Arab World @taghreedrisheq for 12 hours at Amman airport on Monday, reports said. She was released on bail and apparently charged under the dubious "electronic crimes" law.@DAWNmenaorg pic.twitter.com/dvwPf4sGtQ

— Ali Younes (@Ali_reports) March 8, 2022
Separately, in February 2022, journalists from Al Rai newspaper (the country's largest pro-government daily) staged protests to demand better working conditions and blamed government interference for the deterioration of print media. According to Arab News, journalists have not been paid for months and are struggling to make ends meet. The journalists accused the Social Security Investment Fund (SSIF), which holds the majority of the shares at the newspaper and is in control of the board, of mismanaging the paper.
Khaled Qudah, JPA board member, who works for Al-Rai and who was also protesting, stated:
"There are currently around 300 journalists and media workers at Al-Rai. In addition to the low wages, most didn't receive their salaries for seven months. We have been burned by this crisis. The demonstrating journalists noted that while the top managers of the newspaper are paid monthly salaries between 5 000 – 8 000 Jordanian Dinars (7 000 -10 000 USD), journalists are paid as low as 300 Jordanian Dinars (500 USD).
The International Federation for Journalists extended its support to the journalists.IFJ General Secretary Anthony Bellanger said:
"It is shameful that the management of the newspaper are enriching themselves while the journalists and their families are going hungry. The journalists' social and professional rights must be respected, and the owners must fulfill their financial obligation and pay the salaries without further delay."