Mali's "military coup within a coup": no elections in February 2022; journalist abducted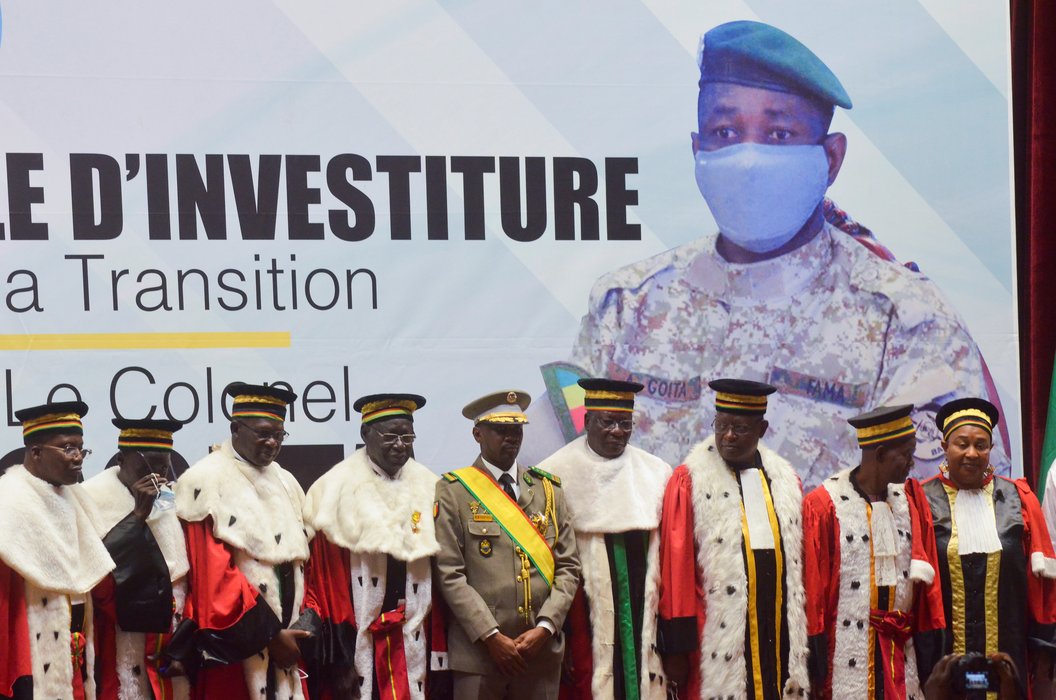 On 24th May 2021, members of the armed forces arrested Mali's transitional president Bah Ndaw and prime minister Moctar Ouane in a "coup within a coup". The move, initiated by vice-president and leader of the 2020 coup Assimi Goïta, followed the announcement of a cabinet reshuffle, with Goïta accusing Ndaw and Ouane of violating the transition charter by not having consulted with him. Ironically, the transition charter does not give the vice-president the power to dismiss the president and prime minister.
Observers note that the latest coup reveals "the absolute power of the August 2020 junta, which has run the country despite the façade of a civilian transition".
In October 2021, the country's transitional leaders further announced that they would not be able to hold presidential and legislative elections in February 2022, which would have been the end of the 18-month transition period after the 2020 coup, citing security reasons, prompting the regional body ECOWAS to further impose sanctions.
National reform consultations – Assises nationales de la Refondation – will take place from 20th to 26th December 2021, which, according to authorities, determine the date for the elections.
A report by the UN independent expert on human rights in Mali, Alioune Tine, who had visited the country from 26th July to 6th August 2021, indicated that the human rights situation in Mali continues to deteriorate, with human rights violations such as extrajudicial, summary or arbitrary executions and other killings, injuries, kidnappings, enforced disappearances, illegal arrests or detentions, including prolonged detentions and violations of due process guarantees, acts of torture or other inhuman treatment, as well as numerous cases of massive and forced displacement of civilians, death threats and acts of intimidation, looting and destruction of property. These violations are committed, according to the expert, by state and non-state actors: Malian defence and security forces and international forces, judicial authorities, armed groups signatory to the Agreement for Peace and Reconciliation in Mali, armed community groups known as self-defence units as well as Jama'at Nusrat al -Islam wal Muslimin (JNIM), the Islamic State of the Great Sahara (EIGS) and other similar groups in the northern and central regions as well as in the south of the country.
Peaceful Assembly
Protests in support of the military junta
On 22nd September 2021, thousands of people marched in Bamako in support of the military-dominated transitional government. The protest, organised by the movement Yerewolo – Debout sur les Ramparts, called for an end to foreign interference and pressure in Mali – in particular from France and ECOWAS – while favouring a military cooperation with Russia. Mali's transitional authorities have been in discussion with the controversial Russian private military company Wagner Group to fight armed jihadist groups in the country, which has divided opinions and has generated international condemnation, including from other G5 Sahel countries, France, ECOWAS and the US. On 29th October 2021, hundreds of people demonstrated again.
Protest against insecurity in Mali
On 26th March 2021, dozens of people gathered in Bamako to protest against the increasing insecurity in the north and the centre of Mali and the intervention of foreign, in particular French, military. The protest occurred without incident. Protests against the presence of French troops take place regularly, as reported previously on the Monitor. The anti-insurgency 'Operation Barkhane', launched on 1st August 2014, is a French military operation whose objective is to support the Group of Five (G-5) Sahel countries (Burkina Faso, Chad, Mali, Mauritania and Niger) in the fight against Islamist armed groups in the Sahel region. They work alongside the G5 joint counter-terrorism force, created in June 2017, and the UN peacekeeping mission in Mali, MINUSMA.
Strike action
The main trade union Union nationale des travailleurs du Mali (UNTM; Mali National Workers' Union) embarked on several strike actions. On 14th December 2020, the trade union called for a five-day strike, preceded by a three-day strike a month earlier. From 17th to 21st May 2021, a general strike was largely observed at the call of UNTM, who called on 24th May for a second week of the strike. Due to the coup, which took place on 24th May 2021, the strike was suspended on 26th May.
The union demands an improvement in the working conditions for workers in Mali, including the harmonisation of salaries, bonuses and allowances.
L'armée malienne a déclaré que le coup d'État s'était déroulé sans effusion de sang pourtant, nous avons recensé le cas de 4 personnes tuées par balles.

Notre nouveau rapport revient sur les morts liées aux manifestations et le coup d'État en 2020. https://t.co/KedaJGe8sL pic.twitter.com/TpXu9r33kZ

— Amnesty West & Central Africa (@AmnestyWARO) April 23, 2021
Reports detail the repression of protests in 2020
In April 2021, human rights organisation Amnesty International published a report on the use of lethal force by security forces during the mass anti-government protests that began in May 2020. Between May 2020 and the military coup of 18th August 2020, the organisation documented several instances of the use of lethal force by security forces in the face of protests, leading to the death of at least 18 people: one person in Sikasso, three in Kayes and fourteen in Bamako. Several victims were bystanders, while dozens of people were injured by firearms.
On 6th May 2020, following the announcement of the results of the legislative elections by the Constitutional Court - which overturned the provisional results for the district announced by the Minister of Territorial Administration – spontaneous protests broke out in Sikasso. Supporters of the defeated candidates erected barricades and disrupted traffic, prompting the deployment of security forces, and clashes between protesters and police ensued. Five people were seriously injured, with one protester succumbing to his injuries days later. Although authorities denied the use of live ammunition, testimonies and witnesses said shots were fired.
In Kayes, spontaneous and at times violent protests broke out after an off-duty police officer killed a 17-year-old man on 11th May 2020. Police officers used force in attempting to disperse the protesters, including the use of live ammunition. Two other people, including a 12-year old, were killed. In early May 2020, anti-curfew protests took place in Kayes, at times intertwined with the contestation of the results of the legislative elections.
In Bamako, anti-government demonstrations organised by Mouvement du 5 juin - Rassemblement pour le Mali (M5-RPM) took place in June and July 2020, as reported previously on the Monitor. While the protests on 11th and 19th June 2020 were authorised and went ahead without incident, the protests from 10th to 13th July 2020 – at times violent - were severely repressed by authorities. According to Amnesty International, at least 14 people were killed and dozens were injured, the majority of injuries resulting from excessive force by security forces, who also used live ammunition at times.
Similar findings appear in a report by MINUSMA, the United Nations Multidimensional Integrated Stabilisation Mission in Mali, published in December 2020. The report speaks of "summary and extrajudicial executions" and "disproportionate use of force" by different parts of the security forces – gendarmes, police, the national guard and FORSAT – an anti-terrorist unit of the police. At least 200 people were illegally detained in Bamako, including children, according to the report, while access to the internet was severely restricted. Violence by protesters resulted in about 100 police officers injured, acts of vandalism and looting, and destruction of public and private goods.
⚡️#Mali🇲🇱: après des années d'indifférence et de silence, l'arrestation de l'ex-patron des services de renseignements dans le cadre de la disparition de Birama Touré en 2016 constitue un tournant. RSF s'en félicite et demande l'arrestation de tous les suspects dans cette affaire. pic.twitter.com/fCwVuvdi1h

— RSF (@RSF_inter) July 29, 2021
Expression
Arrest in 2016 disappearance of journalist
In July 2021, the former head of the General Directorate for State Security (DGSE), Gen. Moussa Diawara, was arrested on accusations of the abduction, illegal detention and torture of investigative journalist Birama Touré, who was last seen on 29th January 2016. An investigation into the disappearance of the Le Sphinx reporter by Reporters without Borders (RSF) revealed that Touré was secretly arrested and held for months at a secret state security prison. According to a fellow detainee, who spoke to RSF, Touré was shot dead at the end of 2016. At the time of his disappearance, Touré was reportedly investigating a romantic relationship of Karim Keïta, the son of then-president Ibrahim Boubacar Keïta. An international arrest warrant was reportedly issued for Karim Keïta, who fled to Côte d'Ivoire following the military coup that ousted his father in August 2020.
On 5th August 2021, journalist Abdoul Niang was arrested, placed under a detention warrant and charged with "criminal conspiracy" in connection to the disappearance of Birama Touré. According to news reports, some sources indicate the arrest is linked to remarks the journalist made regarding the case. He was released on 4th November 2021
Journalist abducted
On 8th April 2021, French journalist Olivier Dubois was abducted in Gao by the jihadist Groupe de soutien à l'islam et aux musulmans (Jamaa Nusrat al-Islam wal-Muslimin, JNIM), a group affiliated to Al-Qaeda. The journalist, a freelancer who has worked for Le Point, Jeune Afrique and Libération, was in Gao to interview Abdallah Ag Albakaye, a lieutenant of the jihadist group. The abduction was condemned by several press organisations. Several demonstrations under the slogan #FreeOlivierDubois to demand the journalist's release took place in Bamako and Paris.
🇲🇱 #Mali: Charges against journalist Mohamed Bathily (aka Ras Bath) and co-defendants still detained after court freed them must be dropped – UN experts say there seems to be political motivations in the handling of this case.

Learn more 👉 https://t.co/I2jtKgaEmM pic.twitter.com/EPTDUlkxBN

— UN Special Procedures (@UN_SPExperts) April 8, 2021
Association
Radio journalist and activist Mohamed Youssouf Bathily, also known under the name Ras Bath, was arrested on 21st December 2020, alongside four other people. The journalist and four senior civil servants or public and parastatal administrators – Vital Robert Diop, Souleymane Kansai, Mahamadou Koné and Aguibou Tall – were accused of plotting a coup and taken to the headquarters of the General Directorate of State Security for interrogation. The five were held incommunicado for several days, until they were placed under formal arrest on charges of 'conspiracy against the government', 'criminal conspiracy' and an additional charge for Ras Bath of 'insulting the head of state'. A sixth man was arrested but was released a few days later. Former Prime Minister Boubou Cissé is mentioned in court documents as the architect of the plot, but was not arrested as his whereabouts were unknown. Irregularities took place, such as the reassignment of judges on the case, after the then advocate-general of the indictment chamber recommended an annulment for lack of evidence in February 2021.
On 2nd March 2021, the Bamako Court of Appeals dismissed the case, on grounds of lack of evidence, and ordered the release of the five. After appeal by the attorney general, the Supreme Court finally decided on 19th April 2021 to drop the charges.
The UN Independent Expert on the human rights situation in Mali, the Special Rapporteur on the promotion and protection of freedom of opinion and expression and the Special Rapporteur on the independence of judges and lawyers said in a statement on 8th April 2021 that these arrests were "made without any judicial authority and outside of any legal framework" and said the accused's continued detention could amount to judicial harassment.
On 6th May 2021, Ras Bath was arrested again at his residence, and interrogated over a complaint of having insulted magistrates, filed by two unions of Malian magistrates. The complaints reportedly stem from comments made by Ras Bath during a radio broadcast, accusing the prosecutor and judge of having disregarded the legal procedures and of having "twisted the law". He was placed under detention order on 7th May 2021. On 15th June 2021, the activist was released on bail and sentenced, on 1st September 2021, to a suspended prison sentence of one year and a fine.
On 29th September 2020, anti-corruption activist and member of the Platform Against Corruption and Unemployment, Clément Dembelé, was acquitted of all charges. Eight armed officers of the General Directorate for State Security abducted Dembelé on 9th May 2020 and held him illegally for 12 days, until 21st May 2020, when he was provisionally released. He was charged with "inciting security and defence officers to disobey their commanders". The illegal detention and charges followed the activist's call to security officers, on 8th May 2020 on Facebook, to stop violence against protesters in Sikasso.