Malaysian police continue to harass protesters and activists and criminalise online expression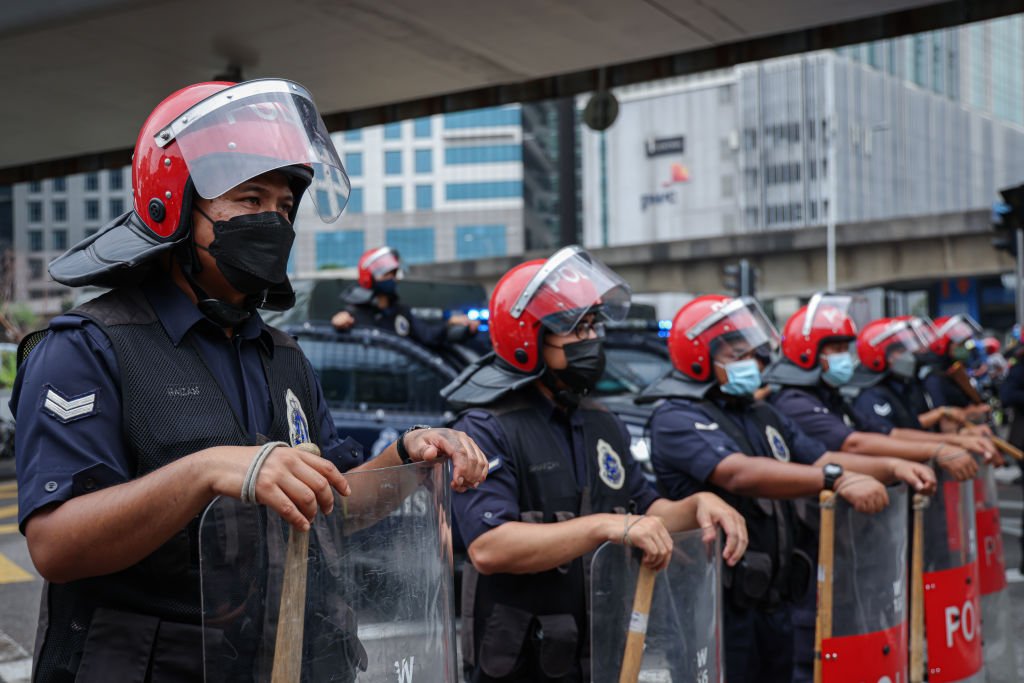 Malaysia's civic space is rated as 'obstructed' by the CIVICUS Monitor. Despite its membership of the Human Rights Council, the government continues to fall short on its human rights protections at home. The government's continuous clampdown on activists and critical voices undermines the pledges it made to promote and protect human rights while seeking election to the Human Rights Council.
On 27th April 2022, human rights group SUARAM published its annual report where it stated that the human rights situation had deteriorated further in 2021, with the government clamping down on freedom of expression and assembly to stifle dissent, amid worsening political instability in the first half of the year. Security laws that violate the right to fair trial continued to be abused throughout the year. Incidents related to police abuse of power showed no sign of decreasing, while cases of deaths in police custody were periodically reported.
SUARAM reported that freedom of expression suffered a major setback in Malaysia when the government manipulated its emergency powers to enact a fake news ordinance. Other repressive laws, namely the Sedition Act 1948 and Communications and Multimedia Act 1998, were frequently used to investigate social activists. While the freedom to assemble was exercised regularly by activists in 2021, they were not spared from police intimidation.
In recent months the police have hauled up scores of protesters to be questioned for demonstrations related to the war in Ukraine, police accountability, the death penalty, workers' rights and judicial independence. The government has also continued to use the Sedition Act, Section 233 of the Communications and Multimedia Act (CMA) and other legal provisions to arrest individuals for online speech including an environmentalist, graphic artist and writer. The government has also failed to take effective action to protect Rohingya activists from threats and has detained activists for blocking a forced eviction.
Peaceful Assembly
Police call up three individuals for anti-war protest on Ukraine
Yesterday 3 activists on Anti-War Rally and #StandWithUkraine in Dataran Merdeka were called for an investigation in IPD Dang Wangi. Among them, 2 Ukrainian citizens (Lidiya Murugan and Oksana Teroshyna) and another was a Malaysian citizen @yankewong96. pic.twitter.com/W9kcMRTpob

— Suara Rakyat Malaysia (@SUARAMtweets) March 15, 2022
On 15th March 2022, three individuals were hauled up by police for questioning after holding an anti-war protest related to Ukraine. The three included two Ukrainian citizens and a Malaysia human rights activist, Wong Yan Ke. They were reportedly investigated for violating Sections 9(5) and 4(1) of the Peaceful Assembly Act & Rule 16, Prevention and Control of Infectious Diseases (Measures Within Infected Local Areas) 2021.
The rally was held on 25th February when a group had gathered outside the Russian Embassy in Malaysia to protest against the unprovoked invasion of Ukraine. Speaking to the media, one of the protestors called for people all over the world to take to the streets to voice their objection to the Russian government's aggression. Police presence was also seen monitoring the area, with some officers taking photos of protestors' identification documents.
Cops call in activists over protest at Parliament
NGOs stage protest, calling for anti-hopping law, IPCMC bill https://t.co/ifZ48mBUMK

— malaysiakini.com (@malaysiakini) March 22, 2022
Police summoned two activists to the Dang Wangi police headquarters on 22nd March 2022 over a protest that took place at Parliament.
Suara Rakyat Malaysia (SUARAM) coordinator Wong Yan Ke and the Coalition for Clean and Fair Elections (Bersih) chairman Thomas Fann said they had their statements recorded at the peaceful protest they held against the proposed Independent Police Conduct Commission (IPCC) and to expedite the tabling of the anti-hopping bill in Parliament.
Thomas Fann said: "I think it's a waste of police resources and time for us to be called in. This should be the norm in a democracy. An NGO representing the people should have the right to come to Parliament to submit a memorandum and hold a peaceful assembly."
Supporters of Bersih and SUARAM had gathered at the National Monument Plaza at 8.30am before walking to the outside of the Parliament building.The protesters held banners that stated, "Introduce the Anti-Lompat Bill Now!" and "No IPCC, Accept IPCMC!". They shouted slogans as they marched, and police were dispatched to maintain order at the rally. Both organisations handed the memoranda to opposition MPs requesting their support. Midway through the rally, participants also observed a minute's silence for all the victims of custodial deaths.
Police summon lawyers over anti-death penalty protests
DROP INVESTIGATIONS INTO NAGAENTHRAN VIGILS https://t.co/ril5jjfA9u

— yohendra nadarajan (@yoester83) April 28, 2022
Three representatives from the NGO Lawyers for Liberty (LFL) were summoned on 25th April 2022 by the police to give a statement on a protest the group organised outside the High Commission of Singapore to oppose the execution of Malaysian Nagaenthran K Dharmalingam in the republic.
In a statement LFL said chief coordinator Zaid Malek and volunteers Mahajoth Singh and Nabila Khairuddin were called in to give a statement to the police on 26th April 2022. According to the police, the three are being investigated under Section 9(5) of the Peaceful Assembly Act and Rule 7 of the Prevention and Control of Infectious Diseases Act.
On 26th April 2022, the day before Nagaenthran was to be executed, the Bar Council organised a candlelight vigil outside the Singapore High Commission. The vigil was attended by an estimated 80 people. The following day, New Sin Yew and Yohendra Nadarajan, the co-chairpersons of the Bar Council's human rights committee, were asked by the police to give a statement.
Katrina Jorene Maliamauv, Executive Director of Amnesty International Malaysia, said: "It is shocking that the police are questioning several individuals simply for participating in peaceful assemblies and for exercising their right to freedom of expression. This abuse of power - in the form of threats of reprisal against those who participate in peaceful public protests - is unacceptable".
Nagaenthran, 34, who was mentally disabled, was arrested in 2009 for trafficking 42.72gm of heroin into Singapore and was handed the death sentence the following year. Nagaenthran had failed in his clemency bid, and his case has sparked widespread criticism, both within Malaysia and internationally.
Police question organisers of a Workers' Day rally
Why question us over peaceful assembly, PSM asks police https://t.co/tbVymAbY0X

— Arul PSM (@arul_psm) April 29, 2022
On 29th April 2022, it was reported that the police were undertaking an investigation into a recent Workers' Day rally by the Socialist Party of Malaysia (PSM). PSM's deputy chief S Arutchelvan said four people, including himself, were required to give statements at the Dang Wangi police station on 7th May over the gathering.
The Workers' Day rally was held in a peaceful setting at the Central Market, with about 150 people in attendance on 23rd April, including monitors from SUHAKAM, the human rights commission. The group then marched from the Central Market to the Kuala Lumpur and Selangor Chinese Assembly Hall to call for greater social security for workers. The rally's declaration listed 26 demands, including the RM1,500 minimum wage and abolition of the contract system.
Arutchelvan said the organisers had given their full plans to the Dang Wangi district police chief on 21st April. He added: "The gathering was incident-free and is an example of what a peaceful assembly should be. Police should stop lodging reports on cases just to be investigated by themselves. There are more serious crimes to investigate".
Police blocks a march by lawyers to Parliament
On 17th June 2022, police blocked a planned march by lawyers to Parliament to hand over a memorandum around judicial independence.
The Malaysian Bar Council organised a "Walk for judicial independence" to raise concerns over "intimidation" towards the judiciary, particularly over the Malaysian Anti-Corruption Commission's (MACC) investigation into Court of Appeal judge Nazlan Mohd Ghazali. The Bar had said constitutional procedures should be followed in the probe, contending that the Federal Constitution provides for complaints about alleged judicial misconduct to be handled in a manner that ensures continued public confidence in the judiciary.
About 500 lawyers had gathered but the police wanted to only allow 20 lawyers to march to the Parliament building to hand over a memorandum. The Bar did not agree with this, and lawyers tried to go ahead with the march but failed to break through the police human barricade formed at both ends of the Padang Merbok car park.
Bar president Karen Cheah said the Bar would look to level charges of breach of statutory duty and failure to uphold the Peaceful Assembly Act 2012 against the police. She added: "Police failed to ensure we were able to exercise our constitutional right to peacefully assemble as stated in the Federal Constitution. This was a form of abuse of power as instead of facilitating our walk, they went out of their way to intimidate us."
The protest ended after Deputy law minister Mas Ermieyati Samsudin arrived to accept a memorandum from the Bar and said she would hand it over to Prime Minister and law minister.
Following the protest, police said an investigation has been opened and they will be calling in all the participants of the protest for investigation under the Peaceful Assembly Act (PAA) and the Prevention and Control Of Infectious Diseases (Measures Within Infected Local Areas) (National Recovery Plan) (Transition Phase to Endemic) Regulations 2022.
Expression
Activist accused of defamation by state government for speaking up on logging issues
On 10th February 2022, it was reported that the Pahang state government has demanded an apology and RM1 million (USD 227,000) in compensation from an environmental activist for alleged defamation over comments made on the state's involvement in logging activities.
In a letter of demand, the state government claimed that the statements made by Shariffa Sabrina Syed Akil have given the impression that the state government was irresponsible and lacked integrity. The allegedly defamatory statements were made in two Facebook posts on Shariffa's personal account in December 2021 as well as during an interview with Sinar Harian on 12th January 2022.
Shariffa, who heads the Association for the Protection of the Natural Heritage of Malaysia (Peka) said she was shocked at the demands made by the Pahang government, calling them "outrageous". She said: "The environment and indiscriminate logging are issues that plague our country. The state government should in fact be working together with me and other stakeholders or activists in attempting to defend our jungles and natural resources".
She said the act of the state government affects the freedom of speech of activists defending the environment and those wanting to speak up on issues surrounding the abuse of natural resources.
Judicial harassment against graphic artist Fahmi Reza persists
Fahmi Reza arrested over satirical ape cartoon, says lawyer #FMTNews https://t.co/3rBL2wxdNZ

— Free Malaysia Today (@fmtoday) April 14, 2022
Graphic artist and human rights activist Fahmi Reza continues to face systematic police harassment for his satirical work, critical of the government.
On 10th February, Fahmi was charged under Section 233 of the Communications and Multimedia Act (CMA) for a 2021 satirical poster caricaturing the country's former Health Minister. The graphic, which was posted on Fahmi's social media accounts, calls out the Minister's decision to shorten the COVID-19 quarantine period for Cabinet ministers returning from abroad on official visits. Fahmi was released on bail set at RM 5,000 (approximately USD 1,250).
On 17th February 2022, Fahmi was slapped with another charge under the same law for a different poster which mocked the June 2021 order by the Ministry of Trade and Industry to allow alcohol production during the COVID-19 lockdown despite the regulation that only "essential services" were allowed to operate. Fahmi was released on bail set at RM 3,000 (approximately USD 750).
On 14th April 2022,  Fahmi was arrested over a satirical artwork depicting what appears to be an ape in a monarch's clothing. It is believed that he was responding to news of Selangor ruler Sultan Sharafuddin Idris Shah purchasing a painting that depicts parliamentarians as monkeys, apes and frogs. According to his lawyer, the case is being investigated under Section 4(1) of the Sedition Act and Section 233 of the Communications and Multimedia Act. He was detained overnight before being released.
Section 233 of the Communications and Multimedia Act – a broad and vague provision inconsistent with international law and standards – has been used systematically to silence critical voices online. SUARAM documented at least a hundred cases of individuals questioned or charged under the law in 2021.
On 23rd April 2022,  Fahmi found out he was on the immigration blacklist and barred from renewing his passport. He had plans to travel to Europe in May for a theatre show. The ban was however lifted on 9th May.
Opposition party member detained for sedition for his Facebook post
On 11th April, a member of an opposition political party was arrested for sedition for his comments on social media. Murugan, a 43-year-old campaign worker for the Democratic Action Party (DAP), was picked up by police at his house in Paloh in Johor state for a Facebook post that allegedly encouraged ethnic Indians not to vote for the Malaysian Indian Congress, a party that is part of the ruling coalition. The 15-second clip was from another individual's TikTok account. Police detained him under Section 4(1) of the Sedition Act 1948 and the Johor Baru Magistrates' Court allowed a remand application against him for three days for investigation purposes.
Writer faces blasphemy probe for Facebook post
Malaysian writer faces blasphemy probe for Facebook post https://t.co/E2MVh0yZKt via @mongster #Malaysia

— Dan Moshenberg (@danwibg) May 2, 2022
Writer Uthaya Sankar was arrested on 11th April 2022 after he was accused of insulting Prophet Mohammad in a Facebook post published on 6th April. He was released on bail the following day but is still facing investigation under Section 298A of Malaysia's Penal Code for causing disharmony, disunity, or feelings of enmity, hatred or ill will, or prejudicing the maintenance of harmony or unity, on grounds of religion; and Section 233 of the Multimedia and Communications Act for "improper use of network facilities or network service."
Sankar had referenced a hadith (Islamic narration or quotation) when he commented on a Malaysian actor's post about polygamy. The author insisted that this was clearly not meant to insult the Prophet Mohammad.
He was arrested at his home by investigators who also seized his digital devices. The police initially sought to detain Sankar for four days. However, on 12th April the Magistrate's Court dismissed the police application and permitted his release after a night in detention.
Ma Thida, chair of PEN International's Writers in Prison Committee, issued a statement condemning the arrest of Uthaya Sankar: "[His] arrest for his social media post highlights the limits of free expression in Malaysia on issues such as religion. However well intentioned, the authorities' use of blasphemy legislation to investigate any alleged criticism of religion will do little to promote dialogue and mutual understanding, which are central tenets to the promotion of religious harmony in any society."
Association
Government fails to take action to protect Rohingya activist Zafar Ahmad 
🇲🇾Malaysia: Civil society groups call on the authorities to take immediate measures to ensure protection and accountability for #Rohingya human rights defender Zafar Ahmad from harassment and threats that have persisted for more than two years
Learn more▶️https://t.co/prAtcLFGYA pic.twitter.com/Wd8QjLEhFv

— CIVICUS (@CIVICUSalliance) June 8, 2022
On 8th June 2022, 65 civil society organisations issued a statement about the situation of stateless Rohingya refugee and human rights defender Zafar Ahmad Abdul Ghani, President of Myanmar Ethnic Rohingya Human Rights Organization (MERHROM), who has been vilified and has received death threats since April 2020 after he was falsely accused of demanding Malaysian citizenship and equal rights for the Rohingya in Malaysia during the COVID-19 pandemic.
A systematic smear campaign was launched against human rights defender Zafar Ahmad, his family and his organisation, including through online petitions, open letters and press releases issued without verification and containing false, misleading, biased and malicious information. The smear campaign implicates not only him and his family but also the refugees, particularly the Rohingya. He has also received death threats and threats of physical violence through phone calls, SMS, WhatsApp messages and various social media platforms.
Zafar Ahmad and his wife lodged a report at the Gombak police station in April 2020 based on the threats and harassment he had received online. More than two years on, there has been a lack of action by the authorities to either effectively investigate the threats against him or provide him with protection. Zafar and his wife filed seven reports of threats and harassment with Malaysian police but they were never informed of the outcome of any of them.
On 3rd December 2021, the United Nations Special Rapporteur on the situation of human rights defenders, Mary Lawlor, sent a Joint Communication to the Malaysian government. The government finally responded on 28th March 2022, stating that the authorities have decided that no further action will be taken after an investigation, which is hugely disappointing.
These threats have seriously impacted Zafar Ahmad's health and well-being. Security concerns have prevented him from appearing in public for the past two years. It has also severely affected his family - the toll has been worsened by Zafar Ahmad's lack of access to treatment and inability to maintain his livelihood.
Activists and farmers detained for blocking forced eviction
Four Socialist Party of Malaysia (PSM) activists and four farmers were arrested by the police after allegedly trying to prevent the eviction of farmers in Chepor Impian, Perak state on 13th April 2022.
PSM activists Agastim Mariasosai and Kesavan Parwathy were initially detained by police while trying to prevent the eviction. They tried to prevent the forced eviction because the company that claimed the right to the land did not have a court order and the land issue was pending before the High Court. However, they were told by the police that there was no need for a court order as the land was gazetted to the private party. The two were reportedly detained under Section 186 and Section 447 of the Penal Code to prevent them from 'inciting the public to disturb public order' and taken to the Ipoh Police headquarters. A little later, two more activists, S. Nagenteran and Kavitha Munisamy, were detained along with four farmers. There were all released the following day.
S. Arutchelvan, Deputy Chairperson of Parti Sosialis Malaysia, said: "the blatant misuse of police powers cannot be washed away or swept under the carpet. The [police] need to be investigated by an independent body".
Parti Sosialis Malaysia (PSM) leader Michael Jeyakumar Devaraj said the police were investigating a Facebook posting he made about the case under Section 505(c) of the Penal Code for causing public alarm and Section 233 of the Communications and Multimedia Act 1998.