Journalists, opposition activists and unionists targeted during pandemic in Cambodia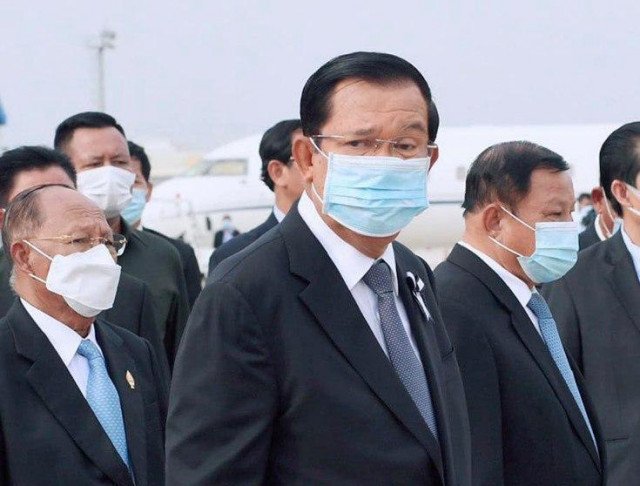 In response to the coronavirus (COVID-19) pandemic, a State of Emergency Law was passed in April 2020 which mandates unfettered power to the executive.
The law bestows executive power to ban or restrict meetings and to close public or private spaces. It also allows the government to put in place means to observe all telecommunications systems, and to ban or restrict news or social media deemed to "generate public alarm or fear or generate unrest, or that could bring about damage to national security, or that could bring into being confusion regarding the state of emergency".
Failure to follow these measures could result in severely disproportionate prison sentences. The State of Emergency Law contains no sunset clause and can only be ended by Royal Decree, which could allow the law to be used well beyond the end of the current pandemic.
Rhona Smith, the UN Special Rapporteur on the situation of human rights in Cambodia stated in April 2020 that the emergency law violated the right to privacy, silenced free speech and criminalised peaceful assembly. In the same month, human rights groups CIVICUS, FORUM-ASIA, Frontline Defenders and Civil Rights Defenders criticised the law which they said would put civic freedoms and human rights defenders further at risk.
Over the last few months, journalists and opposition activists have been arrested, charged and held in pre-trial detention. Four environmental activists were arrested while a Thai activist was abducted in Cambodia. The authorities blocked commemoration events around the killing of human rights defender Kem Ley. Unionists have been targeted during the pandemic while workers have been protesting around unpaid wages and job layoffs.
Expression
Journalists and opposition activists arrested and detained
Journalists and opposition activists have been targeted by the Hun Sen government since the outbreak of the pandemic and some have been held in pre-trial detention
A Phnom Penh court charged online journalist Sovann Rithy, of the TV FB news outlet, on Thursday with incitement to commit a felony for the rudimentary act of reporting Prime Minister Hun Sen's comments during a press conference on Tuesday.https://t.co/9cUaKxR7UA

— VOA Khmer (@voakhmer) April 9, 2020
One of those arrested is Sovann Rithy, the founder of TVFB, who was detained and charged on 7th April 2020 for incitement for quoting Prime Minister Hun Sen from a speech where he said that "motorbike taxis can sell their motorbikes if they face bankruptcy, as the government has no ability to help". On 8th April 2020, Cambodia's Ministry of Information revoked TVFB's media licence on the grounds that it published 'information which contains incitement, affects social security, order and safety'. On 9th April 2020, authorities charged Sovann Rithy with 'provocation to commit a felony' under Article 495 of the Cambodian Criminal Code. He is currently held in pre-trial detention at Phnom Penh's Police Judiciare prison facility.
The Kampong Chhnang Provincial Court has charged and sent radio owner Sok Oudom to pre-trial detention on Friday, days after the Ministry of Information revoked the station's media license for "exaggerated news reporting." https://t.co/4t2OxI6QdW pic.twitter.com/cFtiLquj00

— VOA Khmer (@voakhmer) May 15, 2020
Police arrested local radio station owner Sok Oudom in Kampong Chhnang province on 13th May 2020 on charges of "incitement to commit a felony". Oudom regularly reported on longstanding land disputes between local farming communities and powerful district officials. The day before Oudom's arrest, the Ministry of Information revoked the media licence of his Rithysen Radio Station and its website, despite the fact that Oudom had yet to be charged with any crime. He remains in pre-trial detention.
#Cambodia 🇰🇭: Ros Sokhet, a publisher for the Khmer Nation newspaper was arrested on June 25 for criticising prime minister Hun Sen on Facebook. #IFJ condemns the arrest and calls on police to drop the case.https://t.co/N8NKcFTb3i

— IFJ Asia-Pacific (@ifjasiapacific) June 30, 2020
On 26th June 2020, journalists Ros Sokhet, publisher of the privately owned Cheat Khmer (Khmer Nation), was similarly charged with "incitement to provoke serious chaos in social security" for a Facebook post critical of the Prime Minister. The International Press Institute reports Sokhet opined that the Prime Minister was not offering any solution to people struggling to pay off their debts to banks. Sokhet's licence for the Khmer Nation newspaper, which was renewed on 2nd April, is also being reviewed 'as part of the process of the court's procedure.'
In April 2020, Human Rights Watch reported that the Cambodian authorities had arrested over 30 people based on allegations that they had spread "fake news" about the virus in Cambodia. Among those arbitrarily arrested were opposition activists, journalists and ordinary citizens speaking out on Facebook.
In July 2020, the organisation reported that at least 23 arrests were of members of the dissolved Cambodian National Rescue Party (CNRP), on charges of spreading "fake news" and other offences since the global outbreak of the pandemic. Many have been detained on baseless charges, including incitement, conspiracy, incitement of military personnel to disobedience and spreading false information or "fake news."
Association
Four environment activists arrested and beaten
Goldman Prize-winning Cambodian activist arrested then released in Cambodia.

Forest defender Ouch Leng and 3 others were arrested in mid-March and questioned after a South Korean company they accuse of illegal logging filed a complaint with the police:

https://t.co/1l8G24AzJ7 pic.twitter.com/JFnmmwfsWg

— Mongabay (@mongabay) March 25, 2020
On 13th March 2020, four Cambodian environmental activists were arrested and questioned by a provincial court on allegations that they trespassed on the grounds of a South Korean-owned company, Think Biotech, that they say has been plundering resources from the Prey Lang forest area. Prey Lang forest spans four provinces, but its designated protected wildlife area remains at risk from illegal logging.
The activists, who have since been released from police custody, said they were beaten by the company's private security guards outside a sawmill in Kratie province east of the capital Phnom Penh.
Among the activists is Ouch Leng, founder of the Cambodian Human Rights Task Force and 2016 recipient of the Asian portion of the Goldman Environmental Prize for his undercover work exposing corruption and illegal logging. The other three activists are Khem Soky, Srey Thei, both from the Prey Lang Community Network (PLCN) and Men Mat.
Unionist detained for 55 days for Facebook post
"The campaign [to free unionist Soy Sros] would not have succeeded without international involvement," said CUMW leader Pav Sina. The factory for #MichaelKors #KateSpade backed off its complaint, but a #Cambodian court still holds charges against Sros https://t.co/8XsbfwMHRE

— Danielle KeetonOlsen (@DanielleRose84) June 22, 2020
On 18th May 2020, Soy Sros, a female union leader, was arrested for a post on social media criticising the suspension of union members, including a pregnant woman, during the coronavirus crisis.
At the end of March 2020, approximately 100 workers at Superl Ltd., a handbag factory in Cambodia, received the news that their job contracts would not be renewed. Factory management claimed it was because of a decrease in orders due to the coronavirus. A heavily pregnant worker was among those dismissed. Soy Sros went straight to the management to appeal the decision but they refused to meet with her. That same night she wrote a Facebook post about what was happening in the factory. Subsequently, all the workers had their contracts renewed.
After mobilisation by activists and trade unions, Soy Sros was released on 28th May 2020, after being detained without trial for nearly two months. It is reported that the charge against her will be withdrawn.
Thai activist abducted in Cambodia
Activists have called on Cambodian authorities to carry out a thorough and transparent investigation into the forcible disappearance of a Thai pro-democracy activist in the capital, Phnom Penh on 4th June 2020.
Wanchalearm Satsaksit was reportedly abducted by a group of armed men outside his apartment block in the afternoon, a few days after he posted a Facebook message ridiculing Thai Prime Minister Prayut Chan-ocha. He had fled Thailand when summoned for questioning by the military after a 2014 coup led by then-General Prayut and was hit with an arrest warrant two years ago over his Facebook page.
The UN Working Group on Enforced Disappearances said it had been informed that "the perpetrators of Wanchalearm's disappearance appeared to have been professionally trained, which would imply that they may be linked to State agents, and that no ransom was requested." It called on Cambodia, as a party to the International Convention for the Protection of All Persons from Enforced Disappearance, to investigate and respond by 24th June. Cambodia did not respond.
Report on persecution of human rights defenders
In a new report released on 9th July 2020, the Observatory for the Protection of Human Rights Defenders (FIDH-OMCT) documented the severe persecution faced by human rights defenders in Cambodia and the deepening crackdown on civil society and independent media.
The report, titled "DOWN, BUT NOT OUT - Repression of human rights defenders in Cambodia", shows how human rights defenders including land and environmental rights defenders, labour leaders, women's rights defenders, cyber activists and journalists have all faced increased violence, intimidation, detention and judicial harassment from the state, while civic space has continued to erode. The report also documents how the Cambodian government has used repressive laws and subservient courts to harass and attempt to silence human rights defenders.
Garment sector union leaders terminated using pandemic as justification
Some garment factories are also reported to have targeted union leaders or members under cover of widespread COVID-19 terminations.
Kong Atith, head of the Coalition of Cambodian Apparel Workers Democratic Union (CCAWDU), which is the largest independent union in the country, said that at two factories in Kandal province dozens of union officials were terminated.
According to him the Crystal Martin and QMI factories fired between 30 and 40 union leaders and activists using the pandemic as justification. Atith said the union reps and members who were laid off had worked at the factories for years.
Khul Samreth Pheasum, member of the CCAWDU, said she and three other members of the union were called into the factory's administration office last month and terminated.
Yang Sophorn, the head of the Cambodian Alliance of Trade Unions (CATU), said that four of her members were also terminated from the Golden Apparel factory in Kompong Chhnang province and the Roo Hsing factory in Phnom Penh over their unionising on the factory floor.
Peaceful assembly
Authorities attempt to block commemoration of human rights defender Kem Ley's killing
Despite authorities' attempts to restrict all public commemoration of Kem Ley's murder, former friends, colleagues and human rights defenders gathered in Phnom Penh and Takeo in the days leading up to the anniversary to pay tribute to his memory. https://t.co/j5IfpPeKQC

— LICADHO | លីកាដូ (@licadho) July 10, 2020
8th July 2020 was the fourth anniversary of the killing of prominent political commentator and human rights defender Kem Ley.
According to human rights group LICADHO, despite the authorities' attempts to restrict all public commemoration of the popular commentator's murder, former friends, colleagues and human rights defenders gathered in Phnom Penh and Takeo in the days leading up to the anniversary to pay tribute to his memory.
On 8th July 2020, a group of monks and young activists were physically barred from holding a peaceful prayer ceremony at the site of Kem Ley's shooting by a human chain of security forces. One young man wearing a t-shirt showing Kem Ley's face was immediately arrested.
The next day, a group of youth activists were blocked from travelling to Kem Ley's family home in Takeo by heavily armed security forces. On 10th July 2020, scores of military police and security forces were deployed to block a convoy of monks, activists and supporters of Kem Ley from peacefully processing along the same route. Undaunted, they continued their journey on foot.
As previously documented, on 10th July 2016, Kem Ley was shot and killed while having his morning coffee at a petrol station in central Phnom Penh. Without conducting a prompt, thorough and independent investigation, the authorities arrested Oeuth Ang, who "confessed" to the killing. Following a half-day trial in March 2017, which was widely criticised for failure to meet international fair trial standards, the court found Oeuth Ang guilty of murder and sentenced him to life imprisonment. In May 2019, the Supreme Court upheld his sentence.
Garment workers stage protests over unpaid wages and job terminations
The past months have seen garment workers in Cambodia staging protests over job losses or unpaid wages.
According to Radio Free Asia, since 22nd April 2020, more than 100 workers held a protest in front of the Hulu Garment factory in the capital Phnom Penh demanding full benefits following a suspension of operations due to a decrease in orders from international retailers. The workers, representing around 10 percent of employees, have been protesting after factory management informed them that the facility would close down for good and asked them to quit with the promise of some, but not all, of their benefits.
On 26th May 2020, hundreds of garment workers peacefully protested in Por Sechey district, saying they were only paid USD 30 for April 2020 and that the factory management had failed to pay them on time for May.
Youth activists and monks arrested after protest outside financial institutions 
Article: Six Youth Group Members Arrested and Monks Threatened During Peaceful MFI Protest #Cambodia @licadho https://t.co/h5ndUUUcob

— Kro_PARIS (@kro_Vit) May 10, 2020
According to LICADHO, six members of Cambodian youth group Khmer Thavrak including human rights activist Hun Vannak were arrested on 9th May 2020 in Battambang while returning from a peaceful protest calling on banks and microfinance institutions (MFIs) to suspend loan repayments amid the economic crisis caused by the global COVID-19 pandemic.
Five monks who joined the protest were also threatened with expulsion from their pagodas unless they thumb-printed an agreement pledging to stop their activism on behalf of Cambodian borrowers.
The demonstrators were detained by police on the road outside Domrey Sar pagoda while returning from a live-streamed march in front of a number of financial institutions including PRASAC and AMK, two of the largest MFIs in the country.
The protesters were demanding a solution to widespread over-indebtedness in Cambodia, where more than two and a half million borrowers hold over USD 10 billion in microfinance debt. Although the National Bank of Cambodia has encouraged MFIs to offer some loan deferment on a case-by-case basis, 135 civil society groups have called on microfinance institutions and the government to suspend loan repayments and interest accrual for at least three months and return land titles to borrowers.