Journalists honoured in Timor-Leste while activists slam award to former militia leader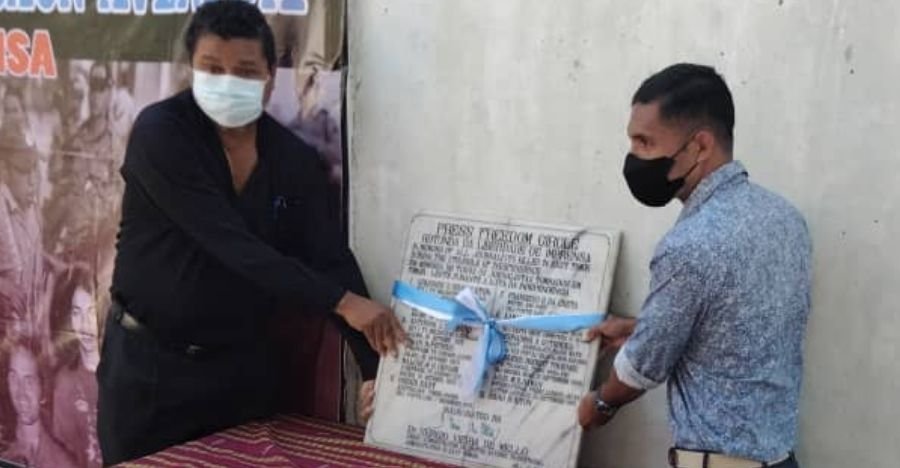 On 20th October 2021, government ministries proposed the extension of the state of emergency for another 30 days, from 30th October to 28th November 2021. Under the state of emergency, partial restrictions and suspension of some rights will be imposed. The government had earlier re-imposed a week-long general mandatory confinement for all individuals in the capital Dili on 25th August 2021.
In recent months, the country's Press Council honoured journalists through a freedom plaque, while civil society condemned the awarding by Indonesian President Jokowi of a former militia leader.
Expression
Press Council unveils plaque honouring journalists
The Timor-Leste Press Council unveiled a Press Freedom street plaque on 22nd September 2021, in honour of the contribution of Timor-Leste's journalists to its independence, particularly those who had been killed while reporting on the struggles of the Timorese. The plaque was placed on the Freedom of Press Street, where two journalists were killed in 1999.
On 21st September 1999, Sander Thoenes, a Financial Times journalist, was shot and killed in Becora. Bernardino Guterres. A Timorese journalist, was also killed in the same area on 26th August 1999 during the clashes before the Timor-Leste independence
The event was attended by Nobel Peace Prize awardee Jose Ramos-Horta, government officials, UNESCO and the President of the Press Council. The Press Council president referred to the plaque as recognition of journalists who died while in the line of work. It is part of wider efforts to promote a free independent media in the country and seeks to contribute to goals towards enhancing access to information and ensuring the safety of media workers.
Association
Civil society condemn decision to honour bestowed on former militia leader
The civil society of Timor-Leste asks the President of the Republic of Indonesia to withdraw the decision to award the Main Service Star to Eurico Guterres, ex-commander of the Aitarak militia in East Timor in 1999. https://t.co/Ue5Q3y34T1

Dili, 13 August 2021 pic.twitter.com/geg18zH3nt

— Veronica Koman 許愛茜 (@VeronicaKoman) August 13, 2021
Civil society have condemned the decision of Indonesian President Joko Widodo to honour former East Timorese militia leader Eurico Guterres. Guterres, who was involved in serious crimes during the struggle for Timor-Leste's independence, was among hundreds given the honorary medal, ahead of Indonesia's Independence Day on 17th August 2021.
Human rights activists have called it a 'serious betrayal of humanity and morality' and urged President Jokowi to revoke the medal. The medal, the Bintang Jasa Utama, is Indonesia's second highest award.
Guterres, who had headed the Aitarak militia, was indicted for crimes against humanity. He was sentenced to ten years in prison in 2002 by a human rights court set up to try violations in what was formerly known as East Timor. The Supreme Court upheld the sentence in 2006, but later acquitted him in 2008, after it cited new evidence.
An estimated 1400 people were killed by pro-Jakarta militias, following a referendum where a majority voted for independence from Indonesia.