Journalists face persistent onslaught, new media law further threatens expression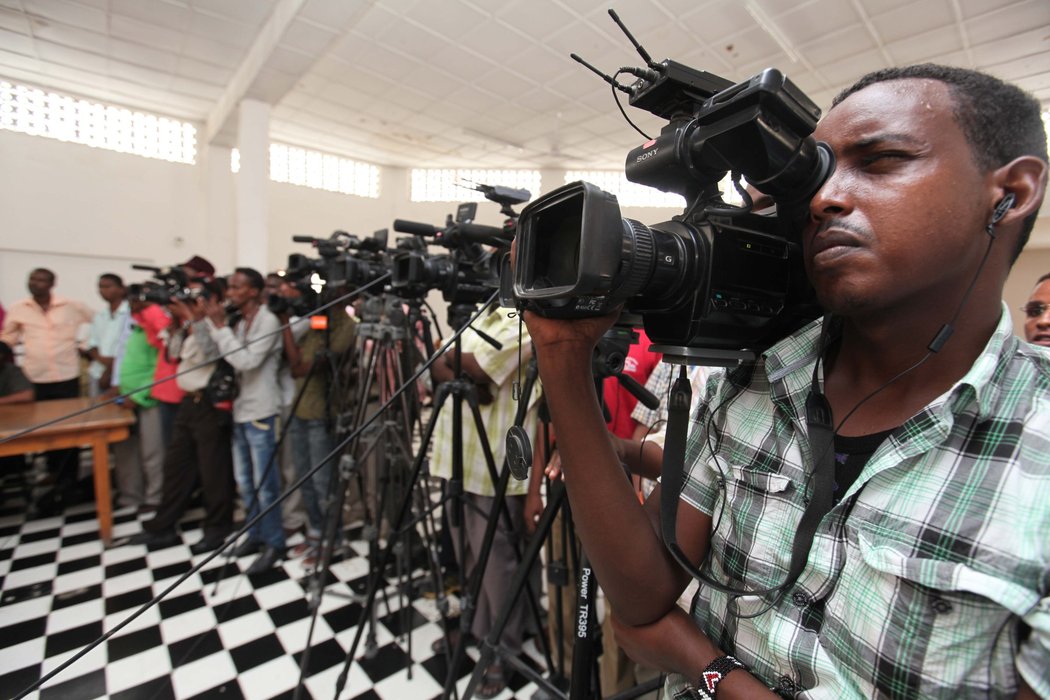 There have been several attacks against civilians in the past few months. On 4th July 2020, two coordinated bombings by terrorist group al-Shabab killed six in Mogadishu and Baidoa. In early August, a suicide bomber targeted a popular restaurant in Mogadishu, killing three people and injuring several others, while in mid-August, a journalist was seriously injured during a terrorist attack at a hotel in Mogadishu.
Meanwhile, journalists continued to face persistent challenges and restrictions from authorities because of their work.
Peaceful Assembly
In early June 2020, demonstrations broke out in Mogadishu following a public address by President Mohamed Abdullahi "Farmaajo," in which he promised to keep to the election timeline. The protests were both in support of and against the president and were largely peaceful. Those in support of the president praised him for projects he had undertaken during his tenure, saying he deserved another term to "complete" his projects. Those against the president accused him of plans to extend his term.
BREAKING Protestors Gather in the streets of #Mogadishu to protest on the extension of the Government term after the electoral body declared the country is not prepared for polls on time #Somalia pic.twitter.com/TXqLBnS0y7

— Radio Dalsan (@DalsanFM) July 5, 2020
Through our Reporters Respond, emergency support, and together with local media partner @FESOJ_SOMALIA we supported journalist Mohamed Abdi Hussien (Araye). We helped him cover medical expenses after he was critically injured in a powerful car bomb blast. https://t.co/isQZDAl4N1 pic.twitter.com/YaLgKyom3W

— Free Press Unlimited (@freepressunltd) August 31, 2020
Journalist seriously injured
On 17th August 2020, a cameraman with Somali National TV was seriously injured during an attack on a hotel in Mogadishu by al-Shabab militants. Mohamed Abdi Hussein Araye was reportedly working at the time of the attack, and while it remains unclear whether he was targeted because of his work, this makes him the latest of many journalists and media workers injured or killed while on duty in Somalia. Somalia remains one of the most dangerous countries to be a journalist, mostly because of general insecurity and attacks by Islamist militants.
Journalists detained
In an incident related to the above, still on 17th August 2020, Omar Ahmed Hilowle, the director of the privately-owned independent Radio Kaah, was arrested and detained following a raid on the radio office by National Intelligence and Security Agency (NISA) officers, reportedly after Radio Kaah broadcast news related to the hotel bombing that had happened on that day. Hilowle was held for over an hour at Godka Jila'ow detention facility before being released without charge.
In relation to protests in Mogadishu on 5th July 2020 (above in peaceful assembly section), two Universal TV journalists were detained while covering the unrest.
In a separate incident, five days later, on 10th June 2020, freelance journalist Bishar Ibrahin Adan was detained by authorities in Burdhubo district, Gedo region, allegedly because the Gedo regional authorities were dissatisfied that Adan had not been covering more stories favourable to them. Adan was released later that day without charge.
Two other journalists, Khadar Mohamed Tarabi and Khadar Rigah Ahmed, working for Somali Cable TV and Universal TV respectively, were also arrested on 16th July 2020 in Las Anod, Somaliland, while filming a local demonstration in which a local youth group was protesting the lack of inclusion in the Somali government-Somaliland talks in Djibouti. Both were released later the same day without charge on the condition that they would not cover local protests. Horyaal24 TV journalist Jabir Said Duale was also detained and released later that day without charge in relation to the same protests.
Radio journalist Mohamed Abdiwahab Abuja has been in detention since Feb 27 w/o charges, according to activists. The federation of Somali journalists said he was detained by the national intelligence agency (NISA). The Somali govt has not explained publicly why he is being held. pic.twitter.com/VnDyPAhsQb

— Harun Maruf (@HarunMaruf) April 19, 2020
Separately, the Somali Journalists Syndicate and the Somali Media Association, amongst others, reacting to a different incident of a journalist's detention, submitted a joint petition to the UN Working Group on arbitrary detention on 27th July 2020. The petition concerned yet another detained journalist, Mohamed Abdiwahab Nuur, who had been in detention since 7th March 2020 because of an editorial he published in February criticising the Somali security forces for engaging in threats and intimidation against Somali citizens. He was refused contact with his lawyer or family since 8th June but eventually released on 5th August 2020, and seemingly cleared of all charges. Nuur has published articles critical of the government since 2016.
Media outlets fined
Somaliland's Ministry of Information released a decree on 10th August 2020, imposing a 15,000 USD fine on Universal TV and a 5,000 USD fine on Star TV. Both stations had been closed since June 2020 following instructions from the Ministry; however, Star TV resumed broadcasting in early August. It was reported at the time that the closures were related to their coverage of the Presidents of Somalia and Somaliland meeting for talks and for covering independence celebrations in Mogadishu instead of an address by Somaliland's president.
Somalia journalist gathered protest against the repressive media law. That he signed somali President Mohamed Abdulahi Mohamed In Mogadishu somalia pic.twitter.com/WXjgdNh3NE

— feisal omar (@feisalomar) August 27, 2020
New legislation further criminalises journalists' activities
At the end of August 2020, President Mohamed Abdullahi "Farmaajo" signed an amendment to the Media Law, which continues to criminalise the work of journalists and falls short of international standards. The Somali Journalists Syndicate and Somali Media Association have strongly protested the change, which they believe gives the government a pretext to crack down on critical media and journalists. The amendment does not protect confidentiality of sources, requires accreditation and registration into a government database, and allows for journalists to be fined, with no maximum limit on the size of the fine. These changes to law are a stark deviation from President Farmaajo's declaration in May 2020 that Somalia's Penal Code (1964) would be reformed to protect journalists and freedom of expression, addressing in particular the use of vague and overly broad crimes, including criminal defamation, to restrict reporting and free expression, as reported on the Monitor.
In a letter sent to the president of Somalia, the Committee to Protect Journalists, Human Rights Watch, and Amnesty International expressed their concern over the intended legal changes. The letter read in part:
"The new law you signed in August directly contradicts your May 3 commitment to decriminalize journalism through its provision of legal sanctions for media offenses…. Given our concerns with certain provisions, we urge you to ensure that the new law is amended and brought into conformity with international standards".

Internet shut down
Separately, on 25th July 2020, Somalia's parliament impeached the Prime Minister, Hassan Ali Khaire, after a vote of no confidence for failing to prepare and deliver a strategy that would see the first fully democratic elections held in the country for the first time since 1969.It was hoped that this would be achieved through a one-person, one-vote national election in early 2021 – as opposed to a complex system in which special delegates pick lawmakers who then vote for the president. Following this development, Somalia experienced an Internet shutdown across most of the country. Connectivity was largely restored after 31 hours