Journalists attacked by high-level politicians, with women journalists facing personal attacks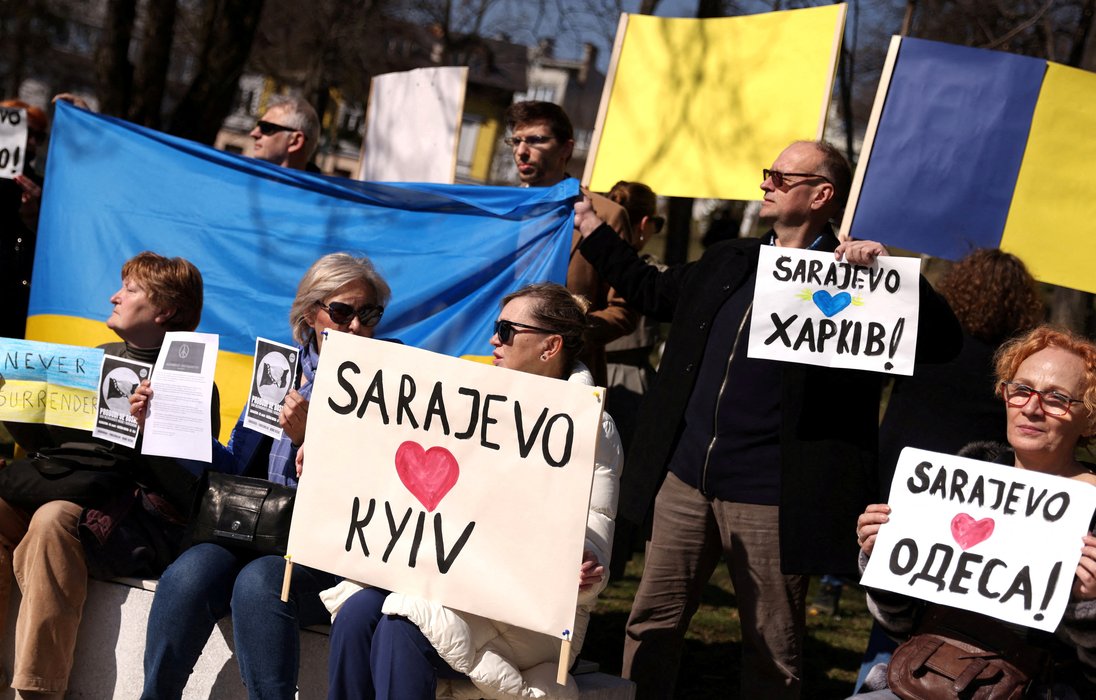 Association
According to the U.S. State Department 2021 Country Reports on Human Rights Practices for Bosnia and Herzegovina, published on 12th April 2022, there was no improvement in cooperation between the government and civil society, in particular when it comes to transparency in the allocation of funds, which remained weak. Independent NGOs state that the government distributed funding to organisations connected to ruling political parties.
According to the Freedom House, 2022 Nations in Transit Report, published on 20th April 2022, Bosnia and Herzegovina is considered a "Transitional or Hybrid Regime", with an overall score of 38/100. The civic sector is assessed as being "largely and relatively well supported, particularly by foreign donors", nevertheless it has not been able to get fully involved in the country's democratic processes. Instead, a progressive alienation from the general public is being reported.
Furthermore, the Balkan Civil Society Development Network (BCSDN) report "Constituency Led Accountability in the Western Balkans", published on 30th April 2022 found that over 80 per cent of surveyed CSOs in Bosnia and Herzegovina believe that citizens trust CSOs, underestimating the general scepticism and negative stereotypes about civil society that are still present among citizens. While a good number of respondents (40.18%) assessed the overall accountability of CSOs only as "moderately accountable", it is also noted that national-level CSOs are considered more accountable than local ones. In the end, CSOs with small budgets are doing particularly well, with 25 out of 68 organisations labelled "highly accountable", while CSOs with larger budgets are perceived as less accountable.
Another BCSDN report "Understanding CSO Accountability in the Western Balkans: Where Do We Stand vis-à-vis the Istanbul Principles?", published on 6th May 2022, found that the recently agreed upon Code of Ethics of CSOs in BiH results in respect for the commitments of CSO members and employees' human rights by drafting internal documents, rules and procedures according to relevant international and national documents.
Peaceful Assembly
On 28th March 2022, employees of Bosnia's public broadcaster, BHRT, held a protest in its building after hundreds of them did not receive their salaries due to accounts that were blocked because of a massive debt to the Tax Administration which, according to the employees, is the result of "the systematic destruction" of this service.

On 20th April 2022, the decision of the High Representative for Bosnia and Herzegovina, Christian Schmidt, to suspend Republika Srpska's (RS) Law on Immovable Property due to "negative legal reprisals for citizens and potential investors" sparked massive protests. They were organised by the Veterans' Organization of Republika Srpska (BORS) and held in Banja Luka, with the participation of thousands of people and of the Bosnian Serb member of the country's tripartite Presidency and leader of the ruling party in the RS, Milorad Dodik, as well as RS President Zeljka Cvijanovic. After the protests, Dodik claimed that protests were held "without a single word of hatred, without a single provocation" just after a group of people had sung a song containing death threats targeting Schmidt.
Expression
Unfavourable climate for journalists
According to the Amnesty International 2021/22 Report, published on 29th March 2022, "media outlets and journalists reporting on corruption, war crimes and migration continued to operate in a hostile environment and faced serious threats and intimidation, including by public officials". Echoing these findings, the U.S. State Department 2021 Country Reports on Human Rights Practices for Bosnia and Herzegovina highlighted that media and journalists in BiH continued to face political and financial pressures while being constantly targeted with hate speech. Many defamation cases against journalists and editors were reported, often initiated by government officials and politicians and especially in instances where they were investigating crime and corruption.
Additionally, the Freedom House 2022 Nations in Transit Report found that media independence is constantly threatened by political influence and a lack of resources, with many outlets dependent on non-commercial funding sources.
In the Reporters Without Borders' 2022 World Press Freedom Index, published on 3rd May 2022, Bosnia and Herzegovina's ranking declined, ranking 67 out of 180 compared with 58 in 2021. The report notes that the media in BiH operates in a relatively favourable legal environment but in an extremely unfavourable political and economic situation, with large differences in media freedom and in the quality of journalism across the country.
According to the report "Social Media and the Information War in the Balkans", published by the Balkan Free Media Initiative in March 2022, the social media landscape of the Republika Srpska entity of Bosnia and Herzegovina is being destabilised by Russia's influence, with the weaponisation of social media carried forward by RS local elites, which are Putin's allies, to advance their propaganda.
Attacks against journalists
In April 2022, Bosnia-Herzegovina's national public broadcaster BHRT faced risk of closure, due to its enormous debt and reduced income. The financial situation of BHRT was worsened by the lack of legal compliance by Republika Srpska's entity public broadcaster, RTRS, in paying BHRT a percentage of revenues (exceeding €32 million)from the licence fees collected throughout BiH.
"RSF calls on the Bosnian authorities to find a financial solution to save BHRT. Its closure would damage the media in Bosnia-Herzegovina and would deprive its citizens of a vital public source of information," said Virginie Dangles, editor-in-chief of Reporters Without Borders.
On 11th April 2022, the Cantonal Council of the Party for Bosnia and Herzegovina (Stranka za Bosnu I Hercegovinu) issued a statement, condemning the decision of the director of the broadcaster Television Sarajevo (TVSA), Duska Jurisic, to cancel the editorial office of documentary programmes, as it will allegedly "reduce production about past aggression" on BiH. The Steering Committee of the BH Journalists' Association condemned what they consider open political pressure.
On 9th May 2022, a Balkan Insight analysis reported that Russia has been targeting Bosnia and Herzegovina with disinformation about the Russian war of aggression in Ukraine. For instance, on 20th April 2022, the Russian embassy in Sarajevo published a post on Telegram in which it called the crimes committed in Bucha "a well-planned provocation prepared with the help of American and European intelligence agencies".
Many journalists and activists were verbally attacked during the reporting period. It is important to note two things: the first is that high-level politicians were often involved in these offences; the second is that female journalists were often targeted. However, hate speech is not only directed at female journalists. As reported on 6th May 2022 by Balkan Insight, Bosnian women politicians are often targeted too, with perpetrators facing little consequence due to a lack of legal regulation and the inefficiency of the Bosnian justice system.
On 22nd March 2022, member of the Presidency of BiH, Milorad Dodik, pointed his middle finger through the window of the official car at the journalist crew who was present during his arrival in front of the building of the Prosecutor's Office of BiH. During a press conference, Dodik claimed that his gesture was directed only at certain media outlets that he accuses of "continuously lying" when reporting on him.

On 5th May 2022, N1 journalist Snežana Mitrović from Banja Luka was verbally attacked by Nenad Nešić, the president of the Democratic People's Alliance (DNS). After being questioned about alleged properties owned in Belgrade, Nešić attacked the journalist by stating that her brother is a spokesman for a party whose members own real estate in Dubai. Nešić apologised after other journalists condemned his words, but he nevertheless continued to personally attack Mitrović.

On 6th May 2022, Bosnian columnist and activist Srdjan Puhalo received intimidating messages, including death threats, after questioning the official number of children killed during the siege of Sarajevo between 1992-1996 on the online portal Analiziraj.ba and calling for its revision.