Journalists and activists targeted as many fear regression of rights following Sri Lankan elections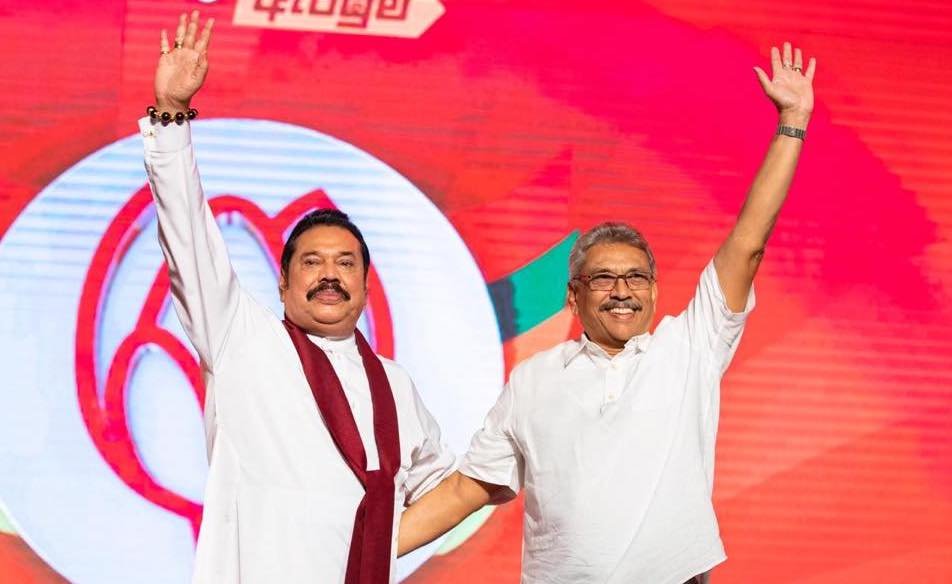 On 17th November 2019, Gotabaya Rajapaksa, the candidate for the Sri Lanka People's Front (SLPP), the Sinhalese-Buddhist nationalist party, was elected as President. Gotabaya Rajapaksa was a former army colonel who served as secretary of defence when his brother Mahinda Rajapaksa was president from 2005 to 2015 and his election has raised fears about the future of human rights in the country. He has been accused of war crimes during the final phases of the armed conflict against the Liberation Tigers of Tamil Eelam (LTTE) including ordering the killing of surrendering LTTE fighters, ordering strikes on civilians and hospitals and authorising attacks on human rights defenders.
Immediately after the elections, a senior police inspector Nishantha Silva, who had reportedly received death threats, fled the island nation and is seeking asylum in Switzerland along with his family. Silva had conducted investigations into high-profile killings and corruption involving administration officials under former President Mahinda Rajapaksa, who ruled for 10 years until 2015. He was also investigating the 2009 assassination of editor Lasantha Wickrematunge by an alleged hit squad.
At the same time, another senior officer, Criminal Investigation Department (CID) Director SSP Shani Abeysekara was also transferred at the end of November 2019. He had led investigations into the disappearance of cartoonist Prageeth Ekneligoda, the assault on journalist Upali Tennekoon, the murder of journalist Lasantha Wickrematunge and the disappearance of eleven youths.
There are also concerns about the establishment of a Special Presidential Commission of Inquiry (SPCoI) to investigate government officials who conducted investigations into the conduct of other public officials for Rajapaksa-era crimes and corruption during the previous government.
On 19th November 2019, Frederick Rawski, International Commission of Jurists (ICJ) Asia Pacific Director said that "the election of Gotabaya Rajapaksa, after a highly polarising campaign, has alarmed human rights defenders in Sri Lanka and abroad, who have little reason to believe that someone facing such serious allegations of perpetrating human rights violations can be relied upon to meet the country's obligations under international law".
Over the last two months, journalists have faced harassment, threats and attacks for their reporting while a Swiss embassy employee was detained by unknown persons and interrogated for information around asylum provided to Sri Lankans in Switzerland. Academic and human rights lawyer Kumaravadivel Guruparan has been targeted, while there have been reports of surveillance and intimidation against anti-disappearance protesters.
Expression
Harassment and attacks on journalists after elections
On 3rd December 2019, Reporters Without Borders (RSF) raised concerns about the searches, interrogations and acts of intimidation against journalists since Gotabaya Rajapaksa was sworn in as president.
Police raided the Newshub.lk, a Colombo-based news website on 26th November 2019, searching the contents of its servers, desktops and laptops. The warrant produced by the police had expired on 12th December 2018, nearly a year ago, but the police brushed that aside, blaming a typing error, and continued to use the searchword "Gota" on all of the website's computers to find and examine references to Gotabaya Rajapaksa.
Sakthivelpillai Prakash, the editor of the Tamil-language newspaper Thinnapuyal was questioned by plainclothes police in the northern city of Vavuniya on 25th November 2019. After interrogating him on the newspaper's coverage of the former Tamil Tiger rebellion, they asked him to provide the contact details of all of its reporters, which he refused to do.
Sanjay Dhanushka, a journalist who manages the video channel at TheLeader.lk news website, was summoned and questioned by the Criminal Investigation Department for several hours on 26th November 2019.
Thushara Vitharana, the editor of the Voicetube.lk website, was summoned for questioning by the CID two days later, on 28th November. She told RSF she was interrogated for two hours about her former activities at TheLeader.lk, for which she no longer works. When she asked why she was being questioned, the police said it was in connection with a complaint by the Sinhalese National Organisation, a group that promotes Sinhalese and Buddhist supremacy – a theme that was also at the heart of Rajapaksa's successful election campaign.
The Free Media Movement (FMM), Sri Lanka Working Journalists Association (SLWJA) and the Professional Web Journalists Association (PWJA) denounced the police actions.
In another incident reported on 9th December 2019, the Aluthgama provincial journalist Thusitha Kumara de Silva was attacked for publishing a report about bootleg toddy production in Aluthgama. He said his attackers had threatened to target him once the new government was in power. His wife was also assaulted.
Most recently, on 10th December Maduka Thaksala Fernando, head of New Media Department at the state-run Associated Newspapers of Ceylon Limited, was assaulted by a group who he said belonged to the pro-government Sri Lanka Podujana Peramuna trade union. They held him by the neck and dragged him out of his office.
Richard Gowing, Director of the Sri Lanka Campaign for Peace and Justice, said:
"It's been just over three weeks since Gotabaya was elected, and already there has been a spate of pretty conspicuous attempts to intimidate members of the press. It really looks and feels like they are trying to send a message to potential critics to be careful."
There has been a climate of impunity for attacks against journalists. During Mahinda Rajapaksa's time as president, several journalists were assassinated by unidentified killers, while others were abducted in mysterious white vans and tortured before being either killed or released. The abductions and killings took place during the final years of Sri Lanka's long civil war, which ended in 2009. Harassment and attacks against journalists have persisted, especially in the north and east of the island, where Tamil journalists were targeted by the police and military.
Sri Lankan author's case submitted to UN Working Group on Arbitrary Detention
#SriLanka: Freedom Now Files Petition with UN on behalf of Author Shakthika Sathkumara #UNHRC @ifjasiapacific @FMMsrilanka https://t.co/F7EQCrL7s6 pic.twitter.com/Kzl3GvGmQq

— sunanda deshapriya (@sunandadesh) December 10, 2019
On 9th December 2019, Freedom Now and Proskauer Rose LLP made a submission to the UN Working Group on Arbitrary Detention on behalf of Sri Lankan author Shakthika Sathkumara. Freedom Now and Proskauer argued that Sri Lanka's four-month detention of Sathkumara and the ongoing legal proceedings against him violate the government's obligations under the International Covenant on Civil and Political Rights and the Universal Declaration of Human Rights.
Freedom Now Executive Director Maran Turner said:
"The Sri Lankan government's imprisonment of Shakthika Sathkumara for a short story is a clear violation of his right to freedom of expression; we are confident that the UN Working Group on Arbitrary Detention will come to the same conclusion."
As previously documented, a number of individuals have been arrested and charged under the International Covenant on Civil and Political Rights (ICCPR) Act of 2007 – a law meant to protect human rights - for the peaceful expression of their views
Shakthika Sathkumara was arrested on 1st April 2019 by the Polgahawela Police in response to a complaint alleging that Sathkumara's short story 'Ardha' (Half) was derogatory and defamatory of Buddhism. The story is allegedly about homosexuality and child abuse in a Buddhist temple in Sri Lanka. After his arrest, Sathkumara was held in pre-trial detention in an overcrowded prison until 8th August 2019 when he was released on bail. The conditions of his bail require him to report to the local police station several times a month.
The trial against Sathkumara has been subjected to repeated delays and has not moved past the pre-trial phase. Hearings in this case have been repeatedly delayed by the courts without reason.
Nine army officials indicted for disappearance of journalist Prageeth Ekneligoda
Nine intelligence officers served indictments in Eknaligoda case https://t.co/R2AH8j1QSE

— 🕸 The Web of Slime 🕸 (@webofslime) November 30, 2019
In November 2019, The Colombo Special Trial-at-Bar served indictments on nine army officials over the allegations of 'kidnapping and conspiring to murder' journalist Prageeth Ekneligoda in January 2010. The court subsequently released the accused on bail but imposed a travel ban and ordered them to surrender their passports to the court.
Journalist, cartoonist and political analyst Prageeth Eknaligoda disappeared from Homagama, near the capital, Colombo, shortly after leaving work at the Lanka-e-News office on 24th January 2010. In the days leading up to his disappearance, Eknaligoda had told a close friend that he believed he was being followed. Local residents reported seeing a white van without number plates close to his house around the time he went missing. White vans were used in many abductions and enforced disappearances in Sri Lanka, particularly from 2006, when the security forces and allied paramilitary groups stepped up attacks on government critics.
Association
Swiss embassy employee detained by unknown men for information
On 28th November 2019 it was reported that a Swiss Embassy employee in the capital Colombo was abducted by a group of unknown men who had allegedly demanded that she provide them with information pertaining to Sri Lankans who have sought protection through that Embassy. According to the Foreign Ministry of Switzerland, one of its local staff members was detained against her will and threatened at length by unidentified men, who forced her to disclose Embassy-related information.
The Human Rights Commission said unearthing those responsible was "absolutely essential" to strengthen public confidence in law enforcement and to dispel public fears. The Commission said:
"When the public entertains such fears, it has a chilling effect on democratic rights and freedoms. Not only must justice be done on behalf of the young woman who may be traumatised by the abduction, but the larger issue of the need to reassure the public also must be addressed."
The Centre for Policy Alternatives (CPA) issued a statement on 11th December 2019 saying it was "alarmed with the conduct of several media institutions, including State media and others, who have acted in a manner to deliberately reveal the identity of the alleged victim and that of her family which raises serious issues of privacy and protection". CPA also noted that "certain public authorities and officers holding official positions have publicly accused the alleged victim of fabricating facts, despite ongoing investigations".
Threats against academic and human rights lawyer Kumaravadivel Guruparan
Sri Lanka: University Dons Condemn The UGC Decision To Bar Dr. Kumaravadivel Guruparan, Senior Lecturer in Law and Head of the Department of Law, University of Jaffna, From Practising Law:
What an "academic" attempt by the UGC to produce more book worms! https://t.co/bdJRBt80cN

— Lionel Bopage (@Leonine111) December 13, 2019
On 5th November 2019, a letter was issued highlighting threats and harassment against human rights lawyer and Jaffna University senior lecturer, Kumaravadivel Guruparan by the Sri Lankan military and University authorities. Guruparan is a prominent human rights lawyer and academic based in Jaffna, in the Northern Province of Sri Lanka. He is the founder of the Adayalam Center for Policy Research and a Senior Lecturer and Head of the Department of Law at the University of Jaffna. He is also a Co-Spokesperson of the Tamil Civil Society Forum (TCSF).
Guruparan was informed by the Jaffna University Council that he had been barred from private legal practice as per a decision of the University Grants Commission (UGC), which is believed to have been instigated by the military and aimed at silencing and suppressing Guruparan's human rights work and legal advocacy.
Over the past decade or more, Guruparan has been a strong voice for human rights and accountability in Sri Lanka. Despite living and working in a highly militarised and hostile context, he has been consistently vocal against the failure of successive governments to hold accountable those responsible for crimes against civilians, especially the military.
There has been a pattern of threats, intimidation and harassment against human rights defenders, especially those working in the North and East, in the lead-up to the November election. Lawyers and activists working on military accountability have been particularly targeted. The recent threats and restrictions against Guruparan are believed to be linked to his representation of victims in the Navatkuli Habeas Corpus case, which relates to the enforced disappearance of 24 boys from military custody in 1996. Following the hearing of the case on 1st August 2019, Guruparan and other lawyers were photographed by unidentified men within the court premises. On 7th August, three officers from the Terrorism Investigation Department (TID) visited the Adayalam Center's office and demanded staff details and information about their work. Other lawyers working on the case have also faced similar harassment and intimidation.
Peaceful Assembly
Surveillance and intimidation of anti-disappearance protesters
Families decry surveillance as Sri Lankan intel out in force at disappeared protest https://t.co/emRm1p3esS #lka pic.twitter.com/HSxrQCBWTD

— Tamil Guardian (@TamilGuardian) December 11, 2019
Families of the disappeared, mainly women, criticised the surveillance and intimidation they are faced with from the Sri Lankan security and intelligence forces during a mass rally in Mullaitivu on 10th December 2019 around International Human Rights Day. According to reports, the security officials were seen taking photographs of those at the rally.
According to the group, since the roadside protests started and gained momentum almost three years ago, military intelligence personnel have often interrogated the mothers involved in the protests and also following them secretly and monitoring their daily activities. Officials have also visited their homes at odd times to carry out interrogations. Their leaders have also faced attacks, with no action taken by the police despite complaints.
The women are concerned about their safety and said that "as proof of our dangerous situation, the military interference and surveillance have now increased".
Previously, on 30th August 2019, the International Day of the Victims of Enforced Disappearances, Tamil families of the disappeared took to the streets in the North and the East. Many of them had been at roadside protests for more than 900 days, engaged in discussions with the Office on Missing Persons (OMP), the state institution responsible for tracing the fate and the whereabouts of disappeared persons, the President, Ministers, other politicians and officials.
At the Omanthai protest, frustration and lack of faith in state institutions, including the OMP, were strongly evident, based on a history of engaging and not getting answers. This led to continued demands for international involvement. Some family members shared their feelings that reparations may be used to sidestep truth and justice, and said they want justice and not reparations. The Omanthai protest had a banner with 52 photos of family members who had passed away while searching for the truth.