Journalist sued for exposing Chinese meddling in Taiwan media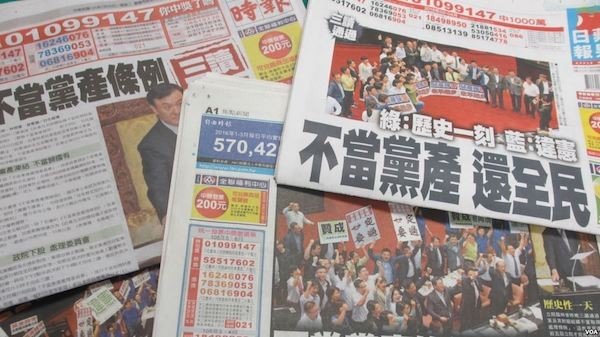 In recent months, civil society has documented the harassment of a seasoned journalist and legal amendments restricting freedom of movement. At the same time, Taiwan's parliament legalised same-sex marriage in a landmark vote in May 2019.
Expression
Libel suit against journalist
Taiwanese conglomerate Want Want China Times Media Group filed an abusive libel suit against @FinancialTimes correspondent @KathrinHille who reported on Chinese meddling within @echinatimes' editorial department https://t.co/NOZgVAjifY#ProtectJournalist @Focus_Taiwan @HongKongFP

— RSF in English (@RSF_en) July 24, 2019
According to Reporters without Borders (RSF), in July 2019 Taiwanese conglomerate China Times Media Group filed a libel suit against Financial Times correspondent Kathrin Hille after she reported on Chinese meddling in the editorial department of its daily newspaper. According to her report, she quoted reporters saying that Chinese government officials phoned editors of the Taiwanese media group on an almost daily basis, influencing its headlines and content about China. The journalist, who has been covering China and Taiwan for over a decade, was also the victim of harassing phone calls and messages after the article was released.
RSF reported that the media group belongs to food manufacturer Want Want, a conglomerate with large operations in China and whose chairman Tsai Eng-Meng doesn't conceal his sympathy for the Beijing regime. The group has also sued Taiwan's state-owned press agency Central News Agency (CNA) for quoting the article.
Cédric Alviani, head of the RSF East Asia bureau said:
"China Times is abusing the regulation to harass a seasoned journalist whose works it dislikes."
In a report published in March 2019, RSF quoted a research paper showing how editorial practices at China Times changed dramatically after it was bought by Want Want in 2008. In April 2019, the group also threatened to sue Apple Daily, one of the four largest daily newspapers in Taiwan, for reporting that one of its companies had been subsidised by the Chinese authorities.
On 9th August 2019, Reuters reported that they had found evidence that the Chinese authorities have paid at least five Taiwan media groups for coverage in various publications and on a television channel including contracts signed by the Taiwan Affairs Office, which is responsible for overseeing China's policies toward Taiwan.
Association
Retired officials barred from events backed by Beijing
Taiwan bars retired top officials from Beijing's 'political events' https://t.co/tpok7CZEHd

— SCMP News (@SCMPNews) July 3, 2019
On 3rd July 2019, Taiwan's legislature approved amendments to the Act Governing Relations Between the People of the Taiwan Area and the Mainland Area that restricts retired senior officials from attending political events organised by Beijing in mainland China, Hong Kong and Macau. The passage of the bill is the latest in a series of legislative efforts that advocates said was meant to stem Beijing's influence and safeguard the security of the self-ruled island.
Under the legislation, officials retired from positions at or above the level of a deputy minister or major general will be barred for life from attending political events and gatherings organised by Beijing, either on or outside the mainland. Barred activities include celebratory events and political rallies held by the mainland authorities, its military and political parties. Saluting, chanting slogans or singing anthems in front of flags and emblems representing Beijing's sovereignty are also strictly prohibited. Those violating the law could be stripped of their pensions or slapped with up to NT$10 million (US$322,300) in fines.
Critics said the independence-leaning Democratic Progressive Party government was using the bill to improve its prospects in the upcoming presidential election in January 2020. Previously in May 2019, the authorities amended the Classified National Security Information Protection Act, which extends from three to six years the travel ban on senior officials who had access to classified national security information.
Parliament approves same-sex marriage legislation
VIDEO: Taiwan's LGBT rights supporters celebrate after the parliament legalised same-sex marriage, a landmark first for Asia https://t.co/Ea2xRZaEFM pic.twitter.com/0rKCFIxuRZ

— AFP news agency (@AFP) May 17, 2019
In May 2019, Taiwan's parliament legalised same-sex marriage in a landmark vote that made the island the first in Asia to adopt such legislation. The law will allow same-sex couples to form "exclusive permanent unions" and a second clause allows them to apply for a "marriage registration" with government agencies.
The vote was a major victory for the island's LGBTQI community who have campaigned for years to have similar or equal marriage rights as heterosexual couples. In recent months conservatives had mobilised to rid the law of any reference to marriage, instead putting forward rival bills that offered something closer to limited same-sex unions. The vote came after Taiwan's top court ruled that not allowing same-sex couples to marry violates the constitution.
Jessica Stern, Executive Director of OutRight Action International, commented:
"The Parliament of Taiwan made a historic decision today. But while the Parliament deserves immense credit for taking this brave step in spite of opposition, it could not have happened without the relentless courage and perseverance of LGBTIQ activists in Taiwan'
Peaceful Assembly
Women's rights activists demand justice for 'comfort women'
Women's rights groups demand justice for 'comfort women' https://t.co/bgCDXr3rtZ

— eyeontaiwan (@eyeontaiwan) August 15, 2019
On 14th August 2019, dozens of protesters demonstrated outside the Japan-Taiwan Exchange Association (JTEA), the de facto Japanese embassy in Taiwan, to demand justice and compensation for Taiwanese "comfort women" from the Japanese government in commemoration of the International Memorial Day for Comfort Women. The term "comfort women" refers to women forced to work in wartime brothels for the Japanese military during World War II. More than 2,000 Taiwanese girls were forced into sexual slavery by the Japanese.
The Taipei Women's Rescue Foundation (TWRF), an organisation aimed at eliminating the trafficking of women and helping victims of sexual exploitation, led the protest. TWRF Executive Director Fan Ching demanded that the Japanese government "formally acknowledge its role in operating the comfort women system and apologise to its victims."
Members of other groups such as Amnesty International Taiwan, the Labor Rights Association, the Taiwan Association for Human Rights, the Awakening Foundation and legislators from both the ruling Democratic Progressive Party (DPP) and the opposition Kuomintang (KMT) participated in the event.