Indigenous activists in NZ continue struggle to block development at Ihumātao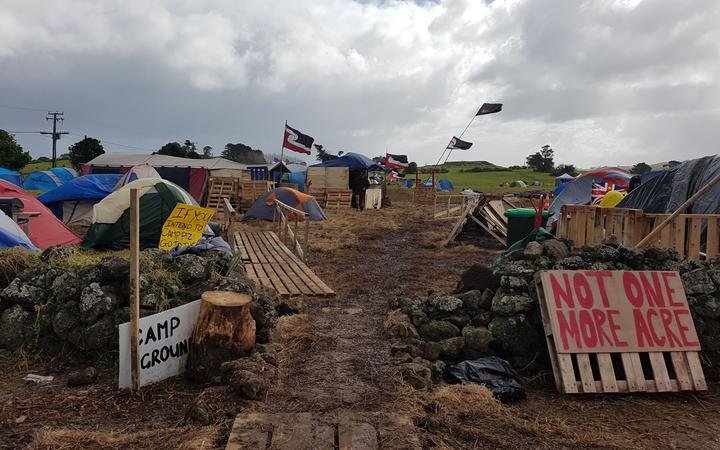 Over the last few months, indigenous activists have continued their struggle to block land development at Ihumātao in Auckland. Pro-Hong Kong student activists have been threatened while protesting while the Chinese consulate attempted to block an event around the Tiananmen square anniversary. Climate activists have been arrested for their protests.
Peaceful Assembly
Protesters march to Prime Minister's office around land dispute
Hundreds of protesters march on Jacinda Ardern's office over Māori land dispute https://t.co/l1sc2ZhISm

— Guardian World (@guardianworld) August 22, 2019
In August 2019 several hundred protesters marched on Jacinda Ardern's Auckland office, demanding she visit Ihumātao, the site of a major indigenous land dispute that has broadened into wider anger at government inaction in tackling Māori disadvantage.
The protesters delivered a petition, signed by more than 26,000 people, to the prime minister's office urging her to travel to the site that has been occupied as part of a housing dispute.
As previously documented, the Ihumātao protest led by the Save Our Unique Landscape (SOUL) group has occupied the land for nearly three years. It is considered a sacred area, as well as being a significant archaeological site. It was one of the first human settlements in New Zealand but was confiscated by the government in 1863.
Fletcher Building, a housing developer, bought the land in 2014 and is planning to develop hundreds of homes in the area. SOUL, which comprises mana whenua (Māori with historic and territorial rights to the land) and members of the wider community, argues the development is not appropriate because of the historical and cultural significance of Ihumātao.
In July 2019, eviction notices were handed out to people occupying the land. The situation escalated quickly as police arrived to enforce the eviction, and thousands of people from around the country converged to support SOUL. A number of people were also arrested.
In October 2019, it was reported that occupiers of the disputed land at Ihumātao had been shut out of talks with the government around finding a solution. On 5th November, Heritage New Zealand said it was considering giving the land at Ihumātao the highest level of heritage recognition.
Pro-Hong Kong protesters on university campus threatened
In July 2019, the University of Auckland launched an investigation after Chinese students were filmed verbally threatening another group of students who were protesting against a proposed extradition bill in Hong Kong. The student demonstrators, who were protesting on the university's city campus, were allegedly accosted by the group of Chinese males. One of the Chinese students reportedly said in Mandarin, "If you don't like China, get out of China!"
The verbal threats escalated and turned physical when the Chinese males pushed a Hong Kongese female student and protester to the ground. The altercation is said to have been motivated by the students' conflicting viewpoints on the controversial extradition bill.
The Chinese Consulate in Auckland then released a statement praising the "spontaneous patriotism" of some of the students for standing up for China and opposing splitting the country.
Previously, the Chinese Consulate General asked the Auckland University of Technology (AUT) to block an event commemorating the 30th anniversary of Tiananmen Square.
Protesters on oil company's ship arrested
Protesters on oil company's ship arrested in Timaru https://t.co/Sb5okjKtmL

— RNZ News (@rnz_news) November 25, 2019
On 25th November 2019 police arrested eight protesters who were on board oil company OMV's support ship in Timaru. OMV's Skandi Atlantic was occupied by more than 20 climate activists for more than 32 hours. Police said eight people were removed from the vessel and arrested for trespassing.
The protesters want to stop OMV from drilling three oil wells in the Great South Basin off the Otago and Taranaki coasts in December 2019. Greenpeace said those arrested are a mix of activists from different organisations, fighting for action against climate change.
Extinction Rebellion activists arrested
Police have begun arresting protesters causing disruption in the Wellington CBD.

Members of Extinction Rebellion are sitting in a circle on Lambton Quay and Bowen Street, singing and chanting and refusing to move.

🔗: https://t.co/gE0WkJywhz pic.twitter.com/lziRGR9UPy

— RNZ (@radionz) October 7, 2019
On 7th October 2019, police arrested over 30 members of Extinction Rebellion after the group protested in Wellington. The arrests started after demonstrators blocked Lambton Quay.
A statement released by Extinction Rebellion said several hundred people - including members of the public - stood to support, chant and sing. Applause and cheers broke out as each person was peacefully removed by police. Earlier in the day protestors attached themselves to a glass wall inside ANZ Bank on Lambton Quay.