In India the situation of activists and journalists remains precarious under the COVID-19 lockdown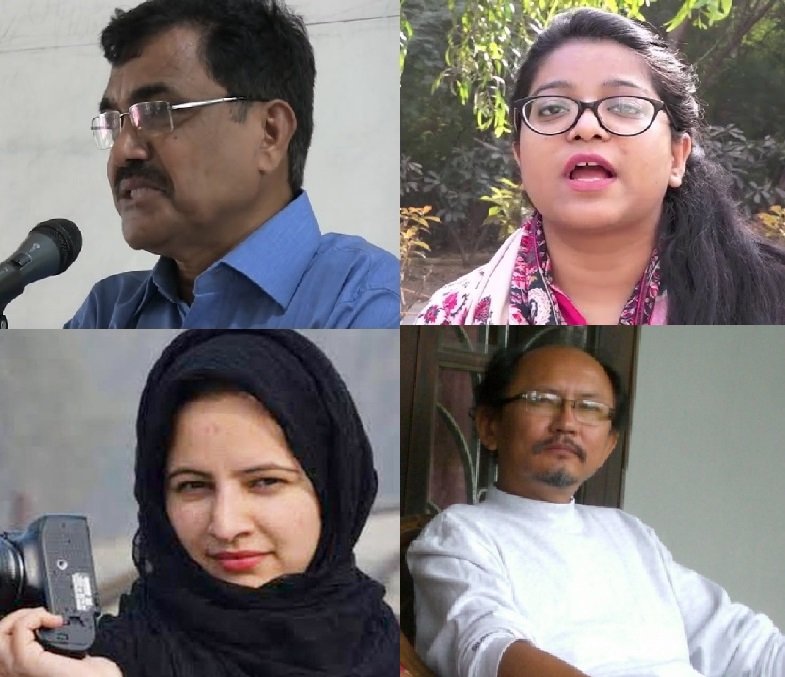 On 24th March 2020 prime minister Narendra Modi announced a 21-day nationwide lockdown due to the coronavirus (COVID-19) pandemic which has since been extended till 17th May.. This has left millions of migrant workers stranded and the poor struggling to access essential services across the country. 
There have been reports of police abuses, with officers violently caning those who do not respect the restrictions on movement. Violators have also been publicly shamed in India by being forced to do squats, push-ups, crawl or roll around the streets. Also, the internet shutdown in Indian-administered Kashmir is hampering the ability of doctors to obtain information about the virus and educate the public.
The spread of the virus in India has led to increased communalisation and the scapegoating of Muslims which has been condemned by civil society groups and activists. After the health ministry repeatedly blamed an Islamic gathering for spreading the coronavirus, a spree of anti-Muslim attacks broke out across the country as well as online hate messages.
Human rights defenders across India continue to be arrested and detained - some under draconian laws - despite the COVID-19 pandemic crisis, for raising questions or criticising the authorities. Journalists have also been targeted, including in Indian administered Kashmir. The authorities have also used the opportunity to destroy the Shaheen Bagh protest site in Delhi and to criminalise those protesting the discriminatory Citizen Amendment Act (CAA). India continues to be on the CIVICUS Monitor Watch List.
In March 2020, the United Nations High Commissioner for Human Rights, Michelle Bachelet filed an Intervention Application in the Supreme Court against the contentious Citizenship Amendment Act (CAA).
In April 2020, India fell two places to 142 out of 180 countries in the 2020 global press freedom index by Reporters Without Borders due to 'constant press freedom violations, including police violence against journalists, ambushes by political activists, and reprisals instigated by criminal groups or corrupt local officials'.
Expression
Human rights defenders facing fabricated charges denied bail extension
On 14th April 2020, human rights defenders Anand Teltumbde (pictured above) and Gautam Navlakha surrendered to the National Investigation Agency. The two are among a group of activists who have been charged nationwide under the Unlawful Activities Prevention Act (UAPA) on fabricated charges of being involved in riots in Bhima Koregaon village in the Pune district in January 2018.
The UAPA is India's primary counter-terrorism law and has been condemned by various human rights groups as being repressive and against international human rights law. The UAPA is routinely used against people for simply expressing dissenting opinions or assisting banned organisations, resulting in lengthy pre- or under-trial detention.
The activists, who were directed by the Supreme Court on 16th March 2020 to surrender within three weeks, had moved a plea in the top court seeking an extension of time on the grounds that going to jail during the ongoing coronavirus pandemic is "virtually a death sentence". However, a bench led by Justice Arun Mishra had on 8th April said the time for surrender would not be extended and that this was the "last opportunity".
Avinash Kumar, Executive Director of Amnesty International India said:
"Gautam Navlakha and Anand Teltumbde have a history of working to protect the rights of some of India's most marginalised people. They are charged under a draconian counter-terrorism law that has repeatedly been used to silence government critics."
Gautam Navlakha, 65, a Delhi-based journalist, was the secretary of the People's Union for Democratic Rights and is an editorial consultant for the journal Economic and Political Weekly. He has written about human rights violations in Jammu and Kashmir and is a vocal critic of repressive laws.
Anand Teltumbde has written extensively about the caste system in India and has advocated for the rights of Dalits. In his newspaper columns he has been critical of the Narendra Modi government, especially over issues of social welfare and the persecution of human rights defenders in the country.
Nine other prominent activists – Sudha Bharadwaj, Shoma Sen, Surendra Gadling, Mahesh Raut, Arun Ferreira, Sudhir Dhawale, Rona Wilson, Vernon Gonsalves and Varavara Rao – have been detained since 2018 in the Bhima Koregaon case.
In October 2018, UN human rights experts had expressed concern that the charges were "being used to silence human rights defenders who promote and protect the rights of India's Dalit, indigenous and tribal communities".
Activists arrested after calling for probe into siphoning of rice in Assam 
The @ICCAConsortium Urges Authorities to Immediately Release and Drop Charges Against Indigenous and Peasant Leaders in Assam, #India : Pranab Doley & Soneshwar Narah were arbitrarily arrested on 7 April https://t.co/Oae7IDwWyI

— Natural Justice (@naturaljustice) April 16, 2020
On 7th April 2020, Soneshwar Narah and Pranab Doley from the Jeepal Krishak Sramik Sangha, a farmers' rights organisation, were called to the Bokhkhat Police Station in Golaghat, Assam. They were both told that the police needed to record an official statement in connection with a scam that they had written about in a letter to the Chief Minister of Assam.
In the letter, written on 6th April, the farmers' rights activists had urged the Chief Minister to set up a high-level probe into allegations regarding the siphoning off of 800 kilograms of rice from the public distribution system (PDS). Because of the COVID-19 related nation-wide lockdown, rice and rations being distributed through the PDS have been critically important for the local people, particularly the poor and marginalised.
When they reached the police station they were promptly arrested in connection with a case from June 2018 which was filed on the basis of a complaint by a police officer who claimed that he was deterred from discharging his duty while on his way to Golaghat.
The First Information Report in the case indicates that the charges involved punishment of less than seven years, a category of cases that the Supreme Court, in light of the COVID-19 pandemic had directed all states to consider unnecessary, in a measure to decongest the prisons to prevent the spread of the coronavirus.
Soneshwar Narah and Pranab Doley have been vocal advocates for the rights of peasant and indigenous communities in Assam. They have struggled for social justice and to hold government authorities, including police and local government authorities, accountable for violations and deprivations against the local indigenous community.
On 18th April 2020, at the second hearing of their bail application, the Sub-Divisional Magistrate's Court of Assam granted conditional bail to the two human rights defenders. Their first bail application was rejected on 8th April 2020.
Two Manipur activists arrested for press statement on quarantine centre
URGENT APPEAL!

ILPS Commission 10 strongly condemns the Government of India's crackdown on Manipur activists Mr. T Shadishkanta & Mr. Kh Phajaton, illegally arrested on April 1. https://t.co/ksfaWJnDBw pic.twitter.com/JbGFeb3IlY

— ILPS Commission10 (@ilpscomm10) April 2, 2020
On 1st April 2020, around 9 pm at night, a team of police officials picked up T. Shadishkanta, the secretary of Youth's Forum for Protection of Human Rights (YFPHR), an Imphal-based human rights organisation, without an arrest warrant and without issuing an arrest memo. Shadishkanta was taken to the police station where he was held until the following evening. He was asked repeatedly by the police for details about his colleague Phajaton, the President of YFPHR, and was told he would not be released until Phajaton surrendered.
On 2nd April, at 9 am, the police visited Phajaton's house and demanded his father hand him over to the police. His father was threatened and told that if he failed to do so he wouldl be booked under the National Security Act (NSA), an act known to be notoriously used by the police to intimidate rights defenders across India.
At around 2:30 pm the same day, Phajaton and the YFPHR team visited the police station, where he was directed by the officer to record his statement. Phajaton was then taken to the Porompat Police Station where Shadishkanta was being held and they were both asked to sign an incomplete arrest memo - there was no mention of the time of arrest, etc. According to the International Federation for Human Rights (FIDH), both were charged under Section 51 (b) of the 2005 Disaster Management Act ("refusal to comply with directions given by governing bodies") and Section 120 B of the Indian Penal Code ("criminal conspiracy"). The two YFPHR leaders were then taken before a magistrate and were given bail of 30,000 rupees (USD 399.26) each.
The YFPHR has alleged that the arrest was made in connection with a press statement the organisation had issued on the same day urging the state to move a COVID-19 quarantine centre to the Koirengei military airfield from its proposed site, a paddy field in Langthabal Phumlou Loukon. At present, the government's 200-bed quarantine centre occupies nearly one hectare of agricultural land.
Arrests for criticising the Manipur chief minister on Facebook
On 3rd April 2020 at around 6 pm, a team of Imphal police summoned Dr Laifungbam Debabrata Roy (pictured above), a senior public health physician and president of the Centre for Organisation, Research and Education, in connection with a Facebook post. As soon as he reached the police station he was sent to a holding cell. No arrest memo was issued nor a First Information Report (FIR) registered.
According to Frontline Defenders at the Imphal West police station, Dr. Laifungbam was questioned about a Facebook post he had made the previous day calling on the Chief Minister of Manipur to desist from wasting state resources in a time of crisis on any personal or political agenda or vendetta. The post was in reference to the arrest of Shadishkanta (see case above), the secretary of the YFPHR.
The defender was threatened with a false case, despite there being no formal charges against him or a basis for his detention and interrogation. He was made to sign a letter to the Chief Minister expressing his regret for the social media post. His nephew was compelled to sign an arrest memo and his lawyer was shown a FIR which included the offence of "disobedience to follow order promulgated by public servant" under Section 188 of the Indian Penal Code. This FIR was never registered.
He was held for approximately 26 hours at the police station without being taken before a Magistrate. This by itself renders his detention arbitrary and illegal under Indian law. On 4th April 2020 he was finally released without charge after he deleted the social media post and shot a video apologising for offending the Chief Minister.
In another incident, on 1st April 2020 at around 7.30 pm, Konsam Victor Singh, a member of the Manipur People's Party known for speaking up on social, political, and justice issues on social media, was arrested at his residence in Khurai Konsam Leikai in Imphal by officers of Porompat police station, Imphal East, where he was detained overnight in a small cell with six other inmates.
According to FIDH, during the entire period of his detention, neither a First Information Report (FIR) nor an official complaint were filed against him. The police however told Konsam that he was being detained in relation to a post he had written on Facebook on 31st March 2020 in which he asked how much the Chief Minister of Manipur had contributed to the COVID-19 relief fund. Police alleged that the Facebook post "promoted negativity against the Chief Minister of Manipur." Moreover, Konsam's request for access to his lawyer was denied. On the following morning he was released after being forced by the police to delete his Facebook post and to publish a new post in which he apologised for his earlier comment.
NGOs including the Civil Society Coalition for Human Rights in Manipur (CSCHR) have alleged that there has been a "spree" of such action against people in the state for exercising their right to freedom of expression on the crisis triggered by the COVID-19 lockdown.
Prominent news editor charged for reporting lockdown violation by minister
Journalist Siddharth Varadarajan among recipients of Deutsche Welle Freedom of Speech Awardhttps://t.co/F3X3aRXaTf

— scroll.in (@scroll_in) May 3, 2020
On 11th April 2020, authorities in India's Uttar Pradesh state filed a criminal complaint against an editor and founder of the news website The Wire for the outlet's reporting on a government minister violating the country's coronavirus lockdown. The allegations against Siddharth Varadarajan came after a 31st March piece in The Wire documented Uttar Pradesh's chief minister Yogi Adityanath attending a public religious gathering.
The complaint was filed under Sections 188 and 505 (2) of the Indian Penal Code. Section 188 refers to disobedience of an order issued by a public servant and 505 (2) to "statements creating or promoting enmity, hatred or ill-will between classes".
On 14th April about 3,500 jurists, academics, actors, artists, writers as well as people from other walks of life slammed the Uttar Pradesh government and police for filing the case against Siddharth Varadarajan and demanded that all criminal proceedings against him be dropped. They also urged the central government and all state governments not to use the COVID-19 pandemic as a cover to trample upon media freedom.
The New York Times quoted Siddharth Varadarajan saying:
"The nationwide lockdown is precisely the time when journalists in a democracy need to be free to write and report without worrying about a midnight knock. Only by doing our jobs can we ensure not only that ordinary citizens come out of the pandemic alive, but that their democracy does so too."
Journalists in Tamil Nadu facing charges for exposing corruption
Release the Founder of News Portal https://t.co/OfYPlr6TES Mr.D.Andrew Sam Raja Pandian for exposing irregularities in PDS & shortage of facilities to medical students in Coimbatore. Its a brazen attack on Journalism. Lets join hands to show solidarity
https://t.co/28qvxuc33c

— Thirumurugan Gandhi (@thiruja) April 24, 2020
On 23rd April, the founder of an online portal in Coimbatore, Tamil Nadu, Andrew Sam Raja Pandian was arrested by police for publishing two articles. One of the articles exposed corruption in the government food aid distribution system, while the other highlighted doctors in Coimbatore city facing food issues.
The city police first detained the journalist and photographer who had reported on the stories, Jerald Aruldas and M Balaji, for nine hours before arresting Pandian for publishing the pieces. At the police station he was not interrogated but made to sit there for many hours. Pandian was released on bail on 28th April but is facing several criminal charges under the Disaster Management Act, 2005. He faces several years in jail if proven guilty.
Journalists in Kashmir facing judicial harassment
Recently, three colleagues — Masrat Zahra, Peerzada Ashiq and Gowhar Geelani — were booked by police, two of them under a draconian anti-terrorism law that could result in imprisonment for up to seven years.
2/n pic.twitter.com/Gy5GGXLPBt

— Aakash Hassan (@Aakashhassan) May 3, 2020
As previously documented, on 5th August 2019, the government of India revoked Article 370 and 35A of the Constitution, which guaranteed the autonomous status and rights of the state of Jammu and Kashmir. The government also imposed a severe communications blockade that impacted the daily lives of Kashmiri people, including by affecting access to medical care, basic necessities and emergency services.
Nearly nine months later, the situation in Indian administered Kashmir remains the same with journalists targeted for using social media to report on the disappearances, surveillance and violations committed by the armed forces in the valley.
On 20th April, the Jammu and Kashmir police booked Kashmiri photojournalist Masrat Zahra under the draconian and stringent Unlawful Activities (Prevention) Act (UAPA) for posting what they have called 'anti-national' content on social media. A statement issued by the police reads, "Cyber police received information through reliable sources that one Facebook user, namely Masrat Zahra is uploading anti-national posts with criminal intention to induce the youth and to promote offences against public tranquillity".
Journalists in Kashmir have also come out in support of Zahra and demanded the FIR against her be revoked. The Kashmir Press Club (KPC) in its statement noted:
"While the government has every right to rebut a story of a journalist and allow a journalist to respond, cases against journalists for their stories and work are unwarranted and outrightly illegal and draconian."
Other journalists in the province have also faced judicial harassment from the authorities. On 19th April police summoned senior journalist Peerzada Ashiq of The Hindu around factual inaccuracies in his report on the exhumation of two militants killed in South Kashmir's Shopian region. According to a report, Ashiq was called in for questioning by the Cyber Police in Srinagar and then again on the same evening by the Anantnag police 40 kilometres away before being permitted to return home.
The KPC also criticised the beating up and arrest of Kashmir Observer reporter Mushtaq Ahmad by the police. Ahmad was arrested in Bandipora when he was out doing professional work, and was released only after securing bail.
On 24th April, Kashmir-based author and journalist, Gowhar Geelani sought relief from the Jammu and Kashmir High Court from a FIR filed against him on 21st April by the police under the Unlawful Activities Prevention Act (UAPA). He has been accused of "indulging in unlawful activities through his posts and writings on social media". In his plea, Geelani has described the FIR against him as "vindictive, calibrated to wreak vengeance".
Peaceful Assembly
Shaheen Bagh protest dispersed and site destroyed by police
In the early hours of the morning of 24.03.2020, huge formations of Police forces arrived at Shaheen Bagh & forcibly evicted and detained the few remaining women protesters & some male volunteers. They also brought cranes & destroyed the main stage & main tent area. (File Photo) pic.twitter.com/gqfZ5hcEsK

— Bar & Bench (@barandbench) March 25, 2020
As previously documented, the new Citizenship (Amendment) Act (CAA) 2019, a divisive and discriminatory citizenship law, has sparked widespread protests in India since December 2019. As the government enforced social distancing measures through a nationwide lockdown, anti-CAA protesters began clearing out the many physical sit-in sites that symbolised the protest movement.
On 24th March 2020, the Delhi Police, which reports directly to the Home Minister, Amit Shah, used this as an opportunity to break up the protest site of Shaheen Bagh, the longest-running protest against the CAA. Dozens of people, many of them Muslim women, had been staging a sit-in protest since early December 2019 on a street in the Shaheen Bagh neighbourhood, which has become a focal point for opposition to the CAA.
Hundreds of police in riot gear surrounded the protesters and told them to leave. Some demonstrators resisted the police, and at least nine people were detained, six of them women.
The police bull-dozed their way through the physical remnants of the protest - posters were torn, the sculptures and tents removed, graffiti and slogans painted over. The destruction of an empty protest site became a priority of the police during a global pandemic crisis.
In April 2020, Human Rights Watch (HRW) released a report "'Shoot the Traitors': Discrimination Against Muslims Under India's New Citizenship Policy," which says the police and other officials have repeatedly failed to intervene when government supporters attacked those protesting the new citizenship policies. HRW also said that India's discriminatory new citizenship law and policies have spurred violence against Muslims. The organisation also reported the lack of accountability for dozens of protesters who were killed or injured during the anti-CAA protests.
Student activists arrested under the draconian UAPA
On 21st April 2020, Delhi police charged two student activists of Delhi's Jamia Millia Islamia University, Meeran Haider and Safoora Zargar, under the draconian Unlawful Activities Prevention Act (UAPA). The police also booked Jawaharlal Nehru University student leader Umar Khalid under the UAPA in the case.
According to news reports, the charges related to an alleged "premeditated conspiracy" to stir up communal hatred through a series of speeches, which police say led to the deadly religious riots in Delhi. The students have also been charged with sedition, murder, possession of arms, incitement to violence, attempted murder, promoting enmity between different groups on grounds of religion, and rioting.
Human rights groups have called the arrests "politically motivated" and "aimed at silencing those seeking state accountability".
Since then police have also arrested Shifa-Ur-Rehman, the president of the Jamia Millia Islamia Alumni Association under the UAPA and raided the residence of the Delhi unit head of All India Students Association, Kawalpreet Kaur and confiscated her mobile phone in connection with the violence in Delhi.
As previously documented, violence broke out on 23rd February 2020 in New Delhi due to inflammatory speeches by political leaders that provoked mobs to attack anti-CAA protesters as well as Muslim homes. The Supreme Court criticised the Delhi police for not doing enough to check the violence.
Green activist in Tamil Nadu targeted for condemning communalism
According to Human Rights Defenders Alert – India, on 2nd April 2020 a few Gandhian organisations announced a nation-wide hunger strike calling for relief measures for migrant labourers, against the communalisation of the COVID-19 spread in India. Dr SP Udayakumar, the anti-nuclear activist and President of the Green Tamil Nadu party, also observed this strike at his house in Kanyakumari district. The same day, police registered a case against Udayakumar alleging that he disobeyed the prohibition orders under Section 144 of the Penal Code and held a press conference at his house with more than five people present.
Sources close to the activist say that there was no press meeting or public announcement made by him. Dr Udayakumar has alleged that the police are trying to intimidate him for criticising the manner in which the Tamil Nadu government has been mentioning the personal details of the attendees of an Islamic religious event in March 2020 organised by the Tablighi Jamaat in New Delhi who have been targeted and vilified for spreading the virus.
According to Dr Udayakumar, the act of targeting a particular religion by the government would affect the communal harmony in the state. The Tamil Nadu police filed another case against him on 5th April. Activists say Udayakumar has been facing continuous harassment by the state machinery. He already has over 105 cases pending against him, including on charges of sedition from the anti-nuclear power plant protest in Koodankulam, the anti-hydrocarbon protests, Ockhi-cyclone related protests and the anti CAA protests more recently.
Association
Informal migrant workers affected heavily by lockdown
🇮🇳#India: UN Human Rights Chief @mbachelet distressed over plight of millions of internal migrants affected by the lockdown. She welcomes measures taken to limit #COVID19 impact but pervasive challenges remain 👉 https://t.co/uZLkevTM5V pic.twitter.com/YxJf60ynMf

— UN Human Rights (@UNHumanRights) April 2, 2020
The decision to effect the nationwide lockdown was sudden. The Modi government shut down the Indian Railways and inter-state bus services to slow down the transmission of the coronavirus. Not long after, images emerged of migrant labours plodding towards their villages, some braving journeys of hundreds of kilometres to reach their families.
Migrant workers who lost their jobs in the cities had no money to buy food and pay rent and decided to get home, even if it meant walking there. This resulted in chaos, starvation and deaths. News reports described it as the 'biggest human migration on foot after Partition'.
Economists suggest that this move indicates that India is on the verge of an unprecedented economic catastrophe as the humanitarian disaster from the COVID-19 pandemic unfolds. Sources say the disruption is much starker than the global financial crisis of 2008 as it comes at a time when GDP growth is slowing. The most vulnerable sections of society are bearing the brunt of the crisis. Some state governments, notably Kerala, Delhi, West Bengal, Odisha and Rajasthan - among others - have implemented some necessary measures keeping in mind the living and working conditions of most Indians, but they are all cash-strapped and cannot afford interventions on the scale required.
On 2nd April 2020, UN High Commissioner for Human Rights, Michelle Bachelet said in a statement that she was distressed by the plight of India's affected informal migrant workers. In her statement she welcomed the instructions of India's Supreme Court that the migrants be treated in a humane manner, including by providing them with enough food, water, beds and supplies as well as psychological counselling in shelters run by volunteers and not security forces. The statement also urged the Indian Government to draw on India's vibrant civil society to reach out to the most vulnerable sectors of society to ensure no one is left behind.
Campaign for release of Kashmiri prisoners
Attention all organizations: We are asking you to support our #ReleaseKashmiriPrisoners campaign by signing our RKP statement. Use the link and share! https://t.co/sNgQJrNlJ8 pic.twitter.com/O9lyHFvqoz

— StandWithKashmir (@standwkashmir) April 23, 2020
In April 2020, Stand with Kashmir (SWK) raised concerns about the continued detention of thousands of Kashmiris who have been held in jails in Jammu and Kashmir and all over India prior to and in the aftermath of the events of 5th August 2019, including minors, women, the ill and the elderly. According to SWK, in addition to those who have been languishing in jails for years for expressing their dissent, an estimated 4,000 to 13,000 people have been detained since August 2019.
SWK stated that although the Indian government has released a number of detainees as a result of the COVID-19 pandemic, the majority remain imprisoned. At the latest count, 261 prisoners belonging to Jammu and Kashmir are currently lodged in different jails in Uttar Pradesh and Haryana. 3,248 prisoners are in jails across Jammu and Kashmir. A committee that was mandated to decongest jails in the wake of COVID-19 has stated that it will not release on parole those booked under the Public Safety Act (PSA) or militancy-related convicts.
As previously documented, in August 2019, the Indian government revoked the special status of Indian-administered Jammu and Kashmir in its constitution. The special status was seen by many as an essential provision to maintain the democratic relationship between India and Jammu and Kashmir. In response to this, there have been reports of excessive force by the security forces during protests, restrictions to freedom of expression and numerous arrests, including of activists.