Misuse of ICCPR Act and judicial system to stifle freedom of expression in Sri Lanka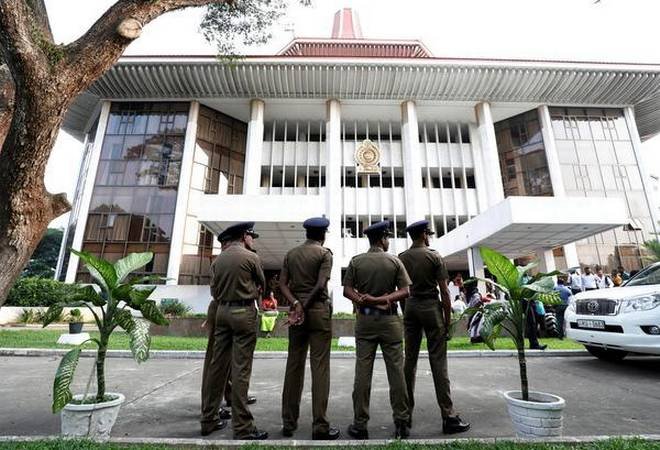 On 21st April 2019, more than 250 people were killed, and hundreds injured when bombers from a local Islamist armed group affiliated to the group known as Islamic State targeted three churches and three hotels on Easter Sunday. The day after, an emergency law came into effect, giving the police extensive powers to detain and interrogate suspects without court orders. The emergency was extended for a third month on 22nd June 2019. Over 100 people are reportedly in custody in connection with the attacks.
Since the attacks, civil society has reported a discriminatory ban on face-veils, a spate of attacks against Muslim-owned businesses, mosques and houses in several parts of Sri Lanka and displacement,  arrests and reprisals against refugees and asylum-seekers.
May 2019 marked a decade since the end of the brutal armed conflict in Sri Lanka. According to Human Rights Watch, the government has failed to provide justice for the conflict's many victims. The Office on Missing Persons and the Office for Reparations overcame delays and were established, but neither is fully functioning. There has been no progress on establishing a war crimes tribunal with international involvement. Instead, Sri Lankan political leaders have repeatedly opposed using foreign judges and said that "war heroes" will be protected from prosecution.
In the last few months, a number of individuals have been arrested and charged under the International Covenant on Civil and Political Rights (ICCPR) Act of 2007 – a law meant to protect human rights - for the peaceful expression of their views. Further, contempt of courts proceedings have been brought against academic and activist Sarath Wijesuriya and an intelligence office linked in the killing of a journalist has been reinstated. Following the April 2019 attacks, social media was blocked temporarily. 
Expression
Poet and writer charged and detained for short story
Sri Lanka: PEN International believes the arrest and ongoing detention of award-winning writer Shakthika Sathkumara are related to the peaceful exercise of his right to freedom of expression. We call for his immediate and unconditional release.https://t.co/qLWo30urgM

— PEN International (@pen_int) June 21, 2019
Shakthika Sathkumara was arrested on 1st April 2019 by the Polgahawela Police in response to a complaint alleging that Sathkumara's short story 'Ardha' (Half) was derogatory and defamatory to Buddhism. The story is allegedly about homosexuality and child abuse in a Buddhist temple in Sri Lanka.
He was initially remanded by the Polgahawela Magistrate's Court until 9th April 2019 and has remained detained since his arrest. The Attorney General has twice rejected his bail request. Under the law he can only be granted bail by a high court judge. Systemic delays inherent in the Sri Lankan justice system means that it could be months before he even appears before a high court.
Sathkumara faces charges under the International Covenant on Civil and Political Rights (ICCPR) Act of 2007, which among other provisions criminalises the advocacy of "national, racial or religious hatred that constitutes incitement to discrimination, hostility or violence". If convicted, he faces a maximum of up to ten years' imprisonment. No credible evidence has been presented to substantiate any of these charges.
On 17th June 2019, CIVICUS and the Asian Human Right Commission (AHRC) called the arrest and ongoing detention of Sathkumara a clear violation of his right to freedom of expression. The organisations said:
"This is a clear misuse of the law, which was enacted to protect human rights recognised by the international community including fundamental freedoms such as freedom of speech. We also call on the authorities to ensure that writers and artists may work freely and without fear of retribution for expression critical opinions or covering topics that the government or others may find sensitive or offensive."
Journalist arrested for article on terror attacks
Senior journalist Kusal Perera under threat https://t.co/Lw6CmJghcI pic.twitter.com/luoxj557qB

— Lankanewsweb.net (@lnwsrilanka) June 15, 2019
Kusal Perera, a senior journalist is being investigated under the ICCPR Act for a column he wrote on 17th May 2019 in the Daily Mirror newspaper over the anti-Muslim violence following the Easter Sunday terror attacks. It is reported that the police's crime unit had filed a case against Perera for inciting racial hatred.
The Free Media Movement (FMM), a media advocacy CSO, strongly condemned the attempt to pursue legal action against Perera under the provisions of the ICCPR Act, which also includes a provision to disallow bail. They said that Perera "has been engaged in journalism for a long time in both the Sinhala and English media and has been recognised as a socially responsible professional journalist both locally and internationally".
FMM pointed out that this effort by the police was a serious threat to the freedom of expression and the media and urged all relevant stakeholders to intervene in averting this situation.
Researcher arrested on terrorist charges
According to Human Rights Watch, on 4th May 2019, Dilshan Mohamed, a researcher and activist campaigning against violent Islamic militancy had been arrested. He had publicly and repeatedly spoken against the group known as Islamic State on Facebook for several years. Following the April 2019 bombings, he was arrested and accused of supporting the group known as Islamic State on Facebook.
Dilshan Mohamed was charged under the repressive Prevention of Terrorism Act (PTA) and section 3(1) of the ICCPR Act. The ICCPR Act charges were later dropped and he was released from custody on bail on 7th June 2019 after spending 34 days at the Negombo remand prison. However, the investigation under the PTA continues.
Muslim woman detained for wearing dress allegedly depicting Buddhist symbol
The Muslim woman arrested for wearing a dress that bears what the Hasalaka Police claim to be the Dharmachakraya, has been remanded till June 3rd. #lka #srilanka https://t.co/6VPdA2mugQ

— Groundviews (@groundviews) May 28, 2019
On 18th May 2019, Abdul Raheem Masaheena was arrested in Hasalaka, 180 kilometres away from the capital, Colombo, for wearing a caftan which had a print depicting a ship's helm (wheel) that was deemed to look like a Dharmachakraya, a Buddhist symbol. She had been dressed in the caftan on the day of arrest, after being forced by majority Sinhala Buddhists in the area to give up her customary Abaya.
She was subsequently charged under the ICCPR Act. The court was told that the print on the dress offended Buddhists. Acting Magistrate Gamini Rambakenpura in the central town of Mahiyanganaya ordered her to be remanded until 3rd June 2019 after the police informed the courts that the controversial dress has been sent to the Department of Buddhist Affairs, for them to verify the identity of the symbol.
On 16th June 2019 it was reported that lawyers had filed a petition at the Supreme Court for her release. It stated that her arrest was "arbitrary and malicious" and she had been ill-treated while in detention.
Academic facing court for insulting the judiciary
Academic and activist Professor Sarath Wijesuriya is facing contempt of court charges after a case was filed against him. The petitioners claim he had made contemptuous statements "scandalising the judiciary and the entire system of administration of justice in order to advance the calculated motive of diminishing public confidence in the judiciary".
The petitioners stated that in October 2016 the Independent Cinema Movement of Sri Lanka had uploaded a video on Youtube where Wijesuriya expressed his views on a court order that had been issued to halt the screening of a film. It also stated he made contemptuous statements at a book launch in September 2016 and at a press conference in August 2018.
Human rights groups believe the case is a misuse of contempt of court proceedings and is an attempt to use the threat of imprisonment as a way to muzzle freedom of expression.
Army reinstates official suspected in killing of journalist and other attacks
#Srilanka: Alleged death squad leader reinstated in special team under Army Chief | FT Online https://t.co/YshkwXxRJV

— Meera Srinivasan (@Meerasrini) May 13, 2019
In May 2019, The Committee to Protect Journalists (CPJ) reported that a Sri Lankan military intelligence official, Prabath Bulathwatte, who is allegedly linked to attacks on at least three journalists was restored to active duty.
According to CPJ, in 2017, authorities arrested five military intelligence officers in relation to the 2008 abduction and assault of columnist Keith Noyahr. Bulathwatte was among the suspects and during the investigation, police found evidence linking the men to the 2009 killing of Sunday Leader editor Lasantha Wickramatunga.
Ahimsa Wickramatunga, Lasantha's daughter, filed a civil case in April 2019 in a U.S. court against former Sri Lankan Defense Secretary Gotabaya Rajapaksa, alleging that Rajapaksa operated a clandestine military intelligence unit known as the "Tripoli Platoon" that was responsible for her father's assassination as well was attacks on Noyahr and Rivira weekly editor Upali Tennakoon. Bulathwatte was reportedly the leader of that platoon.
CPJ Asia Program Coordinator Steven Butler said:
"Promoting to active duty an intelligence officer who has been implicated in the killing of one journalist and the torture of two others severely undermines Sri Lanka's claim that it is fighting impunity for crimes against journalists. Instead, the move creates new threats to journalists in Sri Lanka, who are not safe to do their jobs."
Social media and messaging apps blocked after attacks
Following the 21st April 2019 attacks, the Sri Lanka government decided to block social media sites and several messaging apps. According to the digital rights group NetBlocks, the authorities blocked Facebook, Facebook Messenger, Instagram, Snapchat, Viber, WhatsApp and YouTube. The TunnelBear Virtual Private Network (VPN) was also blocked.
The social media ban was announced by the defense ministry and a government news portal on grounds that "false news reports were spreading through social media". The aim was "to prevent speculative and mischievous attempts to spread rumors".
In response to this, Access Now, a digital rights advocacy group said that during a terrorist attack and in the aftermath, it is vital that governments take necessary and legal measures to curb and foil further attacks, and to hold the perpetrators accountable; however, these measures should not further harm victims. They added:
"Many in Sri Lanka rely on social media platforms and messaging apps to reach out to their families. For those in danger, and for those who want to help, not being able to connect or confirm that a loved one is safe can be devastating.Moreover, cutting communications channels can block the emergency and rescue services that keep people alive."
Access Now also said that credible media and journalists are also instrumental in fighting disinformation or misinformation. Having reliable access to social media and VPNs helps them to provide timely reports to the public. The ban on social media was lifted on 30th April 2019.
Ban on face-veil targets Muslim women
'Unacceptable': Sri Lankans share their views on face veil ban @AJENews https://t.co/Rw2tkLI3QM #EasterSundayAttacksLK #SriLanka

— Bhavani Fonseka (@bfonseka) April 29, 2019
Sri Lankan President ordered a ban on face coverings in public as one of a number of emergency measures imposed following the Easter Sunday bombings. The ban, which took effect on 29th April 2019 prohibits any face covering "that may hinder one's identify [from being] ascertained," and cites such coverings as a potential security threat.
Responding to this Amnesty International's Deputy South Asia Director, Dinushika Dissanayake, said:
"At a time when many Muslims in Sri Lanka fear a backlash, imposing a ban that effectively targets women wearing a face veil for religious reasons risks stigmatising them. They will be forced out of public spaces to stay at home and will be unable to work, study or access basic services. The ban violates their rights to non-discrimination, freedom of expression and religion.
The ban also adds to the stigma against Muslims, who have already reported feeling threatened in Sri Lanka, a majority-Buddhist country, after the group known as Islamic State claimed responsibility for the attacks and authorities identified the perpetrators as members of a domestic Islamic militant group.
Association
Civil society groups report arbitrary arrests and threats against Muslims 
In #SriLanka Muslims Face Threats, Attacks. Authorities should end arbitrary arrests and take steps to end other abuses says @HRW https://t.co/kwD2jlXK7V

— meenakshi ganguly (@mg2411) July 4, 2019
On 3rd July 2019, Human Rights Watch reported that the authorities have arbitrarily arrested and detained hundreds of people under counterterrorism and emergency laws. The vast majority of arrests are under the Prevention of Terrorism Act (PTA), a long-abused law that the government pledged to the United Nations Human Rights Council in 2015 to repeal. Lawyers said their clients had often been arrested without any credible evidence of terrorist involvement, for reasons including having the Quran or other Arabic literature in their possession during searches.
HRW also reported that Human Rights Commission of Sri Lanka found in May 2019 that the government have made little effort to discourage public campaigns by religious figures that put the Muslim community at greater risk. Government leaders, instead of fulfilling their duty to protect Muslim citizens, have at times appeared to associate themselves with Buddhist nationalist elements
In her opening statement at the UN Human Rights Council on 24th June 2019, UN High Commissioner for Human Rights Michelle Bachelet said that she was "disturbed by reports of anti-Muslim attacks" and that "recent statements by some religious leaders inciting violence constitute worrying early warning indicators that should be addressed".
Meenakshi Ganguly, South Asia director at Human Rights Watch said:
"It's crucial for the authorities to act swiftly to stop mob violence, threats, and discrimination against Muslims…the Sri Lankan government needs to take a stand [and] use the law to punish those responsible for abuses and protect, rather than target, vulnerable people."