Hundreds dead after protests, fears over COVID-19 restrictions' impact on free speech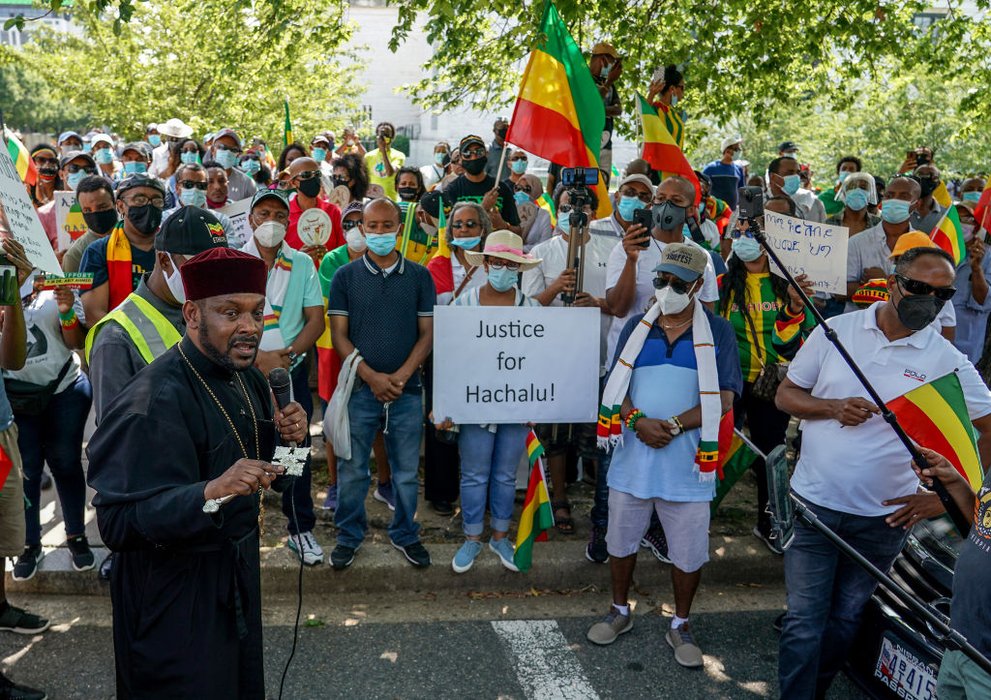 In late May 2020, Amnesty International published a report entitled 'Beyond law enforcement: human rights violations by Ethiopian security forces in Amhara and Oromia,' documenting grave violations committed by security forces against ethnic and religious minority groups. The report details extrajudicial executions of numerous people, brutal beatings and rape of those accused of supporting non-state armed groups, and forced evictions and destruction of property of families in certain ethnic regions.
In a statement released shortly after the publication launch, Ethiopia's Foreign Ministry said that the report was a ""one-sided snapshot security analysis" that failed to appropriately capture the "broader political trajectory and security developments in Ethiopia" since reform efforts began. The statement also pledged an independent investigation, which it noted had been recommended by the Amnesty International report, "at the appropriate time."
In other developments, on 10th June 2020, Ethiopia's Parliament approved an extra term in office for Prime Minister Abiy Ahmed after the elections scheduled for August 2020 were postponed, for up to one more year due to the COVID-19 pandemic. This was announced two days after a leading opposition politician resigned as Speaker of the Upper House in apparent protest at the election delay. However, the northern Tigray region announced it would proceed with elections, ignoring the electoral board's postponement. This decision highlighted divisions that have been reinforced between Ethiopia's ethnically-based political groups since PM Abiy came to power.
Peaceful Assembly
In May 2020, Human Rights Watch published an article looking at the use of Mobile Location Data and COVID-19, noting concern with Ethiopia's Information Network Security Agency, which launched a monitoring platform on 23rd March. The platform was launched to update the public on the number of COVID-19 cases and to provide information about accessing healthcare. However, it also allows users to report illegal or unauthorised activities, such as public gatherings. Concerns have been raised about the lack of transparency around the mechanism, especially considering Ethiopia's record of pervasive surveillance.
On 11th June 2020, protests erupted in the cities of Kebri Dahar and Jijiga in the Somali Region of Ethiopia with protestors demanding that Regional President Mustafa Cagjar step down. The protests were triggered by the death of a child after lack of assistance from the regional government. Protests have been becoming more commonplace in the region lately, as public dissatisfaction with the President has grown, political crisis in the region has deepened and the opposition has grown in capacity. 
#Ethiopia 🇪🇹: #Oromo protesters in the city of #Harar have taken down the statue of Ras Makonnen, historic governor of the region and father of the Ethiopian empire Haile Selassie I.

Protests are spreading over the #Oromia region following the death of Hachalu Hundessa pic.twitter.com/M9r2poLUg5

— Thomas van Linge (@ThomasVLinge) June 30, 2020
Protests have erupted in Ethiopia after police gunned down a popular musician, events that have also led to the arrest of the country's leading opposition politician Jawar Mohammed. #GetaArgaw #HachaluHundessa #JawarMohammed https://t.co/JDBQvX5pOL pic.twitter.com/92SwAIgWS3

— This is Malawi (@ThisIsMalawi) July 1, 2020
In the backdrop of the protests that ensued after Hundessa's killing, several leading opposition politicians were arrested.
On 1st July 2020, prominent activist, politician and founder of the opposition party Balderas for Genuine Democracy, Eskinder Nega was arrested and detained on charges of inciting violence in the aftermath of Hundessa's killing, including paying money to groups of young people to cause unrest. Nega was brought to court on 16th July, where he alleged that he had been physically abused by police officers. The court ordered federal police to conduct an inquiry into the allegations. He remains in detention.
On 24th July, founder and former president of the Ethiopian Democratic Party (EDP), Lidetu Ayalew, was arrested concerning the unrest following Hundessa's death. He was brought to court on 27th July in Bishoftu city, where he was denied bail. The court granted the police 14 days to investigate. He is similarly charged with instigating violence by mobilising youth groups to cause unrest.
On 14th July 2020, Hirut Kifle, a member of the opposition Ethiopian Citizens for Social Justice (Ezema) was arrested at her home and charged with "coordinating violence in Addis Ababa". On 27th July she appeared in court where the Federal First Instance Court granted police a further eight days to investigate. However, on 5th August she was released on bail.
Jawar Mohammed, a member of the Oromo Federalist Congress (OFC) and Bekele Gerba, the Deputy Chairman of the party, were arrested on 30th June when they and others attempted to intercept Hundessa's body, which was being transported to his home town of Ambo, and return it to Addis Ababa. On 6th August the Federal First Instance Court ruled that the Federal Attorney General Office should hold a Preliminary Inquiry, which is usually used in serious criminal matters, such as homicide, to determine whether evidence collected by the prosecution is enough to bring a trial to court. In the meantime, both remain in detention on charges of "mishandling a body". Other OFC members who were also arrested, have not yet been charged or presented to a court and were being held in a school compound. One senior official who was being detained was admitted to hospital on 23rd July, suspected of having COVID-19 but was later discharged having tested negative.
Expression
There have been several reports that the COVID-19 restrictions in Ethiopia have been used to increasingly restrict free speech online. On 4th April 2020, lawyer Elizabeth Kebede was detained for comments on social media about the government's response to the coronavirus. Kebede was released on bail on 6th May 2020 after being accused of "disseminating false news" in Facebook posts that officials claim could "instigate violence," after she posted personal details of a person who had been diagnosed with COVID-19.
Laetitia Bader, Horn of Africa director at Human Rights Watch said:
"While misinformation about the pandemic can be a concern, it's no excuse to limit free speech… The authorities should drop charges against Yayesaw Shimelis, release Elizabeth Kebede, and stop detaining people for peacefully expressing their views."
Similarly, Yayesaw Shimelis, a journalist and producer of a political programme on Tigray TV, a regional government-owned station, was arrested and charged on 27th March 2020 for comments concerning the government's COVID-19 response. He was arrested after he alleged on his personal Facebook and YouTube channel that the government was preparing 200,000 graves in anticipation of deaths from the virus. On 15th April he was granted bail; however, federal police investigators intervened and appealed the decision, further accusing Yayesaw of violating an anti-terrorism law.
CPJ sub-Saharan Africa Representative Muthoki Mumo said:
"Yayesaw should be released immediately and unconditionally, and authorities should stop weaponising the legal process to retaliate against journalists, which will chill the flow of information"
On 20th April, a federal judge granted bail for a second time and Yayesaw was released on 23rd April, but most recent reports suggest that he has since been formally charged under the country's new Hate Speech and Disinformation Law. A court hearing was scheduled for 15th May 2020 but was adjourned to 11th June although no reason was given for the adjournment.
Separately, following unrest across Ethiopia in June and July 2020, there were widespread internet shutdowns affecting most of the country. The shutdown began the day after the killing of Hachalu Hundessa on 29th June and continued until 16th July, when partial access was restored. By 24th July, full connections were resumed, including mobile internet. Internet shutdowns are common in Ethiopia and are often used during periods of unrest, or in strategic geographical locations, as previously reported on the Monitor.
On 17th July 2020, journalist Guyo Wario was detained in relation to an interview that he conducted with Hundessa one week before he was killed. He has not yet been charged and remains in detention. 
The refusal to release Yassin Juma after he was granted bail is yet another flagrant disregard for court orders and another shameful example of how Ethiopian police are increasingly breaking the very laws they are charged to uphold. They must take steps to comply with the orders. https://t.co/6VvMGOFucw

— AmnestyEasternAfrica (@AmnestyEARO) August 10, 2020