Hundreds of arrests during Extinction Rebellion's Autumn Uprising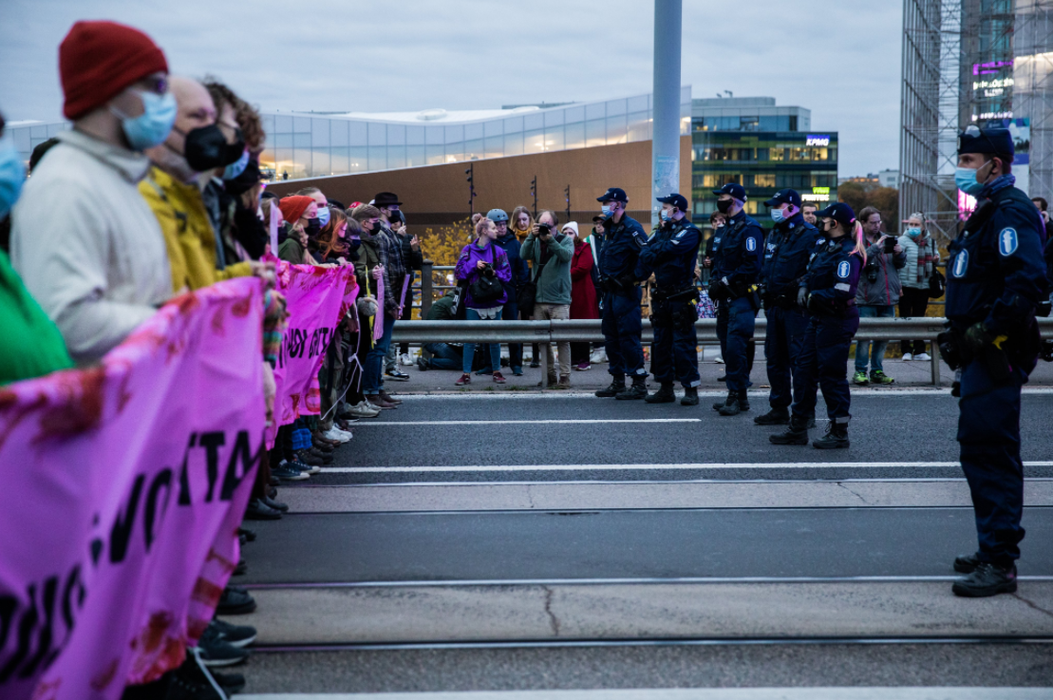 Peaceful Assembly
Hundreds of protesters taken into custody during Extinction Rebellion 10-day protest
Extinction Rebellion Finland (Elokapina) declared a 10-day protest, the so-called Autumn Uprising, which started on 29th September and lasted until 8th October 2021. The aim of the demonstration was to raise awareness of the climate crisis and call on the national government to declare a climate and environmental emergency.
The kick-off protest, on the evening of 29th September 2021, which was staged outside Parliament House, was broken up by police only an hour after it had started, on the grounds of significant and long-term traffic disruption. The police also reported that the environmental activist group refused to change the protest location as proposed by authorities some days before. A total of 141 protesters were taken into custody. Extinction Rebellion resumed the protest the following day and continued with their original plan of demonstrating for 10 days.
On 6th October 2021, the police performed more arrests due to the blockade of Pitkäsilta, a bridge connecting the central districts of Kruununhaka and Siltasaari, with a total of 123 protesters taken into custody. Elokapina reported that the cooperation with the police was good overall during the 10-day event; however, they denounced the detention of some protesters for 20 hours (far beyond the limit of 12 hours as stipulated in the Police Act) on the grounds that they resisted police orders and violated public peace. The group reports that a total of 495 protesters were arrested during the action.
#Syyskapina on päättynyt. Kauan eläköön Syyskapina.

Neljästä päättäjien herättämiseksi tarkoitetusta mielenilmaisustamme – Mannerheimintieltä, Pitkältäsillalta ja Valtioneuvoston linnalta – otettiin kiinni yhteensä 480 kansalaistottelemattomuuteen turvautunutta elokapinallista. pic.twitter.com/BOghOVySco

— Elokapina - Extinction Rebellion Finland (@elokapina) October 11, 2021
During the 10-day demonstration, representatives from all political parties in Parliament spoke with the protesters, except for MPs from the Centre Party. Both President Niinistö and Prime Minister Marin have admitted that Finland is living to a certain degree in a state of emergency with regard to climate and biodiversity. However, they have not officially declared the state of emergency, as requested by the activist group. Establishing a dialogue with decision-makers was among the strategic objectives of the Autumn uprising.
Expression
On 6th October 2021, police threatened photojournalist Antti Yrjönen with a fine for insubordination while he was covering an XR protest in Helsinki. A police officer asked the journalist to move aside, which he did, and identified himself as a journalist. The officer took him aside for interrogation, wrote down his details and threatened him with fines and taking the matter to court, noting that the whole confrontation was on record, as reported by Mapping Media Freedom. Yrjönen was allowed to continue his work after another officer arrived and allowed him to do so. It is unclear whether he received the fine in the end.
Sain elämäni ensimmäiset sakot! (Ehkä.) Olin keskiviikkona kuvaamassa, kun #Elokapina n mielenosoittajat katkaisivat liikenteen Helsingin Pitkälläsillalla. pic.twitter.com/xzuQf5KqXt

— Antti Yrjönen (@anttiyr) October 8, 2021