Human Right Council calls on Brunei to review legislation limiting fundamental freedoms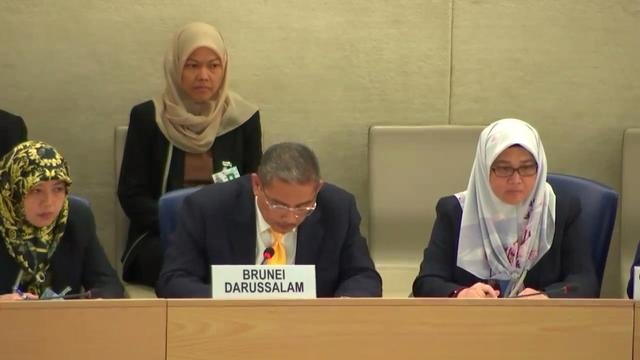 The UN Human Rights Council reviewed the human rights record of Brunei in May 2019 and raised concerns around restrictive legislation  limiting fundamental freedoms such as the Sedition Act and the Local Newspapers Order. In the same month, Human Rights Watch (HRW) issued a report on Brunei's new penal code that contains several provisions that criminalises freedom of expression. 
Expression
States call on Brunei to review restrictive laws silencing freedom of expression
In May 2019, Brunei's human rights record was reviewed by the UN Human Rights Council in Geneva. Ahead of the review, human rights groups submitted reports around the situation of civic freedoms in the country. A report by The Human Rights Foundation Center for Law and Democracy (HRF) and The Brunei Project highlighted that a state of emergency first declared in 1962 is still in effect, granting the Sultan virtually unlimited executive powers. The Sultan's powers also extend to legislative and judicial bodies leaving little room citizens to participate in the government of their country. HRF categorises Brunei as a 'fully authoritarian' regime.
Further, the two organisations reported that Brunei has several laws that are inconsistent with international laws and standards on civil and political rights. The Internal Security Act of 1982 allows authorities to detain suspects deemed security threats indefinitely without trial. Their detention can be renewed every two years and does not offer the detainees the presumption of innocence. The country's Sedition Act criminalises acts criticising the Sultan or the royal family and the Local Newspapers Order (1958/2001) allows the government to revoke permits and shut down newspapers on a whim, and to levy fines and multiyear prison sentences for the publication of false news and "incorrect particulars".
Ahead of the review, UNESCO reported that the Constitution of Brunei did not contain articles or provisions that protects freedom of expression or freedom of the press, which were restricted under various laws. It noted that article 500 of the Penal Code criminalised defamation with up to five years' imprisonment, and recommended decriminalising defamation and placing it within a civil code that was in accordance with international standards.
During the UN review there were at least 11 recommendations related to civic space. States called on the Brunei government to review its legislation to effectively guarantee the rights to freedom of expression and association including amending or repealing the Sedition Act (Norway, Germany, Australia, Portugal and US), the Local Newspapers Order (Portugal), lift the state of emergency (France, Spain, UK) and to put an end to the censorship of the media (Czech Republic and Slovenia)
Brunei is due to report back on the recommendations it accepts at the 42nd session of the Human Rights Council in September 2019.
New penal code imposes punishments on free speech
Brunei: New Report on Abusive Penal Code https://t.co/Dp2yxelQ5M

— Human Rights Watch (@hrw) May 23, 2019
On 22nd May 2019, Human Rights Watch released a report on Brunei's new penal code which came into effect on 3rd April 2019 and contained several provisions that criminalises freedom of expression:
The code imposes the death penalty for insulting or defaming the Prophet Mohammad (articles 63, 76 and 220) by both Muslims and non-Muslims.

The law also punishes and imposes criminal liability for "indecent" dressing and cross-dressing (articles 197 and 198), which arbitrarily restricts freedom of expression and freedom of association, as well as privacy rights, and constitutes a form of discrimination on the basis of gender expression.

The penal code also criminalises apostasy– including acts such as declaring oneself to be god or a prophet; showing contempt towards the prophet; deriding (through mocks, mimicking, ridicules, and insults) the Quran, the hadith (narrative record of the sayings and customs of Muhammad) (articles 108, 109, 110, 111 and 112).

The penal code criminalises the act of issuing any publications contrary to hukum syara (laws of any sect that the court considers valid) (article 213); punishes any acts of "delivering or giving publications relating to religion other than Islam" (article 214); and punishes the use of words reserved for Islam to express any "fact, belief, idea, concept, act, activity, [or] matter" related to other religions (article 217).