Honduras: land rights defender Arnold Joaquín Morazán Erazo and journalist Luis Almendares killed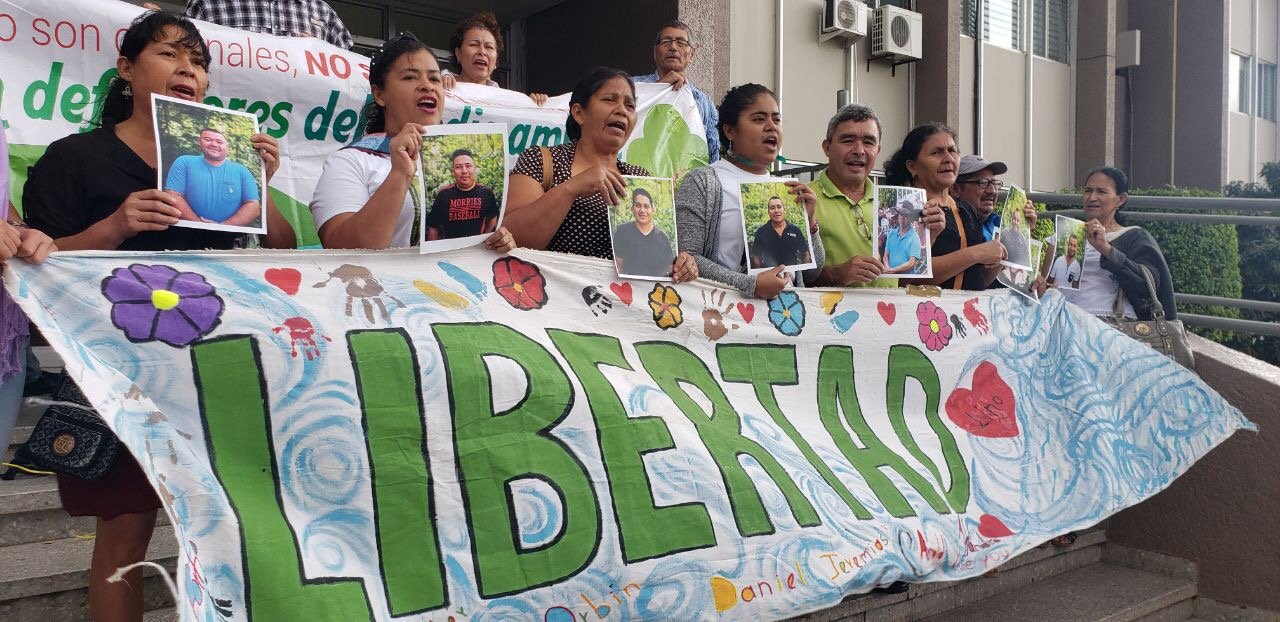 Association
Today, we are learning the news that Arnold Joaquín Morazan Erazo, who has been working to protect the Guapinol river, has been assassinated. CIEL continues to stand in solidarity with the defenders and send our deepest condolences. https://t.co/RFZqvPwsrZ

— CIEL (@ciel_tweets) October 14, 2020
On 13th October 2020, environmental rights defender Arnold Joaquín Morazán Erazo was shot and killed in Tocoa, Colón department. He was one of the 32 people in the Guapinol community criminalised for protesting against a project by Inversiones los Pinares mining company that would affect the local environment. Local organisation Comité Municipal de Defensa de los Bienes Comunes y Públicos de Tocoa (CMDBCP) has denounced the spiralling violence and defamation of defenders in the region, as well as the increased surveillance and intimidation by the army and police in Guapinol. International human rights organisations pointed out that this killing fits into a pattern of attacks attempting to destabilise the community; the crime took place days before an important court hearing, much as in 2019 when another defender was killed right before the case's first hearing.
A recent investigation by the International Human Rights Law Clinic at the University of Virginia, which analysed the legal proceedings against the Guapinol defenders, concluded:
"This case falls in line with a pattern of violence, harassment, and intimidation directed towards human rights defenders in Honduras. Furthermore, it illustrates the government's tendency to favour economic interests over human rights and its willingness to attack their citizens' freedom of association, expression, and peaceful assembly."
In a separate case, feminist network IM-Defensoras denounced that on 6th October 2020 unidentified individuals accompanied by a heavily armed group entered the Vallecito community and intimidated residents. The individuals were reportedly hostile and demanded to speak directly to rights defender Aurelia Arzú, who is a member of the feminist network and subcoordinator of Organización Fraternal Negra de Honduras (OFRANEH), allegedly to ask about sales of Garífuna ancestral land.
The 26th October 2020 marked 100 days of the enforced disappearance of five young Garífuna men from the Triunfo de la Cruz community, among them four OFRANEH defenders. In August 2020, the organisation had denounced that missing men were being revictimised through an online smear campaign seeking to discredit them and associate them with narcotrafficking. As previously reported on the Monitor, police officers are suspected to have been involved in the abduction – but no further information on the young men's whereabouts or potential suspects has been released by authorities.
Expression
Last night, journalist Luis Almendares went live on Facebook after he was shot in Comayagua, yelling for help & that he was bleeding

Almendares was shot 3 times by individuals riding a motorcycle. He died later in hospital #Honduras No more impunity!https://t.co/0aUf9Juhm5

— Honduras Solidarity (@hondurassol) September 28, 2020
On 27th September 2020, independent journalist Luis Almendares was shot by two hitmen driving a motorcycle in Comayagua. The reporter was taken to a hospital in Tegucigalpa, where he died the next day. According to the Committee to Protect Journalists (CPJ), Almendares posted his local news reporting on a Facebook page, often covering alleged corruption and mismanagement by local officials. C-Libre representative Cesario Padilla told CPJ that the journalist had repeatedly contacted the press freedom group about threats he had received in response to his work, including death threats. Honduras' Journalists' Union said the investigation into the killing should start at a video Almendares had published days before the attack, showing an alleged killing committed by someone driving a car with police lights.
News outlet Deutsche Welle reported that Almendares had not sought Honduras' protection mechanisms, despite the repeated threats against him. Reporters Without Borders' director for Latin America, Emmanuel Colombié, told the media it is often the case that local journalists do not trust a state-run mechanism to protect them, as public officials are among key perpetrators of violations. He continued:
"The situation is extremely serious. This spiral must end. We ask the authorities to strengthen the Protection Mechanism and put in place a lasting plan to fight impunity."
In a separate development, civil society organisation Article 19 published its report "The Global Expression Report 2019/2020: The state of freedom of expression around the world", showing that many Latin American countries such as Honduras have experienced a deterioration in freedom of expression over the last ten years. According to their research, Honduras is one of the countries where environmental defenders and journalists have been most at risk in the region. Article 19 described freedom of expression in Honduras as "less restricted" and ranked 71 out of the 161 countries analysed.