Haiti: insecurity crisis hampers aid delivery, creates shortages and leads to protests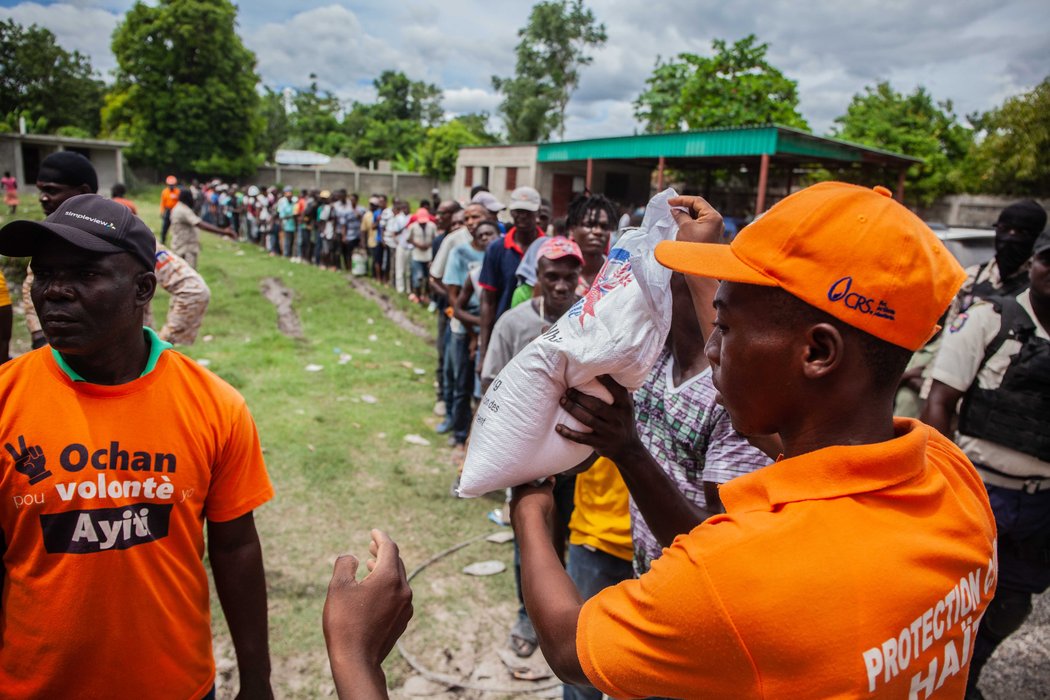 📢Près de 1⃣ million de personnes en insécurité alimentaire aiguë actuellement dans les régions affectées par le séisme et les inondations #Haiti

Une action immédiate est nécessaire pour soutenir les populations touchées#HaitiReponse#haitiearthquake2021 https://t.co/M0Y21Uy5SF

— WFP Haiti (PAM) 🕊️ (@WFP_Haiti) September 8, 2021
On 14th August 2021, a 7.2 magnitude earthquake hit three departments on Haiti's southern coast – the Nippes, the South and the Grand'Anse. According to a report by the National Human Rights Defense Network (RNDDH) based on information provided by the national emergency agency, at least 1,300 people were killed and nearly 6,000 others injured. Hundreds of buildings collapsed or were severely damaged. Days later, tropical storm Grace also reached the country, triggering more landslides and damages.
The disaster added to Haiti's fraught situation amid months of rising insecurity and the political uncertainty in the aftermath of President Jovenel Moïse's assassination in July 2021. Between August and October 2021, gang violence grew, with a surge in kidnappings. Widespread gang violence impacted relief efforts as well as the distribution of fuel and goods in the country, leading to shortages. This led people to take to the streets in protest, as detailed in the "Peaceful Assembly" section of this update.
Meanwhile, civil society continued to advocate for a popular process seeking an alternative transitional government designed to re-establish Haiti's democratic infrastructure and pave the way for free and fair elections. They also continued to call for local solutions and the restoration of peace without troops or peace missions.
In early September, several political parties signed an agreement in support of a transition period of "calm and effective governance". On 28th September 2021, Haiti's general election, which had been scheduled for November 2021, was officially postponed.
Peaceful Assembly
Tensions are running high in Haiti after 17 North American missionaries were kidnapped by an armed gang. A massive strike was called to protest the security crisis that has been compounded by fuel shortages, political upheaval and high food prices https://t.co/ymRhb75VYQ

— EL PAÍS América (@elpais_america) October 19, 2021
In October 2021, people in Haiti protested against insecurity and fuel shortages.
On 18th October 2021, members of professional associations called for a general strike to protest the wave of kidnappings and gang violence in the country. Their call came after 17 North American missionaries and a Haitian driver were kidnapped by an armed group. "It has been months since we appealed for help, and since we have had no security against kidnappings we have called for the population to suspend all activity," said Méhu Changeux, the president of Haiti's association for proprietors and drivers. News outlet Le Nouvelliste also reported on small protest actions against other kidnapping cases throughout early October 2021.
The compounding national crises have also led to weeks of fuel shortages in Haiti. According to news media, the shortages have been driven mainly by the interruption of fuel deliveries by gang blockades and abductions of fuel truck drivers. UNICEF warned that hundreds of women and children who seek emergency care in health facilities were at risk of dying if solutions were not found for the prevailing shortages. On 21st October 2021, the situation led to unrest as demonstrators blocked roads and burned tyres as a form of protest. Groups of moto-taxi drivers were among those setting up the blockades. At least two people were injured in protests in Jérémie, where protests reportedly became violent and police used tear gas to disperse demonstrators.
Protests broke out again on 24th October 2021 in the Delmas neighborhood in Port-au-Prince, where gas stations have run out of fuel. Police arrived and dispersed the crowds with warning shots, reportedly using live rounds. Another day of general strike was organised by labour organisations on 25th October 2021.
Association
In the aftermath of Haiti's earthquake, aid delivery continues to be slow. Gangs patrol transport routes, international freight carriers have raised costs, and Brexit and COVID-19 are causing shipping delays. More from @paisleydodds and @Jessalex811: https://t.co/jiYjCwT8bO

— The New Humanitarian (@newhumanitarian) September 8, 2021
Humanitarian organisations have reported that their relief work following the August 2021 earthquake has been hampered by insecurity, as well as logistical challenges related to a spike in shipping costs. While a humanitarian corridor was reportedly negotiated with gang leaders, allowing some aid shipments to move to the affected areas in the south, some relief trucks were still looted. According to an Associated Press report, desperation in the earthquake's aftermath also led to looting of trucks from the US nonprofit Food for The Poor on 20th August 2021.
On 16th October 2021, members of gang 400 Mazowo kidnapped a group with Christian Aids Ministries, a non-profit missionary organisation based in the United States. Among those kidnapped were five men, seven women and five children. They were reported as 17 missionaries from the U.S. and Canada, as well as one Haitian who worked as a driver for the group. Christian Aid Ministries said the missionaries supported "thousands of needy school children," the elderly and other vulnerable people in Haiti by supplying food and medicine for clinics, and were "actively involved in coordinating a rebuilding project" for those who lost homes in the devastating August earthquake. The gang has demanded US$ 1 million for the release of each of those kidnapped.
Expression
#Haiti 🇭🇹: In the aftermath of the earthquake, solidarity with #journalists who have lost their homes is urgently needed. Our affiliate AJH is working tirelessly to assist injured colleagues and those who have lost their homes. Media workers need your help. 👇 @FIP_AL https://t.co/9Z1rWKmabF

— IFJ (@IFJGlobal) August 20, 2021
Following the earthquake and storms in the south of Haiti in August 2021, the International Federation of Journalists and the Association des Journalistes Haïtiens (Association of Haitian Journalists - AJH) said they were offering support to members of the press affected by the disasters. The organisations said some journalists had lost their homes and were in need of emergency relief. Jacky Marc of AJH said:
"Our journalists in the south of the island are alive despite the earthquake. Although they have lost a lot of things, they are still working to report, but this cannot be done without materials. AJH is collecting tents and plastic to provide emergency assistance."