Guatemala: protests against corruption and rising cost of living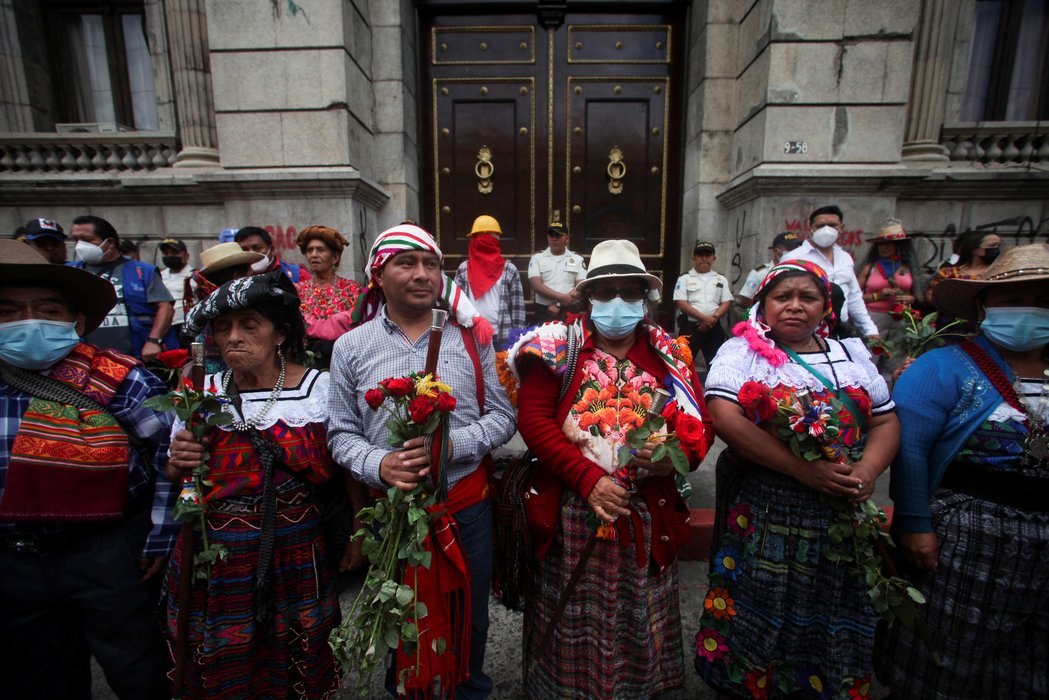 On 12th September 2022, hundreds of people demonstrated in Guatemala City against corruption and the high cost of living. The march was led by Indigenous authorities, who said in a press statement: "With great concern and rejection we have seen that in the last few days the prices of the basic food basket, transport fares and all inputs for agricultural production have shot up, while the minimum wage and people's income remain the same. This situation will generate a greater food and poverty crisis." Protesters also demanded the resignation of Attorney-General Consuelo Porras and some called for president Alejandro Giammattei's resignation.
News outlet Prensa Comunitaria reported that on 12th September, as in many recent demonstrations, there was an unusually large police deployment, with officers surrounding public buildings and preventing access to nearby streets during protests. Human rights defenders in Guatemala have also warned about attempts to criminalise protests by pursuing unfounded prosecutions against protesters.
Similar protests were organised on 21st September 2022 by campesino organisation CODECA. They marched against corruption and the exploitation of ancestral territories in Guatemala, calling for the adoption of a Plurinational State.
Expression
📣 #CarlosChocLibre Hemos acompañado la audiencia de primera declaración del periodista @CarlosErnesto_C en donde el MP lo acusaba del delito de instigación a delinquir, el juez declaró falta de mérito quedando sin efecto la orden de aprehensión girada en su contra. 🙌🏽 pic.twitter.com/2jlQxcwyZB

— UDEFEGUA (@UDEFEGUA) September 13, 2022
On 13th September 2022, a court in Izabal dismissed a criminal complaint against Maya Q'eqchi' journalist Carlos Ernesto Choc. Choc was being accused of "instigation to crime" by officers of the National Civil Police, who claimed that the journalist and a group of Indigenous protesters had attacked them during a protest in El Estor in 2021. Judge Aníbal Arteaga of the Criminal Court of First Instance in Puerto Barrios dismissed the accusations against Choc, considering that there were not enough elements to sustain the charges requested by the Public Prosecutor's Office.
Separately in September 2022, Guatemalan journalists warned of the worsening environment for press freedom in the country. Journalists interviewed by LatAm Journalism Review (LJR) said that the arrest of elPeriódico's José Rubén Zamora, one of the best-known names in Guatemalan journalism, is a serious development in the escalation of attacks against the press critical of the Giammattei administration. The journalists report practices such as intimidation, harassment, obstruction of press work, criminalisation and the use of official advertising to reward, punish or constrain the press. Similarly, Nelton Rivera Gónzalez, a historian and photojournalist who is part of the research team at Prensa Comunitaria, told the Latin American Working Group that "to be a journalist in Guatemala is to work alone, there is no state to help you."
Association
Ancestral authorities, indigenous leaders, and the Xinca parliament march from various points in the City to the Presidential House in Guatemala City, Guatemala, 12 September 2022. The protests were called against the government.
📸 epa/EFE/Esteban Biba#epaimages #epaphotos pic.twitter.com/dr8MzFx2D3

— EPA Images (@EPA_Images) September 13, 2022
Peaceful Assembly
New report shows people in 42 countries across the world faced reprisals and intimidation for cooperating with the UN on #HumanRights, highlighting disturbing trends over the past year, incl. surveillance, restrictive legislation and self-censorship: https://t.co/jU2V8kHxXh pic.twitter.com/oTTHbPv9ny

— UN Human Rights (@UNHumanRights) September 29, 2022
On 14th September 2022, the United Nations High Commissioner for Human Rights published a report on intimidation and reprisals against those who cooperate with international human rights mechanisms. In the reporting period of 1st May 2021 to 30th April 2022, multiple actors raised concerns about ongoing criminalisation and intimidation against magistrates, judges and prosecutors for their work on cases investigated with the technical assistance of the International Commission against Impunity in Guatemala (CICIG). The High Commissioner's Office (OHCHR) documented an increase in alleged reprisals, including detention of prosecutors and stigmatisation campaigns and threats against them online. The report highlighted the cases against prosecutors Siomara Sosa, Paola Escobar, Aliss Morán, William Racanac and Virginia Laparra, and lawyer Leily Santizo, all of whom worked closely with the CICIG.