Guatemala: freedom of expression in sharp decline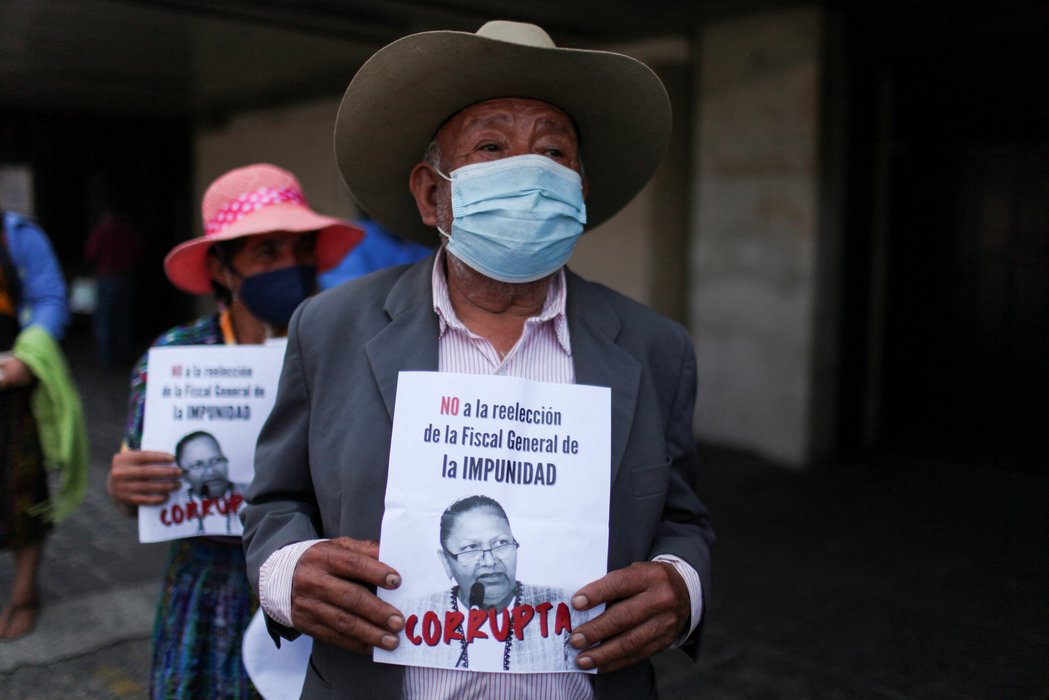 On 7th April 2022, the European Parliament expressed deep concern about the deterioration of the rule of law in Guatemala, and condemned the criminalisation and harassment of human rights defenders and journalists in the country. The parliamentarians also underscored the ongoing harassment against members of the justice system engaged in anti-corruption efforts. They called on Guatemalan authorities to put an end to these actions, uphold the rule of law, guarantee full respect for the independence of powers and investigate attacks on civil society and the press.
National and international civil society organisations also condemned reprisals against former members of the International Commission against Impunity in Guatemala (CICIG) and others in the justice system. In a statement, UDEFEGUA and the World Organisation Against Torture said former prosecutor Virginia Laparra Rivas, who was arrested in February 2022, was being held in an isolation cell in concerning conditions. They called on Guatemalan authorities to immediately release Laparra and put an end to this wave of criminalisation.
Expression
Journalist shot and killed in public venue
El periodista Orlando Villanueva, de Puerto Barrios, Izabal, asesinado el 8 de marzo pasado cuando se encontraba en una cancha deportiva, había denunciado amenazas y hostigamiento en su contra desde octubre de 2021. https://t.co/Z2W7Ac7MZf

— PrensaComunitaria (@PrensaComunitar) March 16, 2022
On 8th March 2022, journalist Orlando Villanueva was shot and killed in a public sports facility in Puerto Barrios, capital of the Izabal department. A young person was also injured during the incident, according to news reports. Villanueva was the owner of and a reporter for Noticias del Puerto, a website and social media page that reports on local news and politics. He had faced threats in connection with his journalism and his house was reportedly raided by police after he reported on police violence in 2021. Villanueva's murder was condemned by civil society groups such as the Committee to Protect Journalists (CPJ) and by international organisations such as UNESCO.
Criminalisation of journalists
En este #DiaDeLaLibertadDePrensa, recordamos que ser periodista puede ser muy peligroso.

En el 2022, varios periodistas de la región han tenido que huir al exilio, para resguardar sus vidas o su libertad.

Entre ellos:

Juan Luis Font de #Guatemala.https://t.co/hPQ3RFtePR

— CPJ Américas (@CPJAmericas) May 3, 2022
In late March 2022, Guatemala's former Communications Minister Alejandro Sinibaldi brought a criminal case against journalist Juan Luis Font, accusing the journalist of "unlawful association." In the accusation, which CPJ reviewed, Sinibaldi claims that Font had a "pre-existing relationship" with Judge Erika Aifán, who oversaw a criminal complaint the former minister brought against the journalist in December 2021. If convicted, Font could face between six and eight years in prison. The journalist denied the accusations, and told CPJ that he has not been formally notified of any charges but decided to leave Guatemala temporarily to work without facing harassment. Font directs the radio programme Con Criterio, where he often expresses criticism of President Alejandro Giammattei's government.
In a separate case, journalist Carlos Ernesto Choc learned in early April 2022 that an arrest warrant had been issued against him in January 2022, based on a complaint from police officers who accused the journalist of "instigation to commit a crime" after he reported on an October 2021 demonstration against mining activities in El Estor, Izabal. In the complaint, police officers allege that 12 people, including Choc, attacked them during the demonstration. On the day of the protests, Choc said police officers shoved him and confiscated his phone and microphone while he was attempting to cover the police repression.
As previously reported on the CIVICUS Monitor, Choc has faced surveillance and judicial harassment for his work reporting on community resistance to mining in Izabal. Natalie Southwick, CPJ's Latin America and the Caribbean Programme Coordinator, said:
"Once again, Carlos Choc is facing criminal charges simply for being one of the few reporters documenting the state response to demonstrations. Guatemalan authorities must immediately drop the absurd charges against Choc, stop treating community journalists like criminals for doing their job, and put an end to their campaign to intimidate and threaten the press."
Report on Guatemala
Comunicado
Estado de Situación de la Libertad de Expresión - Primer Trimestre 2022. pic.twitter.com/kTwPj5rdp9

— Asociación de Periodistas de Guatemala (APG) (@APG_1947) May 3, 2022
To commemorate World Press Freedom Day, 2nd May, the Asociación de Periodistas de Guatemala (Guatemala's Association of Journalists - APG) presented a report on the situation of freedom of expression in the country during the first quarter of 2022. According to their data, the main trends documented in the first months of the year were: obstruction of access to informative sources, smear campaigns, harassment and stigmatisation online. Public officials, particularly those working with the Presidency and the Public Ministry, were among the key perpetrators. The organisation said that Alejandro Giammattei's administration has been marked by the highest levels of repression, persecution and intolerance against the press.
On 3rd May 2022, Reporters Without Borders released their World Press Freedom Index 2022, highlighting an increase in polarisation fuelled by misinformation. In the new rankings, Guatemala fell from 116th to 124th out of 180 countries assessed. The civil society group said that while the Guatemalan Constitution guarantees press freedom, this right is constantly violated by public authorities or political actors. Journalists and media outlets who investigate or criticise acts of corruption and human rights violations frequently suffer aggression in the form of harassment campaigns and criminal prosecution.
Peaceful Assembly
Así el paro Plurinacional en Reu. pic.twitter.com/dyT2LklMui

— CODECA GT (@GtCodeca) April 26, 2022
On 25th and 26th April 2022, thousands of people joined anti-government protests convened by the Indigenous peoples' and rural workers' organisation Comité de Desarrollo Campesino (Campesino Development Committee - CODECA). Simultaneous protests were organised in several Guatemalan departments, with demonstrators blocking key highways across the country. The demonstrations were part of a National Strike led by CODECA in response to the high cost of food and fuel, corruption and impunity.
Earlier in April 2022, civil society groups organised simultaneous protests against corruption and the efforts to re-elect Consuelo Porras to a second term as Attorney General. In a press conference, the Asamblea Social y Popular de Guatemala (Social and Popular Assembly of Guatemala - ASP) demanded transparency in the selection process of candidates for the post of General Attorney.
Association
The IDB decides to withdraw from two dams in Guatemala after complaint: "That gives hope to other women and communities affected by problematic investments by development banks!"https://t.co/1F7tw0UM8o #developmentbanks #hydropower #hydrodams #freerivers #gender #genderpolicy pic.twitter.com/5RSMdHok4F

— Both ENDS (@both_ends) April 15, 2022
At the end of March 2022, the Inter-American Development Bank (IDB) announced a decision to withdraw funding from the construction of two controversial hydropower dams in Ixquisis. The decision was taken after investigation on a complaint filed in 2018 by Indigenous Mayan peoples before the IDB Group's Independent Consultation and Investigation Mechanism. Their complaint argued that the projects caused damage to the environment, Indigenous peoples and women of Ixquisis. In resolving the complaint, the accountability office concluded that IDB Invest failed to comply with the bank's operational policies and safeguards in the framework of project financing, resulting in a possible investment withdrawal. 
This is the first time that the IDB Group, as a result of a complaint, has drawn up a responsible exit plan. The plan contains actions to address recommendations for structural changes at the institutional level. This would include tools to follow up on acts of violence associated with projects financed by IDB Invest.