Government takes action to combat hate speech as thousands protest in Helsinki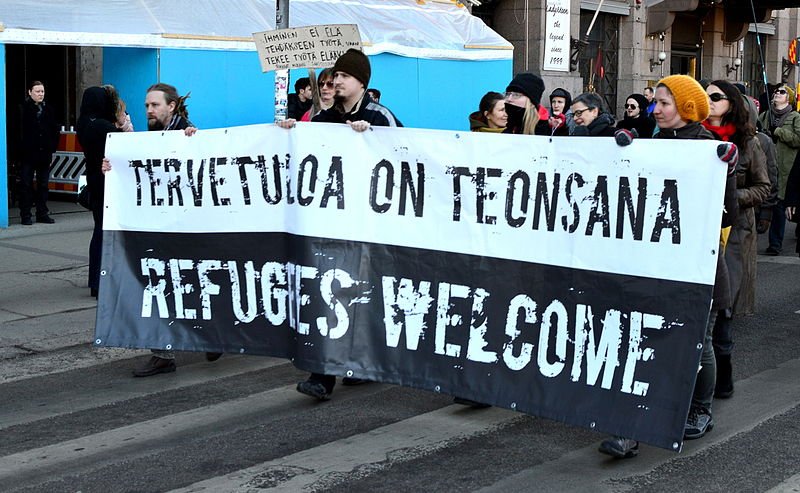 Expression
An increase in hate speech and online hate crimes has prompted condemnation from the Finnish government, who recently outlined an action plan to tackle the problem. On 26th September, the government released plans to allocate additional resources to tackle the activities of violent extremist movements. Resources will also be allocated for internet police activities to prevent hate speech and to investigate hate speech crimes. In a statement on 21st September, the Minister of Labour and Justice Jari Lindström said: 
'The right to gather and move is guaranteed in Finland, but racist, threatening or violent activities are already punishable actions. [The] Constitution secures the freedom of speech but racist expressions do not earn such protection.'
Two weeks later, the Council of Europe reinforced calls for the Finnish government to take action on the hate speech problem, specifically recommending that the authorities 'defuse the climate of increasing interethnic prejudice and tension.'
Council of Europe wants Finland to step up efforts to combat hate speech and xenophobia https://t.co/vlurlL5Rpq

— Migrant Tales (@MigrantTales) October 14, 2016
Peaceful Assembly
On 24th September, more than 15,000 people gathered in Helsinki to protest against racism and violence. The protest was sparked by the death of a Finnish national, who was attacked by far right activists during a neo-Nazi rally in the city on 10th September. Holding placards showing peace signs and red lines crossing out swastikas, demonstrators said it was time to break the silence which had allowed racism and far-right violence to grow in the country. Similar events were held in other towns across the country. On the same day, a small group of people gathered in Helsinki to hold a counter demonstration they titled 'Close the borders', saying critics of immigration policy should not be called racists. Police reported that all demonstrations on the 24th were conducted peacefully.
15,000 march in Helsinki anti-racism protest https://t.co/bHUcWNdCYm -T

— ROI Against Racism (@ROIsaysno) September 26, 2016
Association
A senior government official has given a strong public endorsement of the role and importance of civil society in Finland. During a speech at the OSCE Human Dimension Committee in September, the Finnish Secretary of State, Peter Stenlund, highlighted the importance of a strong civil society in Finland:
'In Finland free and active participation of civil society in all spheres of life, including political decision-making, has been - and continues to be - an important contributor to building our society. It is fair to say that a vibrant and pluralistic civil society has benefited Finland tremendously, including in terms of stability, equality and prosperity. Our civil society has a broad base and Finns actively participate in all types of associations.'