Government actions spark chilling effects on freedom of expression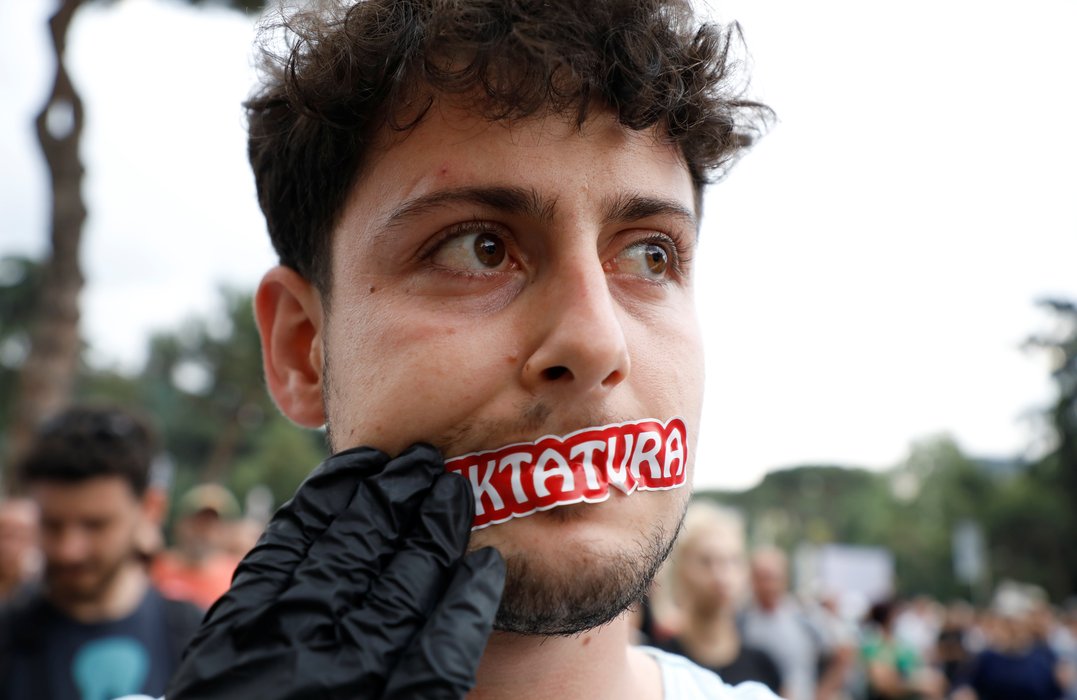 Association
Amid the COVID-19 crisis, the concern over breach of patient rights continues. Lists of personal data, including names, ages, addresses, occupations and whether the patients are hospitalised or not, are being shared and updated via WhatsApp daily. This is a serious violation of patient rights as this information is not only protected under medical and doctor/patient confidentiality, but it is protected under the country's data protection laws. Nevertheless, the violation continues to occur which is a cause for concern.
Peaceful Assembly
During the reporting period, several protests were held.
Expression
According to Reporters Without Borders (RSF), Albanian media is in the hands of a few family-owned groups which dominate the media landscape. An ongoing concern is that the business interests of the owners could impact the editorial line of online and broadcast portals, resulting in censorship and self-censorship.
During 2020, there has been a rise in reported threats in Albania, according to Mapping Media Freedom. Until now, a total of nine threats against media freedom have been registered, which is concerning bearing in mind that Albania is a small country and that this number is double the incidents reported in 2019.
Three months after the Venice Commission published its opinion regarding the online media law in Albania, civil society and independent media organisations have discovered that the Albanian Government intends to send it to the Albanian Parliament for approval without reflecting the recommendations of the Venice Commission. The legislation, first proposed by Socialist Prime Minister Edi Rama as an "anti-defamation package", aims to create an administrative body that will be empowered to order media to take down news reports over issues such as "infringing the dignity of individuals", with the threat of heavy fines if they fail to do so. Critics say the law could have a chilling effect on media freedom due to its broad terms. Seven international rights organisations sent an open letter to the Albanian parliament voicing concerns over the adoption of this legislation, stating that it could undermine Albania's pursuit of EU accession.
"If the Government is really determined to enact the anti-defamation package or the online media law in the current session of Parliament, it can easily do so as it has no substantial opposition in the current one-party Parliament. This will deteriorate even more media freedom in Albania...While it is important to address issues of hate speech, defamation, disinformation and other related phenomena attributed usually to the online media, it has to be done by consulting relevant stakeholders and with the meaningful participation of civil society and media organisations. Self-regulation is paramount here as well as supporting the professionalism and independence of media", - Blerjana Bino, SafeJournalists expert.
"We urge you to rethink the current legislative procedure and instead put in place a transparent process that leads to appropriate legislation that addresses all the Venice Commission's recommendations, and to include civil society and representatives of the media throughout this process. We fear that pushing ahead with these amendments in blatant disregard of the important issues raised by the Venice Commission will further damage hopes of progress on press freedom and undermine Albania's pursuit of EU accession," the letter stated.
In a separate development, following a seizure at Ora News by police due to an investigation into its owner Ylli Ndroqi on suspicion of involvement in drug trafficking, experts have reacted to the treatment of the journalists working for Ora News. The Association of Professional Journalists of Albania has condemned the intimidation that police forces have exercised over journalists and employees of Ora News. In a Facebook post, the association writes:
"The Special Anti-Corruption Prosecution Office (SPAK) investigation of the owner of these media should not affect the job security of journalists and the editorial policy of these media."
They further called on the government and law enforcement institutions to guarantee the rights of journalists, the continuity of their work and non-interference in editorial policy. Prominent Albanian academic and former journalist Jonila Godole has stated that the action against Ora News is a warning against critical journalism, while the Albania Media Council (AMC) has called this action of the government a "de facto attack" on free speech.
RSF also condemned the attacks on Ora News.
"Judicial proceedings against the owner of media outlets should not threaten the editorial line and independence of the journalists...In the run-up to next spring's parliamentary elections, it is more essential than ever that the authorities respect media pluralism and allow all viewpoints, including the most critical, to be expressed,"- RSF editor-in-chief Pauline Adès-Mével.
The AMC also reacted with concern to the climate of attacks on journalists from other journalists. Journalist Sonila Meco who works for Ora News was attacked in an article written by Frrok Cupi in Gazeta Tema, who refers to her as an "actress" and states that "she had nothing left in her life", and that "she was tearfully naïve". He also said Meco is not a journalist, implied that she is not open-minded or knowledgeable, and made offensive comments about her appearance. The AMC called this act a "flagrant violation of the Code of Ethics of Albanian Journalists" which requires that relations between journalists be fair and that the media not be used for professional or personal rivalries.