Freedom of expression under threat as anti-boycott bill enters Parliament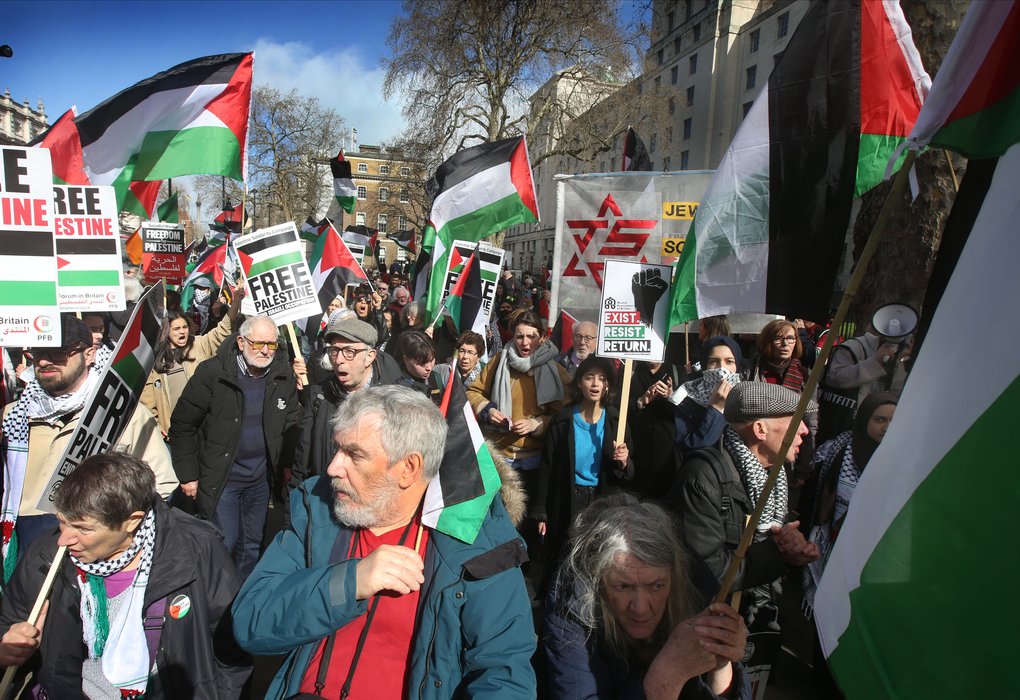 Introduction
Since Rishi Sunak became Prime Minister in October 2022, members of the ruling Conservative Party have been working towards adopting highly controversial legislation. Between the passing of the Public Order Act and the Illegal Migration Bill championed by the Home Office, the UK government is introducing more and more provisions that threaten fundamental human rights and civic freedoms.
Government demands a reform of the European Convention on Human Rights
At the Council of Europe summit in May 2023, PM Rishi Sunak called for a reform of the European Convention on Human Rights (ECHR). This follows the European Court of Human Rights' use of a Rule 39 measure to stop the planned deportations of several asylum seekers from London to Rwanda the previous year. Under Rule 39, the Court can temporarily block an action by any state party to the Convention if it finds that it poses an "imminent risk of irreparable damage" to someone facing death, torture or other serious human rights violations. These so-called "interim measures" are typically used to suspend the expulsion or extradition of asylum seekers facing persecution in their home country.
As previously reported by the Monitor, the Conservative government has been pushing for the UK to leave the European Convention on Human Rights, in order to allow for a harsher approach to migration. Even though Britain is still bound by the Convention, bills currently in development show a clear disregard for international human rights standards.
The Illegal Migration Bill is a highly controversial bill that "represents an extreme assault on the rights of migrants and the rule of law" and is currently making its way through the House of Lords. Initially proposed by Suella Braverman, the Home Secretary, amendments to the Bill introduced in April would give her and other government ministers the power to overrule interim measures imposed by the Court.
The UK Parliament's Joint Committee on Human Rights found key provisions of the Bill fail to meet the country's obligations under international human rights law. These include:
Automatically denying refugees access to the asylum system unless they come to the UK directly and use a legal route - essentially removing the right to asylum for the vast majority of refugees.
Removing the majority of protections and support mechanisms in place for vulnerable groups, such as children, victims of modern slavery and trafficking, pregnant women and LGBTQI+ people.
Restrictions on immigration detention would also be removed, with the Home Secretary authorised to decide on the "reasonable length" of detention, a decision previously made by courts.
Children and families could be detained indefinitely at any place "deemed appropriate" and for any period "deemed reasonably necessary".
Those who enter the UK irregularly would be banned from re-entering and from obtaining any form of British citizenship.
The UK's attitude towards the ECHR is also problematic in view of a new bill, currently at the report stage in the House of Lords, which would undermine the human rights of those impacted by the Northern Ireland Troubles.
The Northern Ireland Troubles (Legacy and Reconciliation) Bill aims to address the legacy of the 30-year conflict in Northern Ireland known as the "Troubles", which ended in 1998 with the signing of the Good Friday Agreement. However, according to Liberty Human Rights, a prominent advocacy group in the UK, the Bill will instead "deny justice to victims and families" and "exclude the people who are meant to be reconciled" as all criminal investigations into Troubles-related offences will cease and perpetrators will be shielded from prosecution. CSOs warn that the Bill not only ignores the UK's obligations under the ECHR, since impunity for human rights violations committed during the conflict would violate Articles 2 and 3 of the Convention, which profess the right to life and freedom from torture, but that it is in direct violation of the Good Friday Agreement, which promises to incorporate the ECHR into Northern Irish law.
Association
Positive amendments to the 'Strike Bill'
As previously reported by the CIVICUS Monitor, the Minimum Service Levels Bill (Strike Bill) was due for a second reading in Parliament at the end of February 2023. CSOs have warned this bill has vast implications for civic freedoms and the right to strike. If adopted, it would allow employers across various sectors, such as health, transport and education to set "minimum service levels" during strikes and impose "work notices" naming individual workers who would be forced to break strike or face termination. A report by the Joint Committee on Human Rights found that the proposed bill "fails to meet UK's human rights obligations".
On 8th June 2023, peers voted in favour of some critical changes to the Strike Bill. This is a positive development, following the bill's return to the House of Lords after Conservative MPs voted down the first attempt at amendments.
The amendments that were passed by the House of Lords include:
Ensuring that "the regulations are subject to a greater degree of consultation and parliamentary scrutiny".
Individual workers can no longer be dismissed for breaking strikes they voted for.
Unions are no longer obliged to force workers to comply with this bill.
The next step is for the Bill to be sent back to the House of Commons. However, CSOs, including trade unions, and peers expect Conservative MPs to vote these new amendments down once again.
Peaceful Assembly
A "totalitarian crackdown" on the right to protest as Public Order Bill passed into law
Since the last update on the Public Order Bill, which was going through a "ping pong" phase in the House of Lords earlier this year (see previous update), the Bill passed the final stages in the House of Lords and became the Public Order Act (POA) on 26th April 2023,
This legislation has introduced measures that will give the police more power and place severe restrictions on the freedoms of peaceful assembly and expression.
In summary, the provisions in the POA are as follows:
Increase police powers to stop and search protesters, including without suspicion.
Criminalise "locking on", meaning attaching yourself to an object, building or person.
Prevent demonstrations outside or near "key national infrastructure", meaning that protesting at major transport, oil, gas and energy networks will be criminalised.
Introduce "serious disruption prevention orders", by which people who haven't been convicted of any crime can be banned from attending protests, meeting certain people, or using the internet, with police monitoring their movement through electronic tagging.
There are several problematic aspects to the POA. Firstly, the language is vague and broad, setting a low threshold for key terms such as "disruptive protesting" and "locking on". This gives the police more power and flexibility to interpret them and choose what actions fit into these terms. Moreover, the law has further implications for the treatment of people of colour in the UK, especially Black people, migrants and members of other overpoliced communities. Data from Amnesty International UK demonstrates that stop and search powers are largely counterproductive and are widely misused against Black people, who are six to seven times more likely to be stopped than white people. With the POA's adoption, engaging in civil disobedience can now lead to a criminal record and jail time, with protesters who block roads, airports and railways facing 12 months in prison and those locking on to objects or buildings threatened with 6 months' imprisonment and an unlimited fine.
The Public Order Act was given royal assent by King Charles III on 2nd May 2023, just days before the coronation and planned demonstrations.
The new provisions in the Public Order Act have already started impacting activists and protesters:
On 3rd May, protesters participating in a pro-Palestine protest against an Israeli weapons manufacturer and "the unreasonable and severe restrictions on protests and demonstrations" in the new Public Order Act accused the police of using "excessive and violent force to suppress them".
On 6th May, the day of King Charles' coronation, 52 protesters were arrested, as part of a policing operation codenamed Golden Orb. These included:
6 Republic activists;
13 Just Stop Oil protesters;
14 Animal Rising activists;
Other detainees included independent anti-monarchists, women's safety campaigners, and bystanders who were mistaken for protesters by the police.
Among the six Republic members arrested was Graham Smith, the chief executive of the movement. A representative of Republic stated that Smith and the others were detained and searched by police without being given a reason. When the protesters asked why they were being held, officers told them they would "figure it out" after searching their belongings. Afterward, the police seized hundreds of their placards reading "Not My King" and arrested them. Graham Smith was in police custody for 16 hours before being released, whilst other protesters from Republic continued to be held.
The #PublicOrderAct risks criminalising anyone who takes to the streets for a cause they believe in, from racial justice activists to republican campaigners to grieving families calling for justice

Protest isn't a gift from the State - it's OUR RIGHT

Join us on Saturday https://t.co/xRVaMZp8eo

— Liberty (@libertyhq) May 24, 2023
Following the arrests on coronation day, police were accused of conducting an "incredibly alarming attack" and "a totalitarian crackdown" on the right to protest. Moreover, sources have confirmed that police employed artificial intelligence and real-time facial recognition as part of this operation. Civil society and protesters have criticised this move, stating that it represents a violation of human rights and data protection laws.
The Metropolitan Police initially responded to the public outrage by denying they were "heavy-handed" with the protesters, and claiming that the arrests were necessary to prevent disruptions to public order during the coronation. Several members from Republic, Animal Rising and Just Stop Oil were arrested on "suspicion of conspiracy to cause a public nuisance" despite proof they were demonstrating peacefully. Just Stop Oil activists, who have a history of using disruptive methods, said they had "no glue, paint or any plans to disrupt the coronation". Moreover, the Republic arrests were made after the Metropolitan Police affirmed weeks before the coronation that they would allow and facilitate anti-monarchy demonstrations unless they violated existing laws or the new provisions established in the Public Order Act, referring to causing serious disruption or "locking on".
The police have since announced that they regret arresting the Republic activists, as an investigation into personal items seized from protesters "has been unable to prove intent to use them to lock on and disrupt the event".
The passing of the POA into law raises serious concerns about how "draconian" measures used by the police will further restrict civic freedoms, setting back human rights and democracy in the UK, and potentially leading to an unprecedented era of conflict and mistrust between the people, the government and the police. Amnesty International UK and the UN High Commissioner for Human Rights, Volker Türk, have both expressed concerns that the POA does not respect existing international human rights standards, and that it should be reversed.
Furthermore, Liberty Human Rights have launched several campaigns against specific provisions in the Act:
Freedom of Expression
"Anti-BDS" Bill threatens freedom of speech and democratic participation
The Secretary of State for Levelling Up, Housing and Communities, Michael Gove, has been advocating for the adoption of an "anti-BDS" bill (referring to the global "Boycott, Divestment and Sanctions" movement) since 2019, in order to prevent further boycott campaigns against Israel.
On 19th June 2023, Gove announced that a new anti-boycott bill, named the "Economic Activity of Public Bodies (Overseas Matters) Bill" was introduced in Parliament, aiming to ban "public bodies from imposing their own boycott or divestment campaigns against foreign countries and territories", specifically referring to Israel, the 'Occupied Palestinian Territories' and 'Occupied Golan Heights' by name.
Activists warn this means local authorities, universities and some pension funds will be prevented from exercising ethical discretion when making financial decisions. If the Bill is passed, public bodies will no longer be able to make procurement or investment choices that express dissatisfaction with a certain state or government, or companies with ties to it. Those found to be in violation of this law would risk investigation and significant fines.
Boycott, divestment, and sanctions campaigns have been used effectively throughout history to apply pressure on governments, companies and countries to act against and change social, environmental, political and legal issues. This bill is a great cause for concern, not only for individuals and organisations that campaign against Israel or for Palestine, but also those who advocate for other political causes, threatening the freedom of expression of many activists and organisations.
Ben Jamal, the director of Palestine Solidarity Campaign UK (PSC), declared previously that this is "another example of this government attacking democratic participation" and that the bill will…
"weaken campaigns against deforestation, environmental pollution, and the exploitation of children and workers. That is why such a wide range of groups have come together, from trade unions, charities and NGOs, to faith, climate justice, human rights, cultural, campaigning, and solidarity organisations".
Moreover, CSOs fear this bill will undermine the freedom of speech of those who advocate for social and climate justice, as the bill will include a "gagging clause" which will restrict the "freedom of public authorities to advocate for boycotts or even talk about the prohibition – forbidding all those subject to the proposed new law from even stating that they would support taking a moral stance if it were permissible to do so".
A coalition statement released by the PSC, along with nearly 70 civil society organisations, including national trade unions, charities, NGOs, faith, climate justice and human rights groups, are calling on MPs to reject this bill in parliament as it will "stifle a wide range of campaigns for justice, erode local democracy, and present a threat to freedom of expression".
On 3rd July 2023, the second reading of the Anti-BDS Bill took place in Parliament. During the debate, MPs from both the opposition and the ruling Conservative Party spoke out against the bill, with some citing the boycott campaign against apartheid South Africa in the 1980s, which would be deemed illegal under the proposed provisions. However, the bill passed its second reading by 268 to 70 votes, moving on to the next step in the legislative process.
Yesterday MPs debated and voted on the government's anti-boycott bill at 2nd reading in Parliament. Whilst the government won the vote, its clear they are losing the argument. The bill is toxic and opposed by a growing group of MPs including many in the gov's own party. (thread)

— PSC (@PSCupdates) July 4, 2023
LGBTQI+ rights
Concerns over LGBTQI+ rights in the UK
In April 2023, the Equalities and Human Rights Commission (EHRC), Britain's national human rights watchdog, sent a letter to Kemi Badenoch, the Equalities Minister, regarding a proposal to redefine "sex" in the 2010 Equality Act. More specifically, the Ministry is considering redefining "sex" as a protected characteristic to specifically refer to a person's biological sex at birth.
At present, trans people in England, Scotland and Wales can change their gender by applying for a gender recognition certificate. Under the 2004 Gender Recognition Act, people who have obtained this certificate are to be treated for all purposes as their affirmed gender. The current version of the Equality Act contains provisions to protect trans people from discrimination, meaning employers and service providers have a duty to prevent transphobic harassment and discriminatory practices. The Act also forbids discrimination on the grounds of "sex" but doesn't clearly define the term.
With the proposed changes, Badenoch "wants to make a clearer distinction in law between those who are born a particular sex and those who transition or identify as a gender different from their birth one". If adopted, this new definition would have trans people treated as the sex they were assigned at birth for the purposes of the Equality Act. This would have severe implications on trans rights, opening the door to discrimination, despite current anti-discrimination protections remaining broadly in place. In addition to raising issues related to healthcare and employment for members of the trans community, trans people also risk "being banned from single-sex spaces and events, such as book groups and hospital wards", even if they hold a gender recognition certificate.
The attempt to amend the "sex" definition in the Equality Act has received opposition from the EHRC's own committees in Scotland and Wales, in addition to 30 LGBTQI+ organisations. Stonewall, a leading LGBTQI+ charity in the UK, has called on the Global Alliance of National Human Rights Institutions (GANHRI) to ensure that the EHRC follows international human rights standards.
Moreover, stories covered by PinkNews show a general increase in harmful rhetoric on LGBTQI+ people from politicians, the media and social commentators in UK, resulting in a rise in hate speech and hate crimes against marginalised groups over the years. One publicised case was the attack on Brianna Ghey, a transgender girl who was murdered in February in a suspected hate crime.
The silence from mainstream media on the damning interim findings on the state of LGBTQ+ equality in the UK by the UN Independent Expert on Sexual Orientation & Gender Identity is shameful, but not surprising. Thanks to Neil for being one of the few that has reported the facts. https://t.co/zr9UJt3s0M

— colin macfarlane (@Cmacf76) May 12, 2023