Free speech under assault in Malaysia as government targets students, online critics and journalists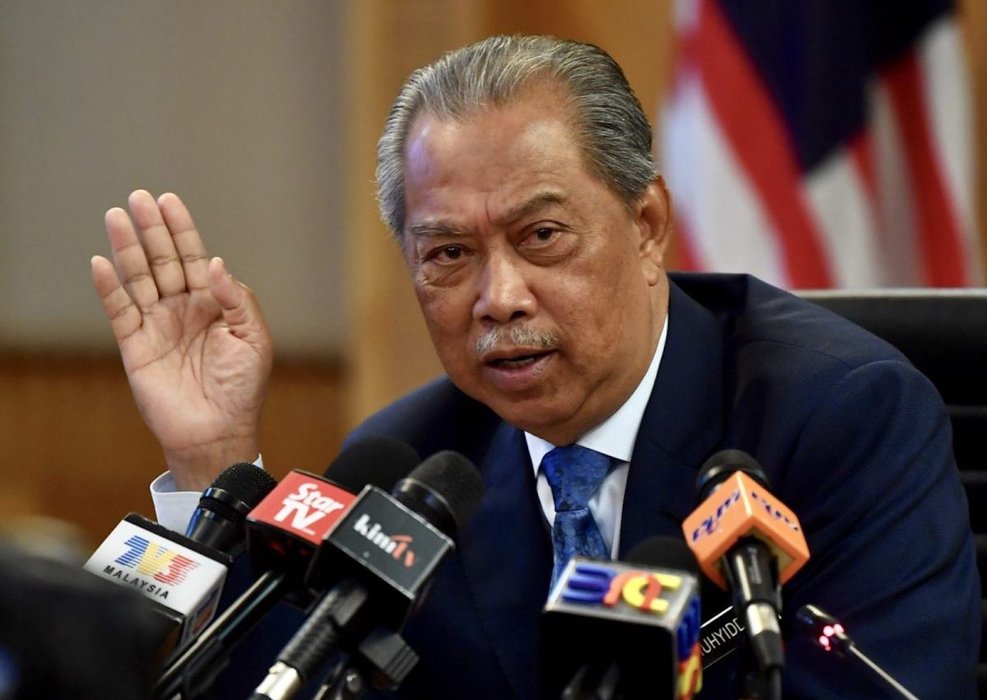 Malaysian Prime Minister Muhyiddin Yassin, who has a thin majority in parliament, has been facing pressure from coalition partners and a leadership challenge from the opposition, while a resurgence in novel coronavirus cases batters the economy. Calls for the Prime Minister to resign grew after the King rejected his request for a declaration of emergency rule, which followed a challenge to his leadership.
Since the Perikatan Nasional coalition government came to power in March 2020 it has used the pandemic as an excuse to attempt to suspend parliament and avoid a test of its majority. The authorities have also ramped up its persecution of critics.
In recent months, student activists and social media critics have been targeted for insulting the King while parody accounts are being probed. Foreign journalists from Al-Jazeera and a whistle blower were forced to leave the country following a documentary on the abuses of undocumented migrants during the pandemic while press freedom has also deteriorated. A watered-down police oversight bill that has been proposed lacks the teeth needed to hold the police to account.
Expression
Student activists face police harassment and threats
With 178 police reports filed to date, lawyers call for a stop to such actions, urge attorney-general not to charge student leaders. #FMTNews #Umany #Agong #UMhttps://t.co/ATUpX09icW

— Free Malaysia Today (@fmtoday) November 18, 2020
Members of the student organisation University of Malaya Association of New Youth (UMANY) have been facing judicial harassment as well as intimidation and threats for an online post expressing their views.
On 31st October 2020, UMANY published a Facebook post titled "YDPA [The King] Should Not Interfere In National Affairs". The post was published on the English and Chinese-language UMANY Facebook accounts in response to a decision by the King to reject a request by Prime Minister Muhyiddin Yassin to declare a state of emergency in response to a resurgence of COVID-19 cases in the country. UMANY also criticised the King's intervention in parliamentary affairs by urging parliamentarians to fully support the government's proposed 2021 budget.
Following this, they were investigated by the police. According to Amnesty International Malaysia, on 5th November 2020, the president of UMANY, Yap Wen Qing, and the vice-president, Tan Li Yuan were called in for questioning under Section 4(1) of the Sedition Act 1948 and Section 233 of the Communications and Multimedia Act 1998. Both laws have been used to criminalise criticism of the authorities, the monarchy and religion over the years.
The former president of UMANY, Wong Yan Ke, was also arrested for "obstruction of justice" after he filmed a police officer attempting to enter the residence of Wen Qing, allegedly without a warrant. Wen Qing also had his laptop and mobile phone confiscated under Section 8 of the Sedition Act, which does not require a warrant. On 9th November, another six UMANY committee members were summoned for police questioning along with the president of the University of Malaya Students' Union.
UMANY published an apology over the post on 12th November and deleted the entry.. Despite this, ARTICLE 19 reported that UMANY members have been threatened and harassed online. Women members have also reported sexual harassment.
A joint statement by civil society groups including CIVICUS in response to the police harassment stated that "the right to express views and ideas freely, without fear of interference or persecution, is an essential part of democracy. Respectful debates and expressions help us examine and critically challenge conventional wisdoms and promote heterodox views. In doing so, we foster a more informative and critical society, one that is able to articulate their own views and alternative views, safely and openly."
Parody social media accounts targeted
In another attempt to stifle free speech online, the Malaysian authorities have been targeting social media accounts for parody and social satire, calling for them to be taken down and for civil actions to filed against these accounts.
ARTICLE 19 reported that on 5th October 2020, Minister of Religious Affairs Dr Zulkifli Mohamad Al-Bakri urged the Islamic Development Department (Jakim) to 'take appropriate action' against @MyJAKlM, a Twitter account parodying the department. On 6th October, Twitter suspended the Jakim parody account without explanation.
On 7th October 2020, the Malaysian Communications and Multimedia Commission (MCMC) Chairman Dr Fadhlullah Suhaimi Abdul Malek described the use of parody accounts as a new trend to deliver 'fake news', mock, or insult. In the same address, the MCMC Chairman labelled another parody account @bermanadotcon as 'fake news', stating that he was concerned that the account might mislead its followers. However, the account in question clearly states in its bio, 'Your Source of Parody News. Nothing to do and not affiliated with @bernamadotcom', a reference to a state news agency. The MCMC stated that it had contacted Twitter and Facebook concerning its investigations of @MyJAKlM and @bermanadotcon.
The MCMC Chairman has also called on individuals and bodies affected by parody accounts to file civil actions against parody accounts to enable the application of other laws, including those applying to the misuse of technology, that do not fall under the jurisdiction of MCMC.
In response to this, ARTICLE 19 said: The decision by state authorities to initiate this investigation—and to ask for public support to lodge complaints against parody accounts on social media—sets a dangerous precedent. Humour that is offensive or provokes discomfort is often protected expression under international human rights law. The threat of criminal and civil sanctions for making a joke in public is likely to have a chilling effect on humour and satire as well as important political dialogue."
The Communications and Multimedia Act 1998 (CMA) has also been used to deal with 'fake news' cases. In October 2020 it was reported that there have been 270 cases, with 133 cases still being investigated and 35 already resulting in charges. Most are charged under Section 233 of the Communications and Multimedia Act 1998, frequently used to investigate and prosecute government critics and block access to websites.
Social media users investigated for allegedly insulting the monarchy
DAP rep arrested over 'sedition' against Agong over FB post on Thai protest https://t.co/Vvq5ueIgdi

— malaysiakini.com (@malaysiakini) October 28, 2020
In October 2020, it was reported that four Twitter and Facebook account owners were under investigation by the police after posting statements that allegedly insulted the King. Investigations have been opened under Section 233 of the CMA and Section 4(1) of the Sedition Act.
One of the individuals being investigated is Sungai Pelek assemblyman Ronnie Liu Tan Khiew who posted on his Facebook stating, "Now in Bangkok. They are saying No to the King." In the post he included photos of anti-governmental protest happening in Thailand. He was arrested on 21st October 2020 but released on bail. Another Twitter user, Liew Lip Nan was arrested on 27th October for questioning the content, source and institutional backing of a tweet by the National Security Council concerning the "Seven Wills of the Malay Rulers", a document attributed to the Malay royalty. Others include social media users "Uncle Ireeve"and Ho Ruey Terng.
The Centre for Independent Journalism (CIJ) condemned the decision to investigate these individuals and called for the probes to be dropped. They added: "The use of the Sedition Act and Section 233 of the CMA have been highly criticised as being archaic and repressive in nature as it goes contrary to the promotion of freedom of expression. While there are some comments that may be interpreted as being insulting or offensive on their own merit, it does not automatically amount to incitement or a threat against national security or public order and thus does not warrant criminal prosecution".
Al-Jazeera reporters and whistle blower forced to leave country for migrant documentary
On 6th August 2020 the Malaysian authorities declined to renew the work visas of Al Jazeera reporters Drew Ambrose and Jenni Henderson, both Australian nationals, two days after police raided the broadcaster's office in Kuala Lumpur. On 12th August, it was reported that three other Al Jazeera staff were also forced to leave the country following the refusal of the Malaysian authorities to renew their work visas.
As previously documented, international news outlet Al Jazeera was investigated for alleged sedition, defamation and violation of the Communications and Multimedia Act for a documentary "Locked up in Malaysia's Lockdown" that was broadcast on 3rd July 2020 and focused on the plight of thousands of undocumented migrants detained during raids carried out in areas under tight coronavirus lockdowns.
Malaysian officials claimed the report was "inaccurate, misleading and unfair". Al Jazeera has strongly rejected the allegations. The seven journalists involved in the production of the video have been targeted with online harassment, death threats and disclosure of personal information.
On 22nd August, Bangladeshi national Rayhan Kabir, who turned whistle blower and was interviewed in the Al Jazeera documentary, was also deported to his home country. He was arrested on 25th July. In addition to having his work permit revoked he has been blacklisted from ever entering Malaysia again.
Disturbing deterioration of press freedom
#Malaysia🇲🇾: The Covid-19 pandemic has exacerbated challenges faced by media workers and journalists in Malaysia, according to #IFJ report released today.https://t.co/xQ0mB4AwrF pic.twitter.com/xBXpEJqxGb

— IFJ Asia-Pacific (@ifjasiapacific) September 2, 2020
In September 2020, the International Federation of Journalists (IFJ) released a new report on how the COVID-19 pandemic has exacerbated challenges faced by media workers and journalists in Malaysia. The IFJ report documents a disturbing deterioration in press freedom since Malaysia's snap change of government in March 2020 and calls for urgent reforms to protect the country's fragile media industry.
"Challenges and Controls: Impacts of Covid-19 on Media Workers in Malaysia" found that after the onset of the global pandemic, Malaysia implemented the oppressive Movement Control Order (MCO), while the country witnessed an increasing number of violations and attacks against anyone seen to be critical of sensitive topics and the new political order. The report details a list of charges and persecutions over the past six months under Malaysia's existing draconian laws and regulations.
IFJ said: "Armed with the repressive laws of contempt and sedition, the new government is silencing critics and undermining press freedom. For a resilient media industry that serves the public interest, legal reforms are critical."
Watered-down police oversight bill proposed
The police have been used systematically over the years to crack down on fundamental freedoms, investigating and harassing activists and critics. Human rights groups have long demanded an effective and independent police oversight body to handle complaints of police abuse. However, with the change of government in March 2020 hopes of this are waning. On 26th August 2020, a watered-down police oversight body bill was submitted to Parliament.
The current Perikatan Nasional government withdrew an earlier Independent Police Complaints of Misconduct Commission (IPCMC) bill and instead introduced an Independent Police Conduct Commission bill that deprives the commission of enforcement powers.
When an investigation discloses misconduct, the proposed commission can only refer the findings to the Police Force Commission, headed by the home affairs minister and with a membership that includes the police inspector general, with the "recommendation" that it take disciplinary action. The proposed commission would have no authority to compel that body to act, or even to require the Police Force Commission to report back on its actions.
While the proposed IPCC will have the authority to summon witnesses and compel the production of documents, a witness may refuse to answer any question "the answer to which would have a tendency to expose a member of the police force, officer of a public body or person to a criminal charge or penalty or forfeiture" or to disclose information if the head of the department in which the witness serves certifies that doing so "is prejudicial to national security or national interest."
Human rights group SUARAM has criticised the new bill, saying: "Introducing a Commission that is doomed to failure at a time when the Royal Malaysian Police is struggling with allegations of serious misconduct that includes police brutality, custodial death and enforced disappearance will only further tarnish the reputation of the police force and affirm public mistrust of the police force."
Peaceful Assembly
Protesters granted a discharge not amounting to acquittal 
Activists defending hospital cleaners granted DNAA over MCO protest https://t.co/UwJdAV3QE7 pic.twitter.com/zlGvoXyfG4

— malaysiakini.com (@malaysiakini) October 2, 2020
In a positive development and due to advocacy and mobilisation from civil society groups, on 1st October, five activists were granted a discharge not amounting to an acquittal for a protest they held during the movement control order (MCO). This is after the prosecution accepted the defence's representation not to proceed with the charges.
As previously documented, in June 2020, police arrested protesters who had gathered outside a hospital in Ipoh city to highlight concerns about cleaners working in state-run hospitals. Those arrested include members and supporters of the National Union of Workers in Hospital Support and Allied Services (NUWHSAS) who were protesting due to the lack of adequate protective gear for hospital cleaners against infections, which puts them at risk during the pandemic. Further members of the NUWHSAS also claimed that they have been subjected to constant harassment, victimisation and union-busting activities since early 2020.