Fiji's UN rights role marred by continued civic space concerns in the country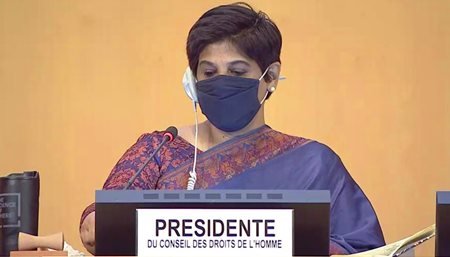 In January 2021, the Permanent Representative of Fiji to the United Nations Office in Geneva, Nazhat Shameem Khan, was elected to serve as the council's president for 2021. This is the first time a Pacific country has held the role.
Civil society groups in Fiji have called on the government  as it takes on the presidency of the council to address its own chequered rights record including concerns about civic space violations. A coalition of human rights groups has called on the Fijian government to "act to ensure that human rights and the principles of equality and justice are upheld across all sectors".
In a submission to the Human Rights Council in 2019, CIVICUS and partners had raised concerns about sedition provisions in the Crimes Act and the Public Order (Amendment) Act that have been used to target journalists, activists and government critics. Further, the Media Industry Development Act (Media Act) has also created a chilling effect for the media and press freedom In addition, the right to peaceful assembly has been arbitrarily restricted with the use of the Public Order (Amendment) Act 2014, particularly against trade unions.
While the government accepted recommendations to ensure that criminal and speech-related legislation are not misused to suppress criticism, specific recommendations to amend or repeal repressive laws, including the sedition provisions in the Crimes Act and the Public Order (Amendment) Act were rejected. The government also did not accept broader recommendations to promote and protect freedom of assembly by revising such restrictive laws.
This is not the time to be giving the Fiji Police more powers when Fiji is facing a pandemic of police brutality cases where individuals have lost their lives at the hands of police. Read more: https://t.co/hc0OkLrh9C pic.twitter.com/sDlYnMRHWb

— CCF Fiji (@ccf_fiji) March 4, 2021
Civil society has also raised concerns about human rights violations by the police. In November 2020, the Fiji Law Society wrote to Acting Commissioner of Police Rusiate Tudravu to express its concern about mounting reports of police brutality. Figures from Fiji's director of public prosecution show that 400 charges of serious crimes were laid against police or military officers in Fiji between May 2015 and April 2020. Of those 400, 16 charges were for rape, two for murder, nine for manslaughter, five for abduction, and more than 100 for assault.
In March 2021, the NGO Coalition on Human Rights was alarmed at the proposed Police Bill 2020 that gives the police additional powers during arrests. The coalition has repeatedly raised concerns about "the excessive force used by the police during arrests on individuals, and the lack of transparency and urgency from the police in investigation processes". The draft bill would allow police officers to seize computers, smartphones and other devices without a warrant and the penalties for non-compliance include lengthy jail terms.
Expression
Authorities summarily deport whistleblower Professor 
Deportation of USP academic head hinted at in Fiji media veiled threat https://t.co/RzdMawEFTR #Fiji pic.twitter.com/XR1LUK6d2s

— Raet Lomi (@raetlomi) February 8, 2021
The deportation of academic Professor Pal Ahluwalia in February 2021 has continued to be an issue of concern for civil society. It highlights the restrictive environment for freedom of expression in Fiji and has had a chilling effect for whistle-blowers and those who want to speak up and expose violations by officials in Fiji.
Professor Pal Ahluwalia, the Vice Chancellor of the University of the South Pacific (USP) and his partner Sandra Price, both Australian citizens, were detained in their home in the Fiji capital Suva by police and immigration officials on 3rd February 2021. According to reports, the officials confiscated all electronic devices including phones, iPads, laptops, watches and passports. The professor then had his work permit revoked and was forced on to a flight bound for Brisbane.
The couple were deported to Brisbane early the next day because Professor Ahluwalia had been deemed "prejudicial to peace, defence, public safety, public order, public morality, public health, security, or good government" under the Immigration Act. The government said the couple was deported for breaches of the immigration act and their visa conditions.
The deportation is believed to be due to Professor Ahluwalia's exposure of allegations of corruption and financial mismanagement under the previous university administrations. Unions and civil society groups as well as leaders in Nauru, Samoa and Vanuatu have condemned the deportation.
The NGOCHR said that "it is unacceptable that Immigration and state officials and the police have responded so extremely, forcefully entering their home in the middle of the night to make these arrests".
Since then, there has been a smear campaign against the academic. Professor Ahluwalia has also been accused of consorting with opposition parliamentarians. On 8 February, the Speaker of Fiji's parliament also rejected calls to debate the deportation, stating it was not an urgent issue.
Peaceful assembly
Union calls on authorities to respect their right to protest
Police have received permit application for FTUC march and rally - ACP Khan 👮 #FijiNews #Fijivillage #TeamFiji https://t.co/BrPhSxpU0t

— fijivillage (@fijivillage) February 21, 2021
The Fiji Trade Union Congress (FTUC) is calling upon the government to respect their rights as enshrined in the Constitution to protest and rally, and freely express the plight of workers regarding the issues of their campaign.
The union is still waiting to hear from the police on a request for a march and rally on 1st May this year. On 22nd February 2021, Police Chief of Operations, ACP Abdul Khan confirmed he had received the permit application by the Fiji Trade Union Congress for th march and rally and will conduct the necessary processing before a decision is relayed. Under international law, state authorities may put in place a system of prior notification, but it should not function as a request for authorisation.
FTUC National Secretary Felix Anthony said that 1st May is marked as the International Day for Workers or May Day and is widely celebrated by the global labour movement. Anthony added that "Section 18 of the Fijian Constitution states that "every person has the right, peaceably and unarmed, to assemble, demonstrate, picket and to present petitions".
As previously documented, the right to peaceful assembly has been arbitrarily restricted with the use of the Public Order (Amendment) Act 2014, particularly for trade unions. The FTUC was denied authorisation to hold a march at least six times between 2018 and 2019, without any valid reason and often at the last minute.