Fiji authorities target critics, deny union march as press freedom ranking drops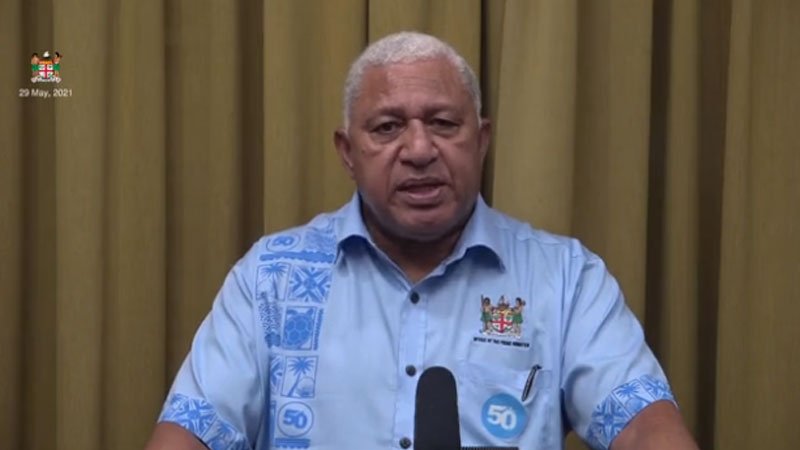 The state of civic space in Fiji remains obstructed and civil society has raised concerns on a number of issues in recent months.
Major cities including Lautoka, Nadi, Suva and Nausori have been under lockdown to bring the COVID-19 outbreak under control. Civil society groups are however concerned about calls for a total shutdown unless 'basic needs of the most vulnerable and those on the margins are able to be met'.
Previously in March 2021, civil society groups and opposition parties were alarmed about a proposed draft Police Bill that will give police greater surveillance powers if passed in Parliament. The bill gives police the powers to secretly or forcefully enter any premises to place tracking devices as well as secretly monitor and record communications of people they suspect are about to commit a crime or have committed one. On 19th March 2021, the Prime Minister pulled the plug on the bill, saying the government was not consulted on it. However, on 31st March the Minister for Defence, National Security and Policing, Inia Seruiratu, said his ministry was intent on resuming nationwide public consultations on the bill.
In April 2021, the head of the Fiji Human Rights and Anti-Discrimination Commission came to the defence of the government following the publication of a critical US human rights report on the country. The report highlighted cases of cruel, inhuman or degrading treatment, in some cases leading to death; restrictions on free expression and substantial interference with the right of peaceful assembly. The United Nations and civil society have previously raised concerns about the commission's independence. 
There have been reports of increasing harassment, arrest and detention of online critics, while press freedom continues to remain at risk. Further, the Fiji Trade Unions Congress has once again been denied the right to freedom of assembly.
Expression
NGO coalition raises concerns about targeting of critics
In April 2021, the NGO Coalition on Human Rights (NGOCHR) said it was "deeply troubled" around increasing reports of harassment, arrests and detention of Fiji citizens who raise their concerns about government institutions and of human rights violations through the media and social media platforms.
The Coalition condemned these "bullying tactics" and reminded the government of Fiji's commitments towards the protection of human rights and upholding democratic values and principles.
The coalition added that "the protection of freedom of speech and expression is enshrined in our Bill of Rights and while this includes exceptions where the freedoms can be limited by the State, we must still ensure that there is protection of our citizens' fundamental rights and freedoms especially when citizens are expressing their concerns".
They pointed to the last Universal Periodic Review process (2019-2020) at the UN Human Rights Council where Fiji had accepted the recommendation to "safeguard freedom of expression by ensuring that criminal and speech-related legislation are not used to suppress media, civil society and opposition politicians' criticism of the government" and called that it be put into practice.
The coalition also said that while Fiji demonstrates itself as a leader in human rights globally yet the "continued targeting of citizens in the country who criticise the work of government or its statutory bodies contradicts the democratic values we represent on the world stage".
Political activist charged with sedition for Facebook post
Outspoken political activist Ben Padarath has been charged with sedition and was produced at the Suva Magistrates Court today. #TimesNews #FijiNews #FICAC https://t.co/kPbBQi1gp5

— The Fiji Times (@fijitimes) March 31, 2021
On 1st April 2021, political activist Benjamin Padarath was charged with sedition for posting information pertaining to an ongoing investigation by the Fiji Independent Commission Against Corruption on Facebook. He has also been accused of 'attempting to obstruct, prevent, pervert or defeat the course of justice' and also 'wilfully removing or destroying' evidence from his phone. Padarath pleaded not guilty to the charges and was released on bail on 8th April.
Although Article 17 of the Constitution of Fiji guarantees the "right to freedom of speech, expression, thought, opinion and publication" in law, policy and practice, restrictions on the freedom of expression and media freedom persist. Sedition provisions in the Crimes Act have been used by the Fijian authorities to target the media and opposition politicians. Specific recommendations to amend or repeal the law by the Human Rights Council was not accepted during Fiji's Universal Periodic Review in March 2020.
Fiji drops three places in press freedom index
Press freedom also continues to be at risk as Fiji dropped three places in the latest Reporters Without Borders (RSF), World Press Freedom Index released in April 2021.
According to RSF, under Voreqe "Frank" Bainimarama, journalists who are overly critical of the government are often subjected to intimidation or even imprisonment.
Further, the media have to operate under the draconian 2010 Media Industry Development Decree, which was turned into a law in 2018 under the regulator it created, the Media Industry Development Authority, over which the government has direct oversight. Those who violate this law's vaguely-worded provisions face up to two years in prison.
RSF also noted how the sedition laws, with penalties of up to seven years in prison, are also used to foster a climate of fear and self-censorship. Sedition charges have been brought against three journalists with the Fiji Times, the leading daily, until they were finally acquitted in 2018, as previously documented.
The organisation added that distribution of the Fiji Times was banned in several parts of the archipelago at the start of the COVID-19 pandemic in March 2020 because – the government said – the press was not an essential service. The pro-government Fiji Sun was nonetheless distributed with complete normality in the same areas.
Peaceful Assembly
Workers' rally blocked by authorities again
Police have denied license application for the Fiji Trades Union Congress to walk and hold an assembly in Suva on first May.

FTUC National Secretary, Felix Anthony says no composed explanation was given.https://t.co/QCH6Tdqtj3 pic.twitter.com/WuLtZzjZzd

— NZ Fiji Times (@nzfijitimes) April 8, 2021
The government has also continued to stifle unions from exercising their right to freedom of peaceful assembly.
The Fiji Trade Unions Congress (FTUC) was denied a permit to march and hold a rally in Suvae on 1st May 2021 - International Labour Day - which is widely celebrated by the global labour movement, with no written reasons given. According to FTUC they were verbally told this was due to the pandemic.
FTUC said: "This is purely a political decision of Government as it does not wish to see any opposition to its policies regarding workers and human rights. This is the sixth occasion where a permit to march has been denied. We condemn this decision to deny workers their fundamental right to assembly and to protest".
As previously documented, the right to peaceful assembly has been arbitrarily restricted in Fiji through the use of the Public Order (Amendment) Act 2014, particularly for trade unions. The FTUC was denied authorisation to hold a march at least six times between 2018 and 2019, without any valid reason and often at the last minute.