Expression under threat: New law to censor social media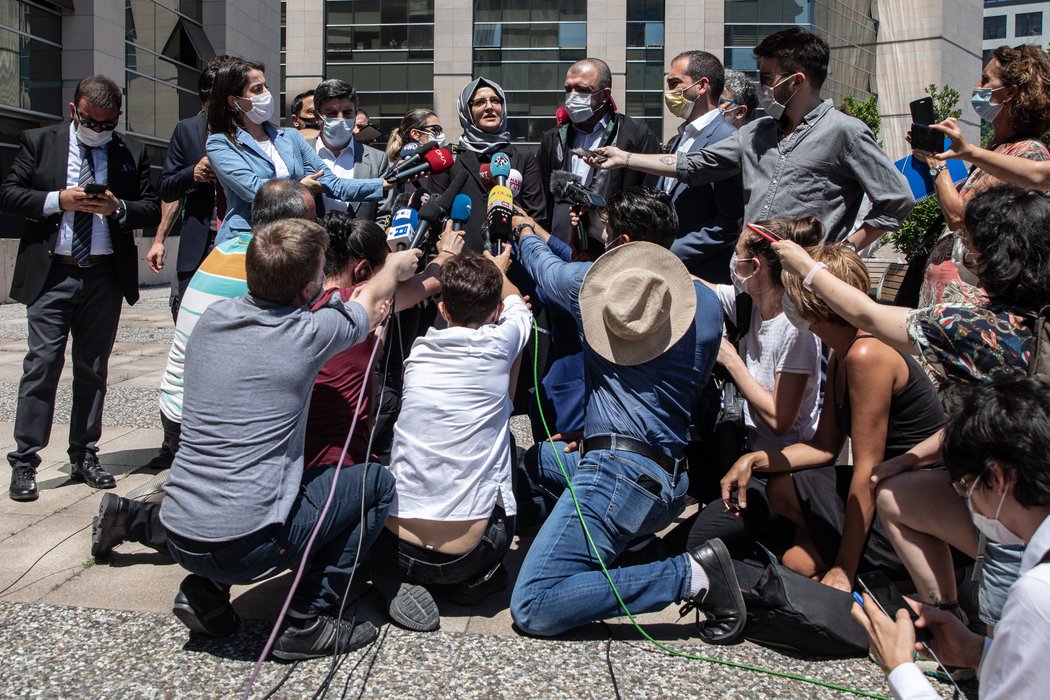 Association
According to the 2019 report on Human Rights Violations in Turkey released by the Human Rights Association (İHD), the governance of the country has become more authoritarian. It finds that:
"2019 was a year when the most basic rights of freedom of expression, organisation, assembly and demonstration were limited and banned to a considerable extent. The judiciary was the leading tool of pressure."
The violation of human rights, especially women's rights, were further amplified during the COVID-19 outbreak. Women's rights defenders have yet again during the pandemic called on the authorities to ensure the efficient enforcement of the İstanbul Convention. Domestic violence and reported cases of femicide have been on the rise in the past few months. According to the We Will End Femicide Platform, 20 women were killed in April 2020 and 21 women in May 2020.
Another case which sparked outrage on social media is when a police officer shared the address of the Purple Roof (Mor Çatı) Women's Shelter Foundation with a man who had inflicted violence on a woman, thus endangering the safety of all the women who are assisted at the shelter.
In addition, foundations working with human rights and equality have also experienced acts of pressure and threats. One example is the Hrant Dink Foundation that works to contribute to a just, free and equal society in Turkey. It was officially announced by the Foundation that it had received a written death threat via email which stated, "We may turn up one night, when you least expect it".This was the very same slogan used in 2007 before Hrant Dink was publicly assassinated. The email also made a death threat against the Foundation's lawyer.
On 27-28 May the Hrant Dink Foundation received a death threat via email. It is our duty to share this statement to remind the authorities of their responsibilities, to emphasize the serious nature of the rise in unconstrained hate speech and the climate that has been created. pic.twitter.com/gpmJRKVZd2

— HrantDink Foundation (@HrantDinkFnd) May 29, 2020
Peaceful Assembly
During the reporting period, a few gatherings took place, during which police intervention was noted.
While International Workers' Day was celebrated in several places in Turkey with demonstrators abiding by social distancing rules, in Istanbul police detained around 15 people, including trade union leaders. According to reports, unions were trying to hold a May Day march at Taksim Square (which holds a symbolic value for the labour movement in Turkey), however, they defied COVID-19 lockdown rules by failing to practise social distancing, thus police intervened. The detainees were later released.

The police also forcefully intervened at an event held by the Kurdish-oriented People's Democratic Party (HDP). The event, which took place in front of the party headquarters in Ankara, aimed to release a statement but also to protest the interior minister's practice of removing Kurdish mayors from office and replacing them with government trustees. Police intervention was violent; 12 people were detained and a few were injured.

At least 21 people were detained at a group gathering held to commemorate an activist who was killed in 2013 during the anti-government protests. According to authorities the demonstration was deemed illegal.

At a similar event, a small group of demonstrators was dispersed after they tried to protest police violence and stand in solidarity with the United States and the Black Lives Matter (BLM) movement. At least 29 demonstrators were detained.
On a positive note, the Constitutional Court ruled that two protesters are to be paid damages due to disproportionate use of force by police while they were protesting a bomb attack in Reyhanlı. The Constitutional Court elaborated that the use of force "violated the prohibition of maltreatment and treatment incompatible with human dignity as per Article 17/3 of the Constitution and the right to assembly and demonstration as per Article 34."
Expression
According to the Reporters Without Borders' (RSF) 2020 World Press Freedom Index, Turkey ranks 154th out of 180 countries. The report notes:
"Censorship of websites and social media in the country has reached unprecedented levels and the authorities are now trying to bring online video services under control".
In addition, Pen International still ranks Turkey as thenumber-one jailer of journalists in the world. According to the Stockholm Center for Freedom (SCF), currently, around 165 journalists are behind bars in Turkey, while 167 were forced into exile and who are wanted on fabricated terrorism charges.
New law aims to censor social media
As previously reported on the Monitor, a draft law initially proposed by the Turkish government required foreign social media companies to appoint a representative in the country who would address concerns raised by the government over social media content on their platforms. If the platforms failed to do so, they would face restrictions on bandwidth. The articles which restrict social media were later removed from the bill. However, President Erdogan announced this month that regulations to control social media will be introduced. "These platforms do not suit this nation. We want to shut down, control (them) by bringing (a bill) to parliament as soon as possible," he said. Some articles of the draft law stipulate that "all platforms accessed by over one million users daily must appoint a legal representative in Turkey on whom courts can serve orders to take down content or block access to accounts". Such a law may further curtail freedom of speech in Turkey and lead to strong control and censorship by the government. This adds to the already concerning situation regarding expression (see below) where, during the COVID-19 outbreak, even more journalists were detained due to their reporting on the pandemic and social media users have been interrogated and censored.
1-DİKKAT! Meclis'e gelecek Torba Yasa'da SOSYAL MEDYADA sansürü çok arttıracak hükümler var! Twitter/FB/vb. Temsilci bulunduracak, kullanıcı verilerini TC'de saklayacak, içerik çıkarma, engelleme vs. hemen uygulayacak yoksa internet trafik bandı tamamen daraltılacak (Mde 56)++ pic.twitter.com/VFpq69CkYp

— Av. Ece Güner Toprak (@EceGunerToprak) April 10, 2020
#Turkey: After his daughter and son-in-law received insulting messages on Twitter, President #Erdoğan has threatened to draft a bill to further restrict or shut down #SocialMedia.#MediaFreedomRR
cc @article19europe https://t.co/150VmP2ca2

— ARTICLE 19 (@article19org) July 3, 2020
Citizens detained over COVID-19 social media posts
As of March 2020, it was reported that Turkey has detained 402 people under the accusation of allegedly sharing "false and provocative" social media posts concerning COVID-19. Around 6,000 social media accounts were inspected in total by the Interior Ministry.
More detailed statistics on this include:
3,557 social media accountssharing provocative information and news about the coronavirus were examined in March 2020 by the Anti-Cybercrime team. Out of 616 suspects, 229 people were arrested and the judicial process has continued for the others.

7,127 social media accounts sharing provocative information and news about the coronavirus were examined in April 2020. Out of 1,058 social media users, 496 people were taken into custody and 10 people were arrested.

11,544 social media accounts sharing provocative information and news about the coronavirus were examined in May 2020. Out of 1,152 suspects, 520 people were arrested.
Furthermore, Amnesty International has documented several cases where social media users, doctors and journalists have been censored for speaking out about COVID-19.
On 28 March 2020, truck driver Malik Yılmaz shared a Tik Tok video in which he criticised the government's 'stay home' message. Yilmaz was highlighting that not everyone has the luxury of staying at home. Following this he was questioned three times by the police, given a foreign ban and charged with inciting the public to break the law. Yilmaz has to report to the police weekly.
Diyarbakır-based journalist and human rights defender, Nurcan Baysal, was questioned by police over her ten social media posts related to COVID-19 during March and April 2020.

Dr Özgür Deniz Değer, Turkish Medical Association (TTB) Chair in Van, eastern Turkey has been summoned twice for questioning since the pandemic began, in relation to "threats to create fear and panic among the people".This is in relation to an interview he did which discussed the risks of COVID-19 spreading in prisons and criticised the health ministry for failing to work with associations.

Dr Ömer Melik, Chair of the Urfa Medical Association and Dr Osman Yüksekyayla, General Secretary of the Medical Association, were detained and questioned over social media posts on the Medical Association's twitter account. They were released on bail, banned from foreign travel and have to report to the police weekly.
Media sanctioned for critical reporting
According to the Sözcü newspaper, during the last year and a half Turkey's Radio and Television Supreme Council (RTÜK) has imposed TL11 million ($1.6 million) in fines on TV channels that are critical towards the government. A total of 36 fines were issued to broadcasters who were critical of the government, while two pro-government channels only received mild sanctions through official warnings.
One example of being sanctioned for critical reporting is the case where Turkey's Public Advertising Agency (BİK), imposed a 35-day advertising ban on the Cumhuriyet newspaper fora critical report on Erdoğan's communications director. Another case of censorship was reported by US-based news websites (Deadline and Variety), where an episode of the political thriller series "Designated Survivor" shown on Netflix was removed in Turkey following a demand by the Radio and Television Supreme Council (RTÜK). The said episode reportedly features a fictitious President of Turkey.
The European Centre for Press and Media Freedom (ECPMF), together with other organisations recently wrote a letter to BİK, once again highlighting concerns about the advertising agency's criteria regarding the distribution of public advertisements and recent bans implemented on newspapers. It emphasised the need for transparency in BIK decisions and processes.
Artistic expression is also under threat in Turkey. According to a report by Freemuse, 'The State of Artistic Freedom 2020', Turkey belongs to the 13 countries where there are concerns over violations of artistic freedom. In these countries there have been worrying violations of human rights responsibilities and their governments have failed to respect freedom of artistic expression at a global scale.
Hate speech a concern
Hate speech is also an increasing concern in Turkey. It is worrisome that threatening statements are often made against ordinary citizens and minority groups. A recent example is the statement made by pro-government journalist Fatih Tezcan who stated that the opponents of Turkish President Recep Tayyip Erdoğan are to be murdered. A similar controversial statement was made by a pro-government writer, Sevda Noyan, who said that "she had a list of her neighbours and would kill those who were anti-government or pro-coup in the event of a new coup attempt in the country".
Hate speech against LGBT individuals is also present. As previously reported by the Monitor, head of Diyanet (Religious Affairs Directorate) made a homophobic statement during a recent sermon. The Ankara and Diyarbakir bar association reacted to this, stating that such statements could "increase attacks against LGBT individuals and instigate a fraction of the society to commit a crime" against LGBTI persons. On the other hand, those organisations that have been openly criticising the practice of hate speech in the country have also been targeted and investigated, as pointed out by the Solidarity Network for Human Rights Defenders – Turkey.
"Moreover, targeting and investigating rights organisations that condemn the statements which undermine basic human rights and the rule of law is a clear manifestation of the accelerating pressure and harassment on the civil space in the last couple of years in Turkey."

"We stand in solidarity with the LGBTI+ organisations and human rights defenders that are threatened and face investigations. We demand an immediate halt on targeting citizens and an end on these unlawful investigations."
Human rights Watch (HRW) condemned the use of homophobic hate speech by Turkish authorities.
"It is extremely concerning to see some of Turkey's top government representatives appearing to endorse hateful remarks by the head of the religious affairs directorate. Turkey's government has an obligation to protect everyone from hate crimes and discrimination, and should not tolerate statements by officials that encourage hate crimes and target LGBT people and those living with HIV,"- Hugh Williamson, Europe and Central Asia director at Human Rights Watch.
Journalists under threat
RSF called on Turkish authorities to stop the detention of journalists ahead of the court appearance of six journalists who have been detained for over four months. The six journalists were arrested for posting or sharing an article on the OdaTV news website which featured photos of the funeral of a Turkey National Intelligence Agency (MIT) officer who had been killed in Libya.
Journalists Barış Terkoğlu, Hülya Kılınç, Barış Pehlivan, Murat Agirel, Mehmet Ferhat Celik and Aydin Keser were charged with "divulging information classified as top secret with regard to political and state security interests" and of violating the law on intelligence services. They face a possible sentence of up to 19 years.
"Neither press freedom nor the right to criticise will be respected in Turkey as long as the justice system is under the thumb of the government, and the government thinks it must arrest journalists in order to deter its opponents. There is an urgent need to end these detentions. These journalists, who work for OdaTV and for the Yeniçağ and Yeni Yaşam daily newspapers, have no place being in prison. All the charges against them must be dropped,"- RSF Turkey representative Erol Onderoglu.
In a separate development, the Committee to Protect Journalists (CPJ) called on Turkish authorities to revise new financial regulations as they may adversely affect financial journalists. The new banking regulations make provision for fining anyone that disseminates information that "would damage the financial system and lead to systemic risks due to the loss of trust in the financial system" or which "keeps the price … [of a] financial instrument at an abnormal or artificial level or that [gives a] false and misleading impression regarding the supply, demand, or price of the same instrument."
"The ambiguity in Turkey's new banking regulations, along with the arbitrary nature of deciding what reports may be harmful to the country's banking system, threaten independent reporting on the country's economy," - Gulnoza Said, CPJ's Europe and Central Asia programme coordinator, in New York.