Environmental rights defender killed as authorities label activists as 'terrorists'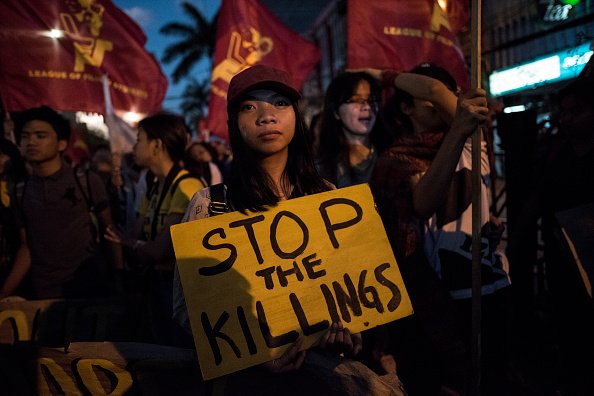 Association
Killing of environmental rights defender 
Environmental and indigenous rights defender Ricardo Mayumi was shot dead by two unidentified gunmen on 2nd March 2018 in his home in Kiangan town, Ifugao Province. He was one of the leaders of the Ifugao Peasant Movement and had opposed the Sta. Clara International Corporation and Ayala Corporation's hydroelectric power project in Ifugao. Prior to the incident, Mayumi had received death threats.
According to the International Indigenous Peoples Movement for Self-Determination and Liberation, it is suspected that the defender may have been killed by the Citizens Armed Forces Geographical Units, a military-affiliated group.
The ASEAN Parliamentarians for Human Rights (APHR) condemned the killing and called for a prompt and thorough investigation into the defender's murder. APHR Board Member Eva Kusuma Sundari declared that:
"This case is emblematic of the grave dangers faced by Filipinos, particularly those from indigenous communities, who choose to exercise their fundamental rights as they seek to protect their land, natural resources, and livelihoods. We urge the relevant authorities in the Philippines to undertake a full investigation and bring perpetrators to account. Justice must be served".
Indigenous rights activists labelled as "terrorists"
Dismayed by move by #Philippines president #Dutarte to label 600 indigenous leaders and land rights defenders as "terrorists". Including @UNSR_VickyTauli . Please sign this petition https://t.co/wh59fHW2sw #ProtectDefenders #StandUpForHumanRights #EnvironmentalDefenders #HRDs

— HumanRightsinDev't (@RightsinDevt) March 14, 2018
The killing of Ricardo Mayumi comes as there has been fierce criticism of the Philippines government labelling local indigenous rights activists as "terrorists".
A government petition, filed in a Manila court in February 2018, accuses 600 people of terrorism and alleged membership in the Communist Party of the Philippines (CPP) and its armed wing, the New People's Army (NPA). President Rodrigo Duterte signed a proclamation declaring the CPP-NPA a terror organisation in December last year.
Among those on the list is Victoria Tauli-Corpuz, UN Special Rapporteur on the rights of indigenous peoples and a Filipino national. UN experts believe that this is an act of retaliation for her public comments against the attacks against and killings of indigenous Lumad peoples by members of the security forces in the southern province of Mindanao.
David Kode, CIVICUS head of Campaigns and Advocacy stated that:
"The Philippines government is putting these activists at great risk by arbitrarily labelling them as 'terrorists'. It is clear they are being targeted to discredit their crucial work in defending the rights of indigenous people and to quell criticism of Duterte's policies in Mindanao…The government must drop this petition immediately and instead protect human rights defenders so they can carry out their legitimate human rights work".
A report by Amnesty International issued in February 2018 found that there has been increasing threats against and intimidation of human rights defenders. The President's call for the police to "shoot" human rights defenders who were "obstructing justice" may have contributed to this.
Surveillance
Human rights groups, such as Karapatan, have raised concerns around both physical and communication surveillance from the authorities. According to Amnesty International Philippines chairperson Ritz Lee Santos, the government has listed individuals under surveillance as "persons of interest". Among the techniques being used include wiretapping, bugging or physical monitoring.
Karapatan's Secretary General Cristina Palabay said that one of these incidents includes the discovery of a tracking device in Karapatan's service van during the Association of Southeast Asian Nations Summit in November 2017. The hreave also been attempts to hack the emails or social media accounts of several human rights activists.
Expression
Senator Leila De Lima marks one year in prison
De Lima to mark one year in prison on Saturday https://t.co/uoT1N0Js8y pic.twitter.com/c6IqukOV2b

— CNN Philippines (@cnnphilippines) February 23, 2018
24th February 2018 marked one year since the authorities arrested and detained Senator Leila de Lima, an outspoken critic of President Rodrigo Duterte's murderous war on drugs and an Amnesty International prisoner of conscience. Senator de Lima remains detained at the Philippine National Police headquarters in Camp Crame, Quezon City, and is charged with violating the country's Dangerous Drugs Act, charges which many believe are politically motivated.
Deputy Asia Director for Human Rights Watch Phelim Kine said:
"President Duterte saw to the arrest of Senator de Lima a year ago to vilify her for her strident and principled opposition to his murderous drug war…instead, her prosecution has only raised her global stature and brought greater attention to Duterte's demolition of the rule of law and respect for human rights".
Attempts to silence media outlet Rappler
As previously documented on the CIVICUS Monitor, independent news outlet Rappler, a vocal critic of the Duterte regime, is appealing the decision of the Security and Exchange Commission (SEC) to revoke its registration for allegedly violating constitutional restrictions on foreign ownership. The case is still before the Court of Appeals.
On 20th February 2018, Rappler, faced further restrictions when its reporter Pia Ranada was stripped of her privilege to enter and cover events held at the Presidential Palace. On 22nd February, President Duterte stated the ban on the journalist's covering events at the Palace was due to Rappler's appeal to the SEC.
Several media, journalists' and media advocacy organisations, including the National Union of Journalists of the Philippines and the Centre for Media Freedom and Responsibility (CMFR), described the decision to ban Rappler as an assault on press freedom. CMFR stated that:
"CMFR stands with Rappler on this issue. A form of censorship, the banning of Rappler and its Malacañang reporter is a clear abridgment of the Constitutionally- protected freedom of the press and is meant to silence critical and responsible press organizations".
Peaceful assembly
Women march for justice and accountability
On International Women's Day - 8th March 2018 - women activists in pink and purple shirts held protest rallies in various cities to demand justice and accountability for what they described as the "slaughter of women" under the administration of President Rodrigo Duterte. According to human rights group Karapatan, at least 20 women had reportedly been killed in counterinsurgency operations. The women's group Gabriela has called President Duterte "the most violent misogynistic in the country's history".
Protests against killings in the 'war on drugs'
#Philippines: Philippine Catholics protest drug killings, death penalty https://t.co/Xe850hSUVZ

— Attika_T (@Attika_t) February 26, 2018
Protesters took to the streets on 24th February 2018, the anniversary of the 1986 popular revolution which deposed Philippine dictator Ferdinand Marcos and ended his 20-year rule. Led by the Catholic Church, they protested against President Rodrigo Duterte's drug war, which has led to numerous deaths and a complete lack of impunity.
On 16th March, Duterte announced that the Philippines would withdraw from the International Criminal Court (ICC). This came after the ICC prosecutor Fatou Bensouda announced in February 2018 that it would undertake a preliminary investigation into the drug war related deaths, many of which are considered extrajudicial killings. This could result in a formal ICC investigation if there is evidence that the violations amounted to crimes against humanity and there is a lack of adequate justice in national-level courts.
Students stage walkout
On 23rd February 2018, students in Metro Manila and other parts of the country staged a walkout to protest several issues, such as charter changes (constitutional reforms), federalism and martial law in Mindanao. The students carried banners and shouted anti-government slogans. In Manila, they marched from their campuses to Mendiola near the Presidential Palace.