Economic decline, crackdown on rights; Zimbabweans hanker for change through protests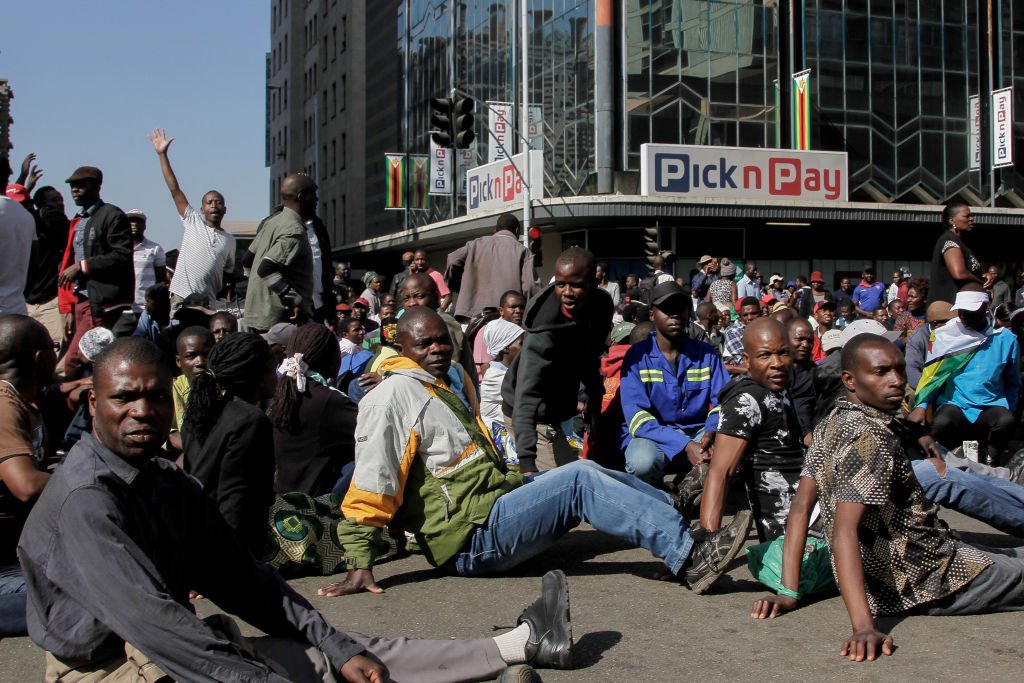 Nurses at the biggest Referral Hospital in Zimbabwe, Parirenyatwa Hospital are engaging in Strike against poor working conditions and reports that their Salaries were cut. Previously they earned less than US$50 (R800) a month pic.twitter.com/OG7T5r48Pf

— #ZimbabweanLivesMatter 🇿🇼📷📸 (@KuleVeZaka) June 17, 2020
Association
As the country's economy continues to decline, workers and civil servants have sustained protest actions to call for better wages to cushion them from the resulting economic shocks, as previously reported on the Monitor. In this regard, even as countries around the world battle the COVID-19 pandemic, nurses from the Parirenyatwa Hospital in Harare downed tools in June 2020 in a boycott action to demand better terms amid soaring inflation. The nurses, through the Zimbabwe Nurses Association, demanded to be paid in US dollars as opposed to the local Zimbabwean dollars currency, citing that growing inflation had drastically reduced the value of their local currency salaries.
The government said it would enter negotiations with the nurses, although they wrote off any possibility of paying the nurses in US dollars.
The Zimbabwe Human Rights NGO Forum has since dispatched notices of intention to sue on behalf of seventeen (17) victims that were assaulted by the security forces on the eve and after the 31 July protest. #ZimbabweLivesMatter

— Human Rights Forum (@ZimHRNGOForum) August 21, 2020
Peaceful Assembly
Still in the context of the country's declining economic situation, protesters gathered in the streets in Harare on 31st July 2020 holding pamphlets and singing songs against government corruption and economic decline. Soldiers and police officers forcefully dispersed the peaceful protest citing the ongoing curfew restrictions in light of the COVID-19 pandemic, arresting at least 20 protesters. Those arrested were charged with inciting public violence and released on bail.
#Zimbabwe: Exactly a month ago today journalist #HopewellChinono was arrested. The state continues to run roughshod over his constitutional rights to deny him his freedom. Hopewell's closed bail hearing continues tomorrow, so it's another weekend in jail & counting. #FreeHopewell pic.twitter.com/H8njZvHgiI

— Angela Quintal (@angelaquintal) August 20, 2020
Expression
Ahead of the planned 31st July protests (see above in peaceful assembly section), Hopewell Chin'ono, a prominent Zimbabwean journalist known for exposing government corruption, was arrested on 20th July 2020 by about eight law enforcement officers who raided his home after he exposed corruption in the procurement of COVID-19 supplies which led to the sacking of Health Minister Obadiah Moyo in early July 2020. Chin'ono was charged with "incitement to participate in public violence."
Responding to the journalist's arrest, CPJ Africa Programme Coordinator Angela Quintal said:
"The detention of investigative journalist Hopewell Chin'ono is yet another example of Zimbabwe's increasing intolerance toward the press and those who expose corruption allegations about the country's ruling elite… Instead of detaining those responsible for stealing public funds, President Emmerson Mnangagwa's security forces would rather employ strong-arm tactics to silence the messenger. Hopewell Chin'ono must be released immediately and allowed to work freely."
Four days later, on 24th July, Chin'ono was denied bail by a Magistrate's Court on grounds that he was a public threat and would continue to incite violence if released. His appeal for bail was rejected by the High Court on 6th August. Chin'ono's case suffered another blow on 18th August when the Magistrate's Court barred his lawyer, Beatrice Mtetwa, from representing him in the case, on allegations of contempt of court for running Facebook page critical of the justice system. The case was slated for a fresh bail hearing on 19th August which was to be held in private.
The European Union In Zimbabwe urged the authorities to respect the rights of accused persons to bail expeditiously and without prejudice, and to representation by a lawyer of their choice. They called on the judiciary to discharge their duties in an impartial and independent manner.
On 24th August 2020, the Magistrate's Court rejected Chin'ono's application for bail a second time.
In separate developments, describing the country's situation as "a multi-layered crisis" characterised by economic collapse, deepening poverty, corruption and human rights abuses, Catholic Bishops in mid-August 2020 wrote a letter denouncing the unprecedented crackdown on dissent in the country, which has seen citizens live in fear.