Discriminatory citizenship law sparks a month of protests in India and brutal response from police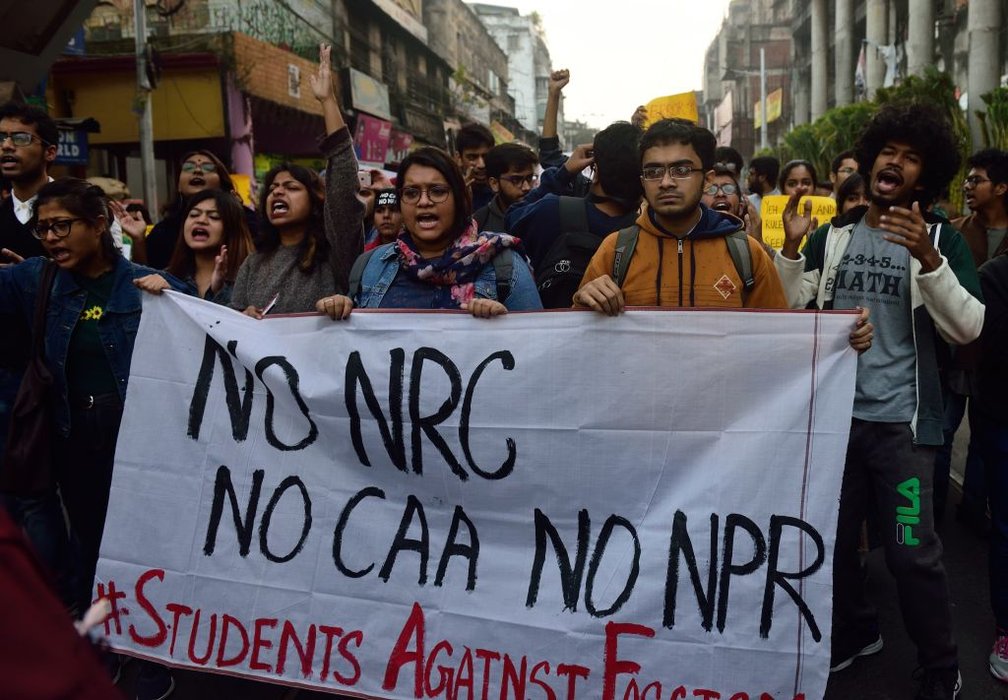 Over the last month, a divisive and discriminatory citizenship law has sparked widespread protests in India. It has been met with excessive force and deadly violence by the authorities, with at least 27 killed and hundreds injured. Critics of the law and activists have been arrested while there have been allegations of torture in detention by the police in Uttar Pradesh. The police also failed to protect attacks against students by a pro-government mob at Jawaharlal Nehru University.
In December 2019, the CIVICUS Monitor downgraded India's civic space ratings to "repressed". There have been serious concerns about attacks on activists and journalists, the use of restrictive laws to stifle opposition voices, attempts to investigate NGOs that are critical of the government and the clampdown on civic space in Kashmir since August 2019.
Peaceful Assembly
Passage of discriminatory citizenship law
New citizenship law in India 'fundamentally discriminatory in nature', says @UNHumanRights, #FightRacism.https://t.co/I4MRIMVI11

— UN News (@UN_News_Centre) December 14, 2019
Tens of thousands across India, particular students, have been protesting again a discriminatory citizenship law passed on 12th December 2019 - the strongest dissent against Prime Minister Modi since he came to power in 2014.
The new Citizenship (Amendment) Act 2019, which came into force on 10th January 2020, seeks to provide citizenship to non-Muslim irregular migrants including members of Hindu, Sikh, Buddhist, Jain, Parsi and Christian communities facing persecution from Bangladesh, Pakistan and Afghanistan who entered the country on or before 31st December 2014. The Office of the UN High Commissioner for Human Rights has described the controversial new law as 'fundamentally discriminatory in nature' while human rights groups have called the law 'unconstitutional and divisive'.
It's an apparent precursor to the government's planned nationwide citizenship verification process. That process, combined with the law will, in effect, automatically protect the rights of most faiths but leave India's roughly 200 million Muslims with the challenge of proving Indian nationality or becoming stateless. The law has been sharply criticised by opposition parties which have carried out rallies against the Act in the past month.
Excessive force and restrictions on protests
Across Assam, five people have been killed during the protests against the Citizenship Amendment Bill and several others injured, as police fired indiscriminately into the crowd of unarmed protesters.https://t.co/H3Zv3I3I0S

— The Wire (@thewire_in) December 16, 2019
Protests, attracting crowds as large as 200,000, have stretched from Delhi and Chandigarh in the northern part of the country to Hyderabad and Bengaluru in the south. The reasons behind the protests vary. Besides opposing the law many are protesting against the high rates of unemployment, the economic slowdown and the internet lockdown in Kashmir, among other issues.
At the forefront of these protests are students from across India's universities. The protests have been largely peaceful with some incidents of destruction of property and stone pelting but have been met with brutal and excessive force by the police.
According to news reports, at least 27 protesters have been reported killed, many allegedly due to bullet injuries suffered from police use of firearms, while hundreds have been injured. Eighteen people have died in Uttar Pradesh, two in Karnataka, and five in Assam. Despite calls by human rights groups for an independent and credible investigation into the police violations, no one has been held to account.
Protests began on 12th December 2019 in Assam's capital Guwahati, defying a government-imposed curfew. Special forces and police fired teargas at protesters as they reportedly burned cars and tyres and pulled down political billboards. According to news reports, on 16th December at least four had been shot by the police in Assam and over a thousand detained.
In New Delhi, on 15th December more than 100 people protesting the law were injured after police used tear gas and baton charges to disperse a demonstration of students from Jamia Milia Islamia (JMI) University, as well as New Delhi residents. Police violently dispersed the protesters as they marched towards Parliament, and after protesters fled to the university campus, the police reportedly stormed the JMI and fired tear gas into classrooms. Nearly a hundred protesters were detained and subsequently released.
Lysa John, CIVICUS Secretary General said:
"Peaceful protest is a legitimate form of dissent and this heavy-handed and violent response from police is unwarranted. Nothing can justify the attacks on protesters which is a clear violation of the right to peaceful assembly. These actions highlight the increasingly repressive civic space we have seen in India over the last year."
At Aligarh Muslim University in Uttar Pradesh, thousands of students protesting the law on 15th December, outside the university entrance were attacked by police wielding batons and firing tear gas. On 21st December 2019, it was reported that police had raided the homes and offices of human rights activists in Uttar Pradesh to prevent them from planning fresh demonstrations.
Indian authorities shut down the internet in several districts including in West Bengal, Assam, Meghalaya, Tripura, Arunachal Pradesh and Uttar Pradesh states, contending it was necessary to maintain law and order, and also used a colonial-era law against the protesters. Section 144 of the Criminal Procedure Code prohibits, among other things, a gathering of more than four people if they fear a possible violation of law and order. The authorities also put limits on public transportation to prevent the protests.
The police have, however, not interfered with demonstrators supporting the law, including ruling party leaders who have advocated violence. Uttar Pradesh chief minister, Yogi Adityanath, has said that "revenge" will be taken against those who destroyed public property.
Arbitrary arrest of protesters, critics and activists
Watch: Historian Ramachandra Guha, mid-interview, detained by cops https://t.co/6T9DRfCEPW pic.twitter.com/KV3S8WeCic

— NDTV Videos (@ndtvvideos) December 19, 2019
Hundreds of people have been detained. On 21st December 2019, Uttar Pradesh police said that they had arrested over 700 people and preventively detained more than 4,500 others, who were released after warnings.
Activists and intellectuals have also been targeted. In Bangalore, Ramachandra Guha, a preeminent biographer of Gandhi and a critic of the citizenship law, was speaking to a reporter on 19th December, when helmeted police officers carrying sticks grabbed his arms and dragged him away. Others detained include Yogendra Yadav, a well-known political commentator, Umar Khalid, a social activist, and several opposition politicians.
According to Human Rights Watch, Uttar Pradesh police detained several activists, including Mohammad Shoaib, a Lucknow-based lawyer. His wife, Arundhati Dhuru, and activists Meera Sanghamitra and Madhvi Kukreja were detained for several hours when they went to the police station to inquire about Shoaib. The Magsaysay Award winner Sandeep Pandey was placed under house arrest. 
On 20th December it was reported that police in Lucknow had arrested Sadaf Jafar, an activist and Congress Party worker, while she was videotaping the police on her phone after a protest. Her family has alleged that the officers beat her.
Allegations of torture
Torture of children and a Muslim cleric, forced confessions, arbitrary detention of Muslims grabbed from their homes in the night and vandalisation of Muslim houses by police shouting Islamaphobic slurs. My report on the reign of terror in Uttar Pradesh https://t.co/ErhEalC4D3

— Hannah EllisPetersen (@HannahEP) January 3, 2020
According to a news report on 18th December 2019, several students of Aligarh Muslim University whom police detained after protests also alleged that they were beaten up in custody.
In another incident reported by the New York Times on 2nd January 2020, police officers in the town of Nagina in Uttar Pradesh detained a group of Muslim teenagers and took them to a makeshift jail where they were allegedly tortured. Four of the boys, who ranged in age from 13 to 17, said in interviews with The New York Times that police officers used wooden canes to beat them and threatened to kill them for taking part in the protests. Three of them had obvious signs of deep bruising or other injuries.
A report by the Guardian on 3rd January 2020 highlighted allegations of police abuse in the city of Muzaffarnagar in Uttar Pradesh in response to the protests. Around 150 Muslim men and boys were rounded up on 20th December and allegedly tortured or otherwise ill-treated in detention. According to the report, they were beaten frequently by the police with metal rods and bamboo. Witnesses say some of those detained had raw gashes across their hands and faces, others had broken limbs splayed out at awkward angles. The youngest among them was just 12 years old.
Attack on Jawaharlal Nehru University by pro-government mob
India: Police Fail to Protect Students https://t.co/VJEtrUZOoq

— Human Rights Watch (@hrw) January 7, 2020
On 5th January 2019, alleged supporters of the ruling Bharatiya Janata Party (BJP) assaulted university students in Delhi. According to Human Rights Watch, witnesses reported that dozens of masked men and several women carrying sticks, hammers and bricks and shouting pro-government Hindu nationalist slogans entered Jawaharlal Nehru University (JNU) and went on a violent rampage inside the campus for about three hours, injuring more than 30 students and teachers. Assailants beat Aishe Ghosh, the president of the student union and a leader of the leftist Student Federation of India.
HRW reported that the Delhi police filed a complaint of rioting and assault against unknown people. However, a video shows the police allowing the attackers, many still carrying iron rods and sticks, to leave the campus without trying to detain or question them. The police also stood by and failed to act as a mob chanting nationalist slogans gathered at the campus gates and beat journalists and a political activist. A mob also attacked an ambulance attempting to enter the campus to attend to injured students.
Meenakshi Ganguly, South Asia director of HRW said:
"Students and teachers begged the police to intervene during the attack at Jawaharlal Nehru University, but the police simply stood and watched the attackers walk away. All too often police in India use excessive force and arbitrarily arrest peaceful critics of the government, but are derelict in their duty to maintain law and order when violent ruling party supporters are involved."
Jawaharlal Nehru University, with its history of progressive education, is considered a bastion of liberalism in the country. Hindu nationalist supporters of the BJP have long criticised, harassed, and even accused students of sedition.