Despite UN concerns Sri Lanka continues to detain critics, arrest protesters and entrench impunity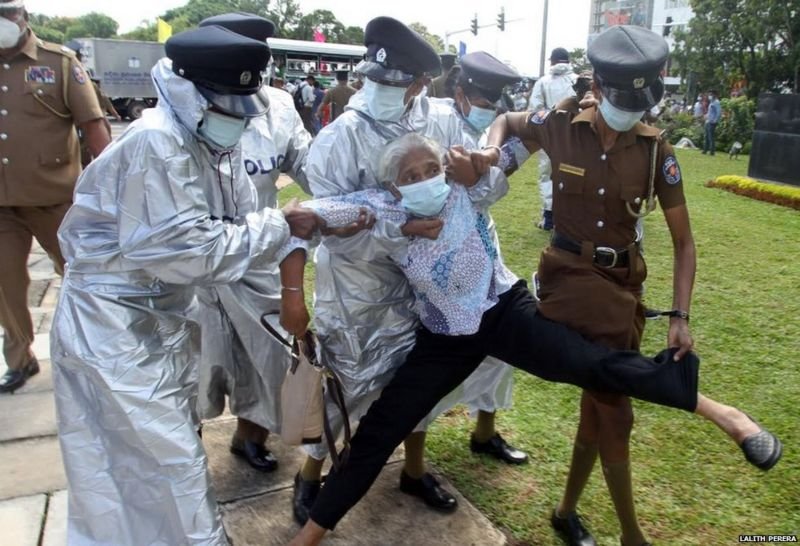 On 23rd March 2021, the Human Rights Council adopted a new resolution on Sri Lanka, with a view to future prosecutions. 22 countries voted in favour of the text, 11 opposed and 14 abstained, including Sri Lanka's neighbours, India and Nepal, except for Pakistan, Bangladesh and Uzbekistan, who voted against the motion.
In the resolution the Human Rights Council expressed "deep concern" at the "deteriorating situation" in Sri Lanka, and criticised the erosion of judicial independence, marginalisation of minorities and impunity.
The resolution was adopted in response to a report in January 2020 by the UN High Commissioner for Human Rights, Michelle Bachelet, on the failure of successive Sri Lankan governments to provide justice and accountability. It establishes a dedicated new capacity within the Office of the UN High Commissioner for Human Rights "to collect, consolidate, analyse and preserve information and evidence" of gross violations of human rights or serious violations of international humanitarian law committed in Sri Lanka, and "to advocate for victims and survivors, and to support relevant judicial and other proceedings, including in Member States, with competent jurisdiction". The Sri Lankan government vigorously opposed the resolution.
In June 2021, the European Parliament passed a resolution on Sri Lanka, drawing attention to abuses under the notorious Prevention of Terrorism Act (PTA), which has long enabled prolonged arbitrary detention, torture and sexual abuse. The resolution specifically mentioned Hejaaz Hizbullah, a prominent lawyer, and Ahnaf Jazeem, a poet, who are both arbitrarily detained under the Act. The European Parliament also denounced the Sri Lankan government's obstruction of efforts to secure accountability for widespread human rights abuses during the country's decades-long civil war.
Despite this, violations of civic freedoms in Sri Lanka have persisted in recent months including the ongoing detention of activists, harassment of journalists, attempts to criminalise "fake-news" and a crackdown on peaceful protest under the guise of dealing with COVID-19.
In April 2021, civil society called for the rejection of a resolution was that tabled to implement the Commission of Inquiry to Investigate Allegations of Political Victimisation. The commission was established by President Rajapaksa in January 2020, to derail investigations of his relatives and allies begun by the previous administration in 2015-19. According to local sources, it has since been withdrawn.
In June 2021, the government of President Gotabaya Rajapaksa triggered a wave of anger after he pardoned a political ally, Duminda Silva, a former member of parliament who was convicted for the 2011 murder of a rival politician and three of his supporters, highlighting the government's disregard for accountability for serious crimes.
Expression
Poet Ahnaf Jazeem detained under anti-terror law for more than a year
Sri Lanka: Poet detained for one year without charge: Ahnaf Jazeem @amnesty https://t.co/sben8SnGvu #lka pic.twitter.com/hjh1ilUYM1

— Vikalpa (@vikalpavoices) May 16, 2021
Ahnaf Jazeem, a 26-year-old poet and teacher, has been under remand on terrorism charges for more than a year, since 16 May 2020. He was arrested on 16th May 2020 under Sri Lanka's draconian Prevention of Terrorism Act (PTA). The arrest was in connection with a Tamil-language poetry anthology called Navarasam, which he wrote and published in July 2017, as well as other unsubstantiated claims of exposing his students to "extremist" content with the intention of turning them into followers of "extremist ideology". His arrest comes against a backdrop of increased marginalisation and discrimination targeting Sri Lanka's Muslim community.
Despite the fact the book is currently listed in Sri Lanka's national library, having never been banned, the authorities decided to detain Jazeem, allegedly for its content, among other reasons. The anthology included poems of wonder, humour, courage, anger, and some verses on political themes. Ahnaf's poetry was critical of US imperialism, the Rohingya genocide and the Islamic State (IS).
In a letter from his lawyer to the Human Rights Commission of Sri Lanka (HRCSL) on 16th March 2021 and a Fundamental Rights (FR) petition filed before the Supreme Court in April 2021 it was stated that Jazeem had allegedly been subjected to torture, cruel, inhumane and degrading treatment by being handcuffed to a chair, handcuffed while sleeping, as well as being detained in unhygienic and suffocating conditions. The petition also stated that Jazeem had been bitten by a rat and suffered from urethral stones, a skin rash and psychological breakdowns. He was also exposed to the dangers of contracting COVID-19 and was limited from meeting his family in prison or making phone calls to them.
Further, the authorities have violated Jazeem's due process safeguards during his time in detention. His legal counsel states that Jazeem has been coerced into make false confessions while under interrogation and has been made to sign documents written in a language he does not understand. Jazeem was denied access to legal representation for close to ten months after his arrest, and when access was provided, privileged conversations between lawyer-client were recorded by the authorities.
Human rights organisations have called on the Sri Lankan authorities to immediately release Ahnaf Jazeem or promptly charge him with internationally recognisable criminal offences and try him in accordance with international fair trial standards. Nine European human rights ambassadors have also called for his release.
Human rights defender Hejaaz Hizbullah still detained after 15 months
🇱🇰 #SriLanka: Human rights lawyer Hejaaz Hizbullah has now spent a year in detention for his activism. His continued persecution highlights the increasing assault on #civicspace by the Rajapaksa government to silence activists, journalists and critics.https://t.co/tEL1ZCUOph pic.twitter.com/QxDAdE4SwN

— CIVICUS Monitor (@CIVICUSMonitor) April 14, 2021
Civil society groups and states including from the European Union have continued to raise concerns about the ongoing detention of human rights defender Hejaaz Hizbullah. As previously documented, Hizbullah has been held in detention under the country's repressive Prevention of Terrorism Act (PTA) without charge or any credible evidence being put before a court. He has been accused of links to the perpetrators of the 2019 Easter Bombings. Under the PTA, the authorities can detain any "suspect" for up to 18 months, using detention orders lasting 90 days at a time. Hizbullah has been a vocal critic of the government's treatment of the Muslim community.
Activist detained by police in civilian clothes
Alert: News from #Colombo says that Asela Sampath, the Convener of the Movement for the Protection of Public Rights has been taken away by Police! No news of his whereabouts yet. He was arrested and beaten by the police in April this year. #SriLanka pic.twitter.com/baU9ZjJjRN

— sunanda deshapriya (@sunandadesh) June 25, 2021
Asela Sampath, the Co-coordinator for People Human Rights Protection was forcibly taken away by a group of 20 people in civilian clothes, at midnight on 25th June 2021. The group entered the house forcibly, tied Sampath's mouth with a cloth, allegedly physically assaulted him and took him away without allowing him even to put on a shirt. It was later known that the plain clothed men were officers of the Criminal Investigation Department (CID) of the Sri Lankan Police.
Initially, the family feared that this was an abduction, and that he would be forcibly disappeared. Therefore, the family sent messages to a number of organisations that published the incident on Facebook and other social media. Due to the quick publicity the CID police announced that they had arrested Sampath and that he was taken into police custody.
Police Media Spokesman, Senior DIG Ajith Rohana said that Sampath was arrested in connection with a false statement made on social media regarding the AstraZeneca COVID-19 vaccine. The complaint was lodged with the CID by the General Manager of the National Medicine Regulatory Authority. He was subsequently released on bail.
Journalist interrogated by anti-terror division
Secretary of #Batticaloa District Tamil Journalists Association, Selvakumar Nilanthan, has been summoned to counter-terrorism investigation unit in Kalladi, on Monday (12) at 11am to record a statement under the instructions of CTID #Colombo. #SriLanka @RSF_AsiaPacific @CPJAsia pic.twitter.com/BM78l6cgUq

— JDS (@JDSLanka) July 11, 2021
On 12th July 2021, Batticaloa-based Tamil journalist Selvakumar Nilanthan was interrogated by Sri Lankan's Terrorism Investigation Division (TID). According to Sri Lanka Brief, Nilanthan, who is also the secretary of the Batticaloa Tamil Journalists Association, was interrogated for nearly three hours and he was asked whether he had any links to the Liberation Tigers of Tamil Eelam (LTTE) and was questioned extensively about his work. The journalist was also demanded by the TID to disclose his personal and financial details.
Nilanthan has previously been interrogated for his coverage across the North-East. In 2020, he was probed for reporting on the military-assisted Sinhala settlements on Tamil cattle farmers' land and was also threatened and arrested for reporting on local government corruption
Sri Lanka is ranked 127th place in the 2021 World Press Freedom Index by Reporters Without Borders (RSF). According to RSF there has been a surge in cases of police harassment of journalists, including raids, interrogations and acts of intimidation since the Rajapkasa regime came back to power in 2019.
Concern about move to criminalise "fake news"
Civil society organisations are concerned about a bill intended to curb false and misleading online posts which could be detrimental to freedom of expression. According to reports, the proposed bill was approved by the Cabinet on 20th April and an initial draft has been completed.
In April 2021, media group the Free Media Movement said it was "deeply concerned about the right to freedom of expression and media freedom that could be severely compromised with the new legislation". The organisation added that such a law would allow the authorities to define "false news", leading to violations of freedom of expression and media freedom and that "mere criticism of the government or key officials or policies can be defined as false news and used to suppress journalists and social activists".
In June 2021, The Criminal Investigation Department (CID) said it had formed a special team to take action against the dissemination of false news on social media platforms. The Bar Association of Sri Lanka (BASL) expressed deep concern about this move that could be misused by police to stifle free speech. The BASL said: "Whilst the BASL has no objection to enforcing laws relating to hate speech and incitement to violence, it is important to ensure that authorities do not use such laws to stifle genuine expression of dissent and criticism".
Peaceful Assembly
Quarantine regulations used to crackdown on protests
Sri Lanka's Director General of Health Services (DGHS) Dr Asela Gunawardena imposed a ban on all protests and gatherings on 6th July 2021, claiming this measure was necessary to "prevent the spread of COVID-19". Following this the police have cracked down on a number of protests, including by activists, workers, students and farmers.
On 7th July 2021, police broke up a small demonstration of Joint Employees Association of Engineering Corporation members outside the corporation's head office in Colombo. Five people were arrested for flouting quarantine regulations, including Duminda Nagamuwa, a Frontline Socialist Party (FSP) leader. The protest was called to demand the reinstatement of several workers who had been suspended after they voiced their protest against the delay in paying salaries and allowances.
Ceylon Teachers Service Union secretary Mahinda Jayasinghe & another individual were taken into #police custody today for allegedly "violating a court order and quarantine regulations". A "special police team is deployed to make further arrests", says police spokesman.#SriLanka pic.twitter.com/r6BwJOP4Lg

— JDS (@JDSLanka) July 7, 2021
On the same day, police arrested Mahinda Jayasinghe, general secretary of the Ceylon Teacher Service Union and another person, at a 100-strong protest in Pamunugama in the Colombo suburbs. The action was called to oppose the environmental destruction of the Muthurajawela wetlands.
13 members of the Jantha Vimukthi Peramuna (JVP), a left-leaning party, including two former provincial councillors, were arrested on 7th July 2021 at a protest staged in Akuressa against the fuel price increase and the government's controversial chemical fertiliser ban.
Unbowed by violent arrest & forced quarantine in a military camp, General Secretary of Ceylon Teachers Union Joseph Stalin and other activists continue with their protest against militarisation of #SriLanka's higher education. #lka pic.twitter.com/R2KmE92xsE

— JDS (@JDSLanka) July 10, 2021
On 8th July 2021, police arrested 31 people, including the General Secretary of the Ceylon Teachers' Union, Joseph Stalin and several leaders of the Inter University Students Federation (IUSF), shortly after they began a protest against a Bill, the Kotelawala National Defence University (KNDU) Act, which they say seeks to "militarise" higher education in Sri Lanka. The arrested persons were produced before the Colombo Magistrate's Court. When the protesters were released on bail, police prevented them from leaving the court premises and they were forcibly taken to quarantine facilities.
Protest by families of the disappeared 
Families of the disappeared mark 1580 days of protest in Mullaitivu amidst surveillance https://t.co/QrtprIpNQq pic.twitter.com/Cu5lginNtb

— Tamil Guardian (@TamilGuardian) July 6, 2021
On 6th July 2021, families of the disappeared marked 1,580 days of continuous protest in Mullaitivu demanding to know the whereabouts of their family members. The families have been protesting continuously in Mullaitivu since March 2017. According to the Tamil Guardian, demonstrators held placards and banners with slogans such as "The international community, when will we get justice?" and "Where are our children that we handed over to the military".
The demonstration was monitored by the local police and Sri Lankan state investigator officers. Some police officers attempted to intimidate the families by photographing and videoing the protesters.
As previously documented by the CIVICUS Monitor, families of the disappeared have been campaigning to obtain answers about the fate of their loved ones in the final stages of the civil war in 2009 and its aftermath. Among their demands are the investigation and release of a list of all secret detention centres, the publication of a list of all detainees held under the Prevention of Terrorism Act (since 1978) and the release of records of all those who had surrendered to the Sri Lankan armed forces at the end of the conflict. There have been reports of surveillance and intimidation from the Sri Lankan security and intelligence forces during previous rallies.