Defamation laws being used to silence criticism in Samoa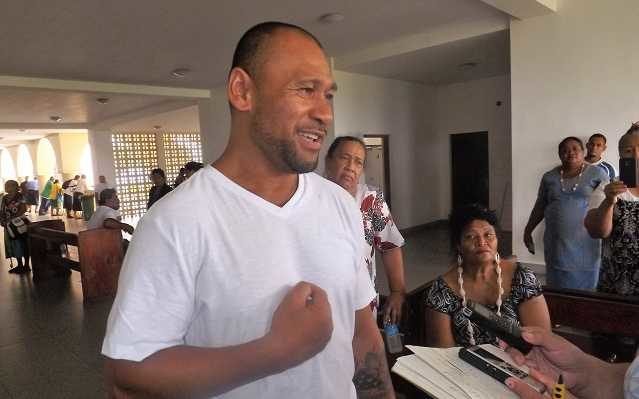 Expression
Defamation case against anti-government blogger
On 3rd June 2019, the Samoa District Court said it had jurisdiction to hear a defamation complaint made by Prime Minister, Tuila'epa Sa'ilele Malielegaoi against Malele Atofu Paulo, a prominent Samoan anti-government blogger based in Australia, who is also known as King Faipopo.
According to the prosecution, the defendant had posted a video in Australia alleging the prime minister was involved in a plot relating to the murder of cabinet minister Luagalau Leva'ula Kamu in 1999.
Pacific Freedom Forum Chair Bernadette Carreon of Palau described the case as an attack on freedom of speech. She said:
"Focus on fighting corruption, not freedom of speech. New legislation, based on old criminal libel laws from colonial times, forces Samoa leaders to look backwards, not forwards."
On 24th July 2019, it was reported that Malele Atofu Paulo had pleaded guilty to one charge under the criminal libel law for defaming the prime minister. The attorney general dropped 14 other charges after negotiations that followed the defence announcement that it would seek a restorative justice process. However, on 9th August 2019 it was reported that he was planning to withdraw the guilty plea.
In 2013, Samoa withdrew libel from its criminal law as a media reform initiative. However, at the end of 2017, the parliament of the Polynesian island nation unanimously voted to revive its criminal libel law after Prime Minister Tuilaepa Sailele Malielegaoi said it is needed "to fight ghostwriters and troublemakers," despite opposition from media freedom advocates. The Tuilaepa government said the law will be used against anonymous bloggers and Facebook users who spread lies and misinformation.
Publishers of Samoa Observer found guilty of defamation
Publishers of Samoa Observer guilty of defamation https://t.co/Xtf0aMmUou

— RNZ Pacific (@RNZPacific) September 4, 2019
The publishers of the daily newspaper the Samoa Observer were found guilty of defamation by the Supreme Court.
Supreme Court Justice Mata Tuatagaloa delivered her decision on a lawsuit brought by Reverend Opapo Soanai Oeti and his daughter, Toaipuapuaga Patrick, against the Samoa Observer. The judgment dated 30th August 2019 found that "certain statements or words" in a letter to the editor published by the Samoa Observer in relation to the complainants, were "defamatory." The letter was an online commentary, published in March 2017, titled "Stop this Madness: Church stigmata row deepens." The letter was penned by a person under the initials 'M.R.'
The decision by Justice Tuatagaloa followed a hearing in March 2019. Samoa Observer Editor, Mata'afa Keni Lesa gave evidence for the publication during the trial and said the letter was published as "fair comment". The court has yet to rule on costs and damages.
Film banned for depicting homosexuality
Elton John film Rocketman banned in Samoa over gay scenes https://t.co/Q1gESNkObd

— BBC News (World) (@BBCWorld) June 11, 2019
On 12th June 2019, the Samoa Censorship Board banned the screening of Rocketman – a biographical movie about the life of British rock star Elton John. Samoa's principal censor Leiataua Niuapu Faaui told the Samoa Observer that "the homosexual activity depicted on screen violated laws and didn't sit well with the country's cultural and Christian beliefs". About 97 per cent of people in Samoa identify as Christian.
This is the second time the Samoa Censorship Board has banned a gay biography – with the first being the movie Milk banned in 2009. This was based on the life of US gay rights activist Harvey Milk.
Members of the Samoan Fa'afafine community have expressed their dismay at the ban with some calling it a "disappointment." The Fa'afafine is a group of Samoan biological males who behave in a range of feminine-gendered ways. They have been an integrated part of Samoan communities for centuries.
The international community also reacted to the ban with Tuisina Ymania Brown, the Co-Secretary General of Geneva-based NGO International Lesbian, Gay, Bisexual, Trans and Intersex Association (ILGA) calling the ban a "selective immorality" approach.
Under Samoa's 2013 Crimes Act, sodomy is deemed an offence that is punishable by up to seven years in prison, even if both parties consent.