A deadly January in Colombia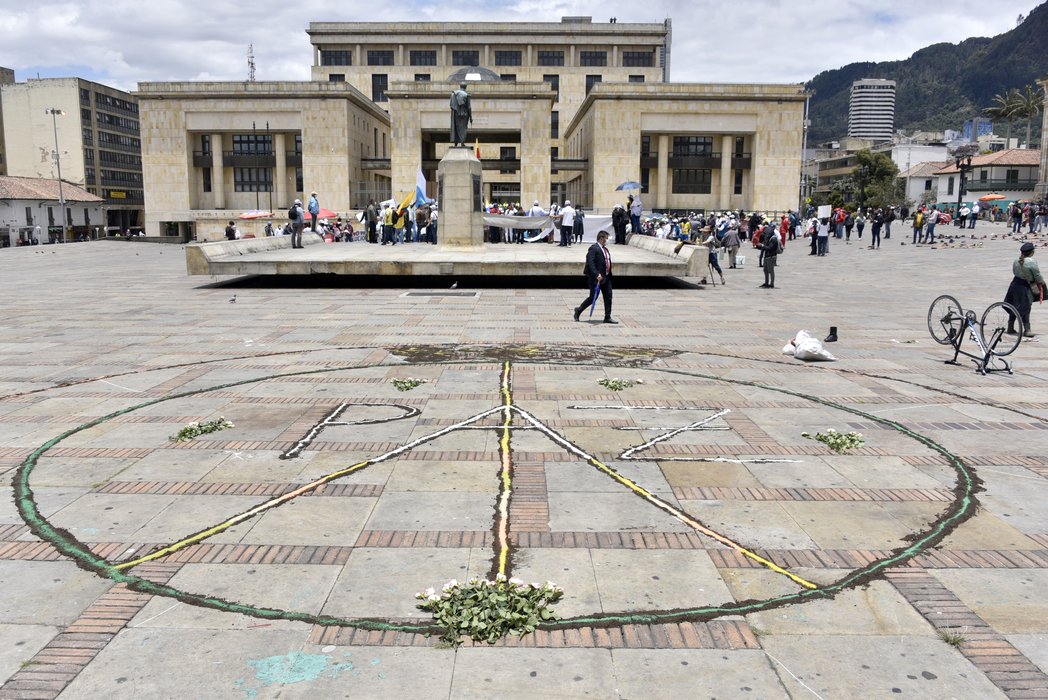 The Special Jurisdiction for Peace (JEP) warned that January 2021 had been the most violent start to a year since the signing of the Peace Agreement between the Revolutionary Armed Forces of Colombia (FARC) and the Colombian State in 2016. In just one month, said the JEP, 14 social leaders were killed. The Institute of Studies for Development and Peace (Indepaz), meanwhile, reported 19 social leaders killed in the period.
There were also six collective killings which left 20 dead, as well as at least five former guerrilla combatants murdered. Most of the massacres occurred in rural areas and towns, in many cases targeting young people.
Association
🚨JEP alerta que el 2021 ha sido el inicio de año más violento desde la firma del Acuerdo de Paz: 14 enfrentamientos armados entre estructuras criminales y Fuerza Pública, 14 líderes sociales asesinados, 6 masacres y 5 asesinatos de excombatientes de las Farc-Ep.
🧵Sigue hilo ⬇️ pic.twitter.com/4N6BHuP03g

— Jurisdicción Especial para la Paz (@JEP_Colombia) January 26, 2021
The first killing of a social leader in January 2021 took place on the very first day of the year, when a member of teachers' union FECODE, Gerardo León, was killed in Meta. Days later another teacher and unionist, Diego Betancourt Higuera, was found murdered in Casanare. Throughout the month, there were several cases of community activists and members of community councils killed, including Edwin Antonio Indaburo, José Robinson Quino, William Rodríguez Martínez, Janeth Zapata, Fermiliano Meneses, Giovanis Carranza Castillo, Arcenio Quinayas Ruiz, and Miguel Uribe.
Environmental activist Gonzalo Cardona Molina, a coordinator of ProAves Loros Andinos who was known for his work with endangered birds, was killed in Valle del Cauca in early January. African-Colombian community leader and practitioner of traditional Palenque culture, Fredman Herazo Padilla, was murdered by two unidentified men at a restaurant in Córdoba. Youth activist Julián Esneider Muñoz, member of the 'Prisoners of Hope' group which uses music to drive young people away from crime and drugs, was killed in Cali. In addition, two campesino leaders, Alfredo García and Linda Díaz Romero, were killed in different areas of Antioquia.
This devastating January followed a remarkably violent year in Colombia. As reported by Indepaz, in 2020 there were 91 massacres with 381 victims in the country, in addition to 310 social leaders and 64 ex-combatants murdered. A global analysis by Frontline Defenders documented 177 killings of human rights defenders in Colombia, which corresponded to 53 percent of all cases of defenders killed worldwide as documented by the organisation during the year. According to Colombia's Ombudsperson's Office, the Defensoría del Pueblo, 28,509 people from 8,192 families were forcibly displaced and confined in 2020 due to violence linked to the armed conflict.
11-year-old environmental activist threatened
Alta Comisionada de la ONU para los Derechos Humanos Michelle Bachelet reconoce y felicita la labor de Francisco Verá, niño ambientalista de #Colombia Gracias Francisco !! Ver carta 👇🏿👇🏿👇🏿@franciscoactiv2 @mbachelet @GretaThunberg @UNHumanRights @IvanDuque pic.twitter.com/6TB3iY5k4n

— ONU Derechos Humanos Colombia (@ONUHumanRights) January 19, 2021
On 16th January 2021, 11-year-old Francisco Vera received a death threat from an anonymous Twitter account after posting a video urging the government to improve internet connectivity for children studying online. Vera is known for his environmental activism, having started a children's environmental group, Guardians for Life, which organises activities such as planting trees, climate marches and a campaign to ban single-use plastics. The group, which began in 2019 with six school friends in Francisco's hometown of Villeta, now has more than 200 members in 11 provinces across Colombia.
After the threats, the United Nations High Commissioner for Human Rights, Michelle Bachelet, sent Vera a letter commending him for his bravery and activism. Francisco told the BBC: "I grew up in the mountains with ducks, chickens, goats and birds. That motivated me to be an animal rights defender, and then an environmental activist." Government authorities have said the threats against the him are under investigation.
Reports on Colombia
Más de 400 defensores de derechos humanos asesinados desde 2016 en #Colombia

Nuevo informe de @hrw_espanol #DDHH https://t.co/s7kaJ8Gmck pic.twitter.com/z5Z21qvLv8

— Human Rights Watch (@hrw_espanol) February 11, 2021
In October 2020, Amnesty International published a report examining the reasons behind the violence against community leaders living in geographically strategic and natural resource-rich areas in Colombia. According to the report, COVID-19 put human rights defenders at even greater risk. During the pandemic, authorities reduced the protection schemes in place for some defenders, and authorised activities that put communities at increased risk, such as natural resource extraction, police operations and forced eradication of illicit crops.
The report investigates the cases of four communities at particular risk for their defence of land, territory and the environment. Amnesty stated that Colombia's protection institutions and their programmes are plagued by ineffectiveness. The organisation's Americas Director, Erika Guevara-Rosas, said:
"Although, in theory, Colombia has one of the most comprehensive protection systems in the region, it is ineffective because the authorities refuse to take preventive action to address the structural causes of collective violence against defenders."
In December 2020, the UN Special Rapporteur on the situation of human rights defenders, Mary Lawlor, said in a global analysis that, since 2015, Latin America has consistently been the region with the most cases of human rights defenders killed. The Office of the High Commissioner for Human Rights (OHCHR) recorded 1,323 killings of defenders between 2015 and 2019, of which 397 were in Colombia. The number of killings in the country was more than twice that of the 174 cases recorded in Brazil, the second most deadly country for human rights defenders in this period.
In February 2021, Human Rights Watch (HRW) published a report titled "Left Undefended" on the armed group killings of human rights defenders in Colombia. The publication documents killings of defenders in the country across five years, as well as serious shortcomings in government efforts to prevent them, protect defenders and hold those responsible to account. HRW said the government "is dragging its feet in carrying out policies" to change the situation. In many cases, authorities at local and national level failed to fully implement programmes or provide adequate budget allocations for these initiatives.
Truth and justice
On 28th January 2021 Colombia's Special Jurisdiction for Peace announced its first major decision, accusing eight top leaders of the FARC of war crimes and crimes against humanity. Tribunal president Eduardo Cifuentes said, "this is the first time, perhaps in history, that an armed group makes peace, lays down its weapons, submits to a jurisdiction and within this jurisdiction, through its own accounts, contributes to truth-finding". This is the first indictment of the tribunal stemming from the 2016 Peace Agreement.
In a separate development, the civil society-led Permanent Peoples' Tribunal (PPT) will hold a session in Colombia between 25th and 27th March 2021. The session's goal is to establish if the Colombian State is responsible for political genocide, impunity and crimes against peace. Within this period the tribunal, composed of 10 jurors, will hear from social, ethnic, victim, human rights and political organisations in Colombia. The PPT does not have judicial implications for those subjected (States, companies), but promotes respect for human rights by examining cases of serious and systematic violations, evidencing the persistence of serious crimes and highlighting gaps and limits in the international system for the protection of human rights.
Peaceful Assembly
En #Bogotá comienzan a llegar a la plaza de Bolívar la movilización del #ParoNacional19N pic.twitter.com/MYbVT5NJwm

— Central Unitaria de Trabajadores de Colombia (@cutcolombia) November 19, 2020
On 21st September 2020, thousands of workers, teachers, students, Indigenous and Afro-descendant peoples took part in a national strike against the Iván Duque government. Demonstrators rejected rising unemployment, police repression, increased massacres, the continued assassination of social leaders and armed group activity, among other issues.
On 19th November 2020, the National Strike Committee, composed of several social organisations and trade unions, convened another national strike. The mobilisation involved several days of activities to protest against the Duque government's social and economic policies, as well as the killing of human rights defenders and police violence. Peaceful demonstrations were held in Bogotá, in the rural communities of the Catatumbo, as well as in other cities such as Barranquilla, Cali, Cartagena, Medellín, Valledupar and Villavicencio, among others.
In a separate development, on 22nd September 2020 the Civilian Chamber of the Supreme Court ordered Colombia's government to act to guarantee people's right to freedom of assembly, in light of the repeated use of excessive force against demonstrators. The decision was in response to a constitutional petition, filed by several civil society organisations and human rights defenders, on violations of the right to protest which took place during mass demonstrations in November 2019. The Court found that "there was - and may continue to exist - a repeated and constant disproportionate aggression by the public force against those who, in a peaceful manner, demonstrated" and against journalists covering demonstrations.
The Court's decision ordered the government to apologise for the excesses of state security forces, in particular of anti-disturbance squadron ESMAD, as well as to form a working group to restructure guidelines and regulations on the use of force during protests. It also dictated the creation of protocols to monitor the use of force and to allow people and human rights organisations to verify and accompany cases of protesters detained. Finally, the decision ordered state security to suspend the use of 12-gauge shotguns ("escopetas de calibre 12") during protests, a demand previously made by the Prosecutor's Office after the killing of young protester Dylan Cruz in November 2019.
Expression
Journalist murdered in Cali
Colombian authorities must thoroughly investigate the killing of journalist Andrés Felipe Guevara Henao, determine if he was targeted for his work, and bring those responsible to justice.https://t.co/XDAvXjsh0u

— Committee to Protect Journalists (@pressfreedom) January 8, 2021
On 21st December 2020, journalist Andrés Felipe Guevara and a friend were shot in front of the reporter's home in Cali, Valle del Cauca. Guevara suffered at least four gunshot wounds and died two days later. His companion was injured. The journalist covered crime for news outlet Q'hubo Cali. As reported by the Committee to Protect Journalists (CPJ), he had received numerous threats from local gang members for his coverage of homicides in the region. In 2017, Guevara had filed a criminal complaint with the Attorney General's Office about another shooting, also targeting his house, and temporarily moved to a nearby town out of fear for his safety. According to news reports, on 6th January 2021 the police arrested a suspected perpetrator of the killing, reportedly a 16-year-old Cali resident.
TV station employee flees the country amid threats
On 16th November 2020, Arlex Piedrahita, camera operator with broadcaster Caracol TV, fled to the United States with his family after receiving a death threat and other threatening messages from individuals claiming to be members of the FARC. As reported previously on the Monitor, at the beginning of November 2019 two other journalists with the same media group decided to leave Colombia after facing continuous intimidation and threats. CPJ's Central and South America Program Coordinator, Natalie Southwick, commented on the case:
"If press workers under threat, like Arlex Piedrahita and his colleagues, feel that leaving the country is their only option to stay safe, then Colombia's journalist protection programs are in need of a serious overhaul."
Journalist granted precautionary measures
In a positive development, on 14th January 2021 the Inter-American Commission on Human Rights (IACHR) granted precautionary measures to Colombian investigative journalist Ricardo Calderón Villegas and called on Colombian authorities to take immediate action to ensure his safety. The resolution determined that Calderón faces "grave and imminent danger" from threats, harassment and surveillance by the Colombian military and other sources. The journalist has published a series of reports on alleged corruption and human rights violations by the Colombian army. The Commission's decision responded to a request filed by CPJ and the Foundation for Press Freedom (FLIP) on behalf of Calderón and other Colombian journalists in March 2020.